Greece is a paradise for watersports lovers – it's hard to go wrong when there are hundreds of islands at your disposal. But which are the standout island destinations for watersports fans?
Many islands in the Aegean Sea are renowned for their consistent wind conditions, attracting windsurfers and kitesurfers from around the world. The Ionian Islands, too, are blessed with conditions that are particularly good for beginners, making it a great place to learn a new sport.
And don't forget the wide variety of waterscapes that lend themselves to discovery by paddle or by boat.
Whether you're looking for adrenaline-pumping watersports, tranquil exploration in pristine waters, or some laid-back paddling, we reckon these 10 islands are the best for water-based activities.

LEFKADA
Best for: watersports schools, flotillas, dinghy sailing, windsurfing
The resort town of Nidri on the Ionian island of Lefkada is the Greek capital of watersports, which forms the basis of the tourist industry here. Visitors flock here for its watery delights rather than its beaches (although you will find some stunners such as the famous cliff beach of Porto Katsiki). Vassiliki in the south of the island is a top windsurfing spot. The mornings are generally calm and perfect for beginners. The afternoons spice things up a bit with consistent thermal winds.
You'll find everything on Lefkada – but particularly sailing (both flotilla and dinghies) and windsurfing. Lots of companies are based here and there's a substantial seasonal worker scene.
If you're interested in a package combining accommodation with equipment hire and tuition then there are a number of big-name watersports clubs and resorts on the island. Ocean Elements and the Neilson Cosmos Beach Club in Vassiliki.
There are numerous small islands and islets off the coast of Lefkada which are ideal to explore by boat or kayak. If a day trip isn't enough Much Better Adventures are currently offering an 2-day kayaking trip around this gorgeous bit of coast.
Excellent hiking and cycling opportunities round Lefkada off as the perfect base for an active holiday.

PAROS
Best for: windsurfing, kitesurfing, swimming boat trips
For a laid-back beach vacation with a side order of watersports, Paros and Naxos are perfect.
You'll find a full range of watersports on the more touristy beaches such as Kolymbithres including pedalos, fishing trips and banana boats. Paros Sailing on Livada Beach offers dinghy sailing lessons for kids and adults.
Blue Island Divers organise snorkelling and diving trips around the island. Of particular interest are quiet waters around Antiparos (also great for swimming) and the uninhabited island Despotiko (which is sometimes included as one of the stops on a boat trip).
The southwestern side of the island is known for its ideal windsurfing and kitesurfing conditions. Golden Beach is a good place for beginners, Pounta Bay for the more advanced.
The Cyclades islands are all prone to the Meltemi wind in the summer. If an unwelcome northerly wind starts flaring up then simply head to a south-facing beach.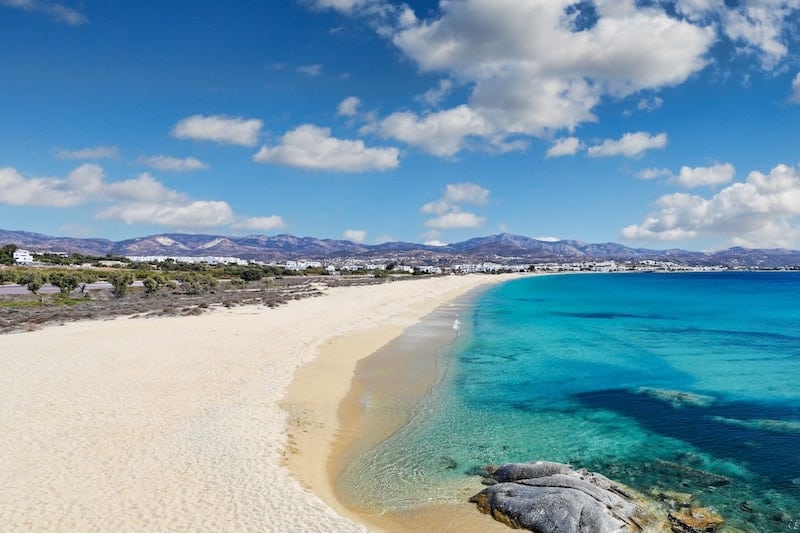 NAXOS
Best for: windsurfing, kitesurfing, swimming, boat trips
Just across the water from Paros, its Cycladic sister Naxos offers similar watersports delights but with a hillier and greener landscape (good for hiking too).
But the beaches are similar – big and sandy with beautiful turquoise waters and some great options for swimming and watersports.
The main tourist beaches (Prokopios, Aghia Anna, Plaka) are on the west side of the island. Flisvos Sportsclub on Agios Georgios (the town beach of Naxos Chora) and Plaka Watersports are the two main hubs for watersports.
Take a car over to the east of the island and you'll find miles of remote empty beach.
Swimmers will enjoy the various boat trips available, ideal for diving into the cool deep waters and exploring rock formations. Several yachts based in Naxos Chora offer a variety of routes in high season. The most popular is to Koufonisia and back, stopping at a number of bays and caves for a swim.
Hardcore open waters swimmers might be interested in the Swim Trek trips to Naxos and the Little Cyclades.

KEFALONIA
Best for: inflatables and beach fun, kayaking, scuba diving
Kefalonia has tourist resorts but these are small in comparison to the size of the island. It isn't overcrowded and there's plenty of unspoilt coastline, coves and caves to discover by boat or kayak – the most famous of which is the blue cave of Melissani.
Adrenaline lovers can find a variety of motorised and non-motorised action with Extreme Water Sports at Antisamos beach (including subwing and a 'crazy sofa'). They also organise mini boat cruises along the coast. And then there's a Kefalonia Water Sports Centre on Makros Gialos beach for wakeboarding and donuts.
Check in with Fiskardo Divers to explore the island's fantastic variety of dive sites – Kefalonia has some of the best wreck dives in the Mediterranean, plus plenty to keep advanced divers occupied. Alternative dive shops include Blue Manta, Pirate Divers Club, and the Aquatic Dive Club.
Lixouri Bay Beach Club offers packages of accommodation and activities (including sailing, wild swims and SUP).
And Sea Kayaking Kefalonia has multi-day trips and courses available as well as shorter excursions.

PAXOS
Best for: sailing, snorkelling
Paxos is a little green jewel of an island just off the south coast of Corfu, known for some of the most crystal clear waters in Greece.
Most beaches on Paxos are unorganised and unspoilt, best accessed by boat. The waters here are known to be crystal clear and have some of the best visibility for snorkelling and diving in Greece – with several shipwrecks to dive.
It's not entirely undiscovered though, Paxos is popular with the yachtie crowd (as well as daytrippers from Corfu) and main towns can get busy in high summer with flotillas. But in general, tourism here is low-key. Base yourself in laid-back Loggos or Monodendri and dive with Oasi Sub or Water Planet.

CORFU
Best for: sailing, diving, swimming, and everything else
As with Lefkada, you'll find all sorts of watersports on the popular vacation island of Corfu. Although it's busy, it remains one of the most beautiful Greek islands for its lush scenery. The same goes for its coastline, which ranges from sandy beach to craggy cove.
The beautiful cool waters of the coves around Paleokastritsa are particularly delightful for swimming in the hot summer temperatures. The Achilleon Diving Centre has locations at Paleokastritsa and Messonghi.
You'll find inflatables, equipment and motors at most organised beaches in Corfu, but the most popular are Ipsos, Glyfada, Agios Georgios, Dassia and Messonghi. Gouvia is the main harbour on Corfu and is flotilla central – it's the main starting point for many people joining a boating adventure. And the tiny Diapondia islands are ideal for open water swimmers.

LEMNOS
Best for: off the beaten track windsurfing and kitesurfing
If you're looking for a quiet island with an authentic, friendly atmosphere and plenty of wind then look no further than little Lemnos (also spelt Limnos) in the Northern Aegean.
Surf Club Keros has really put Lemnos on the map for windsurfers and kitesurfers, with its laid-back boutique beach vibe. Accommodation is glamping-style in safari tents near the beach. Easy Surf at Keros Beach also offers SUP as well as windsurfing and kitesurfing lessons.
Activity holiday behemoth Mark Warner has a resort on the island, with waterskiing, wakeboarding and sailing among the activities available to guests. As does Neilson at Portomyrina Palace.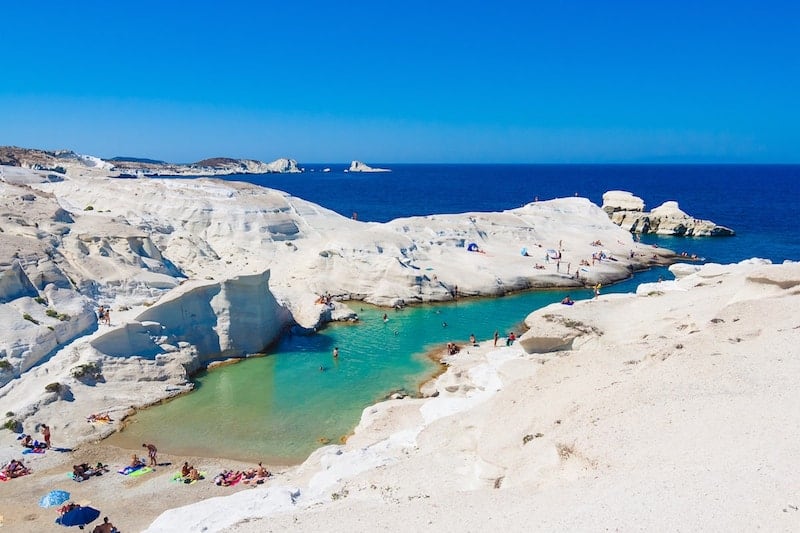 MILOS
Best for: swimming, paddle fans, boat trips
With its unique volcanic landscape, one of the highlights of visiting Milos is enjoying its coastline from its shimmering seas. Weird rock formations and hot springs abound – as well as fantastic golden beaches.
The quiet waters between Milos and neighbouring islands Kimolos and Polyaigos (which is deserted) form a unique habitat which is perfect for sailing, snorkelling and diving. Hop on a day trip with local yachts or catamarans and don't forget to pack your snorkel mask. Milos Diving Centre runs dive trips to the area, known as the 'triangle of surprises'.
Windsurfing and kitesurfing are available around Adamantas. The coast is perfect for exploration by kayak, canoe or SUP. Hang Loose windsurfing club also hire paddleboards.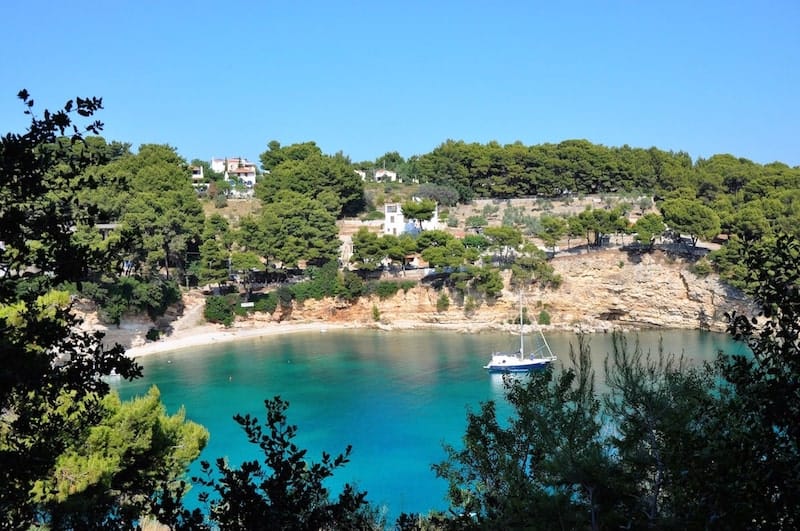 ALONNISOS
Best for: tranquillity, snorkelling, diving, sailing, seal-spotting
The waters surrounding the little island of Alonnisos form a national marine park, making it a quiet and pristine haven for nature-lovers and sailors.
It's one of the largest protected marine areas in Europe and has been since it was first designated in the 1970s in order to protect the native Mediterranean monk seal population.
Pebbly beaches and crystal clear waters are the order of the day here – with a rich eco-system and excellent visibility it's no surprise the area is popular for snorkelling and diving. Access to some areas and islets is restricted. There are a few shipwrecks for divers.
Try it out with Triton or Blue Dream dive shops.
Canoeing, kayaking, fishing and boat tourism also available. And, of course, keep an eye out for the seals.
KOS
Best for: thrills, motorised watersports, windsurfing, kitesurfing
If you prefer a little more adrenaline with your watersports then Kos will serve you well. A popular package tourism island with numerous big sandy beaches and lively nightlife, you'll find an array of adrenaline-pumping activities on Kos for pure entertainment on water.
If you've always wanted to try flyboarding (jetpacks-on-water) you'll find it on Kos. Waterskiing, wakeboarding, jetskiing, parasailing, ringos, banana boats, and stand up paddleboarding are also on the menu. There's even a special type of power speedboating unique to Kos.
Head to the main tourist resorts at Tigai, Psalidi, Mastahari and Marmari for all the action.
For those looking for something a little more chill, SUP is rising in popularity on the island. Kitesurfing Kos do paddleboarding (as well as kitesurfing) courses and board rental. Speedboat charters are available on request. You can get your PADI qualification on your hols with Kos Divers or Liamis Dive Centre.
Ocean Elements have an outpost if you're after an accommodation and activities combo package.
Enjoyed this post? Click to save to Pinterest: