Croatia has firmly established itself as a summer destination par excellence. Its coastline stretches for 1777km, and with over 1,246 islands it's paradise for hidden coves and bays
But with all that coastline, where do you find the best beaches?
There are a few sandy stunners but the majority of beaches in Croatia are pebbly (which makes for exceptionally clear water for swimming and snorkelling).
Here are 10 of the most beautiful beaches to get you started, from the iconic sand of Zlatni Rat to the spectacular rocky cove of Stiniva Bay, the otherworldly Rucica on Pag island to Dubrovnik's beloved Banje Beach.


ZLATNI RAT, BRAC
Zlatni Rat is by far the most famous of Croatia's beaches—and it's easy to see why! This unusual beach on the island of Brač looks like it's been created from a drawing. Also known as the Golden Cape or Golden Horn, the shape of this spit changes with the direction of the wind. The texture is fine pebbles rather than sand. You can take a tourist train or walk from the town of Bol, and it's also a top spot for windsurfing.

STINIVA COVE, VIS
Whilst Zlatni Rat is firmly on Croatia's tourist trail, the protected Stiniva Cove on the island of Vis is a little harder to reach (although it does get busy with daytrippers in the summer). Two towering cliffs—just 4km apart—form a gate to the beach which keeps out larger boats. The only way is to walk from the tiny village of Žužec. Grab a beer at the small beach bar to reward your efforts.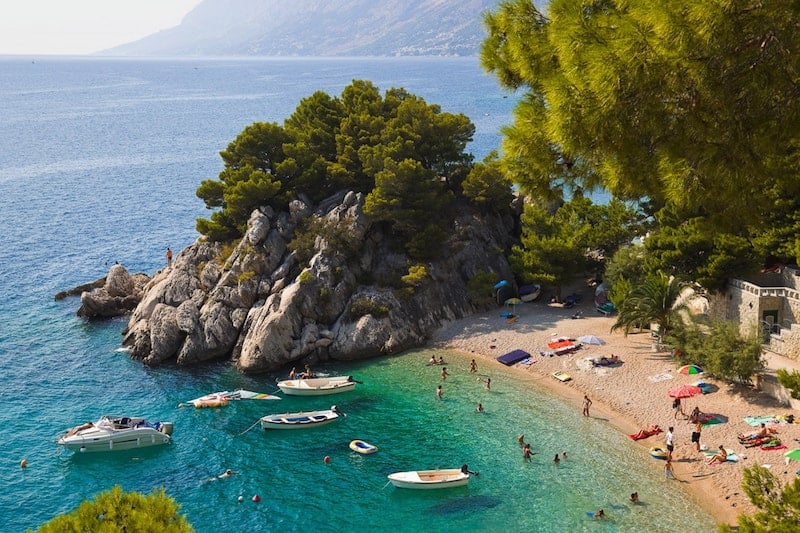 BRELA, MAKARSKA
Some of the best beaches in Croatia are found along the popular Makarska Riviera. Halfway between Split and Makarska, you'll find the gorgeous string of beaches that is Brela. The one you'll see in all the photos is Punta Rata, with its pine-topped rocks. But with over 6km of pine-drenched beach and achingly clear waters, you'll have no problem finding your own spot even in high summer.

RADUCA BEACH, PRIMOSTEN
Primošten is a city in Dalmatia between Sibenik and Trogir with an extremely picturesque medieval town that juts out into the sea, with beaches stretching out on either side. The old town was formerly on an islet but the bridge was replaced with an embankment. Admire the view from the pristine Raduča beach.

OREBIC, PELJESAC
Many hurry past the Pelješac Peninsula on their way to Croatia's popular cities and islands, but this section of coast is Croatia's best-kept secret. The area around seaside town Orebić is home to some of the loveliest beaches in Dalmatia as well as it's best food and wine. Pelješac is known for its top class oysters and mussels, yet somehow remains under the radar. You might even have the beach to yourself. Get there now before the crowds cotton on!

BANJE BEACH, DUBROVNIK
Banje Beach in Dubrovnik is Croatia's top city beach. Just 100m from Ploce Gate, one of the main gateways into the old town, you can take a refreshing dip after a hard day's sightseeing in the summer heat. Watersports and sun loungers are available, although predictably pricey. Head there as the sun goes down for cocktails and chillout vibes.

NUGAL, MAKARSKA
With its dramatic karst cliffs and azure seas, Nugal Beach is another highlight of the Makarska region. Situated in Osejava Park, this secluded can only be reached by a 30-minute walk through the forest. Be prepared to shed your clothes though – Nugal is one of Croatia's top nudist beaches.

SAPLUNARA, MLJET
As well as being surely one of the most beautiful islands in the Mediterranean thanks to its unspoilt nature, the southern tip of Mljet is also home to two wonderful beaches. Fans of organised sandy beaches will enjoy Saplunara (one of the best sandy beaches on Croatia), whereas lovers of peaceful unspoilt beaches can walk 20 minutes to the nearby crescent of Limuni Bay (pictured above).

OMIS, DALMATIA
Where the river Cetina meets the Adriatic sea you'll find the seaside town of Omiš. Previously a pirate stronghold, the scenery is reminiscent of Kotor Bay and these days it's a hotspot for outdoor activities. There's canyoning, rock-climbing, rafting, and Croatia's fastest zip line. But when the adventure gets too much you can plonk yourself down on the 700km long and aptly named Big Beach.

MLINI BAY, DUBROVNIK
The Dalmatian Coast is studded with idyllic coves and bays, and Mlini Bay is no exception. The shell-shaped bay is ringed with low-key cafes, shady pines, and a pretty promenade. Just hop on a boat to Cavtat, Dubrovnik or the Elafiti Islands if you feel the need to stretch your legs.
You might also like:
The 10 Most Beautiful Beaches in Greece
The 10 Most Beautiful Beaches in France
The 10 Most Beautiful Beaches in Italy
The 10 Most Beautiful Beaches in Portugal
The 10 Most Beautiful Beaches in Turkey
The 10 Most Beautiful Beaches in Spain
The 10 Most Beautiful Beaches in the Balkans
Enjoyed this post? Click to save to Pinterest:

Image credits: Zlatni Rat © SimoneSimone / Adobe Stock, Stiniva © nagydodo / Adobe Stock, Brela © Nikolai Sorokin / Adobe Stock, Primosten © pkazmierczak / Adobe Stock, Orebic © lukaszimilena / Adobe Stock, Banje Beach © Aleksandar Todorovic / Adobe Stock, Nugal © kite_rin / Adobe Stock, Omis © timltv / Adobe Stock, Saplunar © Simun Ascic / Adobe Stock