Greece has 13,676 miles of coastline. That's an unimaginable number of beaches. There truly is a Greek beach for all tastes – whether you like white sand or strange rocks or giant cliffs. But which Greek beaches are fairest them all? Let's have a look.
There's something here for everyone – from the famous Shipwreck Cove on Zakynthos to the sandy lagoons of Crete and the otherworldly intrigue of Milos, plus a few hidden gems for good measure.
So read on for the top 10 most beautiful beaches in Greece.

Navagio, Zakynthos

Navagio is undoubtedly the most famous (and photographed) beach in Greece. It's popularly known as 'Shipwreck Cove' or 'Smuggler's Cove' for the rusty wreck that is the photogenic centrepiece of the beach – although the colour of the sea and scale of the cliffs are what will blow you away. You'll have to take a boat trip to visit the beach itself, which can get very crowded in high season although the beach is so small that nobody stays too long.
Arguably the beach is better viewed from the platform and trails up on the cliffs. These are not accessible from the beach or by public transport so you'll need a rental car for the best photo ops.
Porto Katsiki, Lefkada

With its gleaming white cliffs dropping sharply into azure waters, Lefkada's Porto Katsiki is a spectacular sight.
Porto Katsiki ('port of the goats') named for the goats which were previously its only inhabitants, it now attracts tourists from all over Lefkada as well as visiting yachts.
Elafonisi, Crete

These exotic pink-tinged sands belong to the lagoon beach at Elafonisi, a tiny islet just off the coast of western Crete.
With crystal-clear shallow waters, punctuated by grey rocks and cedar trees, it's no wonder Elafonisi is a popular day trip for holidaymakers and families on Crete. It's the broken pink and red seashells in the sand which lend it the characteristic hue.
Sarakiniko, Milos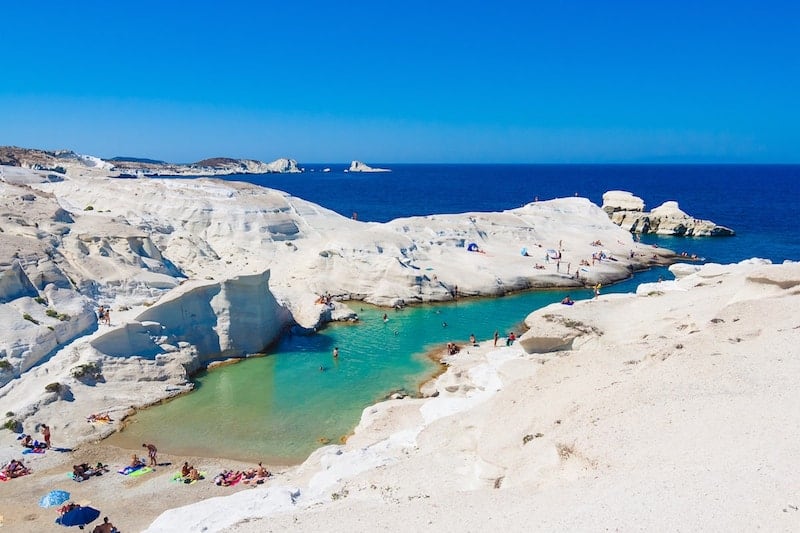 The island of Milos in the Cyclades is known for its dramatic and unique landscape. Over the years the wind and seas have carved soft pale volcanic rock into bizarre shapes.
Stunning Sarakiniko is one of the most popular beach spots on the island, providing the opportunity to swim and relax amongst these lunar rock formations.
Mylopotamos

, Pelion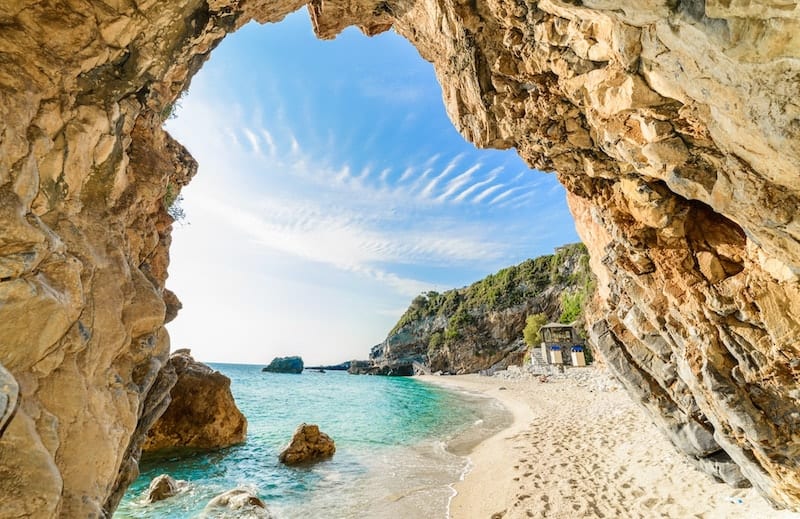 Mylopotamos is one of the standout beaches in the Pelion, a beautiful and underrated part of the Greek mainland. Two sandy, partly organised beaches are separated by rocky arches.
You'll have to climb down a number of steps to get to this beach, which has been awarded Blue Flag status for its clean and clear waters. No sun loungers here but there is a small beach bar.
Balos, Crete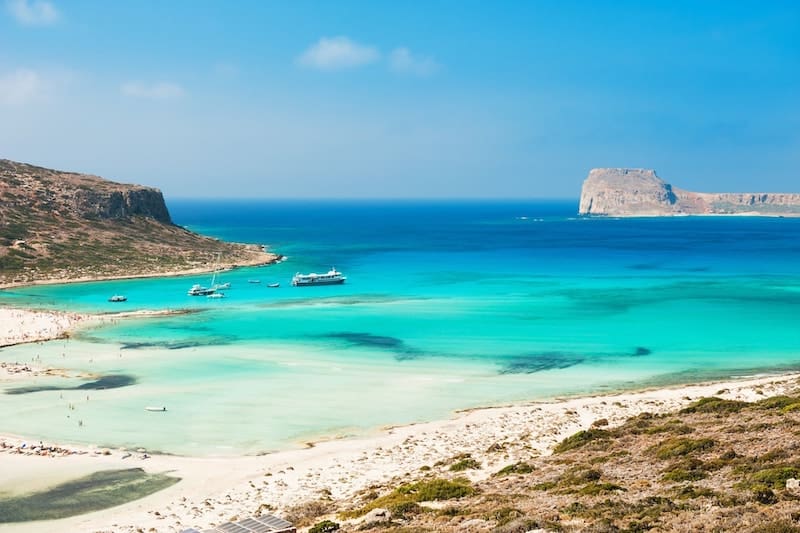 Another dreamy Cretan lagoon, this time in the north-west of the island. Balos is a well-photographed beach with vast warm shallow waters and pinky-white sands, similar to Elafonisi.
It can get extremely busy in high season. It's worth visiting in the winter months if you can, as it's outstandingly beautiful in the quiet sparkling cold.
Voidokilia Beach

Forming a perfect semicircle (or the Greek letter omega) of sand, the magical beach of Voidokilia in the Messinia region has ancient links and is one of the most picturesque settings in Greece.
The beach is surrounded by sand dunes and there's an old Frankish castle to explore.
Myrtos, Kefalonia

There's no need for a filter with the dazzling colours of Myrtos on the Ionian island of Kefalonia, where the wild, fragrant mountains collide with the sea.
The water here is so bright it almost glows. The beach itself is composed of dazzling white pebbles. You won't forget the amazing views as you descend to this beach.
Orange Beach

One look at this boulder-strewn beach with powder-soft golden sand and warm shallow seas and you might think you're looking at a scene from the Seychelles rather than Greece.
But in fact, the beautiful Orange (Portokali, in Greek) Beach is in the Halkidiki Peninsula in the north of the country. Sithonia is the middle finger of the peninsula.
It has an alternative (and rather fantastic) name Kavourotripes which translates as 'crab holes'. Whatever you call it, this beach is something special.
Lalaria, Skiathos

Despite its small size, Skiathos is one of the best islands for beaches – and most of them are sandy. But the most spectacular beach on the island is the isolated Lalaria. It's known for the incredible sheer blue of the sea against the bright white marble pebbles.
The beach is surrounded by cliffs, stacks, and arches. You'll have to take a boat (and only when the wind isn't blowing) but it will be a truly memorable swim. Don't take any pebbles though, or you're risking a big fine on your way home.
HONOURABLE MENTIONS:
Santorini's striking (though technically off-limits) Red Beach
Picture-perfect Voutoumi Beach on Antipaxos
Cliffs and colours of Seychelles Beach on Ikaria
More big boulders on Kolymbithres on Paros
The dramatic scenery and clear waters of Apella on Karpathos
Exotic sandy spit and turtles of Marathonisi islet, Zakynthos
Plaka and Agios Prokopios on Naxos for golden sands
Saliara Beach on Thassos for its marble-sized white pebbles
Orange sand of Xi and the sumptuous beauty of Petani and Antisamos on Kefalonia
Pine-drenched Lemonakia on Samos
Just interested in sandy beaches? Check out 12 Most Spectacular Sandy Beaches in Greece.
You might also like:
Which Greek Islands Have the Best Beaches?
12 Most Beautiful Sandy Beaches in Greeces
10 Beautiful Secret Beaches in Greece
10 Weird & Wonderful Beaches in Greece
10 Best Sandy Beach Resorts in Greece
10 Most Beautiful Beaches in the Ionian Islands
20 Most Beautiful White Sand Beaches in Europe
10 Most Beautiful Beaches in France
10 Most Beautiful Beaches in Croatia
10 Most Beautiful Beaches in Portugal
10 Most Beautiful Beaches in Spain
10 Most Beautiful Beaches in Turkey
10 Most Beautiful Beaches in Cyprus
10 Most Beautiful Beaches in the Balkans
How to Protect Your Valuables at the Beach
10 Clearest Turquoise Waters in Europe
Enjoyed this post? Click to save to Pinterest: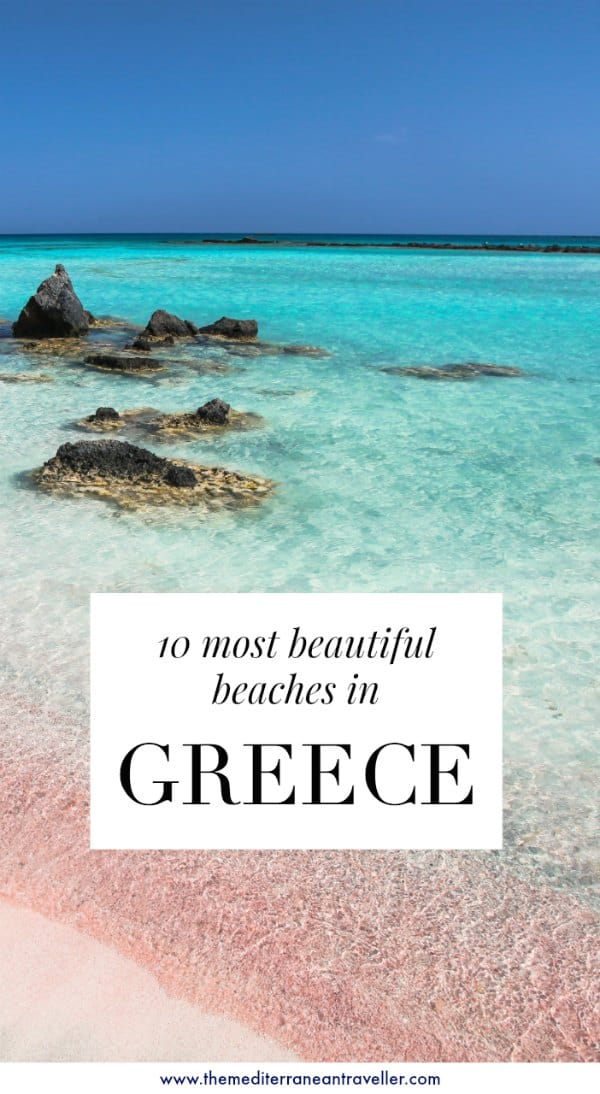 Image credits:
Navagio © GKor / Adobe Stock
Porto Katsiki © cristianbalate / Adobe Stock
Elafonisi © Zakhar Marunov / Adobe Stock
Sarakiniko © jsk12 / Adobe Stock
Mylopotamos © cristianbalate / Adobe Stock
Voidokilia © Maresol / Adobe Stock
Balos © smallredgirl / Adobe Stock
Myrtos © Dimitar Georgiev / Adobe Stock
Orange Beach © zdravinjo / Adobe Stock
Lalaria © Cara-Foto / Adobe Stock