Are one of those people who doesn't feel like they're on vacation unless you've got sand between your toes (and in your clothes, your bag, your hair . . . )? If yes, this is for you: here are the 20 best white sand beaches in Europe to lay your beach towel this summer.
The Mediterranean has miles and miles of amazing beaches, but many of them are pebbly rather than powder-soft. So we've gone scouting for the best sandy beaches.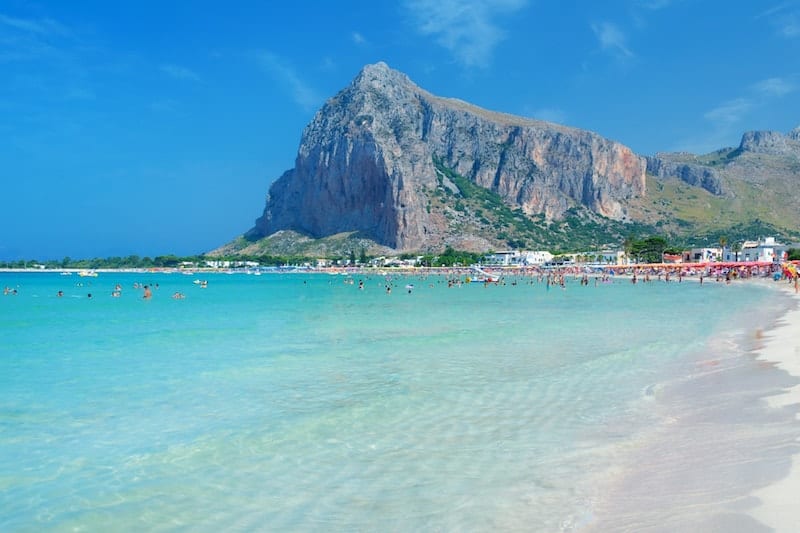 SAN VITO LO CAPO, SICILY
It's surprising that this beach isn't more well-known outside Italy. Perhaps the Italians want to keep this one to themselves? San Vito Lo Capo is one of the most popular beach resorts in Sicily, with easy access from both Palermo and Trapani airports. The main attraction is its fine iridescent sand and luminous waters. Be sure to try some of the towns famous seafood couscous whilst you're there though.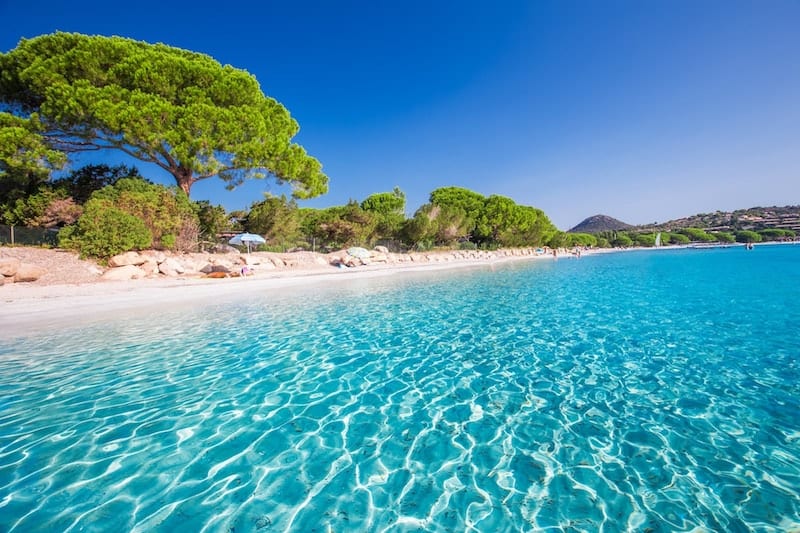 SANTA GUILIA, CORSICA
Corsica is home to some of the most stunning beaches in Europe, there's no question about that. South of Porto Vecchio you'll find Santa Giulia, a beautiful lagoon of dazzling exotic colours. This beach could easily be mistaken for somewhere Polynesian. Fragrant pines and sizzling seafood joints add to the paradise atmosphere.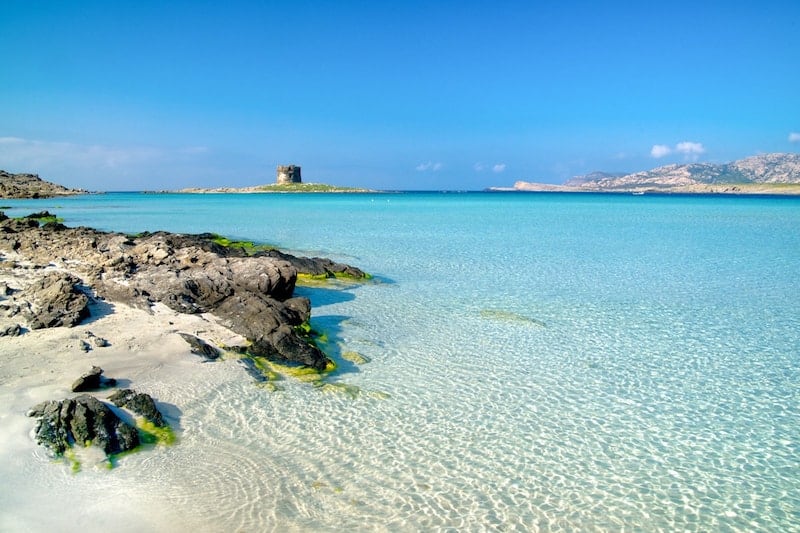 PELOSA, SARDINIA
Spiaggia La Pelosa is a hidden gem in the north of Sardinia. Between the village of Stintino and the tiny island of Isola Piana, you'll find pearly sands and warm waters. With an ancient watchtower looking over large areas of shallow lagoon in Caribbean-esque colours, it's the perfect place to live out your Robinson Crusoe fantasies.
CALA MESQUIDA, MALLORCA
Any number of beaches from the Balearic island of Mallorca could be on this list, but Cala Mesquida in the northeast of the island is a bit more low-key than some. There's a large wedge of dune-like sands leading to crystal clear waters that take on a tropical green tinge.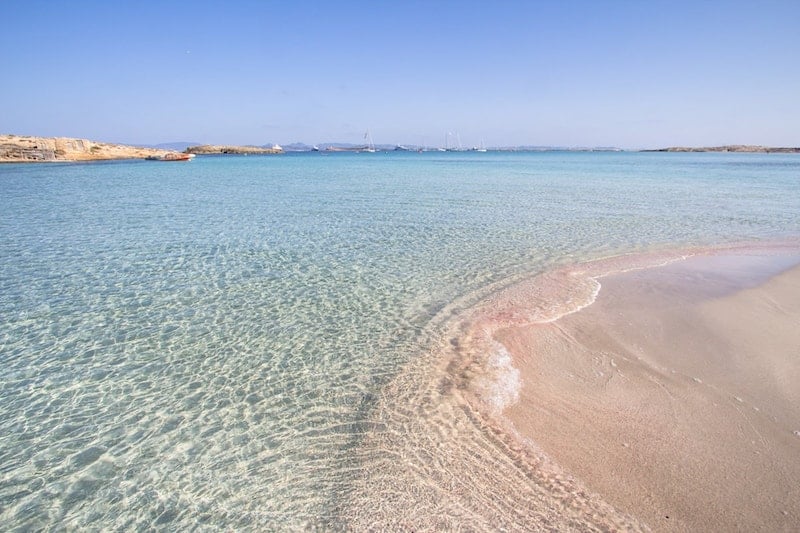 SES ILLETES, FORMENTERA
If sugar-like sands and shimmering colours are your thing then the beach of Ses Illetes in the Balearics is the destination for you. Beach aficionados catch the ferry from Ibiza to tiny Formentera island for this perfect expanse which rightly has a reputation as one of the best beaches in Europe. You won't be alone in high season though, as Ses Illetes has become a popular destination for daytrippers.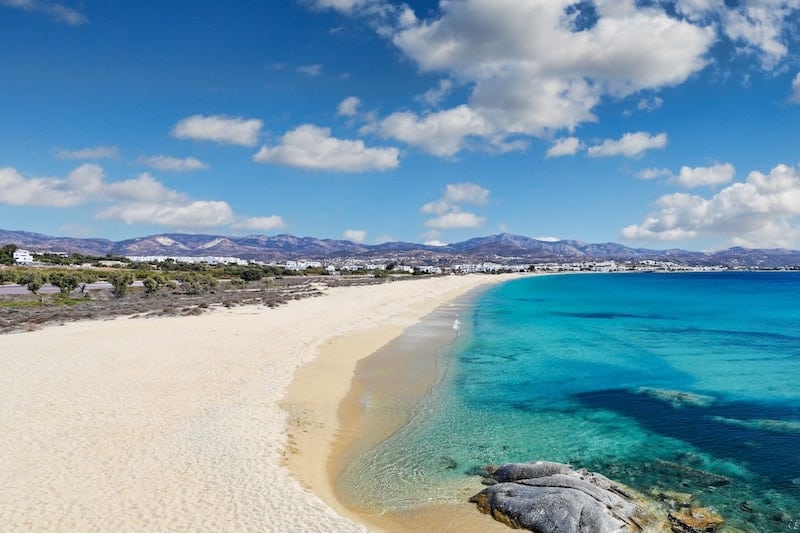 AGIOS PROKOPIOS, NAXOS
The Greek island of Naxos in the Aegean is quietly home to some of the best sandy beaches in the Med. Considering the island has an airport, it's still somehow under the radar for a beach break. All the better for those who do visit. Agios Prokopios is a long golden sand beach just 5km from the island's capital. It gently curves around from a headland which protects it from the worst of the winds and morphs into the equally picturesque Agia Anna at the other end.
MYLOPOTAS BEACH, IOS
Lively Mylopotas is buzzing during the summer months as it plays host to some of the best beach parties in the Mediterranean. And it's easy to see why this location is so popular: its combination of gorgeous golden sands, white-cubed Cycladic buildings, and a striking emerald sea make it everything you dream of in a Greek beach. Mylopotas is one to visit for warm water, watersports and good vibes.
CALA MITJANA, MENORCA
One of Menorca's beauty spots, Cala Mitjana will charm any visitor with its idyllic turquoise waters and fine white sands. Like many of the Balearics' beautiful coves, Mitjana is surrounded by cliffs and makes a popular day trip, although be sure to pack supplies as there's a picnic area and car park but no cafe.
LAS SALINAS, IBIZA
Partygoers on Ibiza head to Las Salinas for porcelain-coloured sand, electric blue water, and an array of beach bars hidden in the woods behind the beach. This 1.5km beach is has a carnival atmosphere in high summer when the beautiful people head here for daytime fun, and windswept natural beauty in the off-season.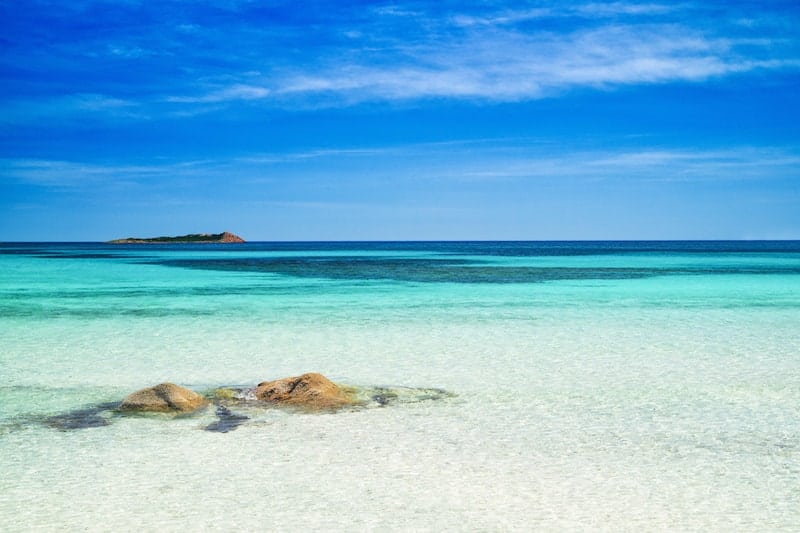 TAHITI BEACH, SARDINIA
The ritzy Costa Smeralda in the northeast of Sardinia is where Italy's rich and famous go on their superyachts for beautiful beaches. Just a bit further down the coast, you'll find Cala Brandinchi (or Little Tahiti, as it is popularly known), arguably the most beautiful of them all. It regularly tops 'best of' lists for its stunning colours and fine, bleached sands.
CORRALEJO, FUERTEVENTURA
The colour of the sea and sand in Fuerteventura has to be seen to be believed. This Spanish Canary Island is not too far from the Atlantic coast of Morocco, which explains the proliferation of sand (it's blown over from the Sahara). It's a great choice for winter sun when the Mediterranean is too cold and blustery. The laid-back town of Corralejo on the island's north tip has surf schools, a dune park, and an assortment of white sand beaches.
BOLONIA, SPAIN
The brilliant beach of Bolonia is one of the hidden gems of Spain's coast, which can get very busy in high season. Situated on the Costa de la Luz, just 20km from boho Tarifa, Bolonia is 3.8km of pristine sands and ancient Roman ruins. Although it's gaining in popularity it still feels unspoiled, as it's mainly intrepid picnicking families and kitesurfers who make the journey out here.
MASPALOMAS, GRAN CANARIA
One of the most unique beaches in Europe has to be Maspalomas on Gran Canaria. This Spanish spectacle is one of the most popular destinations in the Canary Islands thanks to its miles of sand dunes that resemble the Sahara. There's over 3km of the grainy stuff to explore in this nature reserve, and where it meets the Atlantic Ocean you'll find watersports, nudist sections, and a lively resort.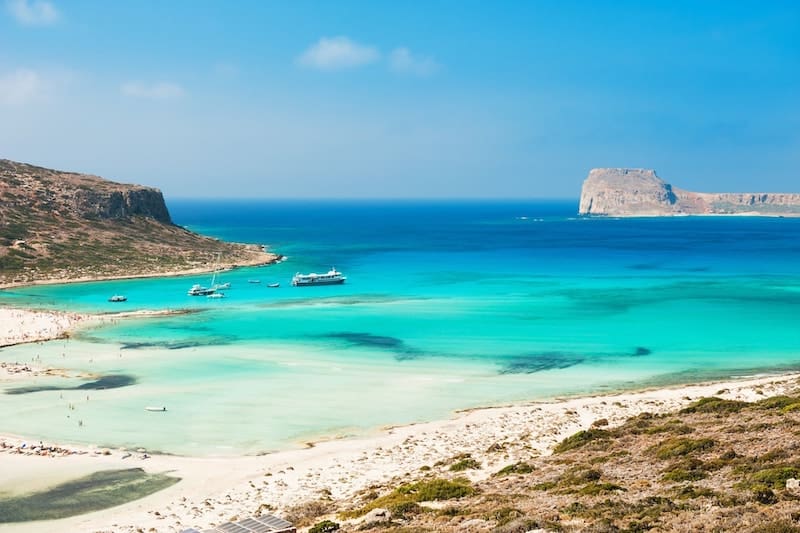 BALOS, CRETE
Crete's exotic-looking Balos lagoon is one of the natural wonders of the Eastern Mediterranean. The gentle white sands shelve in and out of bright teal waters between the mainland and the small island of Tigani. The sand at Balos is brilliant white and sometimes takes on a pinkish colour in the light thanks to the tiny particles of crushed coral. Visit early in the morning to get the best of the beach before the crowds arrive.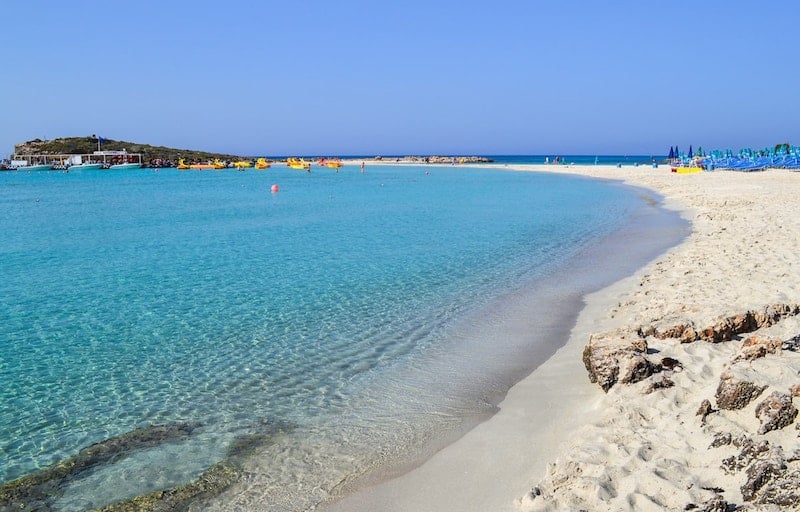 AYIA NAPA, CYPRUS
There's a reason tourist development is built up around Ayia Napa in Cyprus. And that reason is its beautiful white sandy beaches – the best on the island. The Nissi Beach has fine powdery sands, clean shallow water with Blue Flag status, and a particularly picturesque islet. It's not one for solitude-lovers though; Nissi is famous for its beach bars, clubs and watersports.
VAI, CRETE
Vai beach in Crete is one of the most unique amongst Mediterranean beaches for its forest of palm trees (specifically Cretan date palms) which lend it a truly exotic feel. Previously a hippie hotspot, camping is now forbidden and Vai is now an organised beach with a small entrance fee and is a popular day trip destination.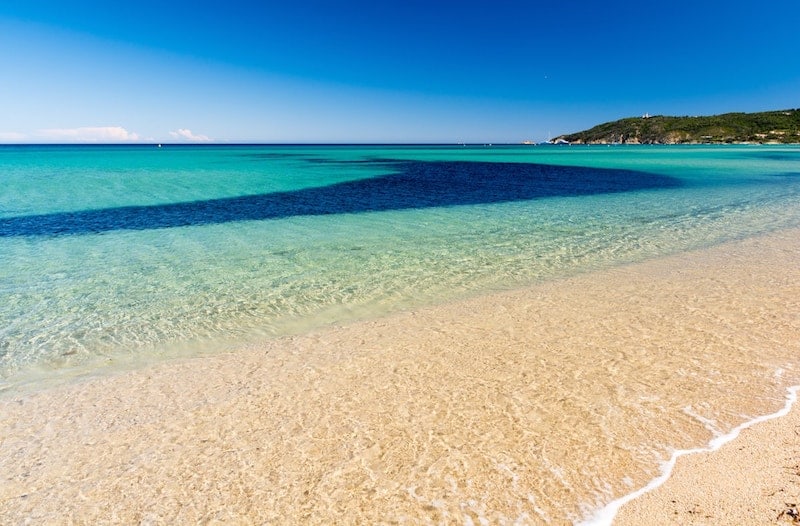 PLAGE DE PAMPELONNE, FRANCE
Of all the beautiful beaches in the South of France, Pampelonne beach in St Tropez is the showstopper. The glamorous head here to sunbathe and spend their money in the extravagant private clubs that line the 5km stretch of perfect yellow sand.
ELIA, MYKONOS
The most famous beaches on the Greek island of Mykonos are known for their round-the-clock partying rather than their golden sands. But 8km away is Elia, arguably the most beautiful beach on the island. Head here to recuperate after the night before, or just to enjoy the traditional vibe, relaxed charm and immaculate sands.
MONDELLO, SICILY
The lively beach resort of Mondello is a Sicilian institution. Technically an outer suburb of Palermo, it's easily accessible on frequent buses from the city and airport. The sand here is so fine it squeaks between your toes. It's a great place for people-watching in the summer when the island's beautiful people head here to top up their tan. Pastel-coloured cabins, gelato and art nouveau buildings add to the charm.
KOLONA, KYTHNOS
If you're looking for something a little quieter and unspoiled by development, then he Greek island of Kythnos is still under the radar when it comes to foreign tourism. Just 2-3 hours from Athens on the ferry, Kythnos is usually bypassed by visitors heading straight for the more popular islands in the Cyclades. Best reached by water taxi, the unusual Kolona beach has yellow gold sand with double the waves lapping its shore between the mainland and islet of Agio Loukas.
Read more:
10 Clearest Turquoise Waters in Europe
10 Most Beautiful Beaches in France
10 Most Beautiful Beaches in Greece
10 Most Beautiful Beaches in Italy
10 Most Beautiful Beaches in Spain
10 Most Beautiful Beaches in Portugal
10 Most Beautiful Beaches in Croatia
10 Most Beautiful Beaches in Turkey
10 Most Beautiful Beaches in the Balkans
7 Pink Beaches and Lakes in Europe
What To Do with Your Valuables at the Beach
Enjoyed this post? Click to save to Pinterest:
Image credits: San Vito Lo Capo © nadisja / Adobe Stock, Santa Guilia © gevisions / Adobe Stock, Pelosa © Emiliano / Adobe Stock, Cala Mesquida © lunamarina / Adobe Stock, Ses Illetes © robertdering / Adobe Stock, Agios Prokopios © costas1962 / Adobe Stock, Mylopotas © jsk12 / Adobe Stock, Mitjana © Naeblys / Adobe Stock, Las Salinas © Alex Tihonov / Adobe Stock, Tahiti Beach © Emiliano / Adobe Stock, Corralejo © The Mediterranean Traveller, Bolonia © Juanamari Gonzalez / Adobe Stock, Maspalomas © Valery Bareta / Adobe Stock, Balos © smallredgirl / Adobe Stock, Ayia Napa © Aleksandr / Adobe Stock, Vai © gatsi / Adobe Stock, Pampelonne © lukaszmilena / Adobe Stock, Elia © aetherial / Adobe Stock, Mondello © Paulo Resende / Adobe Stock, Kolona © Mike / Adobe Stock