One of Greece's main attractions is the iconic Cycladic landscapes with their dazzling white walls, sugar cube buildings, blue domes, sculptural walls, narrow alleys, pretty chapels and shimmering azure seas. It's the stereotypical image of Greece that is familiar to everyone. But where are the best places to find this traditional whitewashed architecture? Keep reading for 20 places to find beautiful examples of white villages and buildings in Greece.
The famous sugar-cube square buildings are typical of the Cyclades group of islands in the Aegean sea. Crisp whites and cool blues. At one with the magical light and bare surroundings. Simple, dazzling, clean and bright.
These humble abodes are mini masterpieces in simplicity. Shutters provide protection from the fierce Meltemi wind; windows on the north side let these winds in for cooling in the summer. Houses built close together to easier defend against pirates. Multiple levels of steps, nooks, and semi-outdoors spaces provide shade from the sun. Square shape as protection from the wind, flat roofs to collect the scarce rainwater.

WHY ARE THEY WHITE AND BLUE?
Contrary to popular belief, it's not to symbolise the colours of the Greek sea and sky.
This style of housing was originally constructed from stone and other readily available local materials. Due to the lack of wood (the Cyclades islands are hot and dry) the buildings were low, and sometimes dug into the rock where local geology allow. The houses were built close together in order to better defend from pirates. The thick stone walls were covered in plaster which was maintained through the regular use of limewashing (also known as whitewashing) several times a year. A cheap and readily available product made from slaked lime which had disinfectant properties. The white colour has the added advantage of reflecting heat from the sun, although colours were added to the limewash, particularly earth tones, ochres, and blues, which would have been less harsh on the eyes than the blinding white of freshly applied limewash.
The blue colour comes from mixing the lime with loulaki, a cleaning product which every home would have owned.
It was only later that these colours were associated with the Greek flag. The military junta of 1967-1974 imposed the colour scheme for patriotic reasons. It was later naturally adopted by many towns for aesthetics, as part of efforts to attract tourism.

WHERE TO FIND WHITE VILLAGES
These days, many villages keep up a white appearance. Since the 1900s white paint has become commercially available and replaced the limewashing in many areas. Many are now manicured tourist areas, particularly on the more popular islands.
You'll now find whitewashed villages beyond the Cyclades, on other islands or in spots on the mainland. Not all of these are traditional Cycladic architecture but are charming nonetheless.
Within the Cyclades, the main towns and capitals of the islands (usually known as Chora, meaning town), tend to have good examples of these historic buildings, Plus a scattering of villages both coastal and inland.
If you visit Greece during winter you'll undoubtedly see these buildings being spruced up with a fresh coat of paint. White paint companies might prove a worthy investment!


OIA, SANTORINI
Santorini is the poster child for whitewashed architecture; its clifftop caldera villages are famous around the world. The architecture on Santorini is unique thanks to its use of the volcanic materials on the island. Of most interest are the yposkafa, the cave houses that have been dug into the soft volcanic rock and topped with domes. Cave houses are most evident in the Caldera villages of Fira, Firostefani, Imerovigli, and Oia, but also present in some of the historic interior villages such as Pyrgos, Emborio, and Megalochori. Originally a low-cost form of construction that provided protection from pirates and the elements, these beautiful organic constructions are now deservedly popular with holidaymakers. Not all are bright white, on Santorini, you'll find a variety of earth, pink and ochre hues, although since 1974 all new buildings are supposed to be white. But Oia is where you'll find the most famous (and photogenic) examples of blue and white buildings in Greece.

MYKONOS CHORA
Mykonos is one of the most popular spots in the Mediterranean for its upmarket nightlife (with prices to match) and its well-manicured white streets are popular with the Instagrammers. The labyrinthine alleys of chic Mykonos Chora are filled to the brim with cute cafes, designer boutiques, galleries and bars. It's the place in Greece be seen over the summer months. The architecture of the island's capital is known for the colourful wooden balconies of Little Venice overhanging the sea, and the famous windmills which crown the town. If the liveliness of the capital gets too much you can always escape to a quieter village such as Ano Mera, pretty harbour town Tourlos, or beach resort Ornos.

NAOUSSA, PAROS
If you're looking for a less commercial alternative to Santorini or Mykonos, Paros should be top of your list. It's an up-and-coming destination thanks to its beautiful winding white streets and laid-back party scene. Parikia is the capital of Paros and where the ferries dock, but sophisticated Naoussa in the north of the island is the most picturesque town on the island and an emerging destination for nightlight (it's referred to as the 'new Mykonos'). Paros also has great beaches and vivid turquoise seas which contrast with the lovely low-rise villages.

ANTIPAROS
Antiparos is one of those places that everyone wants to keep a secret. Just off the south-west coast of big sister island Paros, for decades it has been popular with free-spirited artist types who found Paros too developed and mainstream. It still has a laid-back boho atmosphere, although the patronage of Tom Hanks (and several other A-list celebs who love it for the quiet) has put Antiparos firmly on the tourist radar. You can visit on a day-trip but it's worth staying overnight to experience the blissed-out vibes and clear skies.

NAXOS CHORA
The architecture of Naxos Chora has a distinctive character thanks to the Kastro—its 13th-century Venetian castle—and the narrow alleys that wind around it down to the harbourfront. The Chora is low-key loveliness exemplified; it retains a local character but you'll find everything you need, including a decent town beach (Ag Giorgios). Beaches on the island are golden and family-friendly. Beach-lovers should head for the resort areas of Ag. Giorgios, Prokopios and Aghia Anna where you'll find golden beaches and low-rise white buildings.
Read more: Naxos – A Guide to This Underrated Greek Island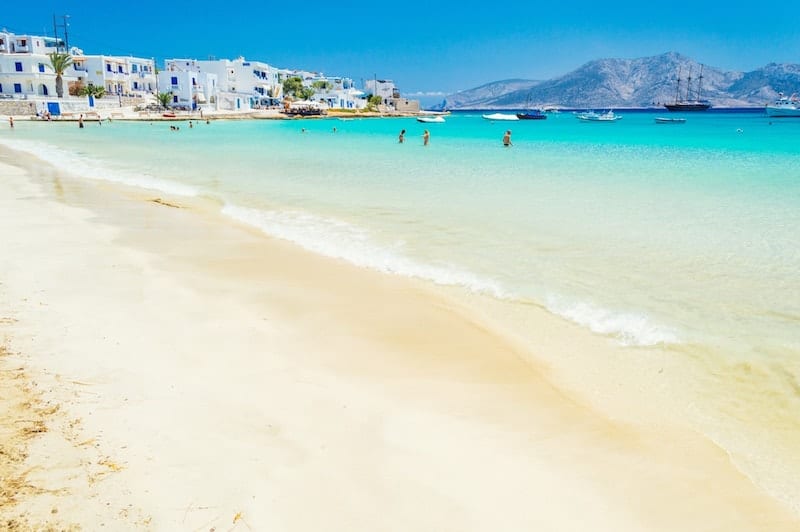 KOUFONISIA CHORA
The most accessible and popular of the Little Cyclades, a quartet of small islands between Naxos and Amorgos, Koufonisia has a charming Chora with whitewashed houses and blue-shuttered windows clustered around the beach and harbour and scattered across the rest of the island. The tiny island is home to some of the most strikingly beautiful beaches in all of Greece. You can visit on a day trip from Naxos, but this laid-back island paradise is becoming a popular destination in itself thanks to increased ferry routes (the Italians love it).
Read more: The 1o Best Beaches in Greece

LINDOS, RHODES
You're right in thinking Rhodes is not in the Cyclades (it's part of the Dodecanese and is out near Turkey) and it's not generally known for white villages. But it does have a very handsome white village called Lindos that's worthy of your consideration. Probably one of the prettiest towns in Greece, the whitewashed buildings of Lindos wind their way around an Acropolis with ancient ruins and several beaches to die for. Lindos these days is an upscale tourist resort and understandably popular as a day trip destination too.

LOUTRO, CRETE
Crete is a huge island with a distinct identity. It's not known for whitewashed architecture, however, there are a few exceptions. The main one to note is magical Loutro in the south of the island. You won't be able to reach it by road; access is by sea (small passenger ferry from Chora Sfakion) or by foot only. It's close to Agia Roumela, which is the end point of the spectacular Samaria Gorge hike. Its remote location is part of its appeal, along with the spectacular scenery and friendly locals. A perfect place for a DIY beach vacation with traditional vibes.

PLAKA, MILOS
If you're looking for somewhere with similar scenic views to Santorini but without the crowds, then get yourself to Milos. The most picturesque flower-filled backstreets on Milos can be found in its capital Plaka, which is 5km uphill above the port of Adamas. Its height means amazing panoramic views and sunsets to die for. Historic Plaka encompasses the Kastro old quarter within the old Venetian castle and spreads out over a hill, blending into neighbouring villages. You can also take a boat trip to the little fishing villages of Mandrakia, Firopotamos and Klyma (or Klima), small fishing villages which are home to the colourful and unique syrmata. These are basically garages for fishing boats over the winter, their doors painted in bright colours. More traditional architecture can be found at the cute seaside town Pollonia and smaller villages such as Fourkovouni and Tripiti. Milos also has the most beaches of any Cycladic island.

CHORIO, KIMOLOS
Somehow remaining under the radar despite its proximity to bigger Milos, little Kimolos is worth paying a longer visit for its secluded turquoise waters, rustic appeal, and the easy-going charm of main town Chorio. This unspoilt Cycladic gem also has excellent food, hiking, volcanic rock formations, and even a sunken ancient city, all wrapped up in a miniature package.

FOLEGANDROS CHORA
Folegandros is a small island but an up-and-coming destination in Greece on account of the sheer beauty and romance of its white clifftop capital Chora, one of the oldest towns in the Cyclades. Its charming pedestrian streets are lined with traditional houses in the Cycladic style and dotted with cafes and bougainvillaea. Down by the sea, the main port is Karavostasi which is more modern but still keeps the white style. You'll also find Cycladic architecture in the small mountain village of Ano Meria and seaside idyll Agali. Once a well-kept secret, Chora's outdoors steps and squares with their vivid painted woodwork are becoming a popular stop on the Greek island-hopping trail.

CHERRONISOS, SIFNOS
Sifnos is the foodie island of the Cyclades. Accessible from Athens, you'll also find sparkling beaches, a laid-back atmosphere, pretty white villages scattered around the island. Kastro is its clifftop old capital with remnants of its Venetian history and a famous blue-and-white domed chapel. Apollonia is the picturesque modern capital of Sifnos and where you'll find chilled-out nightlife, cute streets and boujie restaurants. Kamares is the main port and has a sandy beach. Smaller villages of Vathy, Faros, Artemonas also have white buildings. The idyllic Cherronisos in the north of the island gets my vote though; a tranquil village of potters and fishermen in a sheltered bay with nothing to do but swim in the lush waters and eat at its renowned seafood tavernas, it encapsulates the simple beauty of Cyclades.

SERIFOS CHORA
The Chora of Serifos has windmills to rival Mykonos and windswept hilltop charm. It has a certain golden quality of light as well as some fabulous golden beaches. It's a 5km bus ride uphill from the lively port of Livadi where you'll find low-key nightlife and tourist infrastructure, leaving sleepy Chora and its fabulous views for the determined (there's a couple of small museums as well as the remains of the Venetian castle). The well-kept lanes and alleys of the Chora will delight those looking for an authentic feel.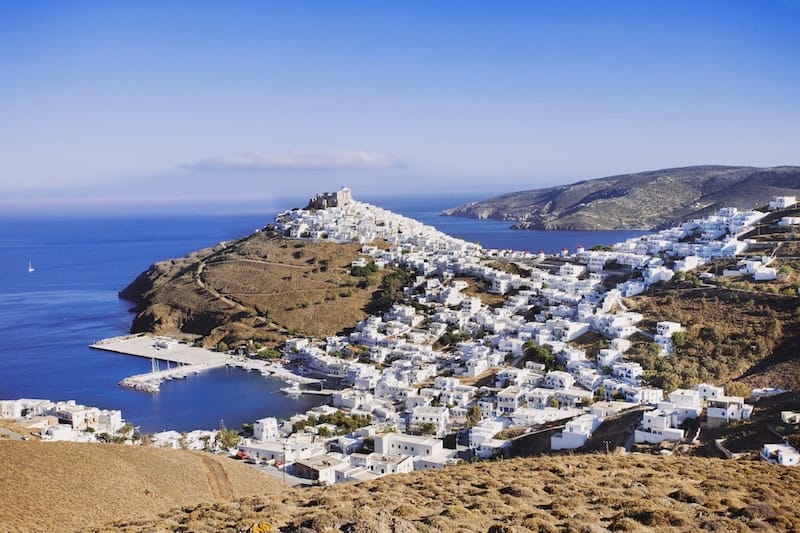 ASTYPALEA CHORA
For those prepared to foray a bit further, the butterfly-shaped island of Astypalea (or Astypalaia) is an offbeat highlight. It sits halfway between the Cyclades and Dodecanese island groups, though technically belongs to the latter. Sleepy atmospheric Astypalea shows its Cycladic influence in the white painted buildings of its Chora cascading down to the sea from the hills, overlooked by Querini Castle and a multitude of windmills. This charming harbour town Pretty beach resort of Pera Yialos. There's a stark, blinding quality to the light and whiteness here.

IOS CHORA
Often overlooked by travellers who are put off by its association with young partygoers, Ios is in fact home to some of the most beautiful examples of Cycladic architecture alongside with some incredible beaches. Most of the nightlife is centred around the beautiful golden sands of Mylopotas. The lively Chora is uphill from Gialos port and has tiny alleys begging to be explored, boho boutiques, cute cafes and backstreets, and the prerequisite windmills and great sunset views. As with Mykonos Chora, it can be blissfully quiet during the day when the crowds are tanning and sleeping off the previous evening's exertions.

PATMOS CHORA
Yes, Patmos is a handsome island in the Dodecanese, rich in history and religious significance (it's where John wrote the Book of Revelation). These days it has a sophisticated air, a serene landscape, and plenty for visitors to do. Whitewashed buildings and domed chapels fan out over the hills surrounding the port of Skala and uphill to the UNESCO World Heritage-listed old town, topped off with the famous Monastery of St John.

AMORGOS CHORA
Amorgos is a well-kept secret amongst Greeks, who favour it for its wild, mystical character and beautiful backstreets of its Chora. Its distance from the mainland ensures a strong local character; popular with those looking for lazy exploration, something a bit different and offbeat (and, of course, The Big Blue filming locations). Chora is the main town and one of the prettiest in the Cyclades. Aegialis and Katapola are the other two main towns on the island; both picturesque white seaside resorts (and ferry ports). There are also numerous little mountain villages such as Tholaria and Kamari where you'll find traditional examples of Cycladic architecture.

KYTHIRA CHORA
The relaxed island of Kythira is one of the hidden gems of the Greek Islands. Its location between Crete and the most southerly point of the Greek mainland means it doesn't fit easily into island-hopping itineraries. Technically belonging to the Ionian Islands, it has an equal amount of influence from the Aegean side. Elegant Chora, perched high up on a hill, has whitewashed medieval streets with Venetian and Byzantine remains, and you can just about see the photogenic beach town of Kapsali down on the shore. The traditional fishing villageAvlemonas is also worth a visit.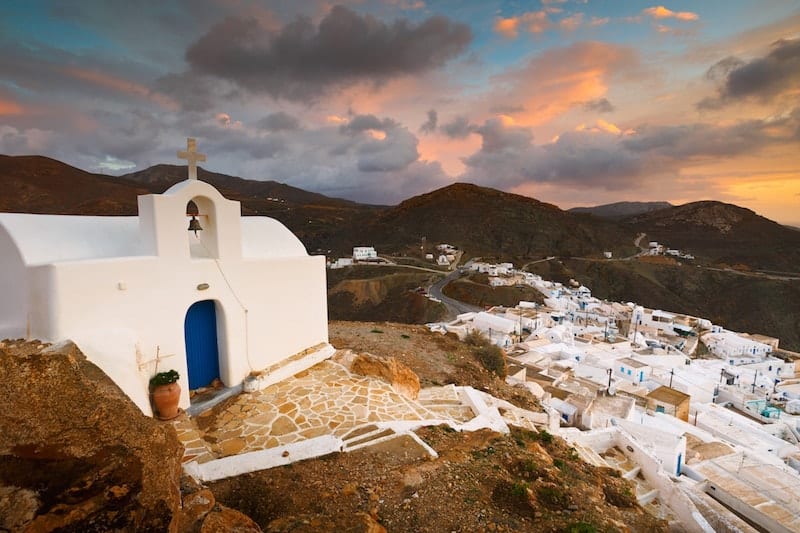 ANAFI CHORA
If you're looking for a remote island destination, with the stark beauty of Santorini but free of commercialism then Anafi ticks your boxes. Situated at the 'end of the line' as far as ferry routes are concerned, this barren island is well and truly off the beaten track, few tourists visit thanks to the long journey involved to get here, but those who make the trek are rewarded with raw beauty, pristine beaches, and an island almost to yourself. High up on a hill and 20 minutes walk from the port, the Chora is the only settlement of any size on the island although there is some habitation around the port and Ksilidi beach.

SIKINOS CHORA
Somehow hiding in plain sight, in amongst several of the most popular islands in Greece, is the little-known island of Sikinos. Located halfway between Ios and Folegandros, it's an ideal destination if you're looking for a real escape within striking distance of some of the larger islands. Its Chora is really two conjoined villages—Choria and Kastro—awash with narrow alleys and domed churches. Sikinos is for those who enjoy solitude; there's just one taverna in Alopronia.
Read more:
Ano Syros – A Beautiful Hidden Gem in Greece
Found this post useful? Click to save to Pinterest: