Heading to the Spanish island of Menorca this year? This resort guide will help you decide which part of the island to choose, which town, resort or beach is for you, and where to find the best beach hotels and rentals. This resort guide will cover:

MENORCA OVERVIEW
Menorca is perfect for lazy, relaxed beach holidays. Low key and family-friendly, it has a smattering of historic towns and cute fishing villages with traditional boathouses. Not to mention some of the best sandy beaches in Europe, with stunning turquoise waters, and flanked by limestone cliffs and pine forests. The pace here is unhurried. And thanks to reserved development, it's managed to retain its natural beauty.
The entire island was declared a UNESCO Biosphere Reserve in 1993 – meaning strict planning regulations. There are a few large resort hotels, but nowhere near as many as on neighbouring Balearic island Mallorca.
However, most of the beach resorts are purpose-built and can sometimes feel identikit with their rows whitewashed apartment complexes. What they lack in traditional charm, they make up for with spellbinding scenery, short transfers, and bags of convenience. Lots of fine sand, shady pines, and shallow seas round out the appeal for families of small children. The most popular beaches can get incredibly crowded during July and August, particularly at weekends.
Tourism here is geared towards families and active travellers, Menorca is a delight for bird spotting, walking, eco-tourism, agro-tourism, and fans of intriguing prehistoric monuments. The Cami de Cavalls (The Way of the Horses) path runs around the entirety of the island – you can walk, cycle, or ride it.
It's a small island and everything is within easy reach. The landscape is agricultural and hilly rather than mountainous, with good roads. For wilderness head to the wetlands and dunes of the S'Albufera Nature Reserve on the north coast.
Menorca is not a party island – nightlife is limited in most resorts, head to the cities and harbours for a (relatively) lively bar scene.
In 2016 an island-wide sustainable tourism tax was introduced; it's usually payable on arrival at your accommodation. The rate depends on the class of the hotel and time of year.

GETTING AROUND
Airport: Menorca Airport (MAH) is 5km southwest of Mahon and is served by domestic and international flights, including a wide range of budget carriers over the summer season. I recommend using Skyscanner to find cheap deals.
Bus: Buses from the airport to Mahon run frequently throughout the day and cost €2.65 – for more info see the Airport Website.
Menorca has reasonable – though not extensive – bus network, with services to resorts dropping off in the winter. See TMSA for island-wide services. For airport transfers see Shuttle Menorca.
Ferry: Ferry services connect Menorca with the mainland (Barcelona, Valencia) and the other Balearic Islands (Mallorca, Ibiza,). You can buy tickets through Direct Ferries.

WHERE TO STAY – THE HIGHLIGHTS
BEST LUXURY HOTELS: Melia Cala Galdana, Jardi de Ses Bruixes Boutique Hotel, Hotel Can Faustino
BEST INFINITY POOL: Melia Cala Galdana
BEST HOTELS ON THE BEACH: Melia Cala Galdana, Hotel Xaloc Playa, Hotel Xuroy
SWANKIEST VILLAS: Torre Bes, Villa Alakala
BEST HOTELS FOR FAMILIES: Royal Son Bou Family Club, Carema Club Resort
BEST PLACE FOR FAMILIES: Cala Galdana, Arenal d'en Castell, Cala en Porter
BEST ROMANTIC HOTELS FOR COUPLES: Artiem Audax, Tres Sant
BEST BOUTIQUE TOWN HOTELS: Sindic Hotel, Casa Ladico, Tres Sant
BEST PLACE FOR NIGHTLIFE: Cala en Porter, Mahon, Ciutadella
BEST QUIET BEACH RESORTS: Es Grau, Binisfuller, Cala Morells
BEST CHIC RURAL ESCAPES: Cugo Gran, Torral Benc
BEST APARTMENT: Divina Suites

WHICH PART OF MENORCA TO STAY IN?

Menorca has two main cities/towns – the capital Mahon on the east coast, and Ciutadella on the west.
NORTH: The north coast is quieter and less developer, with a wilder coast and fewer sandy beaches. There are pockets of fishing villages, particularly around the large nature reserve of S'Albufera.
SOUTH: The best sandy beaches are on the south coast, so it's here you'll also find most of Menorca's beach resorts as well as its most beautiful coves.
EAST: Capital Mahon is on the east coast, at the mouth of a natural river, as is the airport so for short transfers stay east. Resorts tend to be functional rather than beautiful, with local life found in inland villages.
WEST: Menorca's second town Ciutadella is at the opposite end of the island to Mahon, on the west coast, along with some of the island's prettiest scenery – with a few purpose-built resorts and hidden gems.
MAHON

Known as Mao in Menorca's local dialect, Mahon is Menorca's capital city. It's a small and atmospheric harbour town with tidy shuttered houses and charming cafes. It sits at the end of a long natural harbour (the largest in the Mediterranean) that once attracted the British Navy, who moved the capital here in 1722 and left a rich naval history (and a British feel – complete with gin). Don't miss a boat trip around the bay to take the harbour's small islands and significant sites.
Mahon is increasingly home to swish boutiques, seafood restaurants, and shops selling local crafts and artisanal goods – Menorca is particularly well known for its avarca traditional leather shoes as well as cheeses and sobrasada sausage. It's a popular yachty spot and it buzzes in the summer season.
The historic centre sits on a clifftop that overlooks the port and harbour – head to Cafe Mirador for a drink with a view.
Top things to do in and around Mahon are:
There's also a tourist train (the Mahon Express) which does a circuit of the town.
Transfer time: 20 minutes from Menorca Airport
ES CASTELL

The harbour town of Es Castell continues the British feel of Mahon with its Georgian-inspired architecture. A former garrison town, it was once one of the most important cities on Menorca.
Es Castells area is home to a host of military history sites:
Its glory days may be over, but it makes a charming base for couples – there's a good range of relaxed restaurants and bars for the evenings, and it's within striking distance (a 35-minute walk) of the capital. Es Castell has fresh seafood, good amenities, a pleasant waterfront area servicing both fishing boats and visiting yachts, and a traditional vibe that attracts returners to the island. The delights of the southeast coast are only 10 minutes in the car.
Transfer time: 15 minutes from Menorca Airport
S'ALGAR
The first major resort you come to as you wind your way along the east coast is S'Algar, a low-rise purpose-built resort. There's no beach here, instead, there's a paved promenade snaking along a rocky coastline. It's a quiet resort with a fishing village feel, some excellent diving and snorkelling, and is mainly popular with holiday-homers and returners who are happy to sit by the pool and explore by car.
The nearest proper beach is a 20-minute walk at Alcaufar.
Transfer time: 20 minutes from Menorca Airport
ALCAUFAR
Cala Alcaufar is a pretty resort that has sprung up around a cove beaches at the end of a long inlet flanked by cliffs. The area is filled with whitewashed boat houses perched on rocky platforms, with small fishing boats bobbing in the teal seas.
Alcaufar is picturesque and sleepy, with a smattering of shops and restaurants, and a good selection of self-catered accommodation. It's the first of many small resorts like this along the southeast coast.
Sant Lluis is the closest town for amenities (and further accommodation options), and it's only a 20-minute drive to Mahon.
Transfer time: 20 minutes from Menorca Airport
PUNTA PRIMA

Popular Punta Prima is a medium-sized resort curving around a Blue Flag sandy beach that's a hit with families. It's the first of the beach resorts along the coast that attract package tourists and you'll find a range of accommodation here, from all-inclusive resort hotels to quiet studios and backstreet villas. It also has amenities – including car hire and small supermarkets – but for a wider range head to nearby Sant Lluis.
The surrounding scenery is fairly flat but has walking trails, and the beach itself is as popular with local families as it is with tourists. It's not sheltered though and can get windy and waves. Beach bums are probably better off further along the south coast. There are some small play areas for children, and plenty to explore in the wider area including a waterpark. The atmosphere is laid-back and friendly.
Transfer time: 20 minutes from Menorca Airport
BINIBECA
Just around the coast from Punta Prima is Binibeca, the first in a trio of small resorts with a fishing heritage and scenic position. Binibeca is the largest and most popular of the three, largely thanks to its sandy Blue Flag beach and shallow waters. It's popular with families and has a few more bars and international eateries than Puna Prima. The wider area has lots of coves perfect for snorkelling.
Binibeca is divided into three sections – central Binibeca Nou which is right on the beach, Binibeca Vell which is home to a 1970s mock fishing village, and Cala Torret where many of the cheaper apartment complexes are located. It's a 20-minute walk end-to-end.
Transfer time: 20 minutes from Menorca Airport
BINISSAFULLER
Binibeca merges into dreamy Binissafuller (also spelt Binisafua), a secluded inlet cove with crystal clear water, fragrant pines, and a small beach. It's quieter and more picturesque than Binibeca, and also lacking its commercialisation. If you're searching for an off-the-beaten-track treasure, peace and quiet, and to be amongst nature, then you might well be happy here.
There are one or two restaurants in the area but no amenities to speak of. Its an easy 5-15 minute walk (depending on which end you start from) along the coast to Binibeca, however, be aware that the path is not lit at night.
Binissafuller and Binidali are both south of the airport runway and get occasional aircraft noise, depending on wind direction.
Transfer time: 16 minutes from Menorca Airport
BINIDALI
Binidali is a quiet village in a ruggedly pretty area with a small enclosed sandy beach. The even more secluded Cala de Biniparratx is just around the corner.
The village itself consists of a small grid of low lying streets with villas and restaurants tucked away behind oleander bushes. It's very relaxed and best suited to those who can entertain themself, and who have a car (although a bus does run along the coastal road). There are a few larger supermarkets in the wider area.
Transfer time: 10 minutes from Menorca Airport
ES CANUTELLS
The last in this series of small cove hamlets, Es Canutells is similar to its neighbouring south-east coast resorts – a small village of whitewashed houses perched on cliffs surrounding two cove beaches. It's quiet, with one shop and a bar or two. The beaches boast some dazzling turquoise waters but are quite short on sand space.
Transfer time: 15 minutes from Menorca airport
CALA EN PORTER


Cala en Porter is the first of the blockbuster resorts along the south coast and is arguably the best resort on Menorca for families. It has a similar cove-beach landscape but is on a bigger scale. Here, there is room to stretch out on the beach – and enough space for an organised section of loungers, pedalos, and a lifeguard. The calm waters slope gently and are a dazzling turquoise. The beach itself is backed by parking, toilets, a few cafes, and a nature reserve.
Cala en Porter is a relaxed resort, with enough to keep the kids and adults entertained. The resort itself is up on the hill overlooking the beach. This is the downside of Cala en Porter – it's a steep walk between its Blue Flag beach and the town. There's a choice of 200 steps or a walk down the road which is less steep but longer. In high season there's a tourist train to help you out. There is also parking at the bottom of the road though in summer months – it helps to get there early.
The intriguing Cales Coves are nearby, and the area is packed with great walks, snorkelling, and cliff jumps. And the cliffside Cova d'en Xoroi is one of the most Instagrammable bars that you're likely to visit, and at night it morphs into the island's main club.
Transfer time: 15 minutes from Menorca Airport
SON BOU

Son Bou is one of Menorca's most popular resorts and is slap bang in the middle of the south coast. It's also where you'll find the longest beach on Menorca, with over 2km of impeccable sands and Blue Flag waters.
Unlike the island's many cove beaches, this endless beach is backed by dunes. As it's one of the larger beaches, you can also find a good range of watersports and activities here, making it ideal for families with older children. There's plenty of parking available behind the beach, and more deserted beaches to discover in the wider area.
The resort of Son Bou is medium-large (at least for Menorca) and spread out. Son Bou itself is behind the eastern end of the beach. Most of the resort's accommodation is in an area called San Jaime which is separated from the beach by a conservation area. Expect a 5-10 minute walk to the beach. The Torre Soli Nou area is behind San Jaime and further from the beach.
The town has a small commercial centre where you can find amenities and a lively selection of cafes, bars, and international cuisine. It's the best spot on the island for beach amenities and is also well connected by road. There are a few large hotels but, like most places on Menorca, it's not overly developed.
Transfer time: 20 minutes from Menorca Airport
SANTO TOMAS
A few miles further down the coast is the similar resort of Santo Tomas, which occupies a similar stretch of dune-backed beach. The resort is relaxed and popular with mature travellers as well as families and has a more intimate feel than Son Bou. However, buggies or wheelchairs might struggle with the number of wooden boardwalks.
One plus of being located in Santo Tomas is that you can catch the bus in either direction to Mahon or Ciutadella. You're also very close to the untouched beach of Binigaus, which is popular with naturists. There is no coastal road linking Santo Tomas with Son Bou, but it's a popular activity to walk from one to the other and taxi back.
Transfer time: 25 minutes from Menorca Airport
CALA GALDANA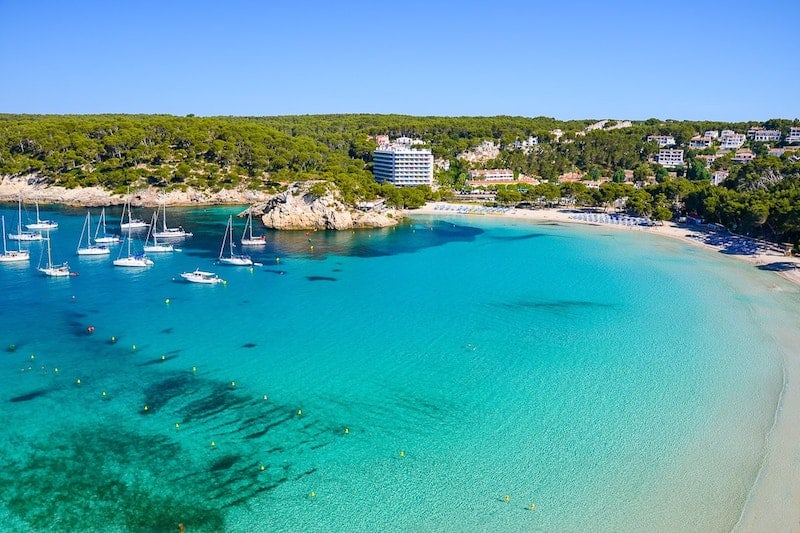 Straddling what is arguably Menorca's most beautiful beach, Cala Galdana is a deservedly popular beach resort. It's located in a particularly scenic bay at the end of a gorge, with a graceful and general crescent of fine sand, irresistibly clear sea seas, and a fragrant pine forest setting. The Blue Flag beach is popular with families and couples and you'll find all sort of watersports and activities in the bay.
It's not a noisy resort though, and those looking for lively evenings will be disappointed entertainment is mostly in-hotel. There's a wide range of accommodation and amenities here, and enough. But the main attraction is the beach and the scenery.
Cala Galdana is also a great base for exploring the stunning coastline without a car. Menorca's other most beautiful beaches – the coves of Mitjana, Turqueta, and Macarella – are a short boat trip away, or you can hike along the cliffs. Snorkellers will not be disappointed either.
The main drawback of staying at Cala Galdana is that during the summer it gets extremely crowded.
Transfer time: 35 minutes from Menorca Airport
CALA EN BOSC

Sitting on the south-west tip of Menorca is the popular purpose-built resort town of Cala en Bosc which sports two beaches and a marina.
The main town beach is a deep cove beach, and within a few minutes you can also be at the secondary beach of Son Xoriguer which has excellent watersports facilities.
But life in Cala en Bosc centres around its marina, which is ringed with palms and laid back cafes and eateries. If you get easily bored in the evenings without a variety of restaurants, bars, and entertainment then this is one of the better resorts in Menorca for you. Its range of facilities for all ages makes it popular with those looking to stay longer than one week, as well as with its regulars. There's also a frequent bus service to Ciutadella.
Transfer time: 45 minutes from Menorca Airport
CALA BLANCA AND CALA SANTANDRIA

Just a few kilometres south of Ciutadella, Menorca's charming and historic second city, you'll find the twin resorts of Cala Blanca and Cala Santadria. Both have popular cove beaches in pretty bays with fine sands and blue seas, and could almost be considered beach suburbs.
Cala Blanca has a larger beach with beach bars, cliffside trails and some family facilities, whereas Cala Santandria is more of a local area and has a quieter beach and a peaceful atmosphere. However, there are more restaurants at Cala Santandria, which is more residential and merges into Ciutadella as you head north.
Both beaches can get very crowded in July and August due to their proximity to the city. It's a 15-minute trip by bus into the city, and there's also a bus route south to Cala en Bosc.
Transfer time: 45 minutes from Menorca Airport
CIUTADELLA


Mahon may be Menorca's capital now, but once that title was claimed by charming west coast city Ciutadella. Arguably it's most beguiling. Until the 18th century, this was the most important city on Menorca, and it still bears a Baroque and Gothic grandeur that the current capital lacks.
It has quite a distinct look, with honeyed hues, ornate brickwork, green shutters, and labyrinthine backstreets reminiscent of Sicily and Malta than the clipped mansions of Mahon. It's one of the loveliest small old towns in the Mediterranean (and one of the least-known).
These days Ciutadella is a weekend break destination for Spaniards and the chicest place to stay on the island. It's becoming something of a hotspot for boutique abodes. The areas to the north and south of the city are prime package tourism destinations so it also gets its fair share of daytrippers. It's a short bus ride fro Ciutadella to Menora's most exquisite (though hardly undiscovered) coastal scenery.
Transfer time: 45 minutes from Menorca Airport
CALA EN FORCAT AND CALA'N BLANES
To the north of Ciutadella is a family getaway set in a picturesque area of inlet cove beaches, a resort which mushroomed in the 80s. It encompasses several areas which have merged into one – Cala en Forcat, Cala'n Blanes, Caka'n Brut, and Los Delfines – so there are a few beaches to choose from (although none are particularly big and get very crowded in high summer).
This is not the place to come if you're looking nightlife or shopping – or for a slice of authentic Menorca. It's pretty much a British enclave, calmer than it used to be, but there is a focus on British food and bars.
But it's popular with families that have young children and you'll find hotel activities, amenities, restaurants and play areas catering for the little ones, shady beaches, and a generally flat area that is easy to whizz around with a buggy (although some of the beaches involve a few steps).
Transfer time: 45 minutes from Menorca Airport
CALA MORELL

One of a handful of small resorts on Menorca's north coast, the white cube houses of Morell are surrounded by craggy scenery and glistening turquoise waters that look like they've been borrowed from Greek islands or Malta. It's a hidden gem and has a (sometimes windy) wilderness that's missing on the south coast.
The rocks have a reddish tinge and the sand is stonier and darker than the southern beaches. But as well as the cove beach there are numerous rocky platforms that are popular with swimmers, snorkellers, and sunbathers.
Cala Morell is best suited to those looking to escape the crowds. It's popular with daytrippers and locals, but is otherwise quiet, with just one bar and restaurant and a cluster of apartments and villas. Walking trails run through the village, and there are intriguing prehistoric cave tombs nearby.
Transfer time: 40 minutes from Menorca Airport
FORNELLS
The next stop is halfway along the north coast at fishing village Fornells (not to be confused with Cala Fornells on Mallorca), a charming village of white houses with orange tiled roofs set around a harbour. Its waterfront promenade is lined with palms and cafes.
Fornells has a traditional Menorquin feel and is renowned for its seafood restaurants (it's a great place to try the local speciality lobster stew).
The beach (Playa Fornells) It can get windy on this part of the north coast, but Fornells is located on a peninsula at the entrance to a natural harbour (Fornells Bay) – which makes it ideal for fans of windsurfing and dinghy sailing. There is plenty of unspoilt coastline to discover, with some of Menorca's most beautiful untouched beaches in the wider area.
On the other side of the peninsula is Playa de Fornells, a smart landscaped resort complex on the beach of Cala Tirant. It's peaceful and upmarket, consisting of a few all-inclusive hotels and apartment/villa blocks. The beach is a wide crescent of sand and shallow waters, suitable for small children.
It's a 5-minute drive or 30-minute walk between Fornells and Playa de Fornells.
Transfer time: 30 minutes from Menorca Airport
SON PARC
Son Parc has two obvious appeals. The first its beach – long, sandy, and backed by dunes. It's spacious and has an organised section with watersports available. The other attraction here is its 18 hole golf course.
There's not much to the village itself beyond a handful of restaurants and shops along one small road, and a warren of purpose-built tourist accommodation in landscaped grounds. Son Parc is quiet in the evening – the aparthotels have in-resort entertainment – but there are a few bars.
Transfer time: 30 minutes from Menorca Airport
ARENAL D'EN CASTELL

Arenal d'en Castell (or simply Arenal) is a contender for the best family beach resort on Menorca is thanks to its sheltered horseshoe-shaped bay. It's a hit with little ones thanks to its golden Blue Flag beach, watersports, boat trips and resort hotels with waterparks.
There is an increasing number of all-inclusive hotels pitching mainly to a British crowd.
The resort is on a hill, with most shops and restaurants at the top and buildings cascading down to the beach in an amphitheatre effect. This makes for some great views. There's enough to keep you occupied for a week or so, and there are frequent buses to Fornells and Mahon.
The golf course at Son Parc is a short drive away, and within walking distance over the hill are the traditional harbour villages Na Macaret and Port d'Addaia which are popular with second homeowners, yachties, and older couples.
Transfer time: 25 minutes from Menorca Airport
ES GRAU
A fishing village on the edge of the wetlands of the S'Albufera Natural Park, Es Grau is a little pocket of traditional Menorca. There is a small beach of dark sand and extremely shallow waters which attract local families for paddling and seafood suppers. It's a roll-your-trousers-up kind of place, with a small quay and whitewashed fisherman houses.
Transfer time: 25 minutes from Menorca Airport
Read more:
Where to Stay on Mallorca: Ultimate Beach Resort Guide
Where to Stay on Ibiza: Ultimate Beach Resort Guide
Where to Stay in Spain: Ultimate Beach Resort Guide
Where to Stay on Sardinia: Ultimate Beach Resort Guide
Where to Stay on Corsica: Ultimate Beach Resort Guide
Where to Stay on Sicily: Ultimate Beach Resort Guide
10 Most Beautiful Beaches on the Balearic Islands
Where to Stay on Crete: Ultimate Beach Resort Guide
Where to Stay on Corfu: Ultimate Beach Resort Guide
Where to Stay on Kefalonia: Ultimate Beach Resort Guide
Where to Stay on Lefkada: Ultimate Beach Resort Guide
Where to Stay on Zakynthos: Ultimate Beach Resort Guide
Where to Stay on Skiathos: Ultimate Beach Resort Guide
Where to Stay on Rhodes: Ultimate Beach Resort Guide
Where to Stay on the Turkish Coast: Ultimate Beach Resort Guide
Enjoyed this post? Follow us on Facebook or Twitter.
Click to save to Pinterest:

Image credits:
Cala Turqueta: © tuulijumala / Shutterstock
Cala Macarelleta: © Paolo Gallo / Shutterstock
Cala Presili: © tuulijumala / Shutterstock
Cal Mitjana: © Naeblys / Adobe Stock
Cala en Porter boardwalk: © Pawel Kazmierczak / Shutterstock
Map of Menorca: © The Mediterranean Traveller
Mahon: © kite_rin / Adobe Stock
Es Castell: © Rulan / Adobe Stock
Punta Prima: © photobeginner / Adobe Stock
Cala en Porter: © lunamarina / Shutterstock
Cova d'en Xoroi: © DoKuPiX / Adobe Stock
Son Bou beach: © lunamarina / Shutterstock
Cala Galdana: © pkazmierczak / Adobe Stock
Cala en Bosc: © Ibfotomotor / Adobe Stock
Cala Santandria: © Gareth Bevan / Adobe Stock
Ciutadella: © tuulijumala / Shutterstock
Ciutadella harbour with boat: © Kite_rin / Shutterstock
Cala Morell: © Anibal Trejo / Adobe Stock
Arenal d'en Castell: © Pawel Kazmierczak / Shutterstock