Heading to the Greek island of Rhodes this year? Here's a complete rundown on where to stay on Rhodes to help you choose: which part of the island to stay in, which town, resort or beach is for you, and the best beach hotels, whether you're booking DIY accommodation or looking for a package vacation.
This is part of a Greek holiday resort guide series and will cover:

RHODES OVERVIEW
BEST LUXURY HOTELS: Lindos Blu, Casa Cook Rhodes, Boutique 5 Hotel and Spa
BEST BUDGET HOTEL RIGHT ON THE BEACH: Delfini Beach Hotel
BEST VILLAS: Kiotari Beach Villa, Axiotheaton Villas, SeaSide Suites
BEST RESORT HOTELS FOR FAMILIES: Hotel Porto Angeli Beach Resort, Atlantica Aegean Family Resort, Rodos Princess Resort & Spa
BEST HOTELS FOR COUPLES: Lindos Blu, Boutique 5 Hotel and Spa
BEST BOUTIQUE TOWN HOTELS: F Charm Hotel, Kokkini Porta Rossa
BEST PLACE FOR NIGHTLIFE: Rhodes Town or Faliraki
BEST HOSTEL: STAY Hostel
WHERE TO STAY NEAR THE AIRPORT: Ixia, Ialyssos, Kremasti, or Rhodes Town
BEST APARTMENTS: Lefka Hotel & Apartments, Helios Garden Boutique Apartments, Lindos Seaside Suite

WHICH PART OF RHODES TO CHOOSE?

Rhodes is known for two things – sunny beach holidays and its magnificent medieval old town. The Island of the Knights is blessed with one of the warmest and longest climates in the Mediterranean – most resorts remaining open throughout October.
And the airport is well served by international, charter and domestic flights – making it one of the cheapest Greek islands to reach (I recommend Skyscanner for finding the lowest fares).
So it's no surprise that Rhodes is one of the most popular destinations for package holidays. If you're in the market for a package then check out TUI, Olympic, and Jet2 for deals. There's has a wide variety of accommodation on Rhodes, and all-inclusive hotels are particularly popular.
There are a few sandy beaches – notably at Lindos and Pefkos – but most of the resort beaches are a mix of darkish sand and shingle.
NORTH – Rhodes Town is situated right at the top tip of the island, with resorts extending down either side and becoming more remote the further south you get
EAST – the east coast is home to sandy bays, barren hills, and a wide variety of resorts from upmarket Lindos to partytown Faliraki and likeable Pefkos
WEST – the north-west has long stretches of shingle beach with big AI hotels in the north-west, whereas the south-west is green, hilly and empty with a few small fishing villages
SOUTH – the southern tip is wild and remote, encapsulated by the wide sandy expanse of Prasonisi beach which is loved by windsurfers

RHODES TOWN
Rhodes Town is in fact one of the biggest and busiest cities in the Greek islands. It's a vibrant university city and working port, with a UNESCO World Heritage-list medieval old town at its core. Rhodes is a short distance from Turkey and this key strategic position at the crossroads of empires has left a rich historic legacy on the island.
But it was the Knights Hospitaller who were responsible for many of the impressive fortifications that you see today, such as the Palace of the Grand Master. The Old Town is one of the most extensive and well preserved medieval walled towns in Europe. It's also one of Greece's busiest historic sites.
Beyond the old town, there's a thriving modern city and even a beach scene.
The area near the beaches is known as the New Town and is the best place to look for accommodation if you don't mind being outside the Old Town (or don't want to pay the prices).
The New Town is also where you'll find most of the city's nightlife, although there are plenty of quiet streets too (just avoid Orfanidou which is known locally as Bar Street and particularly popular with partying Scandinavians).


KALLITHEA
The first big beach resort south of Rhodes Town is Kallithea. The name Kallithea can refer to a number of different places on Rhodes, but for tourist purposes the main Kallithea is the long swathe of beach to the north of Faliraki which is also known as Ammoudes.
The beach is backed by a number of large all-inclusive hotels and the road behind it is referred to as 'Main Street' (although it could equally be called 'Only Street'. Sometimes these hotels are labelled as being in Faliraki, sometimes Kallithea, depending on the marketing intentions. The water park makes a useful cutoff point, consider everything north of this Kallithea (too far to walk easily into Faliraki).
This section of beach is wide and quiet, with a mix of sand and shingle, and it gets few visitors beyond those staying there. It can be rocky once in the sea. It's ideal if you want a comfortable beach break but within spitting distance of bigger resort towns.
To its north is Kallithea Springs, an old thermal spring complex that has recently been revived as a beach club. It's surrounded by a number of rocky beaches with beach bars and is popular with visitors from Rhodes Town.
Past Kallithea Springs the big resort hotels continue all the way to Rhodes Town. The coastline here is mostly rocky with a few small sandy bays such as Kavourakia.
Beyond the hotels and the beach, there's not much to Kallithea. There are a few bars and shops but most head into Faliraki or Rhodes Town for entertainment.

FALIRAKI
Faliraki has cast off its boozy reputation of yesteryear and has reinvented itself as a cheery package favourite (though there is still plenty of nightlife happening).
It has 5 kilometres of Blue Flag beach bursting with entertainment and family appeal. Sands are soft (though dark) and the water clean and shallow. With its high-rise hotels and bustling promenade, you could almost be in Florida. It's ideal for the easily bored.
Of course, Faliraki still has plenty of the nightlife that it's known for – buzzing beach bars, late-night karaoke and ten pin bowling, and all night clubs. But the booziness is largely confined to Bar Street and Club Street these days.
There's a large waterpark to the north of the town.
If you find the main parts of the beach too busy and crowded you can easily escape to the quieter ends.
It's the largest resort on the island and well-served by buses connecting it with Rhodes Town (20 minutes) and the other resort towns along the coast. There's also a water taxi. To the south of Faliraki are a number of picturesque bays including Anthony Quinn Bay and Ladiko.

KOLYMBIA
Purpose-built Kolymbia is for perfect for relaxation, but it's easy to reach Faliraki or Rhodes Town.
This purpose-built resort has a pleasant sand/pebble beach which is Blue Flag and doesn't get as busy as some of the other resort beaches. The shingle is a bit sharp in places though. But it has the usual array of sun loungers and watersports, and it's great for swimming and snorkelling.
The main road is called 'Eucalyptus Road' and is lined with a few tourist-oriented tavernas, car and souvenir shops.
Kolymbia is mainly home to all-inclusive resorts so there's not much going on in terms of vibe, but it's not far from Faliraki and is served by frequent buses. The main village (and the main road) is a long walk from the beach, and they are served by separate buses to Rhodes Town.
To the north of Kolymbia is Afandou village and beach which has a more traditional Greek feel, and to the south is the gorgeous Tsambiki beach and monastery – one of the highlights of the island.
STEGNA
Stegna beach is not on the main bus route (nearest stop is at Archangelos village) so has managed to remain a bit under the radar. If you find Pefkos is getting too commercial then Stegna might be a good alternative, although the beach is not as sandy.
It consists of one small strip of small hotels and tavernas along a wide beach which is a mix of sand and shingle. There are a few sharp rocks in the water but it's otherwise family-friendly.
The epic sandy Tsambika beach is to the north of Stegna, and there's a cluster of interesting rocky bays to the south.

KALATHOS AND HARAKI
This long stretch of beach south of Stegna starts off as Haraki and morphs into Kalathos. It's a wide beach, and 4km long – there's plenty of space even in July and August. There are some unorganised stretches of beach with no development if you're after a remote feel. The beach itself is a mix of sand and pebbles.
At Haraki you'll find the ruins of Feraklos Castle and one waterfront road lined guesthouses, bars and tavernas. The beach is coarse sand and pebbles and popular with local families who visit for the day. The delightful sandy Agathi Beach is nearby.
At the Kalathos end, you'll find a small cluster of tavernas, cafes and amenities, and a few luxury resorts.

VLYCHA
Vlycha beach is more of an outpost of nearby Lindos, which is just around the corner to the north, than a resort town in itself.
It has a much bigger beach however it's worth noting that it's pebble rather than the sand you find at Lindos.
Vlycha is mainly home to large all-inclusive resorts hotels that have a tendency to label themselves 'Lindos' – which is technically walkable but it's uphill and along a busy road with no pavement. Although there are frequent public buses along the main road, this too is uphill from the beach and most (but not all) of the hotels. Check with your hotel if it provides a shuttle bus, though there are frequent public buses which stop on the main road.
Most of the hotels in Vlycha are all-inclusive so not much going on in Vlycha itself beyond Banana Beach Bar.
If you're looking for a swanky hotel near a quiet beach you'll find them here – it's more upmarket than Pefkos or Lardos. Some of the most romantic adults-only hotels are found here.
The beach is not as nice as at similar Kolymbia but it has the advantage of easy access to charming Lindos.

LINDOS
Lovely Lindos is surely one of the most beautiful villages in Greece, and definitely the most romantic destination on Rhodes. You couldn't put together a more beautiful little town if you tried. It has it all – hilltop acropolis with temple ruins and a castle, pretty whitewashed streets and fine sandy beaches. It's car-free, and the water is an incredible colour.
It has an upmarket feel, and the food and shopping is some of the best on Rhodes.
There are two main beaches – Lindos Beach and the one by the yacht club. Both have excellent golden sand and shallow waters. Additionally, it's a 10-minute walk to St Paul's Bay where you'll find 2 picturesque beach bars.
The downside? Lindos gets a lot of daytrippers and can feel very crowded, even in shoulder season. You'll pay a premium to stay or eat in Lindos.
The main part of the village is pedestrianised and slightly hilly, something to bear in mind for those with mobility issues. The bus stop is on the main road and it's a 5-minute downhill walk from there.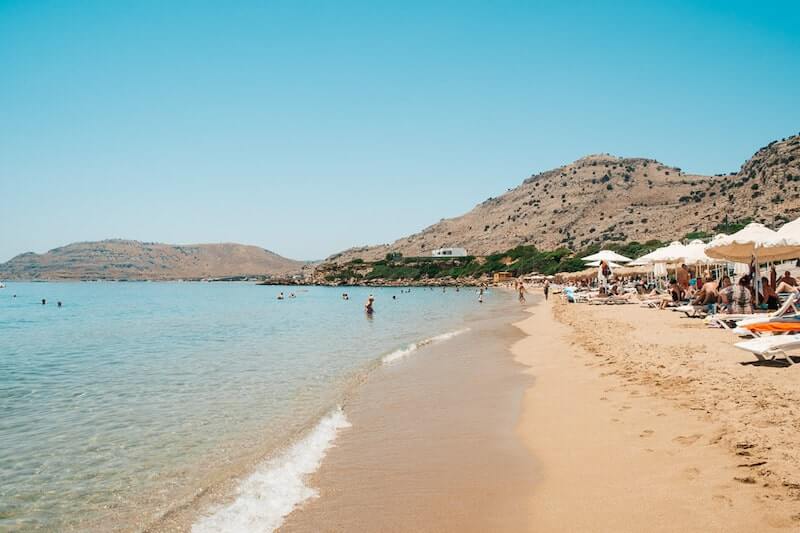 PEFKOS
Probably the second-best sandy beach on the island after Lindos, Pefkos (or Pefki) is a cheery little beach resort town which is popular with British package tour operators.
As such it has all the standards: English breakfast, an Irish pub, bars, inflatables and souvenirs. Nothing too noisy – this is no Faliraki and it's fairly quiet after midnight. You can find Greek tavernas as well as somewhere to belt out your karaoke track of choice. The strip, or 'Main Road' as it's known, is a 10-minute walk uphill from the beach.
The beach itself is fine golden sand and the water is shallow and clear with small waves. It's a delightful beach, but very small and narrow given the number of people who want to sit on it – particularly in the school holidays.
On the beachfront, there are just a few tavernas and cafes, but the village extends back quite far behind. There are frequent buses to Lindos.

LARDOS
Keep following the shore south and you'll reach Lardos. Compared to Pefkos and Lindos, it feels a little scruffy but the crowds really start to thin out here (and the prices decrease too). There are some cheap and friendly beach hotels and its popular with families and Greek tourists.
The beach is sandiest at the northern end and gets progressively more pebbly the further south you go. Unlike Pefkos, Lardos is pretty flat and it's a short walk from the beach to the village bus stops.
Most of the accommodation is on the beach, but it's not far to Lardos village – which is slightly inland and has a rural Greek feel, the remains of a medieval castle, and even a Folklore Museum.
Between Lardos and Pefkos are some upmarket villas and suites that look right out onto the beach.

KIOTARI
Continuing south, Kiotari is the name given to a small village slightly inland, and a long stretch (4km) of shoreline which encompasses several beaches.
The main beach resort zone is to the north of the village, where the beach is sandy and the coast is lined with big all-inclusive resorts. This section of the beach is the most organised, with plenty of watersports and inflatables. There are a few mini markets and cafes on the road behind the beach here.
The beach becomes quieter and more pebbly the further south you get, and it eventually morphs into Gennadi. The pebbles are smooth and multicoloured, with some lending a reddish tinge, and the waters are lovely for swimming. Some stretches of the beach are so quiet you won't see a soul, even in high summer.
In the middle is the occasional villa or guesthouse.

GENNADI AND PLIMMARI
Gennadi is another long section of gravelly beach with a rural village slightly inland.
Large swathes of the 6km beach are quiet and unorganised, perfect if you like to have the beach to yourself. There are a few beach bars which host occasional all-night parties in the peak of high season.
Buses to Gennadi are less frequent than the resorts further north so best to rent a car if you're going to stay this far south. This end of the island has an isolated feel and is popular with locals, meaning there are some great tavernas (such as Antonis) – so if you do stay at one of the big all-inclusives in the area make sure to leave the compound a few nights for dinner.

IXIA, IALYSSOS AND BEYOND
Representing the west coast of Rhodes are the twin purpose-built resorts of Ixia and Ialyssos which blend seamlessly into each other.
This stretch of sea is known for its remarkable electric blue colour (even in cloudy weather!) and ideal windsurfing conditions. Yes, it is wild and windy and wavy on this side of the island. Families with children are better off on one of the Blue Flag beaches on the other side of the ideal.
But the coast is lined with luxury and all-inclusive resorts making the most of the views out to sea and the sunsets over Turkey on the horizon.
Although the prevalence of AI means there's not much of a vibe or local feel (keep going to Kremasti or Fileramos if that's what you're looking for), there are amenities, tavernas and bars along the strip plus a promenade that runs all the way into Rhodes Town.
Of the two, Ixia has the better beach whereas there's more going on in Ialyssos (although it is very spread out).
There are frequent buses along the main road although these do get busy as they're on the Rhodes Town – Airport route. The hotels do continue after the airport but get increasingly sporadic.
Read more:
10 Most Beautiful Beaches on Rhodes
Where to Stay on Corfu: Ultimate Beach Resort Guide
Where to Stay in Crete: Ultimate Beach Resort Guide
Where to Stay on Lefkada: Ultimate Beach Resort Guide
Where to Stay on Kefalonia: Ultimate Beach Resort Guide
Where to Stay on Zakynthos: Ultimate Beach Resort Guide
Where to Stay in the Cyclades: Ultimate Beach Resort Guide
Where to Stay on Skiathos: Ultimate Beach Resort Guide
Where to Stay on Mallorca: Ultimate Beach Resort Guide
Where to Stay on Ibiza: Ultimate Beach Resort Guide
Where to Stay on Menorca: Ultimate Beach Resort Guide
Where to Stay on the Turkish Coast: Ultimate Beach Resort Guide
Where to Stay on Cyprus: Ultimate Beach Resort Guide
Enjoyed this post? Click to save to Pinterest:

Image credits:
Lindos from above: © Aerial-motion / Shutterstock
Elli beach, Rhodes Town from above: © Aerial-motion / Shutterstock
Kallithea: © Philippos Philippou / Shutterstock
Kolymbia: © vivooo / Shutterstock
Kalathos: © vivooo / Shutterstock
Ixia from above: © Myroslava Bozhko/ Shutterstock
All other images © The Mediterranean Traveller