Heading to the beautiful Greek island of Crete this year? Here's a complete rundown on where to stay in Crete to help you choose which part of the island to choose, which town, resort or beach is for you, and the best beach hotels, whether you're booking accommodation DIY or looking for a package vacation.
This is part of a Greek holiday resort guide series and will cover: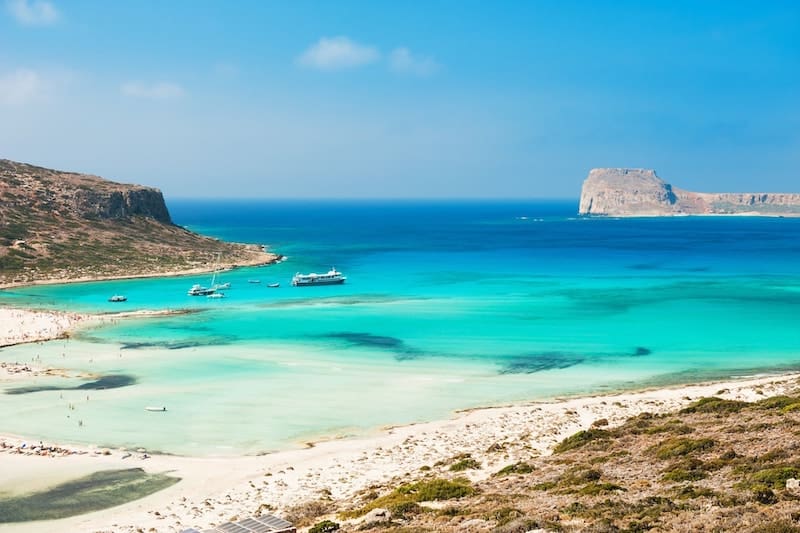 CRETE OVERVIEW
BEST LUXURY HOTELS: Domes of Elounda, Daios Cove, Abaton Island Resort and Spa, Domes Noruz.
BEST HOTELS RIGHT ON THE BEACH: Domes Noruz, Caramel Grecotel Boutique Resort, Domes of Elounda.
BEST HOTEL INFINITY POOL: Daios Cove (Ag. Nik).
BEST VILLA WITH INFINITY POOL: Villa Estee (Elounda), Villa Octo (Palaiokastro).
BEST SWIM-UP ROOMS: Stella Island Luxury Resort & Spa.
BEST HOTELS FOR FAMILIES: Amirandes, Cretan Malia Park.
BEST BOUTIQUE TOWNHOUSE HOTELS: Serenissima (Chania), Cressa Corona (Rethymnon), Rimondi Estate (Rethymnon) , Hamam Oriental Suites (Rethymnon).
BEST PLACES FOR NIGHTLIFE: Malia, Hersonissos, Chania, Rethymnon, Heraklion.
BEST QUIET RESORTS: Sissi, Panormo, Plaka, Plakias.
BEST APARTMENTS: Notus (Chania), Agave (Chania), Neratze Hammam Suites (Rethymnon), Veranda Rossa (Rethymnon).

WHICH PART OF CRETE TO STAY IN?
Roughly speaking, the north coast is developed and is home to the main cities and also most of the beach resort towns. Crete is divided into four provinces, each headed up by a regional capital on the north coast – Chania, Rethymnon, Heraklion, and Agios Nikolaos. The coastline between these cities is the busiest and most developed part of the island.
The south is wild and remote with a spectacularly rocky coast and a few standout beach resorts.
The main cities and towns on the north coast are linked by regular buses – each regional capital has buses going to the south of its region. Be aware that roads and bus routes in the south are sparse, it's easier to plan an itinerary that takes in one region or travels along the north coast. Crossing the south of the island is difficult.
Crete is a large island – the fifth largest in the Mediterranean – and you can find whatever you're looking for in each region. Therefore it can be easier to decide on arrival airport/port first, or any attractions that you particularly want to visit, in order to narrow down where to stay.

CHANIA REGION (WEST): The Venetian city of Chania heads up the westernmost region of Crete. Beach resorts fan out from Chania, but the rest of the coast is rugged and quiet with a few spectacular beaches (Elafonisi, Falassarna and Balos) and excellent hiking in the White Mountains (the Samaria Gorge).
RETHYMNON REGION: Crete's longest beach starts at Rethymnon, itself a gorgeous historic city. Lots of sandy beach resorts with traditional villages tucked away inland.
HERAKLION REGION: Heraklion is Crete's capital and busiest city. Nearby is the knockout ancient site of Knossos, and along the coast are some of Crete's largest beach resorts. Inland is agricultural, with plenty of vineyards.
LASITHI REGION (EAST): The biggest town in the east is Agios Nikolaos, a popular and cosmopolitan harbour town. The surrounding coastline is home to some of Crete's most exclusive and charming beach resorts. Way out east it all gets wilder, windier, and much emptier.
The main airports in Crete are Chania International and Heraklion International, both well served by budget airlines. There is also a domestic airport in Sitia with flights from Athens.
CHANIA AND THE WEST

CHANIA

Chania (pronounced 'Hania' and sometimes spelt Xania), with its old Venetian streets, is the gem of Crete and its nicest city. It's located on the western end of the north coast, with peaks of the White Mountains (Lefka Ori) providing a dramatic backdrop.
One of the most beautiful cities in all of Greece, Chania is unsurprisingly a popular tourist destination. The coastline is developed on either side, but it was the introduction of budget flights to Chania airport that really put it on the map. Most visitors won't venture far outside the old town, the nexus of which is the pretty 14th-century Venetian harbourfront, but surrounding it is a decent-sized the modern university city with a year-round population of 60,000 people.
The most well-known landmark is the blush pink Yiali Tzami mosque on the waterfront, with the main (outer) harbour on one side and the Venetian (inner) harbour and arsenal on the other. The main tourist street is Odos Halidon, which divides the old and new city.
Chania's maze of old town streets have been prettied up for the tourists, but they still retain a charming atmosphere – especially if you can catch them in spring before the masses arrive. The harbourfront is lined with restaurants and smart boutiques, and the narrow alleys filled with souvenir shops, and the colourful tables and twinkly lights of tavernas vying for your trade.
Top attractions and things to do in Chania include:
Head west from the main harbour to hit the town beaches – Nea Chora is the closest and a 15-minute walk, Chryssi Akti is the nicest.
As Chania is a regional capital and in close proximity to so many beach resorts, it makes a great base to explore the west of the island. Many boat trips, excursions, and day tours are available, and it's possible to make some journeys (such as hiking the Samaria Gorge) yourself by bus.
The KTEL bus station is in the new town, a 10-minute walk from the main harbour – see PDF timetables.
Possible day trips from Chania include:
Transfer time: 25 minutes to the main harbour from Chania International airport.
RESORTS NEAR CHANIA
If you're planning on staying in the area for more than a few days in the summer then it makes sense to be out in one of Chania's coastal resorts, to take advantage of beach access and/or parking (which is very difficult in the centre).
The resorts spread out in either direction along the coast. Most of these are connected to town by regular bus. They get progressively smaller, more village-like and quieter the further out you get.
To the west:
Agioi Apostoli – small and friendly, good for nature
Nea Kydonia – lively, close to Chania
Agia Marina – popular and buzzing
Platanias – party zone, has its own strip
Stalos – busy with lots of apartments
Gerani – wide beach and good scenery for nature lovers
Maleme – quiet with a big beach
Tavronitis – quiet and untouristy with a pebble beach
Kolymbari – quiet with a fishing village feel
The Akrotiri Peninsula is where you'll find the airport, a swathe of villas, and a few spectacular beaches such as Stavros Bay and Seitan Limani.
To the east, towards Rethymnon:
Almyrida – laid back but lively
Georgioupoli – quiet fishing village
Transfer time: 15-45 minutes from Chania International airport.
KISSAMOS
Kissamos is a working port town on the northwestern edge of Crete. You're most likely to end up here if you're catching a ferry to Kythira or to Gythio on the mainland, or if you're using it as a base to explore the nearby beaches at Balos and Falassarna.
It has a slightly scruffy feel but there are two town beaches, an archaeological museum and some excellent restaurants to entertain you. Boat trips to Balos leave from the harbour.
Transfer time: 50 minutes from Chania International airport.
FALASSARNA

Falassarna is home to one of the best beaches on Crete – vast, sandy, and relatively undeveloped. Parts of it are organised in the summer months though, and it does attract daytrippers. There's no real village to speak of, but there are a few places to stay tucked away in the flat plain behind the beach.
Transfer time: 1hr 10 minutes from Chania International airport.
ELAFONISSI

The pink sands of Elafonisi are one of the main attractions in west Crete, with coachloads arriving every day to bathe in the glorious lagoon-like waters. The beach is in a protected park and no development is allowed with 1km.
Transfer time: 1hr 45 minutes from Chania International airport.
PALEOCHORA

Much of the south-west coast is rocky and inaccessible, with steep cliffs that drop dramatically into the sea and small beaches that form at the end of gorges. Except for the blockbuster beaches that attract day trips, it's not ideal for beach tourism. With the exception of Paleochora, that is.
Paleochora is the main resort town on the south-west coast. It's a windswept and low-key kind of place, with remnants of a hippie vibe. Paleochora is located on a small peninsula with beaches on either side – perfect for windsurfing as one of them will always be catching the wind.
It attracts independent travellers and plenty of returners and is a popular base for hiking in the area.
Transfer time: 1hr 35 minutes from Chania International airport.
THE SFAKIA COAST

The remote area of Sfakia on the southern coast is one of the most beautiful parts of Crete – but you have to be prepared for an adventure to get there. There are few roads in the area, and some of the villages are accessible only by boat. Their wild and remote location and lack of road access have helped to preserve their beauty. It feels a little like the end of the known world, and Sfakions are known for their fierce independence and excellent cheese pies.
Agia Roumeli is the most visited village in the area as it forms the exit point for the popular Samaria Gorge hike – every day in the summer hundreds pop out of the gorge and onto a ferry to X where they can reconnect with the road system.
But the highlight is the peaceful and picture-perfect sugar cube village of Loutro, with its whitewashed walls and electric blue seas.
A network of small ferries connects Paleochora and Sfakia at either end, with the villages of Sougia, Agia Roumeli, and Loutro, and the island of Gavdos to the south. A perfect miniature island-hopping adventure.
The long-distance hiking route passes through the area, and there are several smaller gorges and empty beaches such as Sweetwater to discover.
Transfer time: 1hr 30 minutes from Chania airport.
FRANGOKASTELLO
If you like your beaches vast and often deserted then make a beeline for Frangokastello on the south coast. Few make it out this far, despite it's calling card – the impressive (but empty) Venetian castle on its shore. Most of the visitors are locals in the high summer months.
The beach is sandy and the sea is calm, though the south coast does get fierce winds at times.
Transfer time: 1hr 40 minutes from Chania International airport.
RETHYMNON REGION

RETHYMNON
The city of Rethymnon (you might also see it spelt Rethymno or Rethimno) is like a smaller, more chilled version of Chania. It has the same old-world charms with its colourful Venetian harbourfront, relics of Turkish rule, student population, and tangle of tiny alleys. It's a perfect romantic destination for couples.
The thrum centres around the Venetian harbour, the cafe-packed backstreets, and the extensive beach which extends to the east.

Top things to see and do in Rethymno include:
And possible day trips in the area include:
Rethymnon Beach is Crete's longest sandy beach at 12km long, and as it extends east from the city it swallows up villages that have long since morphed into suburban beach resorts. Most of the beach is lined with tavernas, cafes and bars, but with easy acces to the city. The further out, the quieter it gets. Rethymno Beach is also one of Crete's most important turtle nesting grounds. Swimmers will prefer the deep water at Episkopi.
Some of the beach resorts along Rethymnon beach include:
Pervolia
Misseria
Platanes
Pigi
Sfakaki
Skaleta
The area around Platanes is popular and sandy.
The beaches in the Rethymno province are some of the best – not as dramatic as the west coast, but long and sandy and perfect for long, lazy beach days. The resorts here are some of the nicest places to stay on Crete.
That said, they are exposed to the northwesterly Meltemi wind which blasts Greece throughout the summer – beware big waves and undercurrents when the wind is blowing, pay attention to local advice. You may have to head to the south coast when the wind is blowing. Palm-fringed Preveli is one of the most unique and beautiful beaches on Crete.
Transfer time: 1hr 10 minutes from Chania International airport, 1 hr 10 minutes from Heraklion International Airport – book a transfer.
PANORMOS

So many people make a beeline for Rethymno that it's surrounding villages are something of a hidden gem. Panormos is the first beach resort that you hit east of Rethymnon that has a proper village feel and isn't just an outpost of the city. It has a quiet and authentic atmosphere and a well-sheltered beach – it's one of the best places in Crete for families with small children.
The beaches here are small – but this helps to keep the crowds away.
There are enough family-run tavernas and seafood restaurants that you can eat out somewhere different every night for a fortnight. It's also a good base if you want to rent a car as there are plenty of beaches to explore in the area and it's only a 15-minute drive to Rethymnon.
Transfer time: 55 minutes from Heraklion International airport.
BALI

A lively beach town, the resort of Bali is set around a handful of coves in a scenic bay. It's a busy tourist town dominated by resort hotels, with a small harbour and 4 organised beaches, and is packed with pretty bougainvillaea and colourful sun loungers.
The beaches aren't huge so they do get busy; Bali is larger than it looks and popular with the package tourism crowd and daytrippers from the wider area.
But it has everything you need – it's ideal if you're looking to enjoy one place for your holiday and don't feel the need to visit the larger towns. There's plenty to keep older children entertained, including watersports and boat trips.
If you're used to staying in small villages then you may find Bali too busy and commercialised.
Bali is roughly halfway between Rethymno and Heraklion – there are bus services both but not as frequent as other resorts. It's a 40-minute drive to Rethymno.
Transfer time: 50 minutes from Heraklion International airport.
AGIA GALINI

South coast Agia Galini is a small harbour town that was once the biggest resort town in the Rethymno region. Tourism here peaked in the 90s and as such it has a slightly careworn feel and is friendly but not busy. Rapid growth resulted in some dense development around the small harbour, and the small beach is a 10-minute walk out of the village.
But there are plenty of returners from those days – its warm seas, great views, and some of the best fishing in Greece make it particularly popular with expats. It's perfect for mature couples who don't need excursions and are happy to rent a car to explore the south coast. That said, there are bus links to Rethymno and Heraklion so car hire is not necessary. Beach bums are better off at Plakias (see below).
Transfer time: 1hr 15 minutes from Heraklion airport.
PLAKIAS
Plakias is one of the nicest small resorts on Crete. It's a relaxed south coast village, about 30km from Agia Galini, and has a wide, sandy Blue Flag beach and a spacious feel. It attracts a younger crowd than Agia Galini, more families and independent travellers.
This area is perfect for beach lovers (although it's worth noting that the main beach does get very windy). Some of the most beautiful and unique beaches are in the area – nearby Damnoni is sandy with shallow clear waters, perfect for kids. The famous Preveli Palm Beach with its exotic date palm forest at the end of Kourtaliotiko Gorge is 5km away. And you can find amazing rock formations nearby at Souda – such as Calypso Bay.
But it's also possible to use Plakias as a base for walking and hiking. There are several beaches that you can reach by foot, and as the crowds thin out you can still find a few nudist beaches. If you have a car then you might also want to consider accommodation up in Mirtios village above the bay.
Transfer time: 1 hr 40 minutes from both Chania and Heraklion airports.
HERAKLION REGION

HERAKLION

Slap bang in the middle of the northern coastline, the city of Heraklion (also spelt Iraklio or Iraklion) is the capital and its surrounding coastline is some of the busiest and most developed on Crete.
Heraklion itself is not quite an attractive destination in the same way that Chania and Rethymnon are – much of its historic architecture was damaged during heavy bombing in WWII. A few Venetian buildings remain but most of the city is a modern concrete jungle that always seems to be dusty and full of building works that were halted during the crisis.
If you can get beyond immediate appearances, it has a likeable vibe – there are some excellent museums and a good bar and music scene propped up by the local student population. Top things to see and do in Heraklion include:
Ammoudara is the easiest beach to reach from the city – the line 12 bus runs throughout the day. Head west for quieter beaches at Amnisos or Tobrouk.
But the main attraction that brings tourists to Heraklion is the nearby ancient Minoan site of Knossos – the biggest and most well-known on the island. It's an easy and cheap bus ride to Knoss from Heraklion. There are more Minoan ruins worth discovering though – head further afield to Malia and Phaistos. Heraklion Archaeological Museum is fantastic – it's worth visiting before you head out to the ancient sites if you can.
Day trips from Heraklion:
Inland Heraklion region is home to farmland and vineyards, whereas the coastline spreading east from Heraklion is also the most developed on Crete, and home to its most famous (and infamous resorts).
Transfer time: 15 minutes from Heraklion International airport.
AGIA PELAGIA

Agia Pelagia is halfway between Bali and Heraklion and is the only real beach resort to the west of the capital, to which it is connected by a regular bus service which takes about 1 hr.
The vibe is family-friendly thanks to its sheltered bay which is lined with a number of traditional tavernas. The beach is a mix of shingle and sand, and the water is crystal clear and calm. The resort itself is sleepy but – like most in the area – the beach gets very busy in the summer.
In the small grid of streets behind the main beach, you will find souvenir shops, mini-markets, and small hotels/rooms to let. The surrounding hillsides are home to a swathe of lovely resort hotels and a few minor beaches.
Transfer time: 30 minutes from Heraklion airport.
MATALA

Crete's famous hippie beach is located on the south coast – the name will be familiar to any fan of Joni Mitchell, who lived in the caves here for a short time as described in the song 'Carey.
Although the hippies have long since been moved on, and the caves protected and closed to the public, the town retains a laidback feel despite the explosion of tourism here. It's a popular day-trip destination and the crowds somewhat marr the incredible natural landscape with its towering rock formations. There are some quieter beaches in the area if you're up for a bit of scrambling, and things calm down in the evening once the coaches have packed up for the day.
Those in search of the original 60s free-spirited vibe will be disappointed (though try nearby Red Beach), but Matala is a fun seaside town and is a good choice for younger couples looking for somewhere lively and photogenic.
Transfer time: 1 hr 5 minutes from Heraklion International airport.
HERSONISSOS

Hersonissos is the biggest resort in Crete, it's a large and lively resort town with something to suit every taste and budget. It can be as quiet or as rowdy as you like.
There are 3 main beaches and a long waterfront area that's full of seafood restaurants, bars and clubs, and is popular in the evening. The prices in Hersonissos are very competitive, partially to lure customers out of the many all-inclusive hotels in the area.
The older part of town (Ano Hersonissos or Palia Hersonissos) is set back from the coast and has lots of little family-run tavernas. A typical routine is to eat dinner in the old village and then head down towards the waterfront for evening drinks.
The outskirts of Hersonissos are home to some of Crete's swankiest 5* resort hotels. Take a 15-minute walk uphill from the main town and you will find Koutouloufari and Piskopiano, two traditional villages that are increasingly popular for upmarket accommodation options.
There's a regular bus to Heraklion, and it's possible to reach Rethymnon and Agios Nikolaos for day trips too.
Transfer time: 20 minutes from Heraklion International airport.
STALIS
The main attraction in Stalis (or Stalida) is its 6km golden crescent of beach, and its proximity to party capital Malia (just a 30-minute walk). The beach here is better than any at Hersonissos, which is 5km away.
It's a purpose-built resort and essentially a quieter outpost of Malia though, with lots of the same English breakfast cafes and Irish bars. There's a wide selection of accommodation, easy transport links, a short airport transfer, and child-friendly shallow waters. If you have a mix of old and young children – or value convenience – then Stalis is a solid option. Just don't expect to find authentic Crete here.
Transfer time: 20 minutes from Heraklion International airport.
MALIA

The infamous resort of Malia is known for its 24hr party scene – it's the best spot for nightlife on Crete, as legions of teenage boys well know.
But the rowdy bars are largely confined to one strip – the 'Malia Mile', and the party doesn't start until later in the evening. Outside this, it's a large resort town with an excellent (though busy) beach, an unashamedly commercial centre, and a charming old quarter (Old Malia), where you'll find traditional houses and tavernas.
Nearby is the Palace of Malia, one of the best Minoan ruins on the island.
Transfer time: 35 minutes from Heraklion airport.
EASTERN CRETE – LASITHI REGION

AGIOS NIKOLAOS

Lasithi, the easternmost province of Crete, is home to some of its most luxurious hotels as well as its wildest and most traditional areas.
The main town in the region is likeable Agios Nikolaos (or Ag Nik, as it's affectionately known), which makes up the quartet of north coast main cities. It has a pretty setting in the Gulf of Mirabello with waterfront bars encircling a small lake – it's made for people watching, and there is a cosmopolitan cafe-bar scene. It's a year-round Greek town that attracts tourists and expats, rather than a purpose-built tourist town.
Agios Nikolaos has four sandy beaches though they're all a little way out of the city – Kitroplateira is the most central, Almiros is the nicest. There are also plenty of boat trips are available from its harbour.
Top things to see and do in Agios Nikolaos include:
Possible day trips include:
The windmills of the Lasithi plateau
Day trips to Chryssi and Koufonisi islands
Transfer time: 50 minutes from Heraklion International airport.
SISSI

Sissi is a small resort that's on the coast between Malia and Plaka, known for its pretty harbour and seafood tavernas. It's popular as a boat trip destination – the summer months can see an influx of tour boats from nearby Malia and Hersonissos – but relatively few actually stay there, and those that do tend to love it.
It has a tranquil fishing village vibe, although the heart of the village does feel a bit commercialised, and there are some small beaches a short walk away (the main one is Boufos).
Despite its proximity to larger resorts, the bus service to Sissi is limited, so it's better suited to couples looking for a quiet place to stay in Crete or those wanting to explore the wild Agios Ioannis peninsula by car.
Transfer time: 25 minutes from Heraklion International airport.
MILATOS
Milatos is a small and low-key beach resort just beyond Sissi. It's known for its big waves, fishing heritage, and seafood tavernas set around a small crescent of beach. The main village is set 1km back from the beach and is a popular area for villas and expats.
There is very little public transport.
Transfer time: 1hr 5 minutes from Heraklion International airport.
PLAKA
The upmarket vibe of Elounda is rubbing off on the small nearby village of Plaka, which is ideal with those looking for a quiet and peaceful holiday. It has a sand-and-pebble beach and a handful of good tavernas to choose from. It's deliciously quiet in shoulder season.
Plaka is also the gateway to the Spinalonga, the small fortress island that famously housed a leper colony and is now one of the main day trips in the area. Small ferry boats make the run over to Spinalonga from both Plaka and Elounda.
Transfer time: 1hr 5 minutes from Heraklion International airport.
ELOUNDA

5km south of Plaka is the small beach town of Elounda, one of Crete's most characterful resorts and home to some of its premier luxury hotels.
Elounda is a lively harbour town that's surrounded by beautiful scenery and a sandy Blue Flag town beach. It's unsurprisingly popular with returnees. Something of the original working fishing harbour feel remains, and traditional domatia and cheap cafes sit alongside bijou boutiques and expensive seafood restaurants.
The Spinalonga peninsula is connected to the town by a causeway – the peninsula curves right around and the UNESCO-listed island sits at its tip, creating a natural harbour sheltered from the elements. It also provides stunning views from all angles.
The area is also crisscrossed with donkey paths that make it fantastic for walking (it's possible to walk to Plaka). There's an excellent selection of tavernas, and it's a short drive to Agios Nikolaos for city delights.
Transfer time: 1hr from Heraklion International airport.
SITIA

East of Sitia the crowds really thin out – most tourists don't make it beyond this point. The landscape is dry and barren, and the beaches largely empty. This is Crete off-the-beaten-track.
The small city of Sitia is a working port town with a pleasant seafront promenade, a sandy town beach, and a slow lifestyle. It does attract some tourists, mainly from the continent. As with the other northern cities, it has a Venetian Fortress (the Kazarma) and an Archaeological Museum.
One of the main attractions of this part of Crete is Vai Beach, the famously exotic palm beach and former hippie colony. It's still a 30-minute drive from Sitia.
To the west of Sitia is the small coastal village of Mochlos which sports two islets with Minoan excavations.
Ferries leave Sitia once a week for Rhodes, Karpathos, and Kassos. There is a small airport serving flights to and from Athens.
Transfer time: 2hrs from Heraklion International airport, 10 minutes from Sitia Public Airport.
PALEOKASTRO
Head east from Sitia and you eventually reach is Paleokastro, a windswept resort with an edge-of-the-world feel and some of the best windsurfing in Europe. It's friendly and authentic – if you want to get away from mass tourism then this easternmost part of Crete is a good bet.
Most accommodation is in Paleokastro village which is a short drive from several excellent beaches including Kouremenos, Hiona, and Mandati. And there's an ancient Minoan site that you're likely to have to yourself.
Transfer time: 2 hours 30 minutes from Heraklion International airport.
IERAPETRA AND MAKRIGIALOS
The southeast coast is one of the least touristed parts of the island. South of the Lasithi Peninsula, this part of Crete has its own climate – it's drier, hotter, and more barren than the rest of the island. Here you will find the emptiest beaches on the island and you can swim well into the autumn/winter months. And it's one of the warmest places in the Mediterranean in winter.
Ierapetra is known as the capital of the south coast as it's the biggest town along the coast, and one of the southernmost towns in Europe. Not overly touristy (though all the amenities are present), it has a working town feel – albeit one with an Ottoman mosque, Venetian Fortress, and Blue Flag Beach.
Makrigialis, on the other hand, is a small and friendly traditional beach resort. Development is focused around a small harbour and excellent beach – sandy, with shallow child-friendly waters. Most of the accommodation in this area is in traditional rooms and studios.
Two Crete's minor islands – Chryssi and Koufonisi – are just off this part of the shore.
Transfer time: Ierapetra minutes from Heraklion airport, Makrigialos 1 hr 50 minutes from Heraklion airport
Read more:
10 Most Beautiful Beaches on Crete
Where to Stay on Corfu: Ultimate Beach Resort Guide
Where to Stay on Kefalonia: Ultimate Beach Resort Guide
Where to Stay on Lefkada: Ultimate Beach Resort Guide
Where to Stay on Zakynthos: Ultimate Beach Resort Guide
Where to Stay on Skiathos: Ultimate Beach Resort Guide
Where to Stay on Rhodes: Ultimate Beach Resort Guide
Where to Stay on Mallorca: Ultimate Beach Resort Guide
Where to Stay on Ibiza: Ultimate Beach Resort Guide
Where to Stay on Menorca: Ultimate Beach Resort Guide
Where to Stay on the Turkish Coast: Ultimate Beach Resort Guide
Enjoyed this post? Follow us on Facebook or Twitter.
Click to save to Pinterest:

Image credits:
Stavros Bay aerial: © Mike Drosos / Shutterstock
Balos © smallredgirl / Adobe Stock
Matala rocks: © Georgios Tsichlis / Shutterstock
Map of Crete: © The Mediterranean Traveller
Map of Chania region © The Mediterranean Traveller
Chania: © gatsi / Adobe Stock
Falassarna: © gevision / Shutterstock
Elafonissi: © Zakhar Marunov / Adobe Stock
Paleochora: © Vladimir1984 / Shutterstock
Loutro: © singidavar / Adobe Stock

Map of Rethymnon region © The Mediterranean Traveller
Rethymnon: © giumas / Adobe Stock
Panormo: © Jaroslav Moravcik / Shutterstock
Bali: © Honza Hruby / Shutterstock
Agia Galini: © Georgios Kritsotakis / Shutterstock
Map of Heraklion region © The Mediterranean Traveller
Heraklion: © The Mediterranean Traveller
Agia Pelagia: © Kiev.Victor / Shutterstock
Matala: © gatsi / Adobe Stock
Hersonissos: © balipadma / Shutterstock
Malia: © Neirfy / Shutterstock
Map of Lasithi region © The Mediterranean Traveller
Agios Nikolaos: © olgaarkhipenko / Adobe Stock
Sissi: © Andrei Nekrassov / Shutterstock
Elounda: © Georgios Tsichlis / Shutterstock
Sitia: © viperagp / Adobe Stock