The Greek island of Crete is home to some of the country's most spectacular beaches. With over 100km of coastline, there's a beach here for everyone – from dramatic cliff beaches to vast sands and striking coves.
So if you're lucky enough to be planning a trip to Crete, here are the 10 of the best beaches to put on your shortlist.
Don't forget – take only pictures, leave only footprints, kill only time! Take a bag for trash with you in case there is no bin.
Balos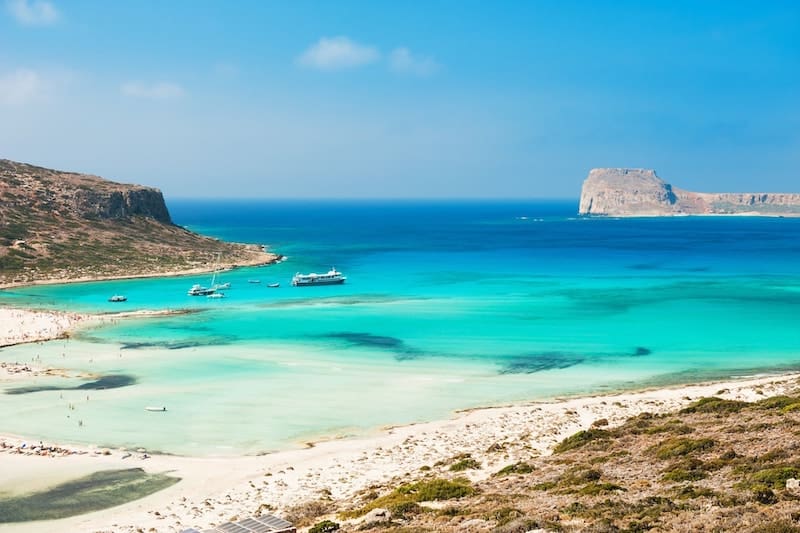 Balos is one of the most famous beaches on Crete and if you're heading there the it's likely to be somewhere near the top of your daytrip shortlist. Balos is located on the tip of the north west coast and is easily reached from the Chania area. It's also possible to visit from Rethymnon – it will just be a longer drive.
Lots of people visit Balos on a boat trip – transfers will run you as far as Kissamos, and from there a boat will take you straight to Balos beach. The boat also stops at Gramvousa island. If you choose to drive then beware of the off-road track and steep walk back uphill to the car park (though the view is spectacular)
Chryssi

Most of Crete's big-hitter beaches are on the western side of the island, but if you find yourself in the east then it's definitely worth taking a day trip to the minor island of Chryssi which lies off the south coast near Ierapetra. It's a popular day trip from Agios Nikolaos. There are several boats a day from Ierapetra, or you can take an organised excursion.
Chryssi is one of the most southerly points in Europe. It's undeveloped and you'll find the golden sands and turquoise waters. However it's worth noting that it's probably a more enjoyable trip in shoulder season – it gets very busy (and hot) in high summer, some walking is required, and it's short on facilities (toilets, bins, shops/cafes).
Glyka Nera

The rugged beauty of Glyka Nera could be mistaken for one of the incredible cliff beaches in the Ionian. But this one is the best beach of the Sfakia region in southwest Crete. You can reach it by water taxi or a 1-hr hike from nearby Loutro.
The name means 'sweet water' and refers to the refreshingly cool water from bubbles up from the springs underneath.
This part of the island has a natural vibe and attracts the clothing-optional crowd as well as hikers. There is one pontoon cafe for food and a few sunloungers in high season.
Elafonisi

Elafonisi (sometimes spelt Elafonissi) is the other blockbuster beach on Crete and you'll surely have heard of it or seen photos. It's known for its pink-tinged sands (the result of broken-down seashells) and shallow lagoon-like waters.
Elafonisi is located on the south west coast in quite a remote area, but you can find excursions to Elafonisi from most of the resort areas on Crete. It gets incredibly busy in the summer as it's one of the most popular attractions on the island. There is a car park and small shops but you're best off bringing your own supplies.
Frangokastello

What's better than a beautiful sandy beach beach? A sandy beach with a ruined Venetian castle on it! Frangokastello is on the south coast of the Rethymnon region.
The castle dates back to the 1300s and makes for a scenic backdrop to a refreshing swim. There's a small village with tourist amenities here but overall it has a remote and windswept feel. You're on the edge of Europe here with the Libyan sea lapping your toes and warm Saharan winds in your hair.
Seitan Limania

The stunning and enigmatic Seitan Limania beach in the Chania region has swept to fame recently thanks to its social media-friendly looks and vibrant turquoise waters.
It's located not far from the Chania International Airport but you'll need a car and sturdy footwear to reach this narrow and picturesque cove on the Akrotiri peninsula. There's a short but steep and rocky hike down to the beach. Be warned – Seitan Limania is also a favourite with the local goats who are by now well-accustomed to human company!
Falassarna

Another stunner on the west coast is the big sandy west-facing beach at Falassarna. It sits at the beginning of the peninsula that contains Balos and so can be easily combined if you're driving around.
Falassarna encompasses several bays of soft sand and impeccably clean waters. Its biggest plus point though is its size. There's plenty of space for everyone, even in the height of summer when the crowds descend. There are a few cafes and shops, as well as watersports, but it isn't a resort area – accommodation is limited and most visitors are daytrippers.
Vai

Vai beach is on Crete's east coast and offers something a bit different – a backdrop of palm forest. Cretan date palms, that is. Many legends surround the forest which was a favourite with the hippie crowd in the 60s and 70s, but these days attracts plenty of daytrippers.
Inside the forest you'll find a small lake and islet. It's a protected area and there are some facilities in the summer, including sunloungers.
Preveli

Vai isn't the only palm forest in Crete, you can find a smaller version at the beach of Preveli. The surrounding landscape here is lush breathtaking, a real surprise on an island as dry as Crete.
Preveli is on the south coast of the Rethymnon region and is one of many jaw-dropping beaches at the end of gorges that start in the White Mountains. It's an unorganised beach in a protected natural area with fantastic hiking around.
Matala

Matala is another well-known beach on Crete thanks to its association with Joni Mitchell. The songwriter famously resided in the beach caves here in the 60s, as immortalised in the song Carey.
You won't find hippies in the caves these days – the caves are protected and you can't enter them. These days Matala is a family-friendly beach resort with a sheltered waters, excellent snorkelling, tamarisk trees, and a coarse golden beach. The setting is idyllic, especially as the sun goes down.
Matala is in the middle of the south coast and is easily reached from Rethymnon and Heraklion.
Read more:
Where to Stay on Crete: Ultimate Beach Resort Guide
An Itinerary for 1 Day in Heraklion
10 Most Beautiful Beaches in the Mediterranean
10 Best Mediterranean Islands for Beaches
15 Best Greek Islands for Beaches
10 Incredible Secret Beaches in Greece
Enjoyed this post? Click to save to Pinterest:

Image credits:
Falassarna: © aetherial / Adobe Stock
Balos: © smallredgirl/ Adobe Stock
Chryssi: © gatsi/ Adobe Stock
Glyka: © mw-luftbild.de / Adobe Stock
Elafonisi: © Paopano/ Adobe Stock
Frangokastello: © gatsi/ Adobe Stock
Seitan Limania: © Aleh Varanishcha / Adobe Stock
Falassarna: By gevision / Shutterstock
Vai: © dziewul/ Adobe Stock
Preveli: © Georgios Tsichlis/ Adobe Stock
Matala: © Georgios Tsichlis/ Adobe Stock