You'll find some of the world's best beach destinations in the Mediterranean (that's why I love it!). But within it, there's a huge variety of scenery.
Do you prefer vast sweeping expanses of white sand or dramatic rocky landscapes? Shallow turquoise lagoons or cute pine-backed coves?
For pure beauty, these postcard-worthy stunners are 10 of the best Mediterranean beaches. There are some names here you will probably recognise, and a few that you perhaps haven't. All have the requisite summer sunshine and salty seas though.

OLUDENIZ, TURKEY
It may be heavily touristed these days, but it's still one of the most beautiful beaches in the world, especially if you can catch it before high season begins. The famous Blue Lagoon of Ölüdeniz is the standout beach on Turkey's glorious Turquoise Coast. For truly epic beach selfies, you can paraglide off Mount Baba and float your way down to the sands.

MYRTOS, GREECE
Myrtos Beach on the Ionian island of Kefalonia is one of Greece's showstopper beaches, with dramatic green cliffs that plunge down towards a dazzling white pebble beach and the azure water of the Mediterranean Sea. The scenery here is second to none, and being a west-facing beach it also catches great sunsets.

TAHITI BEACH, ITALY
Half of the beaches in Sardinia are contenders for the best beach of the Med. The Italian island is overloaded with white sandy shores and crystal clear waters. Cala Brandinchi, on Sardina's northeast coast, is known as 'Little Tahiti' and it's easy to see why: the colours here would not look out of place on a postcard from the Pacific.

PALOMBAGGIA, FRANCE
Corsica has perhaps the dreamiest coastline in all of France, and Palombaggia is its beach par excellence. Characterised by pine trees along its shore and large granite boulders amongst its shallow waters and fine sands, Palombaggia unsurprisingly gets crowded but is still worth the trip.

NAVAGIO, GREECE
No list of best beaches in the Mediterranean would be complete without the famous and extremely photogenic Navagio on Zakynthos island in Greece. It's popularly known as Shipwreck Beach (or Smuggler's Cove) due to the rusty wreck which graces the beach; it ran aground in 1980 whilst being pursued by the Greek Navy for smuggling. This spectacular bay is best reached by boat trip.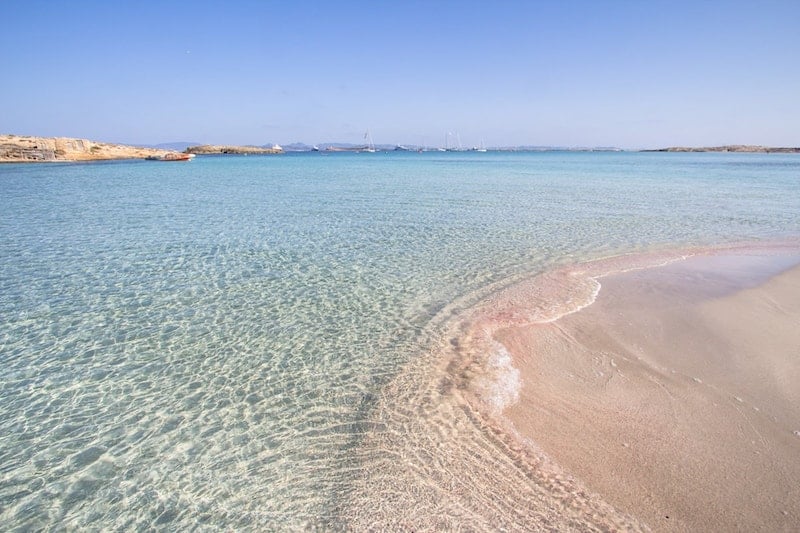 SES ILLETES, SPAIN
Spain's Balearic islands in the western Mediterranean are another hotspot for incredible beaches. Little Formentera is the least well-known of the islands and its paradise beaches have not yet been overrun with tourism or development. Formentera's top draw is Ses Illetes; stunning shallow waters, crystal clear seas, and sands which are fine and tinged with pink.

ELAFONISI, GREECE
Speaking of pink-tinged sands, the most exquisite colours on this list belong to Elafonisi Beach on Crete. The waters here are incredibly shallow, allowing you to walk across to the islet of Elafonisi (that gives the beach its name) on foot. It also means that the seas remain exotically warm.

RABBIT BEACH, ITALY
South of Sicily, you'll find the tiny island of Lampedusa, closer to Africa than Europe. It belongs to the Pelagie chain of islands and these days is more likely to hit the headlines for its refugee news than the allure of its beaches.
But tourists are missing out by skipping Lampedusa and the wild beauty of Rabbit Beach (Spiaggia dei Conigli). A protected area due to the presence of loggerhead turtles, the clarity of the sea here makes it a top spot for swimming, scuba diving and snorkelling.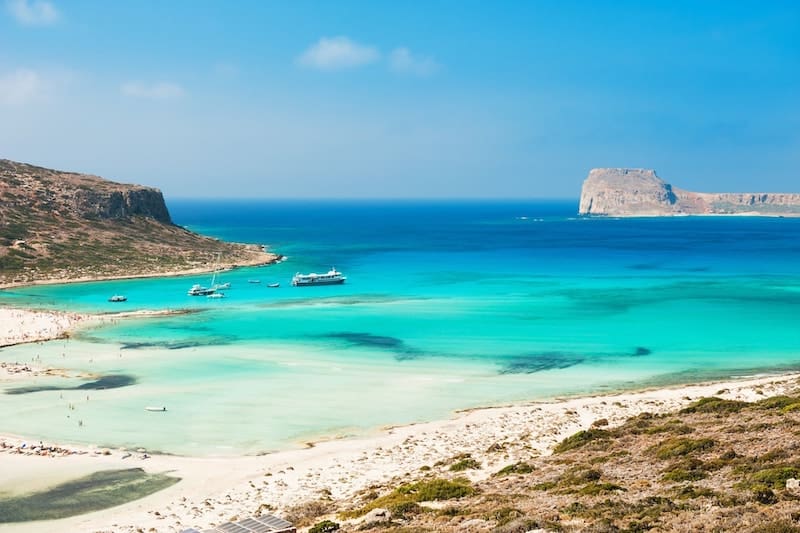 BALOS, GREECE
Another entry for Crete, beautiful Balos is in many ways the sister beach of Elafonisi with its dreamy sands. A sizeable lagoon with vivid waters stretching out between the mainland and the islet of Gramvousa and beyond, Balos attracts visitors from miles around. And not just tourists; the beach is also frequented by loggerhead turtles, falcons and monk seals.

CALA MACARELLETA, SPAIN
Menorca has no shortage of gorgeous coves contending to be your new favourite beach. It's low-key charm, translucent seas, and powdery sands make it one of Europe's top destinations for a quiet package holiday. Flanked by pine-clad cliffs, idyllic Cala Macarelleta is reason itself to visit Menorca. Who could resist a dip in those waters?
Read more:
10 Best Mediterranean Islands for Beaches
10 Most Beautiful Islands in the Mediterranean
10 Most Beautiful Beaches in Spain
10 Most Beautiful Beaches in France
10 Most Beautiful Beaches on Corsica
10 Most Beautiful Beaches in Portugal
10 Most Beautiful Beaches in Italy
10 Most Beautiful Beaches in Greece
10 Most Beautiful Beaches in Turkey
10 Most Beautiful Beaches in the Balkans
30 Best Beach Vacation Spots in the Mediterranean
7 Dreamy Pink Beaches and Lakes in Europe
10 Crystal Clear Turquoise Seas in Europe
Enjoyed this post? Click to save to Pinterest:

Image credits: Oludeniz © Dudarev Mikhail / Adobe Stock, Myrtos © Dimitar Georgiev / Adobe Stock, Tahiti Beach © Emiliano / Adobe Stock, Palombaggia © gevisions / Adobe Stock, Navagio © GKor / Adobe Stock, Ses Illetes © robertdering / Adobe Stock, Elafonisi © Zakhar Marunov / Adobe Stock, Rabbit Beach © pepinho84 / Adobe Stock, Balos © smallredgirl / Adobe Stock, Cala Macarelleta © Roberto Zocchi / Adobe Stock