I loved Sicily's beguiling (but exhausting) capital city. But be warned: it's bigger than you think and your feet will take a pounding! Make sure you pack some comfy shoes.
As the meeting point between East and West, Europe and Africa, Palermo was exposed to a huge variety of influences resulting in plenty of incredible architecture. This sunny city boasts a huge number of attractions for such an under-the-radar destination, but don't forget to set aside some time for simply wandering around the old town and its vibrant markets. Then head to the beach at nearby Mondello or Cefalu to rest your feet.
Read More: Palermo Highlights: The Top 15 Things to See, Do and Eat
A great place to start is the Cathedral. The focal point here is the spectacular exterior, rather than the interior which is fairly austere. As well as visiting the roof (tickets around 7 EUR), don't forget to walk around the outside of the cathedral—the detailing is spectacular.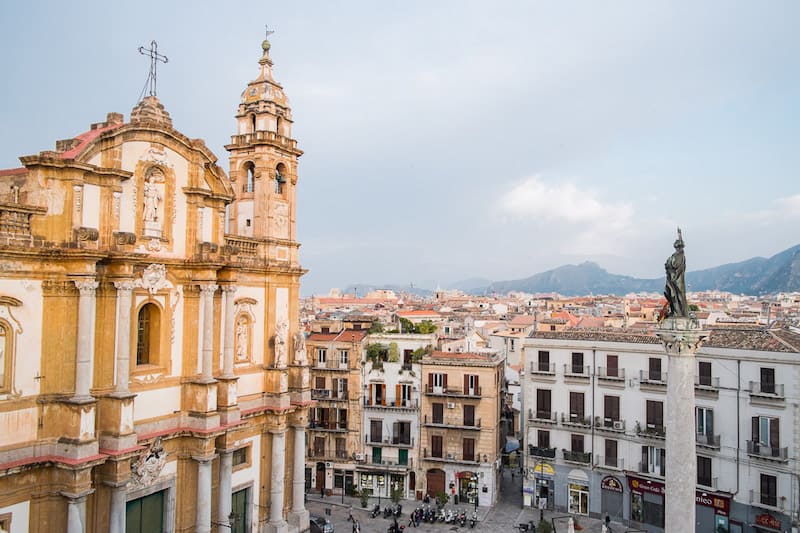 Palermo is full of great viewpoints for photos. You can climb to the domes of many of the churches. This photo is taken from the rooftop cafe on the 5th floor of the Rinascente shopping centre, looking out on Piazza San Domenico.
One of around fifty nude figures in Piazza Pretoria's Fountains of Shame, with the dome of rose-coloured San Caterina in the background.
This building on Piazza Pretoria is characteristic of Palermo's facades in warm ochre colours.
Intriguing figures from the Porto Nuovo, near the Norman Palace. Styled like a triumphal arch in celebration of Charles V's capture of Tunis, look closer and you'll notice this defeated Turk (see the turbans and 'tach) has had his arms chopped off in warning to potential aggressors.
Artichokes (carciofi) are in season in April, and you'll see piles of them (both regular sized and mini) at the markets.
The exterior of Palermo's main tourist attraction, the Norman Palace.
The area around Monreale, not far from Palermo, is renowned for its citrus. Don't forget to try blood oranges, if in season, citron, or grab a freshly-squeezed juice from the market.
The dazzling mosaic of Christ Pantocrator in the Palatine Chapel, within the Norman Palace.
The interior of La Martorana. This one actually took my breath away when I entered the church.
Palermo's opera house, the Teatro Massimo. Guided tours are available (including another rooftop viewpoint) so you can visit even if you don't want to attend a show. The main gate is a popular meeting point for tour groups.
The presence of date palms in Palermo hint at its proximity to Africa.
You could spend days getting lost in the old town area of Palermo; it's one of the largest in Europe. Life is largely lived outdoors here, making the streets full of surprises.
Palermo is not far from the town of Marsala and it's famous sweet wines.
This inlaid marble technique is one feature of Sicily's own distinctive form of baroque. It's just a little bit OTT but rather spectacular.
One of the ornate facades of the Quattro Canti.
Palermo's outdoor markets are a big feature of life here. You won't find many supermarkets. The most famous street food is pani ca' meusa—spleen sandwich. But don't worry non-offal-lovers, sfincione (tomato topped focaccia) and chickpea fritters are available throughout the city.
A scene from a colourful carretto siciliano, a traditional horse-drawn cart decorated with scenes of Sicily's history.
Enjoyed this post? Click to save for later: