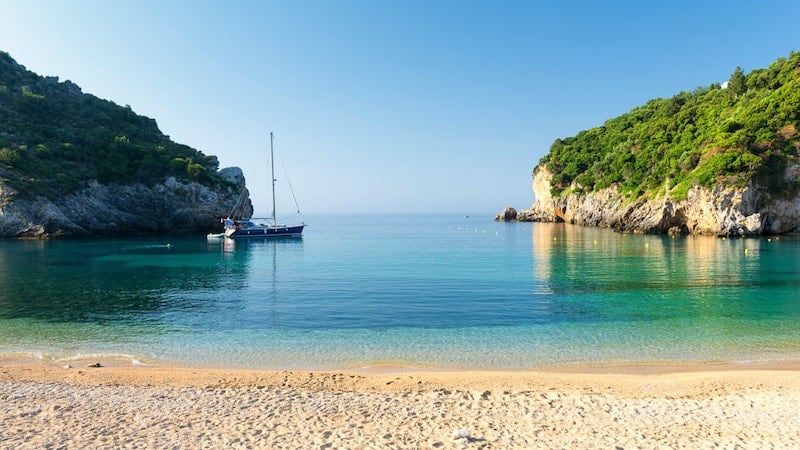 Are you looking for a relaxing beach holiday in the Mediterranean? Want to avoid overdeveloped overcrowded noisy resorts in favour of somewhere small, picturesque and charming – but still easily accessible by air?
Think sunset strolls along pine-fringed beaches, swimming in crystal clear waters, and watching the world go by from local tavernas.
Here are 10 of the best small beach destinations for a traditional package holiday with both character and convenience.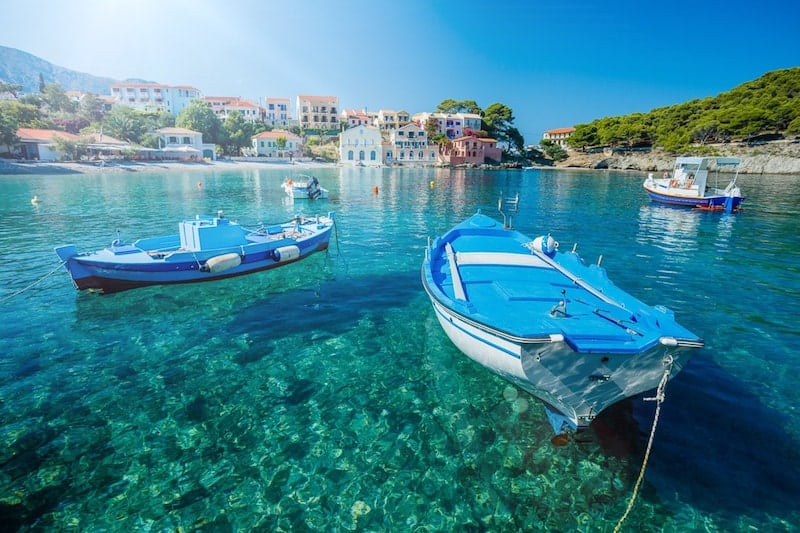 As a bonus, all of these destinations are bookable though UK-based tour operators. Package holidays have somewhat fallen out of favour these days, although travellers still look to tour operators for value and reassurance. If you're heading to the beach this summer then it can often work out cheaper and easier than going DIY. It also means your holiday is financially protected through ATOL and ABTA.
It doesn't mean you need to compromise on location though. There are plenty of great little spots if you know where to look. I've found that TUI has the best selection of package holidays to small and friendly destinations from the UK.
WHAT MAKES A GREAT SMALL BEACH RESORT?
charming, beautiful and friendly beach towns and villages
retains a traditional and local atmosphere
quiet, no noisy nightlife
good beaches and/or swimming
a sprinkling of cafes and restaurants for cool beers and authentic local food
picture-perfect scenery, not marred by overdevelopment
easily accessible by air
good value

PALEOKASTRITSA, CORFU
Corfu is one of the most popular Greek island destinations for Brits. If you're looking for peace and quiet, and to enjoy the island's spectacular scenery and beaches, you should head north-west to Paleokastritsa.
Set amongst some of the island's most dramatic surroundings, laid-back Paleokastritsa is wrapped around a number of small bays. The scattering of beaches are on the pebbly side but what it lacks in fine sandy beaches it makes up for with ridiculously pretty coves and perfect orientation for sunsets. Watch out for the beaches getting crowded in high season though, when it becomes a popular day trip destination.
Transfer time from Corfu Airport: 50 minutes

PORTINATX, IBIZA
Chilled out north-facing Portinatx is a world away from the partying that Ibiza is normally associated with. Built around two crescents of shady soft beach, it gets busy but not claustrophobic in high season. The beaches around here are so good that they were used as a filming location for 1958 movie South Pacific.
Evenings here are low-key and there's plenty to entertain you during the day. The area boasts excellent panoramic views and hiking and an assortment of watersports.
Transfer time from Ibiza airport: 45 minutes

ASSOS, KEFALONIA
Kefalonia is a mystery: how is it not more popular (read: overdeveloped) despite having fantastic beaches, an international airport, and featuring in Hollywood's Captain Corelli's Mandolin? Thankfully it has somehow managed to resist mass tourism and retain its quiet quirky charm.
The island was devasted by an earthquake in 1953 which destroyed many of its old buildings, but they have been built with respect to traditional styles. Argostoli and Fiskardo are also lovely, but for looks and relaxation head to quaint little Assos. There's little to do but relax by the waterfront and get to know the handful of tavernas in this very chilled village. A car is needed to explore the island as public transport to/from Assos is non-existent.
Transfer time from Kefalonia airport: 1hr +

PEFKOS, RHODES
The nicest little resort town on the popular island of Rhodes, Pefkos has won a legion of devotees with its tranquillity and friendly local atmosphere. Not to mention its yellow sandy beaches and great eateries.
Pefkos is just along the coast from the famous Lindos with its whitewashed buildings and ancient acropolis, but minus the daytrippers and prices and with a much better beach. Rhodes is one of the warmest islands in the Mediterranean so Pefkos is a good option if you're looking for sun late in the season. Local buses ply the route to Lindos and on to Rhodes Town.
Transfer time from Rhodes airport: 1hr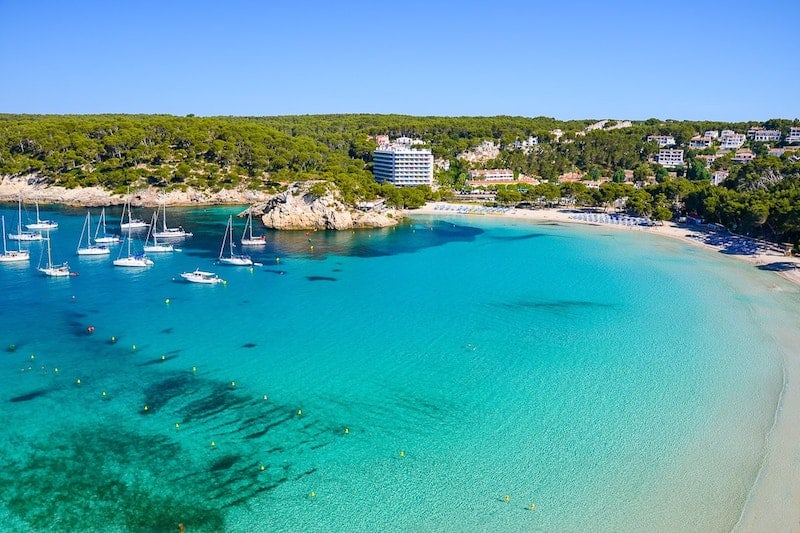 CALA GALDANA, MENORCA
There's no shortage of jaw-droppingly turquoise bays on Menorca, which as an island is a great destination for low-key and laid-back tourism. But the gently sweeping Cala Galdana, with its magnificent horseshoe bay ringed by cliffs, lays claim to one of the best beaches on the island. The few large developments have managed not to spoil the ambience of this pretty bay.
Cala Galdana's beautiful fine sands and superb sunsets make this a great destination for a chilled-out vacation. There are plenty of watersports and attractions, and it's a 10-minute bus ride to the beautiful Ciutadella, Menorca's prettiest old town, for a spot of culture.
Transfer time from Mahon airport: 40 minutes

KOKKARI, SAMOS
On the quiet, Samos is one of the best islands in Greece for a beach break. With its golden sands, green backdrop and lovely architecture, it has somehow managed to remain under the radar despite international flights and decent tourist infrastructure. Greece aficionados are well acquainted with its charm.
Beach bums are better off heading to one of the larger resorts on the island, but this scenic and small north coast village tumbled along a narrow beach has the most picture-perfect waterfront promenade, a great vibe and villagey feel. If you need more of a buzz then consider Pythagorion instead.
Transfer time from Samos airport: 30 mins

MLINI BAY, CROATIA
It's no surprise that Croatia is on the up as holiday destination: it has miles upon miles of unspoilt coastline. Cavtat is popular for those looking to stay just outside Dubrovnik but to really avoid the crowds consider pretty little Mlini Bay.
It's just a 20-minute bus ride to the delights of Dubrovnik but you'll feel worlds away. Pine-backed Mlini Bay sports tranquil waters perfect for snorkelling, a smattering of eateries, and a few old watermills. You won't be bored though, as there's a great range of day trips including island-hopping, Game of Thrones tours, diving, snorkelling, and kayaking.
Transfer time from Dubrovnik airport: 20 mins

NIDRI, LEFKADA
The Greek island of Lefkada in the Ionian Sea is another hidden treasure of the Mediterranean. Nidri is one of the main destinations on the island and it will win you over with its incredible views across to the mainland and its ramshackle and friendly charm.
Nidri is a small port town with lively local bars and tavernas and an outdoorsy vibe thanks to its stunning setting and popularity with the sailing crowd. It's a great choice if you favour scenery over flopping on the beach (head to the west coast for the showstoppers) and want to stay somewhere with a bit of life and local flavour.
Transfer time from Preveza airport: 50 mins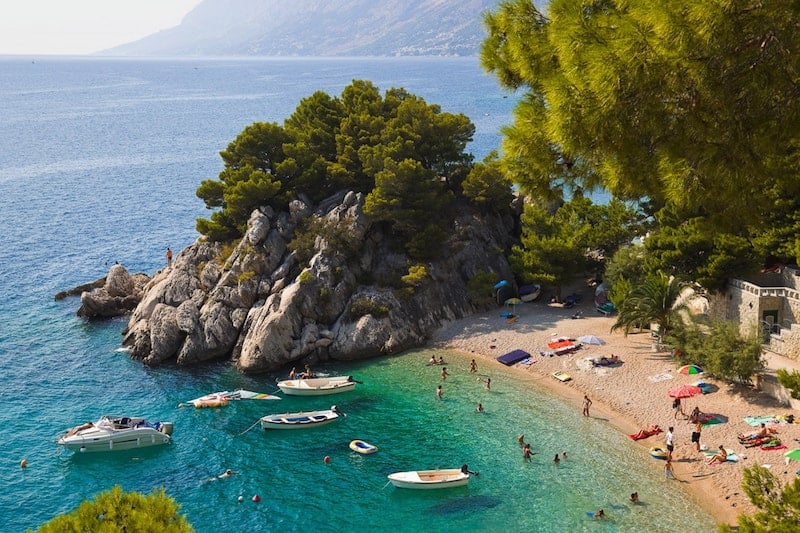 BRELA, CROATIA
The gorgeous Brela is home to one of the prettiest beaches in Croatia. In fact, Punta Rata was once voted by Forbes Magazine as the 6th most beautiful beach in the world. A pearl of the Makarska Rivera, Brela is nestled at the bottom of the slopes of Biokovo mountain and is set along a long stretch of pebbly beach.
Holidays to this enchanting destination are quiet and soothing. Enjoy its jade waters and the great selection of traditional taverns. If you have your fill of swimming, you can walk the Lungo Mare – a 6km promenade – all the way to neighbouring villages. Or head out on an excursion to Trogir, Makarska, or the islands of Brac and Hvar. It can be steep so is not suitable for those with mobility issues or pushchairs.
Transfer time from Split airport: 1hr 10 mins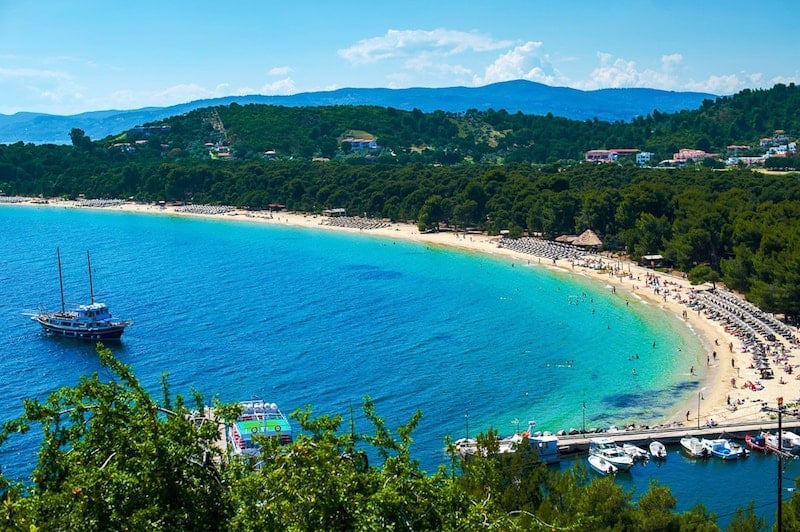 KOUKOUNARIES, SKIATHOS
Koukounaries is named after the colloquial word for pine cone, which hints to the colour of the landscape here. Its 1.5km sweep of sandy crescent beach is one of the best in Greece, and there's also excellent deep water for swimming and a hidden lagoon. This beautiful area has been earmarked for eco-tourism.
So beautiful that it inevitably attracts crowds from nearby Skiathos Town, Koukounaries is nevertheless one of the quietest and most pleasant resorts on the island. It consists of a few hotels, restaurants, and bars spread out along a road behind its beach. Take a waterbus to Skiathos Town for a spot of culture or walk along to the nearby Banana Beach if you want to let your hair down.
Transfer time from Skiathos airport: 20 minutes
Read more:
10 Best Quiet Beach Resorts in Greece
10 Best Mediterranean Islands for Beaches
10 Most Beautiful Islands in the Mediterranean
10 Most Beautiful Beaches in the Mediterranean
10 Most Beautiful Beaches in Greece
Corfu: Ultimate Beach Resort Guide
Kefalonia: Ultimate Beach Resort Guide
Enjoyed this post? Click to save to Pinterest:

Image credits: Paleokastritsa Beach © lukaszimilena / Adobe Stock, Assos, Kefalona © Max Topchii / Adobe Stock, Paleokastritsa, Corfu © CCat82 / Adobe Stock, Portinatx, Ibiza © lunamarina / Adobe Stock, Assos, Kefalonia © NoraDoa / Adobe Stock, Pefkos, Rhodes © Stef Bennett / Adobe Stock, Cala Galdana, Menorca © pkazmierczak / Adobe Stock, Cala Galdana, Menorca © The Mediterranean Traveller, Kokkari, Samos © r_andrei / Adobe Stock, Mlini Bay, Croatia © and.one / Adobe Stock, Nidri harbour, Lefkada © Balate Dorin / Adobe Stock, Brela, Croatia © Nikolai Sorokin/ Adobe Stock, Koukounaries, Skiathos © chirnoagarazvan / Adobe Stock