Looking to whet your appetite for your dream Italian trip? Or maybe you've just returned and want to recreate the flavours back home? I find cookbooks one of the best ways to get the taste of a place (airfare not required).
I don't have too many possessions or clothes, but I do have an extensive bookshelf and an even more extensive Amazon Wishlist (it's getting a bit ridiculous). Much as I love my Kindle for books I can with me on my travels, e-books just don't cut it when it comes to cookery.
My favourite kind of cookbook not only has great recipes but also gorgeous photography and evocative writing, with a bit of local food history to round it out. I love a lazy Sunday morning leafing through my favourites, making notes for future travels. Particularly at this time of year when it's cold outside.
Admittedly, I probably more time admiring my books than cooking from them. But they're also a great source of inspiration and knowledge for my travels, more so than guidebooks these days.
Here's a selection of the best books for a taste of Italy.
ALL AROUND ITALY
The Food of Italy – Claudia Roden

Claudia Roden is the queen of Mediterranean cooking, and this classic (first published in 1989) has been recently reissued in hardback with gorgeous photos. It ticks all my boxes and contains enough food history to make me feel like I've learned something.
It's organised by region so would make a great guide if you're planning a grand tour of Italy and want to know what to eat where.
Also, like all the best books in the world, it has a map on the inside cover. Dinner party goals are covered by recipes for Wine Soup and Wine Ice-cream.
Check the latest prices and reviews on Amazon.
Marcella Hazan – The Essentials of Classic Italian Cooking

This is perhaps the definitive English-language volume on the essentials of Italian cooking. Often referred to as the Julie Childs of Italian cooking, Marcella Hazan grew up in Emilia Romagna and moved to New York in the 1950s.
If you're looking for one Italian cookbook to rule them all, this is it. Alas, no stylish destination photography, but makes up for it with over 600 authentic recipes. Great for cooking newbies as it's meticulously tested, has very clear instructions, and a thorough grounding in skills.
Worth buying for the legendary Tomato Sauce III recipe alone.
Check the latest prices and reviews on Amazon.
Elizabeth David – Italian Cooking
No lush photography in this one either, but it's not needed. I take Elizabeth David's books to bed just for the pleasure of reading.
Her books were game-changers in post-war England. This one was first published in 1954, and includes a comprehensive introduction to the Italian storecupboard for a British audience who would have been unfamiliar with its ingredients.
You basically can't go wrong with an Elizabeth David book. They're all great.
Check the latest prices and reviews on Amazon.
Jamie Oliver – Jamie's Italy

Love him or hate him, there's no denying Jamie Oliver's influence on modern-day cooking. This is the book accompaniment to his 2005 TV pilgrimage to Italy.
Rather than a run-down of the classics, it's a fresh take on everyday cookery with a fair amount of Sicilian influence and lots of olive oil. Most of the recipes are simple to recreate as long as you're ok cooking by feel.
It's complemented by imaginative photography of the people and places visited that Jamie encountered on his journey (just beware a few shots of butchered animals if you're of a sensitive disposition).
This is by far my favourite Jamie book, and probably my most-cooked-from recipe book. The soup and risottos in here have become staples in my kitchen, and the pear and grappa sorbet is a winner.
Check the latest prices and reviews on Amazon.
The Silver Spoon

No list of Italian cookery books would be complete without mentioning Phaidon's translation of this beloved encyclopaedic tome. With over 2000 recipes to keep you busy, it has been in print for over 50 years and is traditionally given to new brides as a wedding present.
It's worth noting that this version has been translated for the American market and not everything carries over well. There are a few odd errors. Instructions tend towards the brief and there aren't always photos to guide you, so if you're not used to the Mediterranean style of cooking then this might not be the best introduction.
Check the latest prices and reviews on Amazon.
VENICE AND THE NORTH
Venezia: Food and Dreams – Tessa Kiros

Tessa Kiros was one of my first cookbook writer obsessions. She conjures a strong sense of place through the combo of her recipes and Manos Chatzikonstantis' evocative photography.
This one harks to Venice in February – damp streets littered with decorated remains of extravagant Carnivale parties. From the inside cover:
"Venice is Italy's kindom of salt & pearls, prosecco & mermaids, bigola & polenta."
The design is quite girly and decorative, complete with a black velvet ribbon placeholder.
Chapters cover the classics of Venetian cuisine: cicchetti, risotto, sweet things, spritzes. You'll find bigole and marinated sardines, as well as dishes you're less likely to cook (birds in polenta?) but might try whilst you're there.
I can't honestly say I've made anything from this book but I do enjoy looking at it.
Check the latest price on Amazon.
Veneto: Recipes from an Italian Country Kitchen – Valeria Necchio

This beautiful book is part memoir, part collection of family recipes from food blogger Valeria of Live Love Food. It features traditional home-cooking as well as modern recipes from the wider Veneto countryside, and a section on preserving. Expect stunning minimalist photography and lots of pastels.
Check the latest price on Amazon.
Venice: Recipes Lost and Found – Katie and Giancarlo Caldesi
Husband and wife team Katie and Giancarlo Caldesi are my new favourite food writers. Together they have an established Italian cookery school in London and a fleet of regional recipe books, and both an insider and an outsider's view of Italian food.
For me, the most intriguing point this book is Giancarlo's quest for forgotten medieval recipes – full of spices and cream, almost like an Italian curry – that date from when Venice ruled the Mediterranean.
However, the recipes in the book reflect an English palette and are accessible for inexperienced cooks.
Travel bonus: their books feature handy tips to aid the tourist such as a list of recommended restaurants.
Check the latest price on Amazon.
Classic Food of Northern Italy – Anna Del Conte

For a wider taste of the Italian north (my search turned up surprisingly few), we turn to another doyenne of Italian cooking – Anna del Conte. Nigella's favourite cook, she is to England what Marcella Hazan was to America. This reissued hardback is only available in the UK.
Check the latest price on Amazon.
Related Read: A Foodie's Guide to the Cinque Terre
ROME
My Kitchen in Rome – Rachel Roddy
Londoner Rachel Roddy has a blog as well as a column in The Guardian and lives in Rome in Testaccio, the old slaughterhouse neighbourhood. This book is as much about her personal connection with the area as it is her collection of recipes.
Personal and introspective, her writing style might not be for everyone, but this book has soul. The selection of recipes are unfussy and resourceful and you're likely to want to cook them all. She even somehow makes tongue in salsa verde sound appealing. The UK edition is called Five Quarters.
Check the latest prices and reviews on Amazon.
Tasting Rome – Katie Parla and Kristina Gill

Art historian, sommelier, food historian, journo, tour guide, and archaeological speleologist, Katie Parla has been my CV idol since I first discovered her blog about food in Rome (and a few other places) many years ago.
With food and drink editor Kristina Gill behind the camera, they know their way around the city's cuisine. Together they dive into its neighbourhoods, revealing some of the best dishes found in restaurants and on the street, and dig out a few kitchen secrets. You'll find both classic and contemporary recipes here.
This book satisfies the historian in me, as well as the foodie and the budding photographer. I'll be taking it with me next time I head to the Eternal city.
Check the latest prices and reviews on Amazon.
Rome: Centuries in an Italian Kitchen – Katie and Giancarlo Caldesi

This book also dips into the history of Roman cuisine, this time intrigued by its ancient origins. The Caldesi's start – as with their other books – by going over the history of the ingredients and how they came to be in Rome. The recipes are bright and appealing and Helen Cathcart's photography will make you want to hop on the next flight.
Check the latest prices and reviews on Amazon.
TUSCANY
Florentine – Emiko Davies

If you haven't heard of Emiko Davies, you should definitely check out her gorgeous blog where she writes about Tuscan food.
I love the organisation of this book: La Pasticceria (Pastry Shop), Il Forno (Bakery), Il Mercato (Market), La Trattoria. Il Maccellaio (The Butcher), and In Giro (Out and About).
Florentine cuisine is simple, unpretentious, and prepared with care. There are also plenty of bread and pastry recipes in here which only baking fiends will attempt. It's an elegant companion to exploring Florence and has a handy address book at the back.
Check the prices and reviews on Amazon.
Acquacotta: Recipes and Stories from Tuscany's Secret Silver Coast – Emiko Davies
Acquacotta, the latest book from Emiko Davies, focuses on the food of this quiet and rugged but chic patch of the south Tuscan coast, known as the Silver Coast. Mushrooms, game, soup and stews feature heavily, but with a lighter touch than northern dishes.
It's an intriguing introduction to a region you might not be familiar with.
Check the prices and reviews on Amazon.
Tuscany: Simple Meals and Fabulous Feasts from Italy – Katie and Giancarlo Caldesi
This newest title from the Caldesi team is hot off the press (it's not out until March in the States) and takes them to the Tuscan countryside, where Giancarlo grew up. Land of the bean-eaters and priest-stranglers. The history lessons here cover its ancient Etruscan origins through to the mezzadria system (similar to British feudalism). I have high hopes for this book.
Check the latest prices and reviews on Amazon.
SOUTHERN ITALY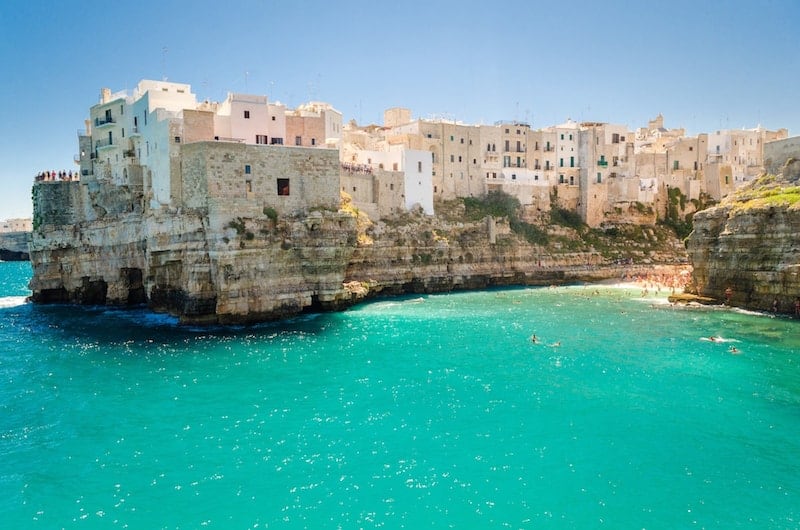 Silver Spoon Kitchen Regional Books
The team that produced Phaidon's version of the Silver Spoon turn their hand to regional cuisine. These books are classic, straightforward, and beautifully produced – if a little impersonal compared to some others on this list.
Check Naples and the Amalfi Coast on Amazon.
The Amalfi Coast: A Collection of Italian Recipes – Katie and Giancarlo Caldesi
This time the Caldesi's head to the glamorous Amalfi Coast for Campania's simple, vibrant, and healthy fare. Buy this if you can't resist dishes like lemon ravioli, lobster spaghetti, custard and cherry cakes.
Check the latest prices and reviews on Amazon.
Mezzogiorno – Francesco Mazzei
Restauranteur Francesco Mazzei, who brought Calabrian cuisine to the fore in London, has filled a gap with his collection of recipes from around southern Italy. Expect plenty of n'duja (a spicy sausage).
Check the latest prices and reviews on Amazon.
SICILY

Sicily: Recipes from an Italian Island – Katie and Giancarlo Caldesi
My favourite of the Caldesi books. It has pizzaz. Look at that cover! I'm wildly in love with the design of this one. Somebody, please send me a print of that cover to put on my wall.
There's also swoon-worthy location photography by Helen Cathcart. No map on the inside cover but it does have a timeline which is nearly as good, at least if you're a history nerd like I am.
Plenty of simple but flavourful recipes that pack a summery punch in here: oven-baked ricotta, sardine patties, cauliflower in red wine, orange and basil risotto, almond granita.
Check the latest prices and reviews on Amazon.
Made in Sicily – Giorgio Locatelli
Italian legend and restauranteur Locatelli, who spent a long time researching Sicilian cuisine for his menus, shares his knowledge of the island's complex history and rich food culture in this comprehensive offering. Intriguing dishes include prickly pear sorbet, blood orange jelly, and snails in tomato and chilli sauce.
Check the latest prices and reviews on Amazon.
Read more:
Cinque Terre – Ultimate Food Guide
Santorini – Ultimate Food Guide
Marrakech – Ultimate Food Guide
Enjoyed this post? Pin for later: