Heading to the beautiful Greek island of Corfu this year?
This popular island off the northwest coast of Greece offers an enticing combination of sandy beaches, lush coastal scenery, and a historic old town with Venetian origins.
But with so many resort towns and villages, how do you narrow down where to stay on Corfu?
This is part of a series of Greek beach resort guides and it covers:

The Best Places to Stay in Corfu
BEST LUXURY HOTELS:
BEST HOTELS ON THE BEACH:
BEST PLACES TO STAY IN CORFU TOWN:
BEST HOTELS FOR COUPLES:
SWANKIEST VILLAS:
BEST FAMILY HOTEL:
BEST INFINITY POOL:
BEST PLACES FOR NIGHTLIFE: Kavos, Corfu Town, Ipsos
BEST QUIET RESORTS: Liapades, Agios Georgios South
BEST PLACES FOR SANDY BEACHES: Arillas, Agios Georgios South, Agios Georgios Pagon, Sidari
BEST PLACES FOR SOLO TRAVELLERS:
BEST APARTMENT:

Which Part of Corfu to Stay In
One of Greece's greenest islands, Corfu (also known as Kérkyra) is part of the Ionian island chain off the west coast of the mainland. It has a population of around 150,000 and is roughly 58km x 27 km. You can drive from one end to the other in a couple of hours, although due to windy mountain roads, it's not easy to do a loop in a day. Better to stick to the north or south.
The lush green island is thick with cypress pines and olive groves, and the mountainous terrain provides cool breezes in the summer. This dramatic mountain scenery makes it one of the most beautiful islands in Greece, and also one of the best islands for beaches.
But the mountains also mean occasional cloud cover and higher rainfall and humidity than other Greek islands (and mosquitos).
NORTH – The north of the island is home to Mount Pantokrator, Corfu's highest peak. The scenery is rugged and beautiful with scenic bays and coves, and the northeast has views across the water to the Albanian mainland.
EAST – The northeast side has beautiful calm clear waters and pebble/shingle beaches. Its small villages and harbours are dotted with villas and perfect for exploring by boat. Resorts get larger and livelier towards Corfu Town.
SOUTH – The south of the island is home to the notorious (but reformed) Kavos, but there are plenty of small charming spots and practically empty beaches to discover.
WEST – The west features some of Corfu's most stunning beaches, all with perfect sunset views and most with sandy beaches (although they get pebbly up towards the northwest).

Corfu Town
One of Corfu's unique selling points is its beautiful UNESCO World Heritage-listed Venetian old town. The star attraction is the Old Fort which juts out on a promontory, but the town itself stretches out into several different areas.
The historic centre comprises the narrow streets between the forts and ports. Take a stroll around its cool stone streets that have obvious French influences in its elegant promenades. The facades of the tall town buildings are varying shades of ochre and pink with deep green shutters and woodwork. You'll find handsome cobbled streets, yacht clubs, cricket ground, and homegrown ginger beer.
Also known as Kastropolis – City of Castles – this is the part of town with all the main sights. The focal point is the Spianada, the main square between the Old Fort and the alleyways of the historic centre. The cricket ground (a legacy from British rule) and the arcaded promenade known as the Liston (modelled on Rue de Rivoli in Paris) give an aristocratic feeling.
A trip to the Old Town is a popular excursion for tourists on the island so the main streets are lined with souvenir shops, although it doesn't take much to get away from the crowds.
Radiating back from the Old Town is the commercial centre. To the north, you have Mandouki and the port areas, to the south the wealthy suburbs and sprawl of Garitsa and Kanoni.
If you're visiting Corfu over the winter months (October-April) then Corfu Town is your best bet for accommodation as it's open year-round, rather than just during the tourist season, as is the hub Acharavi in the north.
Where to Stay in Corfu Town
Accommodation within the Old Town itself is somewhat limited and dated, but there are a few exceptions.
Siorra Vittoria is a charming 4-star boutique in an elegant townhouse hotel with a central location
Cavalieri is a classic (if slightly dated) 4-star overlooking the Spianada
Arcadion (3-star) also looks out on the Spianada and has modern interiors
Bella Venezia is a comfortable and classic 3-star in a historic building
Konstantinoupolis is a bit tired but a comfortable budget option on the port side of town
There are an increasing number of chic studios available – check out the impeccable Sky Loft, Domux Lux, and Urban Lofts.

Just south of the Old Town is Garitsa Bay. The bay itself is home to a Yacht Club and is a popular anchorage.
There are a few large hotels with pools on the main road including Corfu Palace Hotel, an established 5-star resort and casino.
A graceful promenade follows the bay around to the lighthouse at the opposite end, where you'll find the 4-star Mayor Mon Repos Art Hotel and a small shingle beach. It's a 20-minute stroll into town from here and makes for a comfortable base.
Newish boutique hotel Acanthus Blue is located in an 18th-century building halfway between Garitsa and the Old Town. It doesn't have a pool but is one of the most charming and comfortable places to stay in Corfu Town.
Transfer time: Corfu Old Town is 10 minutes from Corfu airport.
Kanoni

Kanoni is the name given to the peninsula directly south of Corfu Town. It was the original capital of Corfu and is so named for the canons which protected the bay.
These days it's an extension of Corfu Town. Keep walking through Kanoni and you'll reach the Korission Lagoons and the photogenic little islets of Vlacherna and Pontikonisi (Mouse Island) which pop up on postcards.
It's a popular spot for watching the sunset in one direction, and the planes come in to land over the lagoon in the other. From here it's a 40-minute walk or a 10-minute drive to Corfu Old Town.
Transfer time: 10 minutes from Corfu airport.
The Main Tourist Resorts in Corfu
Here's a quick rundown of the liveliest beach resorts in Corfu. These are the best places in Corfu for nightlife and partying, daytime activities, evening entertainment, and/or budget accommodation. In other words, if you're looking for a quiet holiday then these are the places to avoid.
Sidari

Originally a fishing village, Sidari is now a busy tourist resort particularly popular with British couples and families.
Sidari's generous and sandy main beach has Blue Flag status and watersports aplenty, but the big draw is its scenic rock formations. According to local legend couples who swim through the scenic rocks at the Canal d'Amour (Channel of Love) will be married soon – just don't expect to have it to yourself.
Aqualand is nearby and there are plenty of lively bars. It's a good base if you like to be entertained.
Transfer time: 50 minutes from Corfu airport.
Read more: A Quick Guide to Sidari
Ipsos and Dassia

Ipsos (also spelt Ypsos) used to be one of the big party resorts on the island but has calmed down over recent years. It's at the end of the the city bus line and so is convenient for easy access to Corfu Town, the NE coast, but also easy parking for car rental.
The beach is narrow and shingley. It has an international vibe and is popular with Brits, the Irish, and young Europeans (especially Italians) on budget trips. That said, it's still in the throes of regeneration and can feel pretty quiet outside high summer. The bar prices and sun-loungers are some of the cheapest you'll find on the island. There is a range of restaurants and bars by the water including plenty of cocktail bars and an Irish pub.
Slightly further south towards Corfu Town, Dassia has a long pebble beach and a more varied mix of hotels than Ipsos, including several high-end all-inclusive hotels. The restaurants and bars are also varied, and less Brit-focused than Ipsos. But it feels less cohesive as a place than Ipsos, and more like a strip of amenities attached to a main road.
Both resorts have watersports on offer.
Transfer time: 20 minutes from Corfu airport.
Read more:
Kavos
Kavos has a reputation as a crazy party resort but it is in the process of maturing. Recent years have seen small hotels refreshed, new restaurants open, and a more mixed crowd visiting than the 18-30s of yore.
You'll still find sports bars, tourist shops, rental agencies, entertainment, and a big sandy beach, but clubs are becoming thin on the ground.
It's similar in vibe to Faliraki on Rhodes which is also ditching the party crowd for a more family-friendly approach.
Kavos still has some of the cheapest accommodations on the island, and expect the summer months to bring an influx of young groups. As long as you're not looking for authentic Greece you can bag some bargain last-minute packages from the UK which can be the cheapest way to get to Corfu – especially if you're flying from a regional airport.
Transfer time: 1 hour from Corfu airport.
Kassiopi

Buzzing Kassiopi is one of the main resorts on Corfu yet manages to retain something of a traditional fishing village feel thanks to its working harbour.
The beaches here are pebbly but it has a picturesque setting (including a Byzantine castle) and is the most charming of the big resorts with a good mix of package and independent tourism. No crazy parties here but there are plenty of cafes and bars around the main harbour to keep you entertained in the evening. It tends to attract an older crowd as well as couples.
The surrounding coastline is particularly beautiful so it makes a great base for exploring. Plenty of boat trips leave from the harbour.
Transfer time: 50 minutes from Corfu airport.
Read more: A Quick Guide to Kassiopi
Agios Stefanos (NW)

Agios Stefanos NW (also known as San Stefanos, its Italian name) is over on the west coast of the island and has an incredible beach – wide sands flanked by pale cliffs.
But the resort itself is flat, on a gentle slope and so feels a bit more spacious than other resorts along the northwest coast. There's plenty of room on the beach for everyone.
It's a small walkable resort but has a few bars with live entertainment in the evening and is popular with British families and older couples.
Transfer time: 1 hour from Corfu airport.
Read more: A Quick Guide to Agios Stefanos NW
Pink Palace Backpacker Resort
No overview of the best party places to stay on Corfu would be complete without mentioning the Pink Palace.
This legendary hostel (and yes, it is pink) is a party-loving backpacker's institution and a resort in its own right. It's not quite what it used to be, but think toga parties, beer pong and ATV tours.
The Pink Palace is on the west side of Corfu on the lovely beach of Agios Gordios and is great for solo travellers and groups looking for maximum fun on a minimal budget.
Transfer time: 25 minutes from Corfu airport.
Paleokastritsa

Often referred to as the 'Jewel of Corfu', Paleokastritsa is a pretty resort in the north of the island home to emerald waters. This stunning resort is surrounded by pines and has developed along a coastal road that winds around a series of six picturesque bays.
Beaches here are a mix of pebble and sand, but they get very busy due to the number of daytrippers from other resorts (and from the cruise ships).
The crowds thin out in the evenings but there are enough restaurants and bars to keep things lively in the evenings although it's not the best place for nightlife – don't expect any clubbing in Paleokastritsa.
But it's excellent for activities – it's the best area on the island for snorkelling and diving, and there are many scenic hikes in the area.
Be warned – the bays are great for swimming for the water here is renowned for its cold temperatures!
Transfer time: 30 minutes from Corfu airport.
Read more: A Quick Guide to Paleokastritsa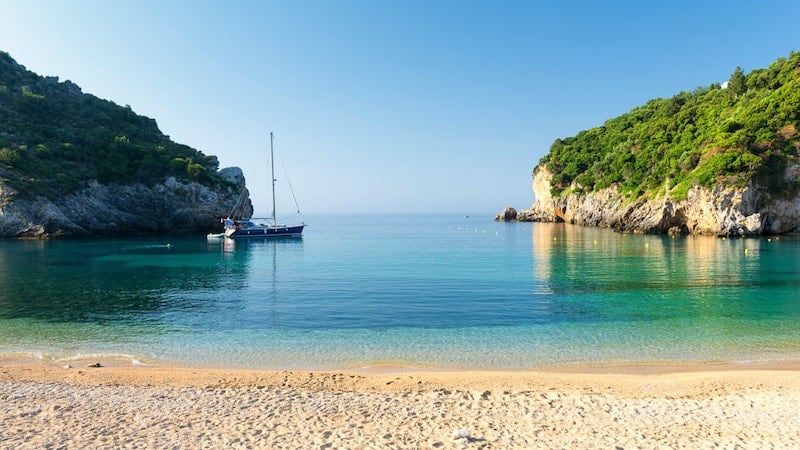 The Best Quiet Beach Resorts and Towns in Corfu
Some of the best quiet places to stay in Corfu are the tiny coves and tranquil villages along the idyllic northeast coast. Head to this part of the island if you're looking for authentic unspoilt Corfu, romance and nature.
Of course, its beauty and relative solitude are reflected in the prices and upscale tourism that it attracts. Posh villas abound. The northeast is known as Kensington-on-Sea for its popularity with wealthy Brits (although wealthy Russians are equally as fond of the area). Some of the best quiet places to stay in Corfu are the tiny coves and tranquil villages in the idyllic northeast.
And if it's the best quiet beaches you're after, Corfu's hidden gems are along the west coast where the mountains meet the sea, or the south where the tourist levels are much lower.
Read more: A Quick Guide to Corfu's Posh (and Beautiful) North East Coast
Kalami

Kalami is another one of Corfu's beauty spots, with its small pebbly Blue Flag beach looking across the water to Albania. Kalami is famous for its association with the Durrells – author Lawrence lived here with Nancy in an old fisherman's cottage known as the White House.
These days Kalami is a small and charming resort although there's limited space and it can feel a bit crowded in the summer.
Just around the headland are the lovely bays at Kouloura and Kerasia. It's a great area for tranquillity and stunning scenery (although the channel is busy with shipping); rent a car or boat to see the best of it.
Oh, and there's a Festival of Pie in September.
Transfer time: 45 minutes from Corfu airport.
Read more: A Quick Guide to Kalami
Agni Bay

South along the coast, you'll find the scenic bay Agni with its pretty pebble beach and a trio of seafood tavernas right on the shore.
There's something special about this place. Its simple but seductive charms attract a well-heeled clientele who jet in on their private speedboats from villas around the coast. Mark Ellingham, the founder of the travel brand Rough Guides, is a fan, as are British politicians George Osborne and Peter Mandelson.
Transfer time: 40 minutes from Corfu airport.
Read more: A Quick Guide to Agni
Nissaki

Nissaki is a small and spread-out area encompassing several beaches, the largest of which is home to the TUI Atlantic hotel.
If you like pebbles then the sheltered beach is one of the prettiest on the island, with crystal clear waters perfect for snorkelling and a couple of tavernas right on the beach. It's perfect for a quiet and romantic beach holiday, although the hotel is large so you won't have the beach to yourself.
Kaminaki and its shingle beach are a little further along to the south.
Transfer time: 30 minutes from Corfu airport.
Read more: A Quick Guide to Nissaki
Barbati

Barbati is a small but vibrant beach resort wedged between the mountains and the sea on the east coast, just 20km from Corfu Town.
It has a mile-long Blue Flag shingle beach backed by trees and steep mountain scenery. There are several beach bars by the water which attract a young crowd from the city and surrounding resorts. Most of the accommodation is up on the main road which is a steep 5-10 minute walk uphill.
Nissaki, Ipsos and Corfu Town are all a short drive away.
Transfer time: 20 minutes from Corfu airport.
Read more: A Quick Guide to Barbati
Agios Stephanos Sinion (NE)
Confusingly, there are two places called Agios Stefanos on Corfu. This one is on the northeast coast (hence the NE in brackets – find it here on Google Maps), north of Kalami and Kerasia.
It's another peaceful, unspoilt bay with an upmarket atmosphere, fishing heritage, good tavernas and a smattering of watersports in high season.
Transfer time: 55 minutes from Corfu airport.
Arillas and Agios Georgios Pagon

On the northwest coast, you'll find the long straight seaside resort of Arillas and the graceful sweep of beach next door at Agios Georgios Pagon (NW) .
The Blue Flag sandy beach at Arillas is protected from winds by the two steep headlands at either end and the waters are shallow. There are enough tavernas to eat somewhere different every night, and the village is home to a microbrewery, a burgeoning wellness scene, and hosts a small wine festival at the start of September.
Agios Georgios Pagon (pictured above) has one of the most appealing beaches in Corfu – a wide crescent of golden sand and beautiful scenery.
Both are peaceful resorts ideal for families with young children. Arillas is slightly better for young couples or those with older children, whereas Agios Georgios is great for watersports and traditional tavernas.
You can't walk between the two, at least not quickly.
In between the two resorts is the picturesque village of Afionas and the famous double beach at Porto Timoni. There are several fantastic hikes in the area.
Transfer time: 55 minutes from Corfu airport.
Read more:
A Quick Guide to Agios Georgios Pagon
A Quick Guide to North West Corfu
Glyfada, Pelekas and Myrtiotissa
The gorgeous Glyfada is a favourite beach with locals. Up in the hills behind lies Pelekas, one of Corfu's hidden gems. This typical Greek village has traditional stone architecture and amazing sunset views.
From here the roads wind down to the beaches of Glyfada, Pelekas and Myrtiotissa. Pelekas has a bit of a backpacker vibe, whereas Glyfada is more upmarket and the scenic Myrtiotissa is clothing-optional.
Transfer time: 25 minutes from Corfu airport.
Ermones
Ermones is a small scenic bay just north of Glyfada. It's much smaller and quieter – it doesn't attract day trippers and only has a handful of places to eat and drink. Perfect if you're looking for a quiet holiday destination.
There is a daily bus to Corfu Town but you'll need a car to explore elsewhere.
Transfer time: 20 minutes from Corfu airport.
Agios Gordios

Laid-back Agios Gordios is in the centre of the west coast and surrounded by high green mountains which give it a very pleasant feel.
It has a beautiful 1.5km long sandy beach (some parts are shingly), which is organised and has watersports.
The centre of the resort is flat and easily walkable although much of the accommodation (mainly apartments with just a few hotels) is up on the slopes.
Agios Gordios is a good all-rounder resort – not too isolated and with plenty of amenities, restaurants, activities, apartments, and decent road and public transport links. It's lively enough for younger visitors but not rowdy. The beach is lined with tavernas and a few beach bars for watching the sunset. No wonder this resort has a loyal base of repeat visitors.
Transfer time: 25 minutes from Corfu airport.
Liapades

A small beach village on the West coast, Liapades is one of Corfu's hidden gems. Just 4km from Paleokastritsa, many travel between the two by boat (and it can get busy with daytrippers).
The village proper is 10-15 minutes uphill and has a traditional feel. There's an assortment of tavernas and accommodations on the road between the beach and the villas. It has escaped over-development and has more of a Greek feel than most resorts on the island.
The main beach is small and shingly sand, and there are lots of small coves in the surrounding area to explore if you're feeling adventurous or if the main beach gets too busy. Come here if you want to feel off the beaten track and surrounded by nature.
Transfer time: 30 minutes from Corfu airport.
Read more: A Quick Guide to Liapades
Benitses

Up until the 80s, Benitses was a notorious party resort – right up there with Kavos. But since then Benitses has calmed down and is in the process of reinventing itself as a quieter family destination with a quaint fishing village feel.
Benitses has a small modern marina next to the old part of town which has an appealing pedestrian zone packed with tavernas and bougainvillaea. It even has some (minor) Roman ruins. The southern part is still in need of a bit of TLC.
The water seems particularly clear in Benitses and there are spectacular views across the water to Albania.
Proximity to Corfu Town is a selling point here: the journey is only 12km and it's on the regular city line.
Transfer time: 20 minutes from Corfu airport.
Read more: A Quick Guide to Benitses
Acharavi

Acharavi is the main town in the north of Corfu and it has a very varied appeal. Beach-wise it has a 3km long beach which is a mix of golden sand and pebble.
It's a working town with plenty of amenities for the locals who live there, including a large supermarket and ample parking on its wide main road. There are many spacious hotels and apartments located on the side streets between the main road and the beach.
There are some watersports in the summer and Hydropolis Water Park is at the edge of town, but it's not the best choice if you're looking for lots of activities and entertainment aimed at tourists.
It's on the quiet side in the evenings due to the proliferation of all-inclusive hotels but is a popular choice for young couples, families and older travellers. It's also one of the few resorts that don't completely close down in the winter as it's the main hub in the north.
Transfer time: 50 minutes from Corfu airport.
Read more: A Quick Guide to Acharavi
Roda

A short distance west of Acharavi sits Roda, a small fishing village with a good sandy beach and an amiable family-friendly atmosphere.
The resort has its fans who love its workaday charm, excellent value, friendly locals, extremely relaxed vibe, organised beach and an assortment of Greek and international bars and restaurants. Some of the old village buildings remain.
The beach is dark sand/shingle and prone to influxes of seagrass which may put some off, but the sea is shallow and clean and the resort is flat and walkable. It's one of the cheapest places to stay in Corfu and is popular with returning older travellers as well as European families with small children.
Acharavi is within walking distance.
Transfer time: 46 minutes from Corfu airport.
Read more: A Quick Guide to Roda
Gouvia and Kontokali

Gouvia and Kontokali are two resorts just north of Corfu Town that are so close that they merge into each other.
The largest marina on the island, Gouvia Marina, is based here (actually in Kontokali rather than Gouvia) and it is a hub of the yachting industry.
Most of the restaurants, bars, and amenities are in Gouvia which is the busier of the two. There are a few small shingle beaches with shallow and warm – if slightly muddy – water.
The peninsulas on either side of the bay are home to an increasing number of large resort hotels, some of which have access to lovely private beaches set amongst pretty landscapes.
It's popular with ex-pats and returners who value the transport connections, good value accommodation, lively bars, and proximity to town (buses are frequent and cheap) as well as the main road north.
Transfer time: 15 minutes from Corfu airport.
Moraitika, Mesonghi, and Agios Ioannis Peristeron
Apart from Kavos and Benitses, the south end of Corfu gets very little attention. But there are some wonderful resorts here hiding in plain sight.
South of Benitses you'll find a string of small beach villages which are still popular with local families and haven't been overdeveloped (although there have been a few notable new openings so this might not be the case for long).
The beach is narrow and pebbly and the only entertainment you'll find is a few beach bars and tavernas.
Moraitika is the largest and most cosmopolitan place on this stretch of town, and it seems to be growing by the day. Here you'll find a few bars and international restaurants as well as a slightly wider beach with a mix of pebbles and sand.
Mesonghi is a bit quieter but so close that the two are practically one – it's separated from Moraitika by a small river.
Transfer time: 25 minutes from Corfu airport.
Agios Georgios South
The main resort on the west side of the south coast is Agios Georgios South, another fantastic all-rounder resort. It's especially popular with those looking for a traditional feel but a good range of amenities.
It's slightly isolated so not the best base for exploring, but what you will find here are fantastic sandy beaches that are less crowded than elsewhere on the island.
The vast dunes of Issos and Halikounas are nearby plus Lake Korission and more excellent beaches to the south. If you want wide empty sands and big nature then this is the right part of the island for you. It's worth renting a car to explore the coastline.
Transfer time: 40 minutes from Corfu airport.
Read more:
How to Get Around Corfu By Bus
Where to Stay on Kefalonia: Ultimate Beach Resort Guide
Where to Stay on Lefkada: Ultimate Beach Resort Guide
Where to Stay on Skiathos: Ultimate Beach Resort Guide
Where to Stay on Crete: Ultimate Beach Resort Guide
Where to Stay on Kos: Ultimate Beach Resort Guide
Where to Stay on Zakynthos: Ultimate Beach Resort Guide
Where to Stay in the Cyclades: Ultimate Beach Resort Guide
Where to Stay on Rhodes: Ultimate Beach Resort Guide
15 Best Greek Islands for Beaches
Found this post useful? Click to save to Pinterest:

Image credits:
Kassiopi: © lukaszimilena / Adobe Stock
Erimitis: © ernestos / Adobe Stock
Sidari: © Netfalls / Adobe Stock
Paleokastritsa: © CCat82 / Adobe Stock
Kalami: © Marcin Krzyzak / Adobe Stock
Agios Stefanos NW: © CCat82 / Adobe Stock
Barbati: © Simon Dannhauer / Adobe Stock
Agios Gordios: © whitewizzard / Adobe Stock
All other images © The Mediterranean Traveller