Heading to the beautiful Cyclades islands in Greece this year? Here's a complete beach-lover's guide to the Cycladic islands; to help you decide which island, town, resort, hotel and beach is best for you.
This is part of a Greek holiday resort guide series and will cover:
which island in the Cyclades to choose
where to stay in the popular islands of Santorini, Mykonos, and Ios – the best places to stay for nightlife, luxury, and a younger crowd
a rundown of the best beach resorts and beach hotels on each island in the Cyclades
a selection of quieter resorts and villages; the best places to stay for couples, families and nature
Cyclades Overview

When you picture a Greek island it's probably one of the Cyclades that you're imagining – sandy beaches, turquoise seas, and pretty whitewashed cuboid villages. This island group in the Aegean Sea is home to some of Greece's most popular and iconic tourist destinations (namely Santorini and Mykonos). But there are 24 inhabited islands in the chain, as well as many smaller uninhabited islands.
Luxury accommodation is concentrated in Santorini and Mykonos, although most islands now have at least one upmarket offering. Package deals – so popular on Crete and in the Ionian Islands – are mostly limited to Santorini and Mykonos thanks to their international airports, although a few foreign providers will include ferry connections to other islands. But the bulk of accommodation is in independet family-run hotels and guesthouses in the many small beach resorts and charming villages.
It's worth knowing that the summer sees frequent strong winds from the north. Known as the meltemi, these can last a few days and make lying on north-facing beaches unpleasant. This is when it pays to have a rental car to access sheltered beaches on a different part of the island and to check the wind forecasts – especially if you plan on going near a boat of any description.
Getting There
Airport: Most visitors fly in to Athens but there are also international airports on Mykonos, Santorini, Crete (Chania and Heraklion) – check Skyscanner for cheap flights from other European destinations.
The islands in the Cyclades with domestic airports are Naxos, Paros, Syros, and Milos.
Ferry: The Cyclades are the best island group for island hopping, with the easiest and most frequent ferry connections between its islands. Ferry routes tend to start in one of Athens' 3 ports and work their way out to the furthest islands, then back to Athens along the same route. But some of the larger islands also act as mini hubs, such as Syros (the administrative capital), Paros, and Naxos (the largest island). The larger car ferries are the most reliable and cheapest, whilst the smaller and quicker hydrofoils tend to run in high summer only.
For more information on ferries read: The Complete Guide to Island Hopping in Greece
Which Island to Choose?

Note that prices and crowds are substantially higher on Santorini and Mykonos than the other islands.
For nightlife: Mykonos, Ios, Santorini, Paros
For beaches: Ios, Naxos, Paros, Milos, Little Cyclades, Serifos
For families: Naxos, Paros
For food: Sifnos, Tinos, Milos
For couples: Folegandros, Milos, Naxos
For quiet and traditional: Andros, Tinos, Anafi, Kythnos, Kea

Best Places to Stay in the Greek Islands – Overview
BEST LUXURY HOTELS: Perivolas (Santorini), Grace (Santorini), Katikies (Santorini) Cavo Tagoo (Mykonos), Calilo (Ios)
BEST INFINITY POOL: Grace (Santorini), Bill & Coo (Mykonos)
BEST LUXURY BEACH HOTEL: Santa Marina Resort (Mykonos), Calilo (Ios)
BEST BUDGET BEACH HOTEL: Hotel Albatross (Serifos), Kalergis Studios (Naxos), Dionysos Seaside Resort (Ios)
SWANKIEST VILLAS: EroSantorini Estate (Santorini), Astra (Santorini) Villa Rhenianos Estates (Mykonos), Naxos Rock Villas
BEST BOUTIQUE HOTELS: Naxian On The Beach (Naxos), Parilio (Paros)
BEST PLACES FOR NIGHTLIFE: Mykonos Chora, Mylopotas/Chora (Ios), Fira (Santorini), Naoussa (Paros)
BEST TRADITIONAL BEACH RESORTS: Agios Giorgios (Naxos), Kamares and Platis Gialos (Sifnos), Aegiali (Amorgos), Pollonia (Milos) and Livadi (Serifos)
Santorini

Santorini is the most iconic destination in Greece, and often first Greek island that many tourists will visit. Unlike the rest of the islands in the Cyclades, Santorini doesn't have any white sand beaches. It's a volcanic island and the photogenic villages of the caldera (the edge of the volcanic crater) are the star of the show here rather than the beaches. These villages are the premium locations on Santorini and it's where you'll find most of the life as well as the luxury:
Fira: the capital of the island, with the widest range of accommodation and. It's the transport hub and is also the most accessible for caldera views.
Firostefani: a 10-minute walk along the caldera path, Firostefani is smaller and quieter
Imerovigli: also small and quiet, this is hushed honeymooner territory
Oia: the most popular sunset spot with the prettiest cascade of buildings and plenty of romantic restaurants, but it does get wildly busy at sunset (and expensive).
Santorini has an incredible range of luxury hotels. Among the best on the island are: Perivolas (Oia), Grace (Imerovigli), Katikies (Oia), Chromata (Imerovigli), and Canaves Oia Suites (Oia).
For that boutique feel on a smaller budget check out Callia Santorini (Fira), Remezzo Villas (Imerovigli), Heliotopos Hotel (Imerovigli), Zoe Aegeas (Oia), Loizos Stylish Apartments (Fira).
And backpackers are not forgotten, with Caveland Wine Hostel is one of the coolest hostels in Europe. It's located in Karterados which is within walking distance of Fira and home to lots of budget accommodation.
The most popular beaches on the island are the black sand beaches of Perissa and Kamari. If you don't mind staying outside the caldera you'll also find some great accommodation bargains at these two beach resorts – such as Hotel 28 – as well as some funky beach bars.
If you want to escape the crowds and go in search of the real Santorini then head to the inland wine villages of Pyrgos, Emborio and Megalochori. 5-star Zannos Melathron has a spa, wine cellar, and panoramic views over the island.
At the south end of the caldera, Akrotiri has an ancient site and bizarre beaches as well as lesser-known secret caldera views at a smaller price point – try Apanema. And the windswept fishing village of Vlychada feels far from the madding crowds.
Santorini has an international airport but if you don't like crowds consider flying in and ferrying out. The airport is tiny and although it has undergone an upgrade recently, the departure lounge can still feel very chaotic in the summer. See KTEL Santorini for public buses including airport connections.
Mykonos

Mykonos is one of the most popular island destinations in Greece thanks to its beautiful whitewashed town, renowned nightlife scene, and incredible sandy beaches. In fact, it's one of the best islands for sandy beaches. Mykonos has a small international airport with flights from Athens and a few European cities. See KTEL Mykonos for bus timetables.
Most foreign visitors stay in the main town, Mykonos Chora. As well as its picturesque streets, buzzing bars, boutiques and restaurants, there are several beaches around Mykonos Chora. There are buses and water taxis to beaches and smaller resorts around the island. Luxury lovers are spoilt for choice on Mykonos. For starters, try Bill & Coo and Cavo Tagoo in Mykonos Chora. There are some reasonably priced traditional beach hotels near Megali Ammos, the town beach, such as Markos Beach Hotel and Mykonos Beach Hotel. And flashpackers can check in to the swanky design hostel MyCocoon.
Psarrou is a small cove not far from town with a sandy beach that attracts a ritzy set and is home to the top luxury hotels Mykonos Blu and Kensho Psarrou.
Around the corner is the more relaxed family-friendly resort of Platys Gialos with an abundance of 4-star options such as Thalassa Boutique Hotel, Branco, and Acrogiali Beach which all have beachfront locations.
Keep heading south and you'll hit the most popular party beaches on the island – Paradise and Super Paradise. Budget options Paradise Beach Resort and Paraga Beach Hostel are conveniently close to the action, or for something more comfortable there's the Lyo Boutique Hotel and the Ammonite Resort above Super Paradise.
The other main beach resorts on Mykonos are Elia and Ornos. Elia (pictured above) is the longest beach on the island, and one of the busiest. There are several big resort hotels right by the beach, namely the Myconian Imperial, Royal Myconian, and the Elia Mykonos Resort. In Ornos you'll find the 5-star Santa Marina Resort, arguably the best luxury beachfront resort hotel on the island. Quieter beach villages worth checking out include Agios Stefanos and Agios Ioannis.
Ios

Ios is another island known for its nightlife – its a favourite on the backpacker scene for its budget thrills – although during the day and outside July/August you won't really notice it. It also has a stunning hilltop chora and miles of beautiful quiet beach. There's no airport here.
Most of the accommodation is clustered around Ios Chora and the nearby Mylopotas Beach, which is a large sandy organised beach and home to a lively beach club. There are plenty of good value hotels and rooms between the beach and town. Dionysos Seaside Resort has a perfect beachfront location.
On the other side of town is the slightly quieter Gialos beach and a few small coves such as Koumpara and Tzamaria.
There are no proper beach resorts elsewhere on the island, but plenty of vast unorganised sandy beaches. Some have a beach bar and a few rooms or villas about. The best beaches are Kalamos, Manganari, Papa, and Tres Klisses. There's a new 5-star luxury eco-resort on the island too – Calilo – which occupies a chunk of land just behind the beautiful Papa Beach.
Paros

Beautiful Paros has everything you might wish for in a Greek island – it's got those whitewashed villages and lovely beaches down pat. The relatively short ferry from Athens means it's also popular with weekending Greek tourists. It also has a small domestic airport – there is constant chatter of extending the runway for international flights but no concrete plans exist as yet. Paros attracts many artists and is also an up-and-coming eco destination – the island is working towards becoming the first plastic waste-free island in Greece.
The main tourist hotspot on Paros is the picturesque harbour village of Naoussa which has gained a following for its low-key nightlife and chic streets. It's a less crazy (and expensive) alternative to Mykonos) which means that it does get crowded in high summer. There is a small town beach (pictured above) however the better beaches are a short drive or water taxi ride away, so it's a great destination for those willing to do a bit of exploring.
5-star design hotel Parilio is one of the hottest new hotels in Greece. For traditionalists, 5-star Astir and 4-star Naoussa Hills Beach Resort are comfortable resort hotel options. Hotel Conteratos is a stone's throw from the beach. Fans of sleek modern Cycladic design can bed down at Mr and Mrs White or the adults-only Lilly Residences. On a budget? There's Paros Backpackers.
There is another cluster of beaches around Parikia which is Paros' main town and port – the old quarter here is lovely and it has a less polished and more local feel than Naoussa. It's a cultural hub with good nightlife and you will also find remains of ancient temples, Byzantine churches, and Venetian castles. In town, the Argonauta is a charming boutique option. Yria Island Boutique Hotel & Spa is located south of Parikia at Parasporos Beach.
If you prefer to stay directly on the beach then head over to the south east side of the island to the fishing village of Piso Livadi which has become an attractive small resort with a narrow sandy beach. There are ferries and excursions in high season, and it's a short drive to Chrissi Akti, a popular windsurfing beach. Here you'll find the best beach hotel on Paros, the 4-star Saint George Beachfront Resort. Fans of quiet beach villages should also consider Aliki, Ambelas, Logaras, and Molos.
Antiparos

Laid-back Antiparos is one of the true gems of the Cyclades, situated to the south west of Paros and is a short ferry ride from or a slightly longer trip from Parikia. For many years it was frequented by the hippie crowd who would free camp on the beaches and congregate at the legendary beach bar. This has changed in recent years, as celebrities such as Tom Hanks have put Antiparos on the map. But the vibe is still utterly laid-back vibe and a bit bohemian.
Most accommodation options are in Antiparos Chora (the main town), from where you can walk to several beaches, but there are an increasing number of villas and small hotels around Apantima, Soros, and Agios Giorgios. If you require an upmarket hotel then Hotel Begleri and Beach House fit the bill. Smaller boutique offerings include Kastro Antiparos, Kouros Village, Ergina Summer Resort, Kostas, and Thalasea.
Naxos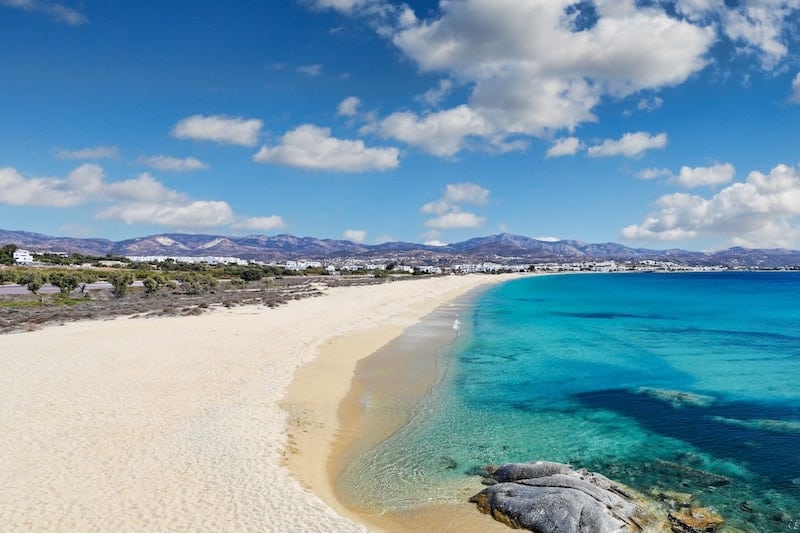 For many years Naxos remained somehow under the tourist radar. Now, slowly but surely she's taking her place in the spotlight. That doesn't mean it's overcrowded here, and it feels less manicured than more popular alternatives. Naxos is the largest island in the Cyclades and there's plenty of room to explore, however most of the tourist infrastructure (including the small domestic airport) and popular beaches are in a small coastal zone near Naxos Chora.
The main town, Naxos Chora, has a small sandy beach called Agios Giorgios. It's a 5-minute walk from the harbour to this beach, and the accommodation behind the beach is great value. Nissaki Beach Hotel and Kalergis Studios are right on the beach, and Porto Naxos is a relaxed option a few blocks back. There are more accommodation here than in the old part of the town.
From Naxos Chora it's a short drive (or bus journey) to the popular beach resorts of Agios Prokopios and Agia Anna. The sand here is spectacularly pale and the water magnificently turquoise. Both beaches are backed by cafes and tavernas. Of the two, Propokios is substantially bigger but it's easy enough to walk between the two. Both are great for families and couples and have plenty of accommodation options. The 5-star Naxos Imperial Resort and Spa is the top luxury offering, and there are chic Naxos Rock Villas up in the hills of Stelida nearby.
The boutique Naxian On The Beach is suitably located on Plaka, Naxos' longest beach, and has minimalist boho decor. From here the resorts thin out and the beaches get wilder and windier. A few are connected by infrequent buses but rental car will serve you well if you want to explore the island's remote beaches. On the other side of Naxos are the small and windy fishing villages Moutsouna and Apollonas which are good if you're seekeing a quiet escape.
The Little Cyclades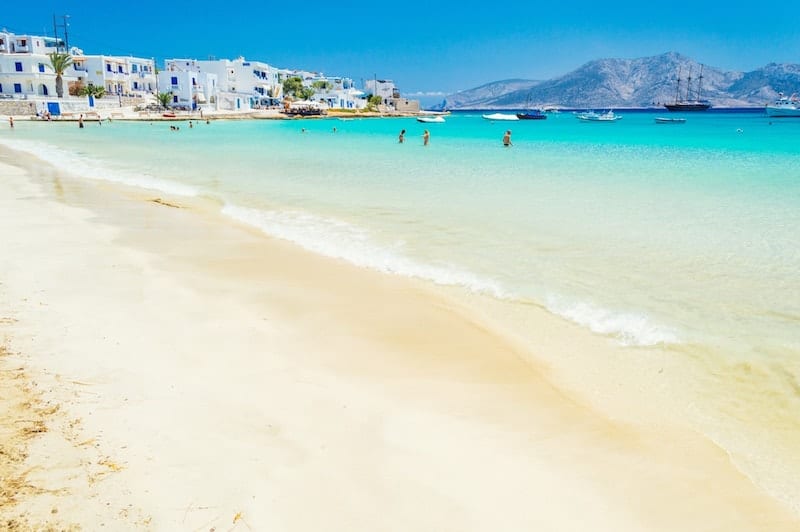 You might have to zoom in to the map to find them, but there are four tiny inhabited islands off the coast of Naxos which are collectively known as the Little Cyclades and are pure heaven for beach-lovers – Koufonisia, Schinoussa, Iraklia, and Donoussa.
These are back-to-basics islands, with immaculate sandy beaches, some of the clearest turquoise waters in the Med, and a handful of sleepy villages between them. There's not much to do but snooze, laze, and swim. Of the four, Koufonisia is emerging as a beach destination for those in the know and has a few boutique accommodation options – Keros Art Hotel, Portes Houses, Aegean Colours, and Aeolos Hotel. High season sometimes sees ferry connections with Mykonos.
Iraklia, Schinoussa, and Donousa are all quiet and traditional, with the latter located apart from the other islands, to the north west of Naxos.
Amorgos

The time it takes to reach Amorgos on the ferry is just enough to put most people off, keeping it quiet and unspoilt. Amorgos is known for its star turn in the 1988 Luc Besson film The Big Blue (most memorably the Shipwreck beach ), and for the iconic site of the Hozoviotissa Monastery which is built into the side of a cliff. It's mountainous and rugged, and there's something sensuous and wild about the scenery here. It attracts the dedicated and the free-spirited.
Amorgos' main town (Chora) is up in the hills and is worth a visit for its beautiful whitewashed streets. The main port is in the south at Katapola. But for beach appeal Aegiali stands out. It has become fashionable with the yoga and wellness crowd, with several hotels offering retreat packages, as well as walkers keen to explore the island trails. Rock climbers and divers too will find plenty of interest here.
5-star Aegialis Hotel & Spa is the top luxury spot on the island. Lakki Village is right on the beach and has a pool too, but there are also many great-value pensions and guesthouses.
Anafi

Anafi is for people who like to get away from it all. The ferry connections are infrequent and you won't encounter any sunbeds or beach bars here. What you will find is vast empty beaches, a sense of remoteness, and a craggy rugged landscape. There are no beach resorts on Anafi, though it does attract a few free campers. Accommodation is found in Chora, the main (and only) village which is atop a steep cliff.
With such a small selection of accommodation in the Chora, be sure to book in advance in high season. Have a look at Apollon Village Hotel, Ostria, Panorama Rooms, Maki House, and Sunset.
Syros

Syros is the administrative capital of the Cyclades and often overlooked by tourists – despite its unique architecture and fabulous sandy beaches. There's plenty to keep you occupied you in Ermoupoli, the island's handsome main town with its neoclassical villas and cosmopolitan cultural life. In fact, many visitors come just for Ermoupoli, the beaches are merely a bonus. With that in mind, the beach resorts are small and tend to get busy during the day but feel very quiet at night.
Kini and Galissas are the most popular beach villages (and get the busiest with beach bars in the summer), but the nicest beach and swimming is the twin bays of Poseidonia and Agathopes (pictured above) with Vari coming a close second and Megas Gialos third.
Sleek boutique options abound in Ermoupoli, but if you want to be close to the beach try Calma Boutique or the Di Mare Hotel in Agathopes, Hotel Kamelo in Vari, Pino di Loto Suites in Kini, or Aegean Paradiso in Azolimnos, and Hotel Benoit in Galissas.
Syros has a domestic airport and is also one of the main ferry hubs, with several islands within day-trip range (including Mykonos).
Milos

Milos is graced with some unusual and spectacular natural scenery, being the site of an inactive volcano. So as well as the usual sandy beaches, whitewashed villages, and blue waters, you'll also find bizarre sculpted lunar rocks and a seascape that's perfect for water-babies. The distinctive horseshoe shape of the island has resulted in a wide variety of beaches – it's one of the best beach destinations if you like to hop on a scooter or rent a 4×4 for exploring.
The most populous part of the island is the north-west edge, where you'll find the main old town of Plaka, the main port at Adamantas, and the pretty seaside resort of Pollonia, as well as the most famous volcanic beaches of Firopotamos, Sarakiniko, and Papafragas.
You can find Instagrammable abodes such as Plaka Suites and Eiriana in Plaka, but head to the Pollonia area for the beach. It has many boutique hotels with chic whitewashed interiors at various price points – check out Captain Zeppos and Melian Boutique Hotel , Milos Breeze, Nefeli Studios, Tania, Salt Suites, and Delmar Apartments.
Kimolos

Little Kimolos is the satellite island of Milos and is a popular daytrip from its big sister, but it's worth staying longer if you like swimming, simple pleasures, and small charming islands. The beaches here are great too. Most visitors stay in Choria, the main village, with its tiny white-and-blue alleys – from here it's possible to walk everywhere on the island, including to a number of immaculate beaches. The most popular is the white sand beach of Prasa (pictured above), surely one of the best beaches in the Cyclades, but there are also a number of pristine unorganised beaches on Kimolos.
There are several hotels and guesthouses with cool modern decor – Kimolos Blue is right by Prasa beach, but other options include Kimolis, Thalassa Beach House, and Psathi Blue near to the ferry harbour.
Folegandros

After years in obscurity, Folegandros has found itself on the map lately as an up-and-coming destination. A quieter and more authentic alternative to Santorini. Its clifftop main town – Folegandros Chora – is particularly pretty and boasts similarly spectacular views and sunsets, but without the selfie-stick wielding crowds. It attracts an sophisticated crowd and also has trails that attract walkers during the shoulder seasons. That said, tourism is still quite low-key here – think upmarket-rustic. It's ideal for honeymooners and couples looking for peace and quiet as long as you're prepared for a ferry journey, as there is no airport on Folegandros.
You'll find the most life in Chora and this is where most people choose to stay. There's a good selection of appealing accommodation here, with lots of chic whitewashed hotels and rooms on offer. Polikandia and Anemomilos are two of the most special places in town.
There are buses from Chora to Angali, the most beautiful beach on the island, in a rocky bay with turquoise waters. It's mostly visited on day trips or by walkers coming down from the village of Ano Meria, but it's possible to stay here if you're looking for quiet – Blue Sand Boutique Hotel & Suites has cool white decor and overlooks the beach.
The other option is to stay 3km away in the harbour town, Karavostasis. This is a small whitewashed village with a decent beach, and is also where the ferries and excursion boats arrive and depart. The coastline here is undeveloped and natural, though the beach is a mix of sand and pebble in parts and a rather dark grey colour. There are some hotels and rooms but the don't expect much in the way of restaurants or evening entertainment. Anemi Hotel has modern decor and a large pool
Sikinos

Sikinos is probably the least touristy island in the Cyclades. It's traditional and very quiet, and not really geared up for beach tourism. It's more of an island for those hardcore off-the-beaten-trackers who have already visited most of the other islands, can entertain themselves and don't need much in the way of tourist infrastructure.
There are rooms to rent in Kastro-Chorio, the main town which is a 10 minute drive inland, but closer to the beach is the small harbour village Alopronia. Check out Camares, Pigari Rooms, Maistrali and Vrahos.
Sifnos

Sifnos is a great all-rounder island, it's surprising that it's not more popular. Which is all the better if you like unspoilt destinations. It has all the traditional appeals but isn't too quiet, has some cracking beaches and scenery, and is one of the best foodie destinations in the Aegean. All in all, it's one of the best places in the Cyclades for independent travellers. There is no airport on Sifnos so you'll have to ferry over (3-5 hours) from Athens.
The ferry from Athens arrives at the town of Kamares, one of the nicest harbour towns in Greece. The sea is clean and shallow and there are are several hotels right on the long sandy beach. Hotel Stavros and Hotel Boulis win on location but Sifnos House Rooms & Spa is the most stylish. Don't miss a trip to the pretty inland capital Apollonia where you'll find the island's best restaurants and bars.
To the south of Kamares is the beautiful Vathi, is a sleepy village with a long sandy beach in a sheltered natural bay. The sea here is shallow and ideal for children. It's worth noting that you can't drive all the way into the village. The luxury Elies Resort has tasteful accommodation in smart Cycladic style buildings, or you can find cheaper rooms on the beach at Aerides or Agrilia.
On the other side of the island, Platys Gialos is a charming and traditional small beach resort. The beach is narrow but long and sandy with watersports available. There's only really one road of accommodation and amenities so you're never far from the beach.
Looking for somewhere quiet? Try pretty Heronissos on the northern tip of the island, known for its fishing fleet and excellent seafood. Psarona Vacation Houses have a gorgeous terrace by the sea.
Serifos

Like Sifnos, the island of Serifos is under-visited despite incredible beaches and a short ferry journey from Athens. This makes it another great destination for those who like quiet islands and simple pleasures. There's less nightlife and cultural interests than on Sifnos, but if your idea of heaven is exploring empty beaches down dirt tracks with your rental 4×4 then this is the place for you.
The main town (Chora) is inland and uphill, and the main beach resort is down at Livadi, a pleasant harbour town with two wide sweeps of sandy beach and several more coves to explore in the wider area. Most of the island's accomodation is here and there are many small (and good value) guesthouses right on or near the beaches such as Hotel Albatross, Coralli Bungalows and Vassilia On The Beach for starters.
Solitude lovers will find the occasional rental or hotel near quieter beaches such as Serifos Dream Houses on Ganema, Hotel Rizes near Psili Ammos and Ammoa on Vagia.
Kea

The island of Kea (or Tzia) is the closest Cycladic island to Athens, and one of the most overlooked by tourists. Perhaps it's because of its location, past Cape Sounio on the mainand and reached by a short ferry from Lavrio rather than from Pireaus. It's difficult to combine with other islands and it lacks many of the attractions that abound on other islands in the Cyclades – whitewashed villages, volcanic, historic sites. All of this means it's more popular with weekenders and second-homers from Athens, which gives it a blissfully undiscovered feel, particularly during the week when it empties out.
The main town Iolida is inland. The landscape is hilly and surprisingly lush, and the architecture is different to the more eastern Cyclades – with red tiled roofs and colourful paintwork featuring prominently. There's also a medieval castle and the ancient ruins of Karthea to be found.
The main port of Korissia is surrounded by several beaches, which tend to be dark sand and unspoilt, and there are several small beach resorts. Gialiskari is small, organised, and very pretty – backed by trees. Pisses, Korissia and Koundouros have larger sandy beaches. Porto Kea Suites and Keos Katoikies, both in Korissia, are the hippest place to stay on the island but there are also plenty of villas and vacation rentals on the island – try VRBO or Booking.com.
Kythnos

Kythnos is the next island past Kea and is similarly low-key and traditional. The time it takes to sail to Kythnos makes it a perfect first-night stopover for yachts leaving the marinas of Athens. The ferries call at the main port of Merihas, but the yachts tend to drop anchor over at Loutra on the east side of the island. Loutra is a small picturesque fishing village with a beach, a handful of waterfront tavernas, and natural hot springs that run into the sea.
It helps to have a car (preferably a 4×4) if you really want to explore the island. To the north of Merihas – and just about walkable – is the most famous site of Kythnos, the double-sided Kolona beach.
Accommodation is mostly traditional hotels and rooms but a few swanky places have popped up lately – Chora Kythos Suites is elegant and modern though located inland in the island's capital, whilst over at Loutra the Kythnos Bay Hotel is good value breezy white decor and Porto Klara Suites sports Cycladic decor and lovely views over the beach. And in the sleepy beach village of Kanala you'll find Kamares, Canal Suites and and Mantellina Suites.
Andros

As with Kea, Andros has a different feel to the rest of the Cyclades. It has an intense yet serene feel, it's rolling hills revealing dark vegetation and natural streams. Chora, its capital, is home to many elegant neoclassical mansions, for Andros is home to some of Greece's wealthiest shipbuilding dynasties, but it's also a surprisingly good island for beaches, art, and walking trails. And it's a short ferry journey from the port of Rafina which just to the east of Athens.
Ferries land at Gavrio which is a short drive from the island's main beach resort, the seaside village of Batsi (pictured above). There's plenty of self-catered accommodation in Batsi, including many villas in the flat streets behind the main beach. The best hotel in town is the boutique Krinos Suites. On a budget? Uphill from the main warren of streets is the delightfully old-school Lemon Tree Hostel. Just a short walk to the south of Batsi is Aneroussa Beach Hotel and Blue Bay Village, located right on the narrow Delavoyas Beach. There are many wide sandy beaches on the west coast (there's even a surf school on Kipri) and you won't be jostling for space – even in the summer.
Tinos

Tinos is a delightfully understated island, a true hidden gem in the Cyclades. Like the other western islands, it's often bypassed by travellers – most of whom are heading right for it's noisy neighbour Mykonos. Those alighting at Tinos have often been pilgrims and spiritual tourists, here to visit the Church of Panagia Evangelistria – one of the most important holy sites in the Greek Orthodox religion..
But this unassuming island has plenty on offer, including the arty mountain villages, a burgeoning food scene, whitewashed Cycladic buildings, and fabulous beaches which are clean and quiet, and mostly a dark golden sand. You'll need a rental car to make the most of it. The north west beaches are wild and windy, and there's a surf school at Kolymbithra.
The capital, Chora, is also the main port and the island's best beaches are also found in this area, fanning out from the town. It has a functional feel compared with some of the other island capitals and much of the tourist infrastructure caters to the pilgrims. But just to the north of Chora is Kiona, a long organised beach with plenty of beach hotels and amenities. It makes a decent base if you want to be close to the action (or public transport). Similarly, to the south is Agios Fokas.
The west coast is lined with golden bays. For smaller quieter seaside locations head to Ysternia (pictured above), Agios Sostis and Agios Ioannis Porto, or the small harbour village of Panormos.
The chicest places to stay are in the interior villages – such as Mr & Mrs White Tinos and Aeolis Tinos Suites. For beach proximity check out Golden Beach Hotel and Anthea Boutique Hotel, both by Agios Fokas.
Read more:
20 Prettiest Whitewashed Villages in Greece
Paros vs Naxos – Which is Right for You?
10 Best Sandy Beach Resorts in Greece
15 Best Greek Islands for Beaches
Where to Stay on Crete: Ultimate Beach Resort Guide
Where to Stay on Corfu: Ultimate Beach Resort Guide
Where to Stay on Kefalonia: Ultimate Beach Resort Guide
Where to Stay on Lefkada: Ultimate Beach Resort Guide
Where to Stay on Zakynthos: Ultimate Beach Resort Guide
Where to Stay on Skiathos: Ultimate Beach Resort Guide
Where to Stay on Rhodes: Ultimate Beach Resort Guide
Where to Stay in Halkidiki: Ultimate Beach Resort Guide
Where to Stay on the Turkish Coast: Ultimate Beach Resort Guide
Where to Stay on Mallorca: Ultimate Beach Resort Guide
Where to Stay on Menorca: Ultimate Beach Resort Guide
Where to Stay on Ibiza: Ultimate Beach Resort Guide
Find us on Facebook or Twitter.
Found this post useful? Click to save to Pinterest:

Image credits:
Amorgos: © Kite_rin / Shutterstock
Iraklia: © stockbksts / Adobe Stock
Platys Gialos, Mykonos: © moofushi / Adobe Stock
Map of Greece: © Peter Hermes Furian / Adobe Stock
Santorini: © kelifamily / Adobe Stock
Mykonos: © aetherial / Adobe Stock
Ios: © jsk12 / Adobe Stock
Paros: © pkazmierczak / Adobe Stock
Antiparos: © costas1962 / Adobe Stock
Naxos: © costas1962 / Adobe Stock
Little Cyclades: © aetherial / Adobe Stock
Anafi: © Michael / Adobe Stock
Syros: © Aerial-motion / Shutterstock
Milos: © gatsi / Adobe Stock
Kimolos: © Haris Andronos / Adobe
Folegandros: © aerial-drone / Adobe Stock
Sikinos: © vivoo / Adobe Stock
Sifnos: © vivoo / Adobe Stock
Serifos: © Freesurf / Adobe Stock
Kea: © costas1962 / Adobe Stock
Kythnos: © Mike / Adobe Stock
Andros: © kite_rin / Adobe Stock
Tinos: © costas1962 / Adobe Stock