Looking for the best resorts in Greece with sandy beaches? It can be a bit of a needle-in-a-haystack challenge as many Greek beaches are pebbly or a mix of pebble and sand. Some that look great in photos are not so soft in real life. For this list we've looked only at beaches with really soft sand, and also places where it's easy to find accommodation options right by the beach. There are many many islands with fabulous beaches but not all of them are better for those happy to explore by car, bus or boat (such as Crete and Paros).
KOUKOUNARIES, SKIATHOS

Skiathos is a small island but blessed with many fantastic beaches. The best of them all is the magnificent Koukounaries on the western tip of the island. It's by no means undiscovered and if you come here in July or August you'll find it packed to the rafters, but the shallow waters are a delight and the area is alive with birds and wildlife.
It's worth noting that there's no accommodation right on the beach in Koukounaries as it's a protected area, the resort runs along a road behind the treeline and a lake, but it's a short walk for those with no mobility issues.
ALYKES, ZAKYNTHOS

Zakynthos is a popular beach destination for package holidaymakers, with several resorts on the island to choose from. The best sand is to be found up north in chilled out Alkyes – it's powder-soft and paler than the beaches to the south. And the beach bars here are great.
TIGAKI, KOS

Tigaki is one of the best beaches on Kos, with a long sweep of beautiful fine golden. The resort is quite small, based around one main strip of bars and restaurants that runs parallel to the sea, but there's a frequent bus to Kos Town if you're craving more entertainment.
AGIOS GEORGIOS, CORFU

Agios Georgios is not as well known as some of the resorts on Corfu – I'm sure its devoted fans would like to keep it a secret. Sorry! The sand here is a beautiful mellow gold and surrounded by some of the finest scenery and hiking on the island. It's topped off by a smattering of great tavernas.
AGIOS PROKOPIOS, NAXOS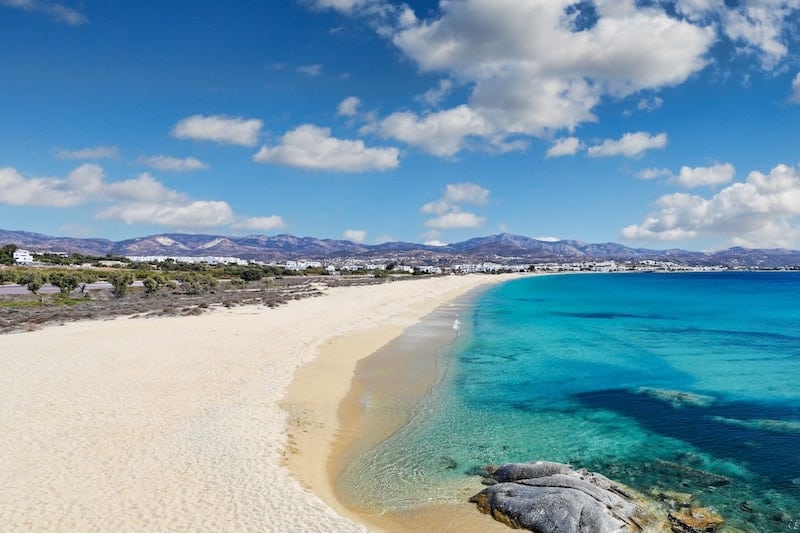 Naxos is by far one of the best Greek islands for sandy beaches. Agios Prokopios is just a short bus ride from both Naxos Chora and the airport and it boasts dazzling soft sands and turquoise waters. It's a purpose-built resort though not too large, with a row of laid-back beach cafes and bars behind the beach and a block or two of accommodation options. You can walk along the beach to the smaller resort of Agia Anna which is similar but has a narrower beach.
MYLOPOTAS, IOS

Ios has a reputation as a party zone with a spring break vibe. Which it does, but it's only really noticable after midnight so don't let that put you off. It's easy to sidestep the party if it's not your vibe. Mylopotas is the closest beach to Ios Chora and these form the nexus of the nightlife, but during the day it's a beautiful lively beach with wide sands and an array of watersports. If you're looking for something quieter though, head to Gialos beach
GOLDEN BEACH, THASSOS

Not as well known as some of the islands on this list (though it is served by some tour operators), Thassos is the most northerly Greek island and is a short ferry ride from the mainland. It's green and mountainous and home to some wonderful sandy beaches. And Golden Beach (the clue is in the name) is one of the best. It's perfect for a relaxing holiday with just enough tavernas and gentle walks to keep you occupied.
LASSI, KEFALONIA

The south coast of Kefalonia has many sandy beaches although the sand varies in quality. Lassi is something of a beach suburb of capital Argostoli rather than a separate resort. The main road behind the beach is lined with bars and restaurants although many stroll into town for the evening. The two main beaches at Lassi are Makris Gialos and Platis Gialos; the better sand is at the latter although the only place to stay directly by the beach is at the lovely White Rocks Hotel.
PLATYS GIALOS, MYKONOS

Mykonos is another island famed for its nightlife but also bursting with incredible sandy beaches (it also has an international airport). Suitable for families. It has a good selection of restaurants and there are several other beaches within walking distance. Platys Gialos is a popular family resort town with fine golden sands, whitewashed houses, and dazzling blue seas. From here you can also catch water taxis to other beaches and towns on the island.
LINDOS, RHODES

Rhodes is one of the most popular Greek islands although it isn't actually among the best for sandy beaches. There are a few exceptions though, one of which is the devastatingly pretty village of Lindos. With its whitewashed streets, sandy beaches and ancient acropolis, it's easily to see its appeal. It's small and does get very crowded though, best to avoid high season if you can.
Read more:
10 Best Quiet Beach Resorts in Greece
15 Best Greek Islands for Beaches
10 Most Beautiful Beaches in Greece
10 Strange & Unusual Beaches in Greece
20 Best Sandy Beaches in Europe
Where to Stay on Crete: Ultimate Beach Resort Guide
Where to Stay on Corfu: Ultimate Beach Resort Guide
Where to Stay on Kefalonia: Ultimate Beach Resort Guide
Where to Stay on Lefkada: Ultimate Beach Resort Guide
Where to Stay on Zakynthos: Ultimate Beach Resort Guide
Where to Stay on Skiathos: Ultimate Beach Resort Guide
Where to Stay on Rhodes: Ultimate Beach Resort Guide
Where to Stay on Kos: Ultimate Beach Resort Guide
Where to Stay on Mallorca: Ultimate Beach Resort Guide
Where to Stay on Ibiza: Ultimate Beach Resort Guide
Where to Stay on Menorca: Ultimate Beach Resort Guide
Found this post useful? Click to save to Pinterest:

Image credits:
Mykonos: © moofushi / Adobe Stock
Skiathos: © The Mediterranean Traveller
Zakynthos: © The Mediterranean Traveller
Kos: © kvika / Shutterstock
Corfu: © Zbynek Jirousek / Adobe Stock
Naxos: © costas1962 / Adobe Stock
Ios: © jsk12 / Adobe Stock
Thassos: © porojnicu / Adobe Stock
Kefalonia: © The Mediterranean Traveller