Does your idea of paradise feature lush forest reflecting in emerald waters, the sound of cicadas, and the smell of pine and salt? If barren isles aren't your style, and you like somewhere to hang your hammock, here are 10 of the greenest and most forested islands in Greece.
Greece is most famous for its scenes of whitewashed sugar cubed houses sitting atop rocky landscapes. And don't get me wrong, I love those places too.
But overall I'm a total sucker for a greener isle. The first time I went to Santorini I lasted 5 days before being overcome by the wind, the heat, and the harshness of the landscape. I felt parched and wanted shade, trees and the sound of lapping water, and found myself googling 'which are the greenest islands in Greece?'
(I ended up in Naxos, perhaps not one of greenest in Greece but at least of the Cyclades, and only a 2 hr ferry from Santorini).
To me, the colours have a primal appeal, and I don't feel like I'm on holiday unless I can smell the scent of pine trees.
As with most of the Med, visit in spring (late April-June) for peak green, as there's very little rainfall over the summer months.
CORFU

Corfu is known as the greenest Greek island. One of the Ionian islands off the west coast of the mainland, it's one of the most northerly as well as one of the most beautiful islands. Along with its mountainous interior, this means it has a slightly wetter and more humid climate than most of the Greek islands, providing perfect growing conditions for all those trees.
You might also like: 20 Photos That Will Make You Want to Visit Corfu Town
THASOS

The Aegean island of Thasos (or Thassos) is carpeted with the green stuff. No surprise, then, that it's the most northerly island in Greece. Just 10km from the mainland, it's a popular vacation spot for Greeks and Balkan holidaymakers thanks to its marvellous beaches.
Related read: Which Are the Best Beaches in Greece?
POROS

One of the islands in the Saronic Gulf close to Athens, Poros (not to be confused with Paros, a very un-green Cycladic island) is a green haven that's well connected to the mainland, both via ferry links to Athens and the mainland town of Galata which is just 200m away. It's fairly hilly and green and has some lovely pine-backed beaches with names like Love Bay.
SKIATHOS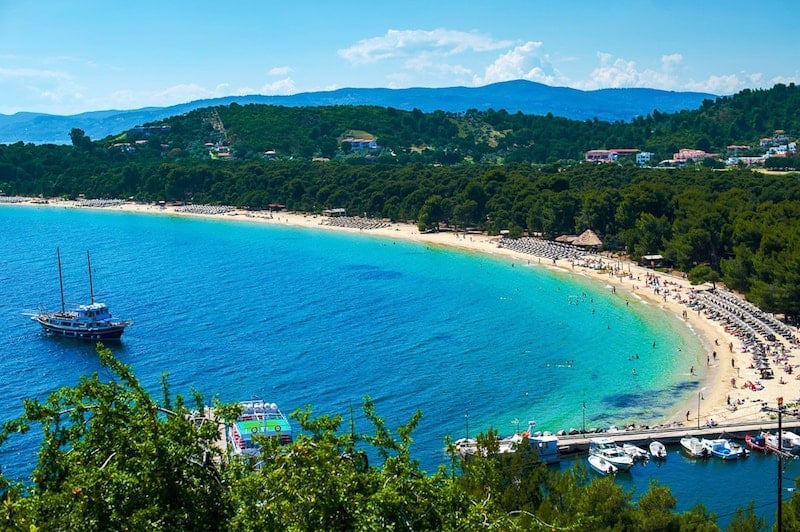 Skiathos is the largest and most popular of the Sporades island. In fact, all of the Sporades (the others being Skopelos, Alonissos, and Skyros) are densely wooded and great for lovers of green islands. Skiathos has an international airport and so is the easiest to reach, and is also the best for beaches.
ZAKYNTHOS

It may be the famous beaches which draw you to Zakynthos, another Ionian island, but it's also blessed with a verdant interior which helps lend the water here its incredible colours. Don't miss exploring inland; if you don't have a car then jeep safaris are available in tourist season.
Related read: 10 Beautiful Greek Islands (That Aren't Santorini or Mykonos)
AGISTRI

My favourite hidden gem in Greece, this green jewel of an island is a short (and cheap) trip on the ferry from Athens. There's not much to do here but relax, although the island is popular with the free-spirited boho set from Athens. With its dense pine and turquoise water, it feels a million miles from the city. The sound of cicadas will lull you into a deep sense of peace as soon as you step off the ferry.
LEFKADA

There's plenty of deep green is lovely Lefkada, a heavily forested extension of the mainland which you can reach by a floating swing bridge. The island has become Greece's watersports capital; the strong winds have kept mass tourism at bay.
PAXOS

The tiny island of Paxos is remarkably pretty and has some of the clearest, most beautiful seas for swimming in Greece. A short trip from Corfu by boat, its pine-fringed bays have an exclusive feel thanks to their popularity with yachties.
You might also enjoy: The Best Turquoise Seas in Europe
SAMOS

One of the greener Aegean islands, Samos is just 2km from Turkey has plenty of lush wooded interior for you to explore. Nature is at its peak on Samos, which is a top spot for flora and fauna as well as beautiful beaches.
Related read: The Best Destinations for a Quiet Package Holiday This Summer
KEFALONIA

The largest of the Ionian islands, Kefalonia is famous for its beautiful forested landscape and swoon-worthy beaches, and for being the filming location for 2001's Captain Corelli's Mandolin. It's a great destination for greenery-lovers thanks to its wild and rugged interior.
Honourable mentions: Samothraki, Ithaca, Evia, the Pelion region on the mainland, and the west coast of Rhodes.
You might also like: Top 15 Unique Things to Do in Santorini
Found this post useful? Click to save to Pinterest: