Heading to the Spanish island of Mallorca this year? Here's a complete rundown on where to stay on Mallorca (also spelt Majorca) to help you choose which part of the island to stay in, which town, resort or beach is right for you, the best beachfront hotels and areas for beaches.
This resort guide will cover:

Shortlist – The Best Places to Stay in Mallorca
BEST LUXURY HOTELS:
BEST INFINITY POOL:
BEST BOUTIQUE BEACH HOTEL:
BEST HOTEL IN PALMA: Sant Francesc Hotel Singular
BEST PLACES FOR FAMILIES: Port de Pollenca, Alcudia, Cala Millor, Santa Ponsa
BEST RESORT HOTELS FOR FAMILIES:
BEST ROMANTIC HOTELS FOR COUPLES:
BEST PLACES TO STAY FOR NIGHTLIFE: Magaluf, Alcudia, Palma
BEST PARTY HOTEL: BH Hotel
BEST QUIET RESORTS AND VILLAGES: Canyamel, Sant Elm, Camp de Mar
BEST VACATION RENTAL: Cala Pi Beach House

Mallorca Overview
Mallorca is one of the Mediterranean's original beach holiday destinations – and one of its most beautiful islands. It's the 7th largest island in the Med, and the biggest of Spain's Balearic islands (hence its name, which means 'the big one).
It was one of the earliest destinations to really embrace package tourism, and unchecked development in the 60s and 70s has left a few coastlines scarred with eyesore hotels. The worst of it is concentrated around the Bay of Palma, but even these resorts are gradually being reimagined as slick resorts with tempting hotels.
There are over 260 beaches on Mallorca, 60 of them are Blue Flag, and most of them sporting pristine white sands and turquoise waters. It's undoubtedly one of the best places in Europe for sandy beaches.
But it also has a dramatic mountain range with excellent hiking and outdoors activities. There's a smorgasbord of history and culture to discover around Mallorca, from prehistoric stone towers to bohemian villages, vineyards, and atmospheric market towns. Although none of the coastline can truly be considered undiscovered there are plenty of rugged and quiet sections to escape the crowds. Popular resorts Port de Soller, Port de Pollensa and Port d'Alcudia all have handsome old towns attached.
As such as well-established and popular destination, it's unsurprising that Mallorca has a very high standard of accommodation. There's plenty of luxury on offer (as demonstrated by TV's The Night Manager) – as well as style and value at lower price points. The island is flecked with beautiful stone villas, incredible fincas (converted farmhouse properties), heritage hotels, and stylish boutique conversions.
Its thriving capital Palma makes a great city break at any time of year, with mild winters that also see a show of almond blossoms. There is a large international community that live on the island year-round.
You'll come across a mix of Castillian Spanish spellings, and the local Mallorquin dialect which is similar to Catalan. Here we've used the spelling most familiar to tourists.

Transport in Mallorca
Airport: Palma de Mallorca Airport (PMI) is 8km east of Palma and is served by domestic and international flights, including a wide range of budget carriers over the summer season. I recommend using Skyscanner to find cheap deals. Buses from the airport to Palma run frequently throughout the day and cost €5 – line 1 goes to the centre of Palma and there are several resort buses too – see the Airport website for a full list.
Bus: Mallorca has a good bus network. See EMT Buses for Palma and TIB for island-wide services.
Ferry: Ferry services connect Mallorca with the mainland (Denia, Valencia, Gandia, Barcelona) and the other Balearic Islands (Ibiza, Formentera, Menorca). You can buy tickets through Ferryhopper.
Rail: Mallorca has one train line that runs from Palma across the interior to Sa Pobla, for local use rather than tourist destinations. There is also a popular vintage wooden tourist train that runs from Palma to Soller.
Which Part of Mallorca to Stay In?

NORTH: Mallorca's rugged north is defined by the Serra Tramuntana mountain range. There's a triangle of beach resorts at the northeast tip around Alcudia and Port de Pollensa, but the rest of the coastline is steep and hilly and home to some of Mallorca's prettiest villages. In the middle is the gorgeous Soller.
SOUTH: Lots of pretty coves with small sandy beaches and cliffs on either side (known as calas), which are very picturesque but mean beach space is at a premium in summer. You'll also find small fishing villages, turquoise waters, and surprising historical gems tucked away inland. The main resort area in the south is lively Cala'Dor. The southwest side of Mallorca is home to flat salt pans and vast white sand beaches.
EAST: Mallorca's family-friendly resorts line the east coast, with the biggest being the blockbuster duo Cala Millor and Cala Bona. of resorts around Cala Millor/Cala Bona. There are some delightful hidden hinterlands and a huge number of golf courses.
WEST: Capital city Palma is located on the west, in the middle of the Bay of Palma. The is the busiest and most developed part of Mallorca. It's home to megaresorts Magaluf, Palmanova and Santa Ponsa. Beaches are sandy and hotels are huge. The northwest corner is quiet and lovely, with some of Mallorca's most upmarket beach villages.
Palma de Mallorca

Intoxicating Palma is increasingly one of Spain's most interesting and atmospheric cities; it has undergone something of a renaissance since the 1980s. Palma has been a busy town since the Roman days, and there's a wealth of Moorish and medieval Christian architecture in its warren of historic backstreets. It's all topped off by an eye-catching Gothic cathedral – the iconic sandstone La Seu Cathedral.
Recent decades have added to this mix chic hotels, art galleries, boho neighbourhoods, hipster bars, and a burgeoning food scene. As well as cutting-edge cuisine (there are 8 Michelin-starred restaurants as of 2019), the city is awash with tasty bakeries and traditional bodegas. Midweek tapas bar crawls have become a recent tradition – look up Tapas Tuesdays. It's also a great city for shopping, with many traditional and artisanal wares for sale as well as boulevards lined with designer boutiques.
The city of Palma sits squarely in the middle of the Bay of Palma, which extends east as far as S'Arenal and west to Magaluf. This is the most built-up stretch of beach on Mallorca and is well connected to the city by bus. But the nearest section of beach is C'An Pere Antoni (pictured below). Buses frequently run along the bay in either direction. You can also walk or cycle along the waterfront Paseo Maretimo promenade for miles.
Transfer time: 10 minutes from Palma Airport.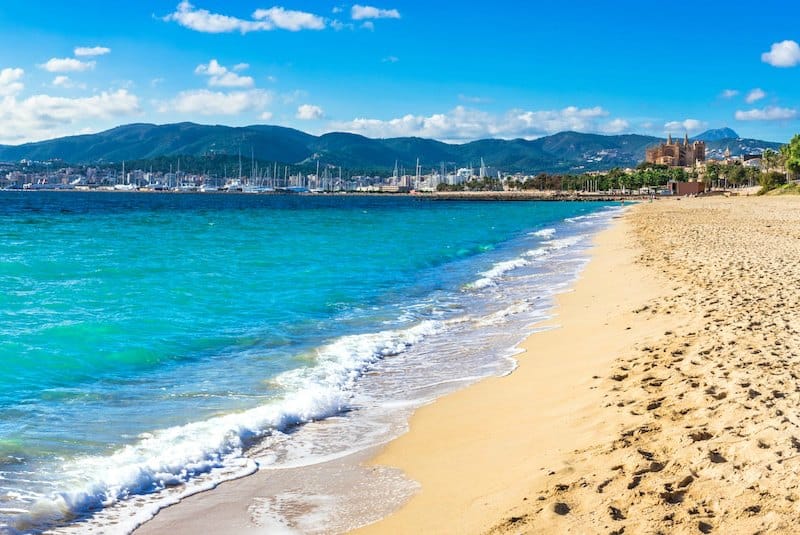 Playa de Palma
To the east of Palma, the beach resorts of Can Pastilla and S'Arenal are linked by the busy 4km strip of sand and that is the Playa de Palma and its adjoining promenade.
Can Pastilla sits at the end of the airport runway – this is either a plus or a minus depending on your point of view. The airport is so close that you can use it to squeeze the most out of a cheap short break to Mallorca, particularly in the shoulder season – you can roll off the plane and be at the beach in a matter of minutes, and the attractions of the capital are close by.
The beach is long but also windy and exposed, and the whole length is clad with enormous hotels. The promenade to Palma is pleasant though, it's possible to walk or cycle all the way to although buses are cheap and frequent. For a longer break, there are more appealing destinations elsewhere in the island.
S'Arenal is a party destination for young Germans on cheap packages (think stags and hens), so you may wish to avoid it unless you're a young German looking for a cheap party.
Transfer time: 5 minutes from Palma Airport.
Cala Major

To the west of Palma, the coastline is heavily developed with a string of resorts running all the way around to Magaluf. The first main resort that you reach from Palma is Cala Major, once a glam beach suburb of the city. The sandy beach is shady, child-friendly, and enclosed by towering palms and hotels.
The Spanish royal family holiday here (the Marivent Palace), and you'll find the Joan Miro Foundation in Cala Mayor too. It has a slight air of faded glory and is mid-gentrification – boutique hotels have started popping up.
It's just 15 minutes into the centre of Palma so ideal for a dual city-and-beach break, though the relatively small beach does get very busy in high summer and at weekends.
Transfer time: 20 minutes from Palma Airport.
Illetes

Upmarket and picturesque, Illetes (sometimes spelt Illetas) is one of the nicest places to stay in the Bay of Palma. The development here is quite dense and the beaches are small, but it's a scenic wooded area and its comfortable resort hotels are tucked away behind the pines.
The beaches are sandy and get very busy in the summer thanks to its proximity to Palma (frequent buses, a 20-minute drive), but it has a more chilled-out vibe than the larger resorts along this section of coast.
Transfer time: 20 minutes from Palma Airport.
Portals Nous
Portals Nous attracts a jet-setting crowd thanks to its swanky marina, Puerto Portals. Expect megayachts, international cuisine, casinos, and overpriced bars.
It has a long promenade and plenty of chic boutiques. There are some beautiful beaches in the area, and many apartment blocks housing ex-pats and second-homers thanks to its excellent facilities.
Portals Nous is one of the biggest marina hubs in the Mediterranean and the constant stream of visiting boats and their crews keep this small town buzzing.
Between Portals Nous and Illetes is the quiet and exclusive area of Bendinat which has a small beach and lots of luxury villas.
Transfer time: 20 minutes from Palma Airport.
Palma Nova

One of Mallorca's original beach resorts, Palma Nova is a cheap and cheerful town which is popular with Brits who come over on package deals. It's also home to a large ex-pat community.
The main Blue Flag beach is impressively wide and sandy, with family-focused amenities and watersports.
Palma Nova is a good option for those who like plenty of entertainment and activities nearby for all the family – from play areas and watersports at the beach to crazy golf, proper golf, and the nearby Katmandu Theme Park and Western Waterparks. And Magaluf is only a 10-minute walk around the coast if you fancy a big night out.
Transfer time: 25 minutes from Palma Airport.
Magaluf

Magaluf is Mallorca's biggest beach resort, as well as its most famous (and infamous). If you want to party all day and all night this is the place for you – it's one of the top nightlife spots in Spain, if not in the whole of Europe. Boat parties, pool parties, beach clubs and superclubs all vie for your custom.
That said, efforts have been made to tame the beast in the past decade, with its seedier parts getting a makeover in an attempt to appeal to a more upmarket party crowd.
The centrepiece is its 1km Blue Flag beach which has ample space for cafes and clubs as well as family facilities. Magaluf is surrounded by attractions for the energetic and the easily bored, with a good selection of theme parks, water parks, sports and evening shows. High competition keeps the prices down.
Transfer time: 25 minutes from Palma Airport.
Santa Ponsa

Santa Ponsa is a busy but family-friendly resort, it's like the less built-up and boisterous little sister of Magaluf and Palmanova.
There's plenty of space and family facilities on the wide and sandy Blue Flag beach, and almost every activity you could wish for – including the nearby Jungle Parc adventure playground. It's no slouch in the nightlife stakes either.
As with Palmanova, there's a big ex-pat community (particularly Brits) who live here year-round so there's everything you'll need close at hand, including a wide range of international cuisine.
Transfer time: 30 minutes from Palma Airport.
Peguera / Cala Fornells

The two-in-one resort combo of Cala Fornells and Peguera (also spelt Paguera) is the first of a number of picturesque beach resorts within striking distance of the capital.
Cala Fornells is an old fishing area, with handsome tiled houses sitting atop cliffs. It blends seamlessly into the main resort of Peguera – a German favourite – with its three large crescents of sand linked by a promenade. Peguera is large and well-kept, with great shopping and an international community. It's a great all-rounder resort with plenty of activities available.
This part of the coast is heavily wooded and has lots of lovely little coves and vibrant turquoise waters.
Transfer time: 30 minutes from Palma Airport.
Camp de Mar

Camp de Mar is surely a contender for Mallorca's prettiest beach resort. It attracts an upmarket crowd – including celebs and golfers, as well as beach bums and families who love the excellent sandy beach and genteel atmosphere. Its USP is a small island which houses a restaurant and is connected to the mainland by a wooden bridge.
Camp de Mar is small and quiet – entertainment and activities are fairly limited, but the scenery is wonderful and there are some excellent walking and cycling trails in the area. And the golf, of course.
Transfer time: 30 minutes from Palma Airport.
Port D'Andratx
Thanks to the development of a large marina, Port d'Andratx has gone from a coastal fishing village to a ritzy designer town.
There's plenty to keep shopaholics entertained here, as well as high-end activities like golf, sailing, and spas. Expensive villas dot the surrounding hills in one of Mallorca's prettiest settings. The hill town of Andratx is 5km inland, and the nearest beach is 3km away at beautiful Camp de Mar or Sant Elm.
Transfer time: 30 minutes from Palma Airport.
Sant Elm

Sant Elm is a small and beautiful beach resort hidden away in the northwest corner of the island. There's just a handful of hotels and restaurants so best suited to those looking to escape the crowds and enjoy the natural landscape (and incredible sunsets).
It's a fishing village so you can expect quality seafood in the restaurants, and has a little bit of a yachtie vibe but nothing too ostentatious.
Boats run from Sant Elm to the Sa Dragonera Natural Park directly opposite the village.
Transfer time: 35 minutes from Palma Airport.
Port Soller

As is common along Mallorca's mountainous north coast, Soller has a historic town high up in the hills and a sister port/beach town 4km away down by the sea.
Nestled into the foothills of the Serra Tramuntana mountains, the dual-natured Soller is one of the highlights of Mallorca and the lush landscape here is jaw-dropping. The area is famed for its citrus groves and winter almond blossoms and is a year-round destination.
The beautiful old town is linked to coastal Port Soller by its iconic orange tram, or you can walk in around 45 minutes. Soller town is also linked to Palma by the Ferrocarril de Soller, a vintage wooden train. The station doubles up as an art gallery.
Port de Soller is a lively yet relaxed resort with a long promenade alongside its beach and historic villas that once belonged to wealthy merchants.
The beach itself doesn't hold a candle to the golden sands further along the coast at Pollensa and Alcudia, but Soller has plenty to keep culture lovers, foodies, and active travellers satisfied. It's an ideal base for exploring the mountain region.
Transfer time: 40 minutes from Palma Airport.
Cala San Vicente

Cala San Vicente (or Cala San Vicenç) is a small resort village in an isolated spot which is all part of its appeal. But it has undergone something of a boom and is no longer quite the undiscovered gem that it once was (it's only a 10-minute drive from Pollensa after all) – with a few eyesore hotels present.
However, it's still in a very pretty location and has retained a traditional fishing-village atmosphere. The village has a devoted following who return year after year. The area is home to some fantastic hiking, birdwatching, and four narrow cala beaches. Space is at a premium in July and August – visit outside the main summer season if you can.
Transfer time: 30 minutes from Palma Airport
Port de Pollensa

With one of the most photogenic settings in Mallorca, Port de Pollensa (or Pollença) is one of the best places on the island for families. It has become increasingly popular over the past few decades, particularly with Brits and cyclists, although development hasn't been at the expense of its soul.
There are two beaches here, with altogether around 3km of golden sand and shallow waters just made for paddling. The beach is backed by the cafe-clad Pine Walk promenade which leads to a buzzing marina.
Pollensa is the gateway to the gorgeous Cap de Formentor – its dramatic coastal scenery makes it one of the most beautiful natural areas in Mallorca. A trip around the peninsula by boat or car is a highlight of staying in Pollensa.
A few kilometres uphill is the old town of Pollensa, with its beautiful historic streets, shady squares, and magnificent views.
Transfer time: 50 minutes from Palma Airport.
Port D'Alcudia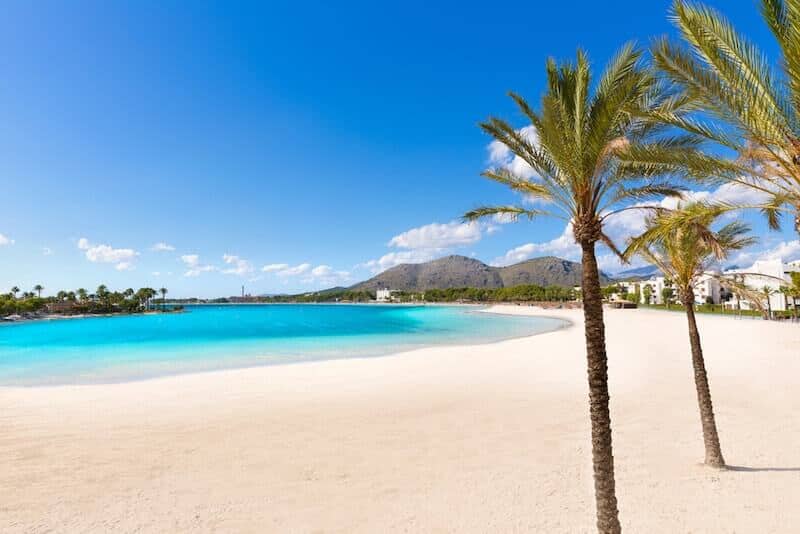 Alcudia is the name given to a handsome old town, its attached beach resort (one of the biggest and best on Mallorca), and the surrounding bay and peninsula.
The walled old town sports some fine medieval features, good markets, and atmospheric streets. It's an ideal base for those who don't mind being away from the beach and intend to explore by car or on foot.
But most stay in the beach resort area – known as Port d'Alcudia – with its enormous crescent of fine sand. It's the main resort on the north coast, and a transport hub for the north so a good option for the carless. There are also boat trips aplenty, and ferries that run over to the neighbouring island of Menorca.
Port d'Alcudia is just as popular with families as it is with couples and groups of young adults. Whilst not as rowdy as Magaluf, there's no shortage of bars and clubs for the evening hours. You'll find every watersport that you can name, plus a vast array of excursions and activities.
The Blue Flag Playa d'Alcudia morphs into the Playa de Muro, and together they make up the longest stretch of beach on Mallorca at 10km. Keep going past the end of Playa Muro and you'll find the S'Albufera Nature Park, a protected wetlands zone with trails for walking and cycling available. And there are hiking trails on the Alcudia Peninsula too.
Transfer time: 50 minutes from Palma Airport.
Can Picafort

Relaxed Can Picafort is all about the beach – 3km long and sandy with shallow turquoise waters, sitting in a big bay with views across to Alcudia. Some sections of the beach are wider than others.
The resort itself is small and relaxed, ideal for families looking for long lazy days in the sun – although it has something for everyone. There's a pedestrian promenade running along the beach and the sidestreets hum with souvenir shops, international cuisine, and cafes. The east coast of Mallorca (including Can Picafort) is very popular with German visitors as well as Brits.
Activities to keep kids (and grownups) entertained include watersports, play areas, go-karts, and golf. There's a bus that runs north to Playa de Muro and Alcudia.
Transfer time: 55 minutes from Palma Airport.
Cala Mesquida

Cala Mesquida is a beautiful sandy beach tucked away behind a protected zone of sand dunes and pines, crisscrossed by wooden walkways. There's a small resort here, with a few hotels and holiday homes. It's breezy, quiet, and mainly popular with older couples looking for tranquillity.
The wind and waves can pick up though so there's a lifeguard present during the summer months. It's organised and attracts families and daytrippers, but has a wild natural feel thanks to the lack of watersports and bars.
Transfer time: 1hr 5 minutes from Palma Airport.
Cala Ratjada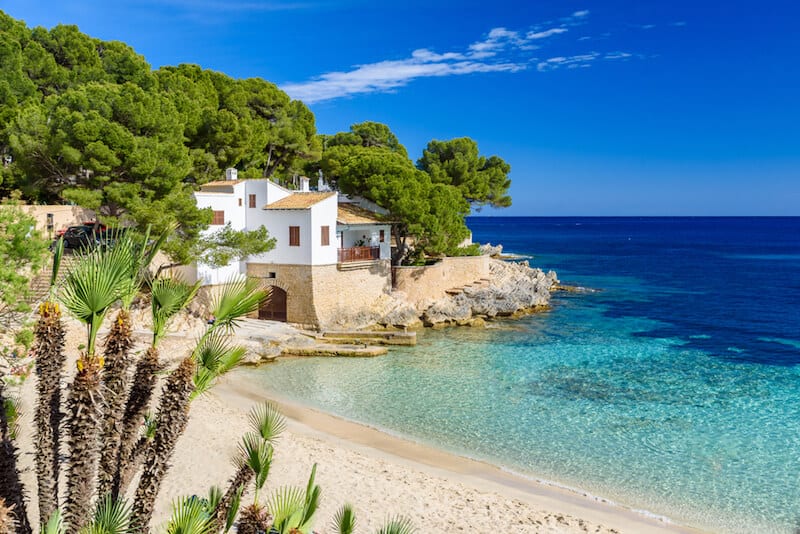 Cala Ratjada is a pleasant and buzzy little resort town that has sprung up around a fishing village on the northeast coast.
It sits in a rocky and picturesque part of the coastline, on the south side of a small peninsula which also includes some pretty scenery and beaches (such as Cala Gat, pictured above) which are accessible by walks through woods.
The nearest main beach is to the south of the town at Cala Moll, and most of the large resort hotels are located here. And on the north side of the peninsula is Cala Agulla, a 2km long beach with spectacular pale sand which gets very busy in the summer.
It's ideal for those who want to stay somewhere with good food, and a spot of culture, and who are happy to explore nearby beaches on foot. You can also pop over to the neighbouring island of Menorca by boat.
Transfer time: 1hr 5 minutes from Palma Airport.
Canyamel

Canyamel is a quiet resort in a bay with a sandy Blue Flag beach, surrounded by pine forests, mountains, and a wetlands area. Lots of villas in the area and a few large beachfront hotels popular with German package tourists. Playa de Canyamel is suited to families looking for somewhere relaxed with a good beach.
This is not a resort where you'll find endless entertainment, think pedalos, scenic walks, golf, and trips to the nearby town of Arta. It's a small resort so the beach can get crowded during the school holidays.
Transfer time: 1 hr from Palma Airport.
Cala Millor & Cala Bona

Cala Millor is the main beach resort on the east of the island, and one of the most popular resorts on the island.
This busy town attracts sun-lovers and water babies from around Europe and also has a year-round ex-pat population thanks to its excellent facilities. It has the widest range of activities and entertainment on the east coast and is particularly suitable for families. Nightlife is lively (though not as party-centric as Alcudia or Magaluf) and it brings in visitors from neighbouring resorts.
Its popularity is in no small part due to its 6km expanse of white sand beach and shallow turquoise seas. The family-friendly beach is Blue Flag rated with organised sections and is backed by a promenade and seafront hotels. There's a wide range of watersports on offer.
If you prefer a slightly quieter vibe, the north of Cala Millor merges into the smaller resort of Cala Bona which is built around a fishing harbour and has easy access to a few small beaches. A promenade (and a tourist train) links the two resorts – it's a 15-minute walk. It's popular with older travellers who appreciate the relaxed vibe and good restaurants.
Transfer time: 55 minutes from Palma Airport.
Sa Coma

Sa Coma's main draw is its wide crescent of Blue Flag beach and shallow waters, perfect for little ones. This busy purpose-built resort is perfectly pitched at families looking for an easy holiday.
There's a pedestrianised promenade shaded by palms, plenty of activities and food specifically for the kids, and a tourist train which trundles along to Cala Millor and Cala Bona. As with many of the resorts on this section of the coastline, there is a heavy German presence.
Transfer time: 1 hr from Palma Airport.
Porto Cristo

Once a thriving port and then one of Mallorca's earliest resorts, Porto Cristo has calmed and has a quiet, traditional feel, best suited to older returners to the island.
It's a medium-sized town with a Blue Flag town beach and a new marina, which attracts a few holidaymakers, ex-pats, and Spanish families.
Most tourists head to neighbouring Cala Millor instead, leaving Porto Cristo to do its own thing. It still has a working fishing fleet and is known for its great seafood restaurants. Porto Cristo's main claim to fame is its proximity to the impressive Caves of Drach which are a popular daytrip destination.
Transfer time: 50 minutes from Palma Airport.
Portocolom

The resort town of Portocolom has a particularly pretty seafront. It's an old fishing town – one of several along the south coast – set in a scenic bay and has a working atmosphere.
It's quiet and something of a hidden gem – attracting a mature crowd, Germans, artists, and ex-pats who enjoy its unspoilt nature and proximity to one of Mallorca's best wine regions. There are a few good restaurants and bars near the marina. Public transport here is limited so a car is recommended.
Portocolom has 3 town beaches, the busiest of which is the Blue Flag Cala Marcal. There are also some beautiful cliffs in the area.
Transfer time: 50 minutes from Palma Airport.
Cala d'Or

The resort of Cala d'Or snakes around a coastline that includes five or so gorgeous coves (2 of them with Blue Flag beaches). Once a fishing village, Cala d'Or has developed into a medium-sized purpose-built tourist resort. Thankfully it has escaped some of the excesses of development that you see on the west coast. Buildings are designed in a generic tourist Spanish style but are at least whitewashed and low-rise, and tucked amongst pines.
The sea here is a stunning shade of turquoise and the rocky coast provides ample opportunity for snorkelling and boat trips. The beaches, whilst sandy and beautiful, are small given the number of hotels so expect to jostle for a place in high summer.
Cala d'Or (named after one of the coves) has a slightly upmarket feel, a popular marina, and a good range of restaurants. The resort is a good choice for couples and families with older children looking for a balance of nature and activity, and there are plenty of villas with pools available.
The gorgeous protected marine zone Mondrago Nature Reserve is nearby, as is Santueri Castle. Also, there are many golf courses in this part of Mallorca which is much flatter than the north. A tourist train links the coves of Cala d'Or with Portopetro and Mondrago Park.
Transfer time: 50 minutes from Palma Airport.
Portopetro

Portopetro is the next town west along the coast from Cala d'Or, but its harbour town origins give it a slightly different feel.
These days it has a small marina and a handful of restaurants, bars and shops – just enough to service the many villas in the area. It's quiet but still cosmopolitan, and for walkers and hikers this is one of the most beautiful parts of Mallorca.
It takes around 1 hour to walk (or 10 minutes to drive) to the main part of Cala d'Or from here.
Transfer time: 45 minutes from Palma Airport.
Cala Figuera
To the south of the Mondrago Natural Park is the pretty fishing village of Cala Figuera, one of the highlights of the south coast. Although popular with daytrippers (and Germans), there is still a working fishing fleet here and development has been sympathetic. The uniform green doors and woodwork of the whitewashed houses add to its appeal.
The nearest beach is at Cala Santanyi.
Cala Santanyi and Cala Llombards

Santanyi is the name given to the wider area, as well as an inland town and its nearest beach. The town of Santanyi will appeal to history lovers – the village held a key strategic position protecting the coast from pirates. Unspoilt Santanyi town is perfect if you're looking for a hidden gem – arty, friendly, with beautiful stone buildings.
4km away on the shore you will find Santanyi's beaches – Cala Santanyi and Cala Llombards, picturesque cliff-flanked coves with boathouses and fishing heritage. The vibe here is chilled and it's close to both the Mondrago and Cabrera Natural Parks.
Transfer time: 45 minutes from Palma Airport.
Colonia de Sant Jordi

Colonia de Sant Jordi is a former working port which has had a glow-up for tourists. It's pleasantly low-key, with some good eateries, and might make a good base if you've already seen Mallorca's prettier bits and want to distance yourself from package tourists.
It has a local vibe and is convenient for the nearby beaches, which are vast, empty and often very windswept.
This region was home to the island's salt pans, and the coastline here is comparatively undeveloped (or desolate, depending on your point of view). Unfinished buildings, unfortunately, dot the landscape, which is a popular area for second homes.
But a 10-15 minute walk along the coast is Es Trenc which is one of Mallorca's best (and longest) beaches, with 4km of perfect white sand. Keep walking and you'll reach the beaches at Ses Covetes and Sa Rapita, which are two small settlements with fine sands and a few holiday homes.
Sant Jordi is also the main jumping-off point for boats to Cabrera Marine Park.
(There is another Sant Jordi behind the airport – don't get them confused).
Transfer time: 40 minutes from Palma Airport.
Inland Villages

Read more:
10 Most Beautiful Beaches on the Balearic Islands
10 Best Places for Sandy Beaches in Spain
Where to Stay on Ibiza: Ultimate Beach Resort Guide
Where to Stay on Menorca: Ultimate Beach Resort Guide
Turkish Coast – Beach Resort Guide
Enjoyed this post? Follow us on Facebook or Twitter.
Click to save to Pinterest:

Image credits:
Formentor: © Balate Dorin / Shutterstock
Cala Agulla: © lunamarina / Shutterstock
Cala d'Or: © Erik / Adobe Stock
Cala Pi: © Balate Dorin / Shutterstock
Map of Mallorca: © The Mediterranean Traveller
Palma cathedral: © Allard One / Shutterstock
Palma beach: © vulcano / Shutterstock
Cala Major: © Tolo / Adobe Stock
Illetes beach: © lunamarina / Adobe Stock
Palma Nova: © David Brown / Adobe Stock
Magaluf: © tobago77 / Adobe Stock
Santa Ponsa: © vulcanus / Adobe Stock
Cala Fornells: © Margarita Borodina / Adobe Stock
Camp de Mar: © Jonathan / Adobe Stock
Sant Elm: © HeinzWaldukat / Adobe Stock
Soller: © Allard One / Shutterstock
Cala San Vicente: © Diego Blanco / Adobe Stock
Pollenca: © lunamarina / Shutterstock
Alcudia: © lunamarina / Shutterstock
Can Picafort: © kovop58 / Adobe Stock
Cala Mesquida: © lunamarina / Adobe Stock
Cala Ratjada: © Simon Dannhauer / Shutterstock
Canyamel: © Balate Dorin / Shutterstock
Cala Millor: © lunamarina / Shutterstock
Sa Coma: © pure-life-pictures / Adobe Stock
Porto Cristo: © lunamarina / Shutterstock
Portocolom: © vulcano / Shutterstock
Cala d'Or: © Balate Dorin / Shutterstock
Portopetro: © cristianbalate / Adobe Stock
Cala Figuera: © pixelliebe / Shutterstock
Cala Llombards: © Balate Dorin / Shutterstock
Valldemossa: © Kotangens/ Adobe Stock