Spain is one of the most popular destinations for summer sun and beach breaks in Europe.
It's blessed with some of the finest white sand beaches in Europe.
But some parts are better than others.
So which parts of the country and beach resorts should you choose (and avoid) if you love a soft and sumptuous sandy beach?
Menorca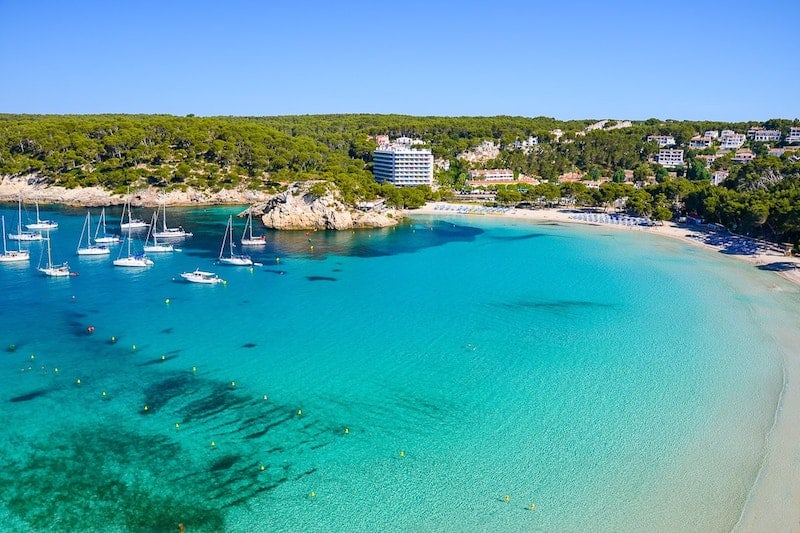 The Balearic island of Menorca is small but perfectly formed for beach breaks. It has an unhurried family-friendly vibe and dozens of impeccable beaches with perfect sand.
There are also many picturesque coves called calas which make for a memorable swim.
Beach resorts tend to be modern and purpose-built, with good facilities for families with small children.
Cala Galdana is our pick of the resorts – located on the island's south coast, it's set around a graceful horsehoe-shaped bay and is close to some of the prettiest coves on the island.
Read more: Where to Stay on Menorca: Ultimate Beach Resort Guide
Ibiza

Balearic island Ibiza also has many fine sandy beaches catering to a wide range of visitors.
Beaches around Ibiza Town and San Antonio tend to be lively and packed with the party crowd, but there are plenty of quieter sands to discover.
Stay in the north-east side of the island for idyllic and family-friendly resorts like Portinatx and Cala de Sant Vicent.
Read more: Where to Stay on Ibiza: Ultimate Beach Resort Guide
Mallorca

The biggest of the Balearic islands, Mallorca unsurprisingly has a vast number of amazing beaches on offer.
The Bay of Palma and the resorts to its west are busy and lively – this is where you'll find notorios Magaluf. But it gets quieter the further out you go, with lots of small resorts set around the cove-laced coastline.
The north coast is rugged and dramatic, perfect for explorers.
Most of the big family-friendly sandy beaches are found on the eastern side of the island – Pollensa, Alcudia, Cala Millor. Rent a car and explore the south coast to discover a different side to the island.
Read more: Where to Stay on Mallorca: Ultimate Beach Resort Guide
Formentera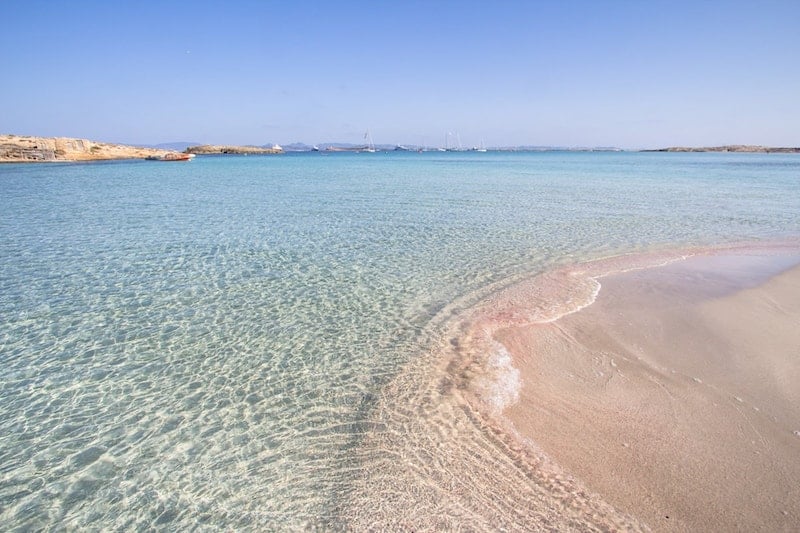 The smallest and least well-known of the main Balearic islands is Formentera, and it's well worth the trek if you're a serious beach lover.
Geographically a continuation of lagoon beaches which begins on the south coast of Ibiza, the sands here are powdery and tinged with pink.
It's easily reached by ferry from Ibiza. Accommodation is scarce and upmarket so this one is best suited to couples in search of barefoot beachy bliss (though it's also a popular day trip)
There's a private island on the north coast called S'Espalmador which is even dreamier.
Costa de la Luz

The Costa de la Luz is the name for the Atlantic coastline of the Andalucia region.
Located west of Gibraltar, it's much quieter and less touristy than its brash neighbour the Costa del Sol.
It's windy and wavy here – not one for the sunbathers among us, but if you enjoy big nature, active travel, camping, and watersports like kite-surfing then it might just perfect for you.
Tarifa is one of the most charming beach resorts in the area and also has a wide sandy beach.
Lanzarote

Lanzarote is one of the Canary Islands located in the Atlantic Ocean, and it's been a tourist favourite for decades.
It's a volcanic island with a strange lunar landscape, modern beach resorts, and a perfect year-round climate (don't forget your suncream – the Canary Islands are closer to the Equator than their springtime temperatures suggest, sunburn can be fierce).
Costa Teguise and Arrecife are two of the main beach resorts and both have several small sandy beaches.
The most beautiful wild beaches are on the southwest coast around Papagayo, and up in the north around surfer favourite Famara and the small island La Graciosa.
Costa del Sol

The Costa del Sol on Spain's south coast is its most popular and most developed coastal areas, home to big blockbuster resorts like Marbella, Torremolinos, and Benalmadena.
But this part of Andalucia also has plenty of charming whitewashed towns, buzzing beach clubs, and swanky marinas.
The season is long and many resorts stay open throughout the winter for those escaping cold temperatures further north.
Bear in mind that the sand is soft but in most resorts it is a dark golden colour. The best beaches are found around La Carihuela and west of Marbella.
Read more: Where to Stay on the Costa del Sol: Ultimate Beach Resort Guide
Costa Blanca

The Costa Blanca is the coastal region around Alicante and just south of Valencia.
If you like urban beach vibes this is one of the best parts of Spain for you – as well as Alicante's beaches, Calpe and Benidorm are built-up, buzzing, and right on the beach.
Popular resorts Javea and Denia are attracted medium-sized resorts with good sandy beaches and some stunning coastal scenery nearby.
Prefer small and pretty? Check out Moraira.
Read more: Where to Stay on the Costa Blanca: Ultimate Beach Resort Guide
Fuerteventura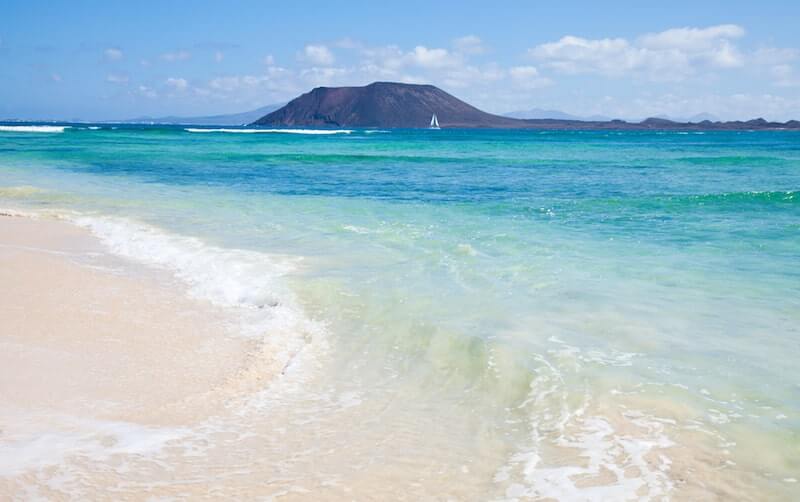 Of the Canaries, the eastern islands Lanzarote and Fuerteventura are the best for sandy beaches.
And Fuerteventura is arguably even better than Lanzarote. It's a dry and arid island with extensive sand dunes (thanks to its proximity to the Sahara).
Wonderful beaches are found in the north around popular resort Corralejo, and down in the south around Jandia and Morro Jable.
It can get very windy here though – you'll spot plenty of kite-surfers.
Read more: Where to Stay on Fuerteventura: Ultimate Beach Resort Guide
North Coast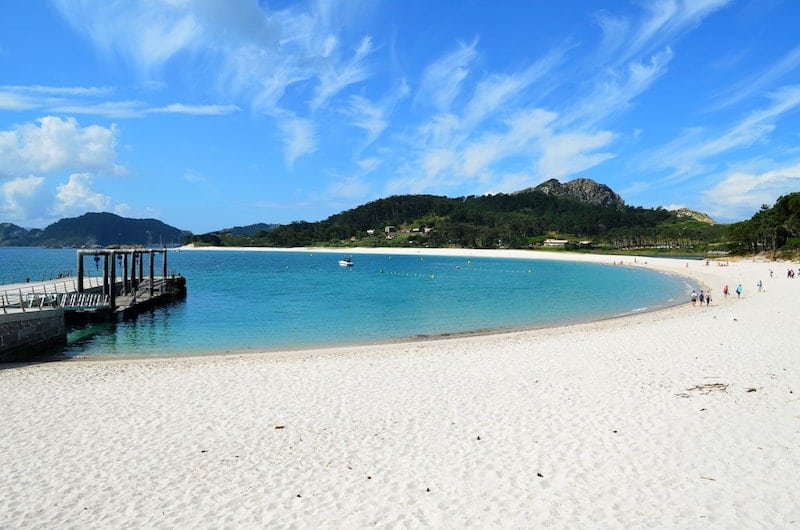 If you love incredible scenery and don't mind the threat of occasional rain then don't rule out a trip to Spain's north coast. Known as 'Green Spain, it encompasses the shorelines of Galicia, Asturias, Cantabria, and the Basque Country.
The area around San Sebastian is heaven for surfers and foodies. Beaches are big and sandy, with plenty of activities on offer.
The Galician coast is wild and rocky with some stunning beaches tucked away in dramatic locations. It's also home to the picturesque and protected Cies Islands where you'll find some of Spain's whitest sand (and coldest waters) on famous Rodas Beach.
Read more:
Where to Stay in Spain: Ultimate Beach Resort Guide
Where to Stay on Mallorca: Ultimate Beach Resort Guide
Where to Stay on Ibiza: Ultimate Beach Resort Guide
Where to Stay on Menorca: Ultimate Beach Resort Guide
10 Most Beautiful Beaches in Spain
Enjoyed this post? Follow us on Facebook or Twitter.
Click to save to Pinterest:

Image credits:
Alcudia, Mallorca: © lunamarina / Shutterstock
Menorca: © pkazmierczak / Adobe Stock
Portinatx, Ibiza: © lunamarina / Adobe Stock
Cala Millor, Mallorca: © By lunamarina / Shutterstock
Formentera: © robertdering / Adobe Stock
Tarifa: © Andrea De la Parra / Shutterstock
Arrecife: © lunamarina / Shutterstock
Marbella: © Artur Bogacki / Shutterstock
Moraira: © Alex Tihonov / Adobe Stock
Corralejo: © Tamara Kulikova / Shutterstock
Rodas: © jmubalde / Adobe Stock