Heading to Spain's Costa Blanca this year for some summer sun? This popular region in the east of Spain offers an enticing combination of sandy beaches, spectacular scenery and lively nightlife.
Here's where to find the best beach resorts, the sandiest beaches, the best nightlife, the best beach hotels, and more.
This is a part of a Spanish beach resort guide and it covers:
which part of the Costa Blanca to stay in
where to find the best sandy beaches
the best luxury and beachfront hotels
Costa Blanca's main resorts; the best places to stay for nightlife, cheap packages and a younger crowd
a rundown of the best quiet resorts, unspoiled coastlines and prettiest villages in the Costa Blanca; the best places to stay for couples, families and nature
The Best Places to Stay on the Costa Blanca
BEST LUXURY HOTELS: Denia Marriot La Sella Golf Resort & Spa, Hotel Servigroup Montiboli
BEST HOTEL INFINITY POOL: Gran Hotel Sol Y Mar (Calpe)
BEST VILLA WITH INFINITY POOL: Villa Vista Clara (Moraira)
BEST HOTELS ON THE BEACH: Hotel Almirante (San Juan de Alicante), Gran Hotel Sol Y Mar (Calpe)
BEST BOUTIQUE HOTELS: Nomad Hotel (Javea), Hotel Swiss Moraira (Moraira)
BEST PLACES FOR SANDY BEACHES: Javea, Benidorm, Calpe, Alicante
BEST BEACH RESORTS FOR FAMILIES: Benidorm, Javea, Calpe, Santa Pola
BEST PLACES FOR NIGHTLIFE: Benidorm, Alicante
BEST ACTIVE BEACH RESORTS: Denia, Guardamar
BEST QUIET BEACH RESORTS: Oliva, Moraira
BEST ALL-ROUNDER RESORT: Javea
PRETTIEST PLACES: Altea, Javea, Moraira
BEST PLACES FOR CULTURE: Altea, Alicante
BEST CHIC RURAL ESCAPES: Vivood Escape Hotel
Keep reading for a full guide to the Costa Blanca's beach resorts.

Costa Blanca Overview
The Costa Blanca means 'the White Coast' and is the name given to a stretch of coastline on Spain's east coast in the province of Valencia, roughly from Denia around to Torrevieja.
It's one of the Spanish costas for sandy beaches. It's also one of the main hotspots for mass tourism – the Costa Blanca was one of the first destinations in Spain to open up to package tourism in the 50s and 60s and the ensuing building boom went largely unchecked.
Large resorts of high-rise hotels are a common sight. It's ideal if you enjoy city beaches with plenty of amenities and entertainment.
As with many of Spain's blockbuster mega-resorts, there has been a move away from low-end party tourism over the past few decades. Instead, most of the big resorts are now popular domestic family destinations with varying levels of package tourism thrown into the mix. Most beaches have good familiy facilities.
It's also a major destination for expats, especially retirees from northern Europe. This is the Florida of Spain.
The Costa Blanca is just as green and rugged in places as the Costa Brava but more developed and with sandier beaches. The interior is mountainous and quiet.
The busiest beach resorts on the Costa Blanca are Torrevieja and Benidorm – both prime destinations for Brits. Calpe and Gandia offer a similar combination of city + sand but have a stronger Spanish flavour. And don't overlook Alicante – it's an atmospheric city with something for everyone.
For cosmopolitan resorts with character look at Denia and Javea, both also surrounded by stunning scenery.
There are plenty of modern resort hotels at good value price points and often right by the beach. All-inclusives, package deals, and English menus/bars are readily available in the all but the most Spanish-focused locations.
Public transport is good – a car is not required unless you intend to get off the beaten track.
Which Part of the Costa Blanca to Stay In?
NORTH: Dramatic scenery surrounding large and busy resort cities with excellent beaches.
CENTRE: The posh part – small villages and coves along a rugged coast with epic drives and views.
SOUTH: Alicante and its beach suburbs down to Torrevieja. Cheaper than the north. A mix of Spanish families, expats, and salt marshes. Good road links.

Getting Around the Costa Blanca
Airports: Alicante Airport (ALC) is the official gateway to the region, but some northern destinations are closer to Valencia Airport (VLC) .
We recommend using Skyscanner to check for the cheapest flights.
Ferry: Valencia, Alicante, Gandia, and Denia all have ferry connections to the Balearic islands. Valencia and Alicante also have connections to Algeria.
We recommend using Ferryhopper for route information and tickets.
Train and bus: High-speed trains link Alicante with Barcelona, Valencia, Murcia, and Madrid. Most resorts are part of the Alicante urban area and connected by bus or tram.
You can check train and bus routes on Rome2Rio and book tickets through Omio.
Gandia

Gandia is a large coastal city with 6km of excellent sandy beaches. It has a direct train link with Valencia and is popular with domestic tourists. Unsurprisingly, the beaches get very busy in the summer.
It's not technically in the Costa Blanca – which officially starts in Denia – but it has much of the same appeal.
Gandia City itself is slightly inland, the beach resort area is separate and referred to as Gandia Playa. It's a 45-minute walk between the two but there are regular buses. Driving is not recommended.
Gandia City is famous for its Borgia connection and the Palau Ducal, a 13th century Gothic palace with lavish tiles and ceilings. It's a pleasant urban area with lots of parks and boulevards.
Its two beaches are wide, well-manicured, and divided by a large marina. Most international visitors stay at Gandia Playa where there are scores of apartment blocks. It has all the facilities you would expect of a city beach.
The top-rated hotel in Gandia is the 4-star RH Bayren Hotel & Spa. There are plenty of affordable 3-star resort hotels close to the beach.
Transfer time: 50 minutes from Valencia airport, 1 hour 15 minutes from Alicante airport.
Oliva
Oliva is a small town to the south of Gandia. It's quieter and – as with Gandia – is divided into an old town with whitewashed backstreets and a vast beach area (Les Aigues Blanques) a short drive away.
Oliva has an established expat community and is a popular destination for retirees and second-homers looking for a slice of local life but with good amenities nearby.
You'll find plenty of self-catered accommodation available but there are a few luxury resorts too, like the Oliva Nova Beach & Golf Resort.
Transfer time: 50 minutes from Valencia airport, 1 hour 15 minutes from Alicante airport.
Denia

Not too well-known abroad, Denia is an underrated destination in the Costa Blanca.
It's a major port and ferry hub, but it also has a pretty marina area with a quintessential Mediterranean feel and cosmopolitan buzz. The harbour is overlooked by a shaded medieval castle.
There are some fine sandy beaches to its north which are popular with local families. To the south are the tranquil Les Rotes pebble coves and the mountainous Montgo Natural Park.
Denia has no shortage of activities on both land and water including golf, boat trips, snorkelling and diving, sailing, fishing, hiking and mountain biking It's an ideal location for a longer stay.
5-star Denia Marriot La Sella Golf Resort & Spa is the top hotel in town. You can also find waterfront and beachfront hotels but the decor is often bit dated.
Transfer time: 1 hour 10 minutes from both Valencia and Alicante airports.
Javea

Javea (Xàbia) is a resort town that has grown up around a scenic fishing harbour. There's something here for everyone and is regarded by many as the pearl of the Costa Blanca.
There are several parts to Javea – an old town up in the hills behind, the modern resort area by the port, and the beach area (bit further away) with both sand and pebble beaches.
The old town is full of beautiful Gothic buildings and local shops. Tourist facilities are centred around the scenic harbour area along with the most of the accommodation. It still has a working fishing fleet and is surrounded by sandstone cliffs. Planning restrictions have prevented high-rise development a la Benidorm.
The furthest beach to the south is the fantastic Blue Flag-rated Arenal Beach where you'll find white sands which gently shelve into the sea. It's family-friendly but there's plenty of evening nightlife too.
The town is surrounded by the best coastal scenery in the Costa Blanca – to the north is Montgo Natural Park and Cape San Antonio, and to the south by the craggy Cap de la Nau/El Portixol Peninsula. There are many viewpoints with jaw-dropping views. Don't miss the lovely beach at Granadella.
The best luxury hotel in Javea is the beachside Parador de Javea which is right next to Arenal. For stylish boutique rooms with sea views check out Nomad Hotel which is located by the port.
Transfer time: 1 hour 10 minutes from both Valencia and Alicante airports.
Moraira

Tucked away on the other side of the cape is the picturesque fishing village of Moraira, the nicest small beach resort in the Costa Blanca.
It's home to several small bays with narrow beaches as well as a yacht club and marina. The scenery is green and hilly.
Laid-back and unspoiled, it has a balance of domestic and international tourism plus a sizeable expat community. The centre of town easily walkable but development sprawls around several bays which is something to bear in mind if mobility is an issue.
The sand is darker and coarser than elsewhere in the Costa Blanca – El Portet is the nicest of Moraira's beaches – however it compensates with crystalline turquoise waters.
5km inland is the attractive medieval town Benissa and the market town Teulada which are alternative options for accommodation if you have a car.
The Hotel Swiss Moraira is a short drive inland but has a gorgeous landscape pool area with lush tropical plants.
Transfer time: 1 hour from Alicante airport.
Calpe

Calpe (or Calp) is one of the main towns of the Costa Blanca. Its iconic rock – Penyal d'Ifac – dominates the skyline and instantly brings to mind Gibraltar. It has a wide Blue-Flag beach on either side.
As with Benidorm, its long sandy beaches are backed by tall hi-rise hotels and apartment blocks. It's a lively modern town which attracts many Germans. The overall vibe is family-friendly with a wide variety of restaurants and casual bars.
Penyal d'Ifac is now a protected natural park with trails of increasing difficulty, for fabulous views over the city. It's very popular in the summer – admission is limited so arrive early if possible.
There are hotels for all prices points in Calpe. Standouts include:
But don't worry if your budget doesn't stretch that far, Calpe is well-represented at the budget end for both self-catered accommodation and hotels/pensions. Stylish Hotel Sea & Dreams has dorms private rooms.
Transfer time: 50 minutes from Alicante airport.
Altea

Sandwiched between Calpe and Benidorm is Altea, a small charming seaside town at the mouth of the river Algar.
Altea is is known for its hillside old town which has a hint of the bohemian about it. Arty types have flocked here for decades, and in its narrow flower-filled backstreets you'll find galleries and independent shops. It's one of the most atmospheric coastal spots in the Costa Blanca.
There are several beaches in the area – they are all relatively narrow and shingle-y. As such, it's mainly popular with older travellers.
Dinosaur-themed Dinopark is located up in the hills behind the town.
Altea is one of the pricier places in the Costa Blanca. It has many mid-to-high end hotels:
The wider area is a top location for villas – check VRBO for rentals.
Transfer time: 45 minutes from Alicante airport.
Benidorm

Benidorm is the largest and busiest beach resort in the Costa Blanca. It has a reputation as a party town for boozy Brits abroad but has calmed down since its heyday.
These days it is equally popular with families, youngsters, and retirees. The presence of Spanish tourists means there's plenty of tapas as well as burger bars and fry-ups.
Modern-day Benidorm is the result of an ambitious development plan in the 1950s to attract tourists. It was once a sleepy fishing villages, now its fantastic beaches are fringed by skyscraper apartment blocks – hence its nickname the 'Manhattan of Spain'.
It might surprise you but Benidorm ranks highly for sustainability, particularly with regards to water and waste. This densely populated area might just become a model for future tourism best practice.
There is a wide range of restaurants and bars, shops and entertainment. The Balcony of the Mediterranean viewpoint sits in the centre of the shore with a main beach on either side – Playa de Levante and Playa de Poniente. Excursion boats will whisk you to small offshore islets or rocky coves.
Outside Benidorm the are several family-friendly attractions: Aqualandia, Mundomar Seaworld, Terre Natura, Aqua Nature,and Terre Mitica theme park.
Benidorm has an established expat community and is open year-round. Package holidays are readily available.
There are plenty of good-value 4-star resort hotels in Benidorm as well as cheap apartments and guesthouses. The best hotels are:
There's a night train between Alicante and Benidorm which you can use if you want to visit for a night out but not base yourself there.
Transfer time: 40 minutes from Alicante airport.
Villajoyosa

Villajoyosa (or simply La Vila) is by far the most colourful place in the Costa Blanca. It has somehow remained largely under the radar despite its blond sandy beaches and Instagrammable painted houses which are reminiscent of the Italian Riviera.
The vibe is mainly Spanish with good beach facilities for children. It's also home to the Valor chocolate factory.
For location you can't beat the 5-star Hotel Servigroup Montiboli, perched on a clifftop with a beach on either side.
From Villajoyosa down to El Campello is a quiet stretch of coast running alongside the motorway with a few beaches, bars, and holiday homes.
Transfer time: 35 minutes from Alicante airport.
El Campello
El Campello is the first of the resort areas which feel like part of the extended Alicante area. It has several urban beaches – some sand, some pebble – including the 7km Blue Flag-rated Playa Mucahvista which leads to San Juan.
It mainly attracts Spanish tourists. It's quieter than Benidorm but you can easily reach it with hours trains for a night out or activities.
Transfer time: 20 minutes from Alicante airport.
San Juan de Alicante

San Juan is one of the main beaches in Alicante but is large enough that it's often considered a resort area in its own right.
It's home to the biggest and best beach in the Alicante urban area – San Juan Playa – which merges seamlessly into Playa Muxtavista to its north.
The sand is soft and golden, and the beach is lined with palms and beach bars. You will also find volleyball nets, watersports, playgrounds, and lifeguards.
There are numerous hotels close to the beach – the best is Hotel Almirante which has cool white rooms and is the only hotel with direct beach access.
Cheaper options (and tiny coves) can be found around the rocky Cap de l'Horta separating San Juan from Alicante.
Transfer time: 20 minutes from Alicante airport.
Alicante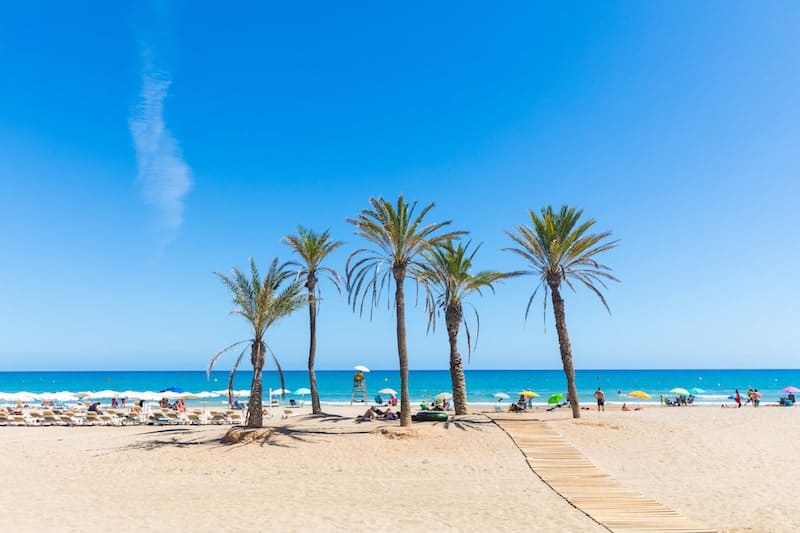 The engaging city of Alicante is the capital of the region. As its airport is the main gateway to the Costa Blanca for overseas visitors, it has long been overlooked by those making a beeline for the resort towns.
But Alicante has all the best bits of a Spanish coastal city – a medieval citadel, atmospheric old quarters, seafront boulevards lined with beach bars, wide promenades with tall palms, a modern marina area, and cafes/bars that spill out onto the streets.
Its main landmark is the castle, Castillo de Santa Barbara. And there's no shortage of museums and galleries – MUBAG Museum of Fine Arts, MACA Museo de Arte Contemporaneo, and MARQ Archaeological Museum are amongst the highlights.
But the best bits are its old quarters and beaches.
Head to flower-filled El Barrio old town where you'll find narrow alleys on a steep hillside, packed with beautiful Gothic churches and ornate tiling which becomes the centre of Alicante's tapas and nightlife scenes in the evening.
Popular day trips include visits to the impressive UNESCO-listed palm grove at Elche and the caves at Cueves de Canelobre.
There is a Melia luxury complex in between the marina and the city beach (the sandy and family-friendly Playa del Postiguet):
Transfer time: 15 minutes from Alicante airport.
Santa Pola

Santa Pola is a working port town a short drive from the airport. It's also home to a large wetlands area with salt flats and vast sheltered beaches that attract Spanish families on a budget in the summertime.
You won't find too many internationals in town so you may wish to brush up on your Spanish, although the smaller resort areas nearby at Gran Alacant and Arenals del Sol have a few expat bars.
It's a good area to look for affordable self-catered accommodation – check VRBO for holiday lets.
There are numerous campsites plus a theme park for the kids – Pola Park.
Transfer time: 15 minutes from Alicante airport.
Tabarca

For something different, consider an overnight stay on the small island of Tabarca.
The island is low-lying and barren with a handful of houses, a beach, and a lighthouse. The island is surrounded by crystal clear waters that form a marine reserve. Snorkelling and diving are popular.
Tabarca is mainly visited as a day trip from the Costa Blanca's main resorts – it gets very busy in the summer. There several restaurants to service this crowd. But it's peaceful in the evening once the boats have left.
There are a few simple (but expensive) guesthouses such as Calatabarca B&B.
Transfer time: Tabarca is 15 minutes on the ferry from Santa Pola. There are connections to Alicante and beyond take longer.
Guardamar del Segura

Guardamar del Segura (usually just called 'Gaurdamar') is an old fishing town with 14km excellent sandy beaches that has developed into a seaside resort.
It's a low-key but lively family resort located at the mouth of the river Segura. The beaches here are backed by sand dunes and form a natural park filled with walking trails.
There's also a large marina, golf courses, and plenty of watersports and activities. The sea is less sheltered than at Santa Pola, so it's best for those who enjoy some waves and wind.
Guardamar is mainly visited by domestic tourists but with a small number of Brits, Russians, and Eastern Europeans. It doesn't completely close down in the winter.
There are a few large beachfront hotels such as Hotel Meridional. By and large, accommodation is inexpensive and self-catered – check VRBO for rentals.
Transfer time: 30 minutes from Alicante airport.
Torrevieja

Torrevieja is a resort city popular with budget British visitors. It's buzzier and more international than nearby Guardamar. It's cheap and lively with plenty of nightlife on offer.
Torrevieja developed around its large harbour and much of its shoreline is rocky. There are a few small beaches as well as rocky platforms.
The three main town beaches are Playa de Los Naufragos, Playa de Los Local and Playa del Cura. The central part of town is between Playa del Cura and the harbour. Accommodation is inexpensive so it's not worth staying further out. There's a large expat community thanks to its excellent facilities.
To the south Torrevieja blends into several smaller resorts between the sea and the N-332 main road- – Playa Flamenca, La Zenia, Cabo Roig, and Campoamor. This is the Orihuela Costa – an expat zone and a good option if you want a quieter base.
Nearby attractions include the Aquapolis water park, and the two salt flats. The landscape is flat and there are lots of cycle paths and golf courses in the area.
Most of the accommodation in town is self-catered – check VRBO or Booking.com.
There are a few 4-star resort hotels located out around the salt flats like Hotel La Laguna Golf & Spa., or on the Costa Orihuela like Hotel Servigroup La Zenia.
Transfer time: 40 minutes from Alicante airport.
Read more:
Where to Stay in Spain: Ultimate Beach Resort Guide
Where to Stay on the Costa del Sol: Ultimate Beach Resort Guide
Where to Stay on the Costa Brava: Ultimate Beach Resort Guide
Where to Stay on Mallorca: Ultimate Beach Resort Guide
Where to Stay on Ibiza: Ultimate Beach Resort Guide
Where to Stay on Menorca: Ultimate Beach Resort Guide
Enjoyed this post? Follow us on Facebook or Twitter.
Click to save to Pinterest:

Image credits:
Cala Moraig: © Fran Vargas / Adobe Stock
Moraira: © Alex Tihonov / Adobe Stock
Gandia: By lunamarina / Shutterstock
Denia: © lunamarina / Adobe Stock
Javea: © acceleratorhams / Adobe Stock
El Portet: © Nicole Kwiatkowski / Adobe Stock
Altea: © Nicole Kwiatkowski / Adobe Stock
Calpe: © rabbit75_fot / Adobe Stock
Benidorm: By lunamarina / Shutterstock
Villajoyosa: © allard1 / Adobe Stock
San Juan: © lunamarina / Adobe Stock
Alicante: © william87 / Adobe Stock
Santa Pola: © John / Adobe Stock
Guardamar: © lunamarina / Adobe Stock
Torrevieja: © Alex Tihonov / Adobe Stock