Heading to the beautiful Costa Brava this year for some summer sun? Here's a guide to the region's beach resorts, including where to find the best sandy beaches, beachfront hotels, nightlife, and the prettiest parts of the coast.
This is a part of a Spanish beach resort guide and it covers:
which part of the Costa Brava to choose
where to find the best sandy beaches
the best luxury and beachfront hotels
the Costa Brava's main beach resorts
where to find the best nightlife in the Costa Brava
the best places for all-inclusive hotels and package deals
a rundown of the best quiet resorts, unspoiled coastlines and prettiest villages in the Costa Brava
THE BEST PLACES TO STAY ON THE COSTA BRAVA
BEST LUXURY HOTELS: Vistabella (Roses), Hostal de la Gavina (S'Agaro), Sant Pere del Bosc (Lloret de Mar)
BEST INFINITY POOLS: Villa Mirtilo, Pinya Rosa
BEST BOUTIQUE BEACH HOTEL: Hotel Cap Sa Sal
BEST SMALL BEACH HOTELS: Hotel Hostalillo, Hostal Spa Empuries, Hotel Rosamar, Hotel Aigua Blava, Hostal Sa Tuna
BEST PLACES FOR SANDY BEACHES: Pals, Roses, S'Agaro, Palamos
BEST BEACH RESORTS FOR FAMILIES: Roses, L'Estartit, Platja d'Aro, Calonge
BEST FAMILY HOTEL: Hotel Clipper & Villas – The Costa Brava Family Hotel
BEST BEACH RESORTS FOR NIGHTLIFE: Lloret de Mar, Blanes, Platja d'Aro, Tossa de Mar
BEST ACTIVE BEACH RESORTS: Sant Antoni di Calonge, L'Estartit
BEST QUIET BEACH RESORTS: Tamariu, La Fosca, Montgo
PRETTIEST PLACES: Cadaques, Llafranc, Calella de Palafrugell, Cap de Begur
BEST PLACES FOR CULTURE: Begur, Sant Feliu de Guixols
BEST CHIC RURAL ESCAPES: Castell d'Emporda, Mas Lazuli , Mas Tapiolas

Keep reading for a full guide to the Costa Brava's beach resorts.
Costa Brava Overview

The Costa Brava is the name given to the wild coastline of the Catalonia – and in particular the province of Girona – in northeast Spain. It's home to fragrant pine forests, rugged cliffs, picturesque medieval villages, Catalonian culture, castles, and dazzling emerald waters. Plus you have Barcelona and Girona within daytrip distance.
The Costa Brava region sits at the foothills of the Pyrenees mountains and its coastline stretches for 200km from Portbou in the north to Blanes in the south.
It was one of the first destinations in Spain to open up to mass tourism in the 50s and 60s and the ensuing building boom went largely unchecked. The larger resorts have plenty of high-rise hotels, although the landscape restricts sprawl to an extent.
As with many of Europe's blockbuster mega-resorts, there has been a move away from bargain-basement party tourism over the past few decades. The light and the landscapes of the Costa Brava have also long attracted arty types (Salvador Dali is the region's most famous son) and it's an increasingly popular destination for foodies as well as those who enjoy culture and activities like golf and diving.
The beaches are golden and clean but mostly small pebbles or gritty sand. Choose your base carefully if you prefer soft sand. But the crowning glory of the Costa Brava is its endless small pretty coves known as calas. A car is essential if you want to explore the prettiest and most rugged parts of the coastline.
Many Costa Brava resorts primarily serve domestic tourism these days and so expect most accommodation to be mid-range 2-3 star traditional hotels, pensiones, apartments and guesthouses. These resorts can be particularly crowded at weekends.
Most larger resorts will have a handful of boutique hotels, but there hasn't been the explosion of design hotels that you see on Mallorca – perhaps because self-catering is so popular here. There are many campsites and the hilly areas are home to many villas with excellent views, particularly around upmarket areas like Begur.
If you're after all-inclusive accommodation and/or travelling by public transport then focus on the bigger resorts in the south like Lloret de Mar. The more international resorts tend to have a longer summer season.
Which Part of the Costa Brava to Stay In?
NORTH: Known as Alt Emporda and its cultural capital is inland at Figueres. Rugged headlands dense with coves interrupted by long sandy wetlands beaches.
CENTRAL: Known as Baix Emporda, the prettiest section of the coast with lots of little villages and upscale tourism.
SOUTH: Known as La Selva. Dominated by mass tourism and purpose-built resorts. This is where you'll find the highest proportion of internationals, all-inclusives, and package tourism, but there are also resorts geared to local families.

GETTING AROUND
Airports: The main international airport serving the region is Girona-Costa Brava (GRO).
The Costa Brava is also accessible from Barcelona Airport (BCN), which is a one hour drive from the southern resorts and has a greater range of long-haul connections. Some also drive down from Perpignan airport in France which is well-served by budget airlines.
Reus Airport (REU, sometimes sold as Barcelona-Reus) is a two hour drive from the southern resorts and is popular with European budget airlines.
We recommend using Skyscanner to check for the cheapest flights.
Ferry: Barcelona is a major ferry and cruise port with connections to Mallorca, Menorca, Ibiza, Italy, Morocco, and Algeria.
We recommend using Ferryhopper for route information and tickets.
Train and Bus: The train lines in the Costa Brava run inland through Girona and Figueres rather than along the coast. The bigger resorts in the south are well-served by buses. Renting a car is common.
You can check train and bus routes on Rome2Rio and book tickets through Omio.
Portbou
Portbou is the first coastal town south of the French border. It's the kind of place you pass through rather than go looking for – a port town with an impressively large rail terminal, and a shingle beach. This is the end of the rail line, and where those travelling to France will need to change train.
Nonetheless, it's pretty enough for a quick stopover, although the beaches to the south are nicer – try Platja de Garbet and Grifeu.
Hotels are functional – La Masia is right by the beach.
Transfer time: 1 hour 1 minutes from Girona airport.
Cadaques

With its whitewashed houses and tiled roofs, charming Cadaques is one of the most beautiful seaside towns in Spain. It's set around a jagged bay with many coves. The beaches are pebbly but it has plenty of unspoiled scenery and hiking trails, particularly in the Cap de Creus nature park area to the north.
Cadaques is known for its Dali connection – the famous artist lived in the neighbouring village Port Lligat and today you can visit the Salvador Dali House Museum.
The town still attracts bohemian types. These days it caters to the upmarket crowd with lots of lovely boutiques and cafes. It has a year-round community including many expats and returners.
Stay at the Hotel Playa Sol, 4-star hotel just steps from the sea and has a pool and shady courtyard. Or the stylish Boutique Hotel Villa Gala which is further back in town but has chic blue-and-white rooms, a pool, and views of the town.
Transfer time: 1 hour 20 minutes from Girona airport.
Roses and the Gulf of Roses

Roses is the first big resort on the Costa Brava, and if you look at it from above you'll see why. South of the town is a huge sandy beach – one of the best in the region – and to its north is a series of beautiful scalloped coves such as Canyelles Petites.
There are some historic relics such as the fortress but it's primarily a large modern resort from the 60s boom. but has been rescued by Catalonia's foodie renaissance. Some of Spain's best hotels are located here. Popular with local and French tourists, the town is fairly nondescript but is one of the best areas for beaches. It's not that popular with Brits who tend to head to resorts further south instead.
It was once home to the renowned El Bulli resturant until it shut in 2011.
Roses has a long promenade and marina. A tourist train which takes in the Cap de Creuses. Aquabrava Water Park. Two natural parks.
South of Roses is the strange Empuriabrava, an artificial lagoon with canals and a marina – now a luxury holiday village with private villas lining the poker-straight waterways.
The top luxury hotel in Roses is established 5-star Hotel Vistabella, located near the sandy beach at Platja de Canyelles Petites. Nearby you can also find beachfront apartments at Vista Roses Mar.
Furthr west on Platja Nova and Platja del Rastell are plenty of modern beachfront 4-star hotels such as Hotel Montecarlo Spa & Wellness.
Transfer time: 1 hour from Girona airport.
L'Escala

L'Escala is located at the southern end of the Gulf of Roses, though there are several smaller coves also accessible around the headland.
It has a small old town area, anchovy fishing heritage, and Greco-Roman ruins at Empuries. In the summer it hosts many small food festivals. It's smaller and quieter than Roses, with good restaurants. A bit more upmarket and family-focused, with flat scenery.
There's a cluster of accommodation around the small Montgo cala beach on the town's southern side.
Hostal Spa Empuries brings simple boutique vibes to its beachside location, or for larger resort facilities look at RVHotels Nieves Mar.
Transfer time: 50 minutes from Girona airport.
L'Estartit

L'Estartit is a harbour town with a big 5km sandy beach. It's a standout destination for diving and snorkelling thanks to the tiny Medes Islands Nature Park just 1 mile offshore.
It's a small town with a low-key vibe, a marina, and a family-friendly beach. Other watersports such as kitesurfing are on offer too, as well as a wetlands area with a quiet beach.
There are plenty of boat trips to take, and you can also find walking trails in the Mongri Massif.
Most of the accommodation is up near the harbour rather than right by the beach. There are plenty of good-value family-run hotels – Hotel Panorama is our pick – as well as apartments and campsites.
Transfer time: 50 minutes from Girona airport.
Cap de Begur

The most upmarket part of the Costa Brava is the area around handsome hilltown Begur. Lush and scenic, home to cork forests and swooping rock formations, this area is known as Baix Emporda. A popular second home destination for discerning , or chic weekend-breakers from the Barcelona. Not so well known with Brits, it can help to brush up on your Catalan. Unspoiled coastline with lots of small jewel-like coves with a few beach cafes and seafood restaurants.
There are red rocks and cliffs places for cliff-diving, snorkelling, and swimming. However the beaches are small and so can feel crowded in high summer, particularly as they attract daytrippers. Parking can be difficult in high season.
There's a big sandy beach at Platja de Pals beach where you'll also find several large luxury resorts including Hotel Clipper & Villas – The Costa Brava Family Hotel, which shares a large waterpart with nearby Camping Delfín Verde Resort. and La Costa Golf Beach Resort.
The Cami de Ronda is a beautiful hiking trail which runs from Begur down the coast to St. Feliu de Guixols and links many of the beach resorts listed below.
Most visitors to the area stay around Begur and drive to the sea (it's 1.5km but hilly) for the day. Accommodation by the coves is relatively limited but there's an increasing number of villas in the hills, as well as campsites in the wider area.
Begur
The atmospheric backstreets of medieval Begur make an appealing base for exploring the area if you have a car.
Overlooked by its citadel, the Castel de Begur, the town has retained its Catalan character and is welcoming and charming. For the evening, there are plenty of good restaurants and wine bars spilling out onto the streets.
There are plenty of small boutique hotels and rentals in Begur including:
If you don't mind being further inland there's 5-star farmhouse luxury at Mas de Torrent Hotel & Spa.
Transfer time: 50 minutes from Girona airport.
Sa Riera

Sa Riera is the first of a number of small and incredibly picturesque coves around the cape. It has a pebble beach and a cluster of restaurants in its old fisherman's houses.
Hostal Ses Negres, offers laid-back coastal chic at 2-star prices right on the beach.
Transfer time: 50 minutes from Girona airport.
Aiguafreda
Aiguafreda is a tiny picturesque cove with a secluded feel and lots of small boats. The coastal trail runs right through the hamlet.
One of the most appealing places to stay in the area is the adults-only 4-star Hotel Cap Sa Sal with its soothing neutral interiors and immaculate coastal views. It has apartments available further around the coast at Cap Sa Sal Turquesa.
Transfer time: 55 minutes from Girona airport.
Sa Tuna

Sa Tuna is a small bay short walk from Aiguafreda, a slightly larger cove with 80 metre pebble beach, clean waters, and more parking.
The tiny Hostal Sa Tuna only has 5 rooms but is right by the water and the accompanying restaurant is excellent. There are a few vacation rentals in the area if you're quick (like Casa Malva).
Transfer time: 55 minutes from Girona airport.
Fornells and Aiguablava

Fornells is the name given to the are around an incredibly pretty bay with several rocky calas.
Surrounded by pines, the water here is particularly emerald. The rocks are tinged with red and topped with pines. You'll find small boats for hire as well as diving and snorkelling opportunities. It does get busy with daytrippers.
On the northern side is a small and tranquil pebble Platja Fonda.
Aiguablava is one of the coves and is probably the prettiest small beach in the Costa Brava.
Stay at the 4-star Hotel Aigua Blava which has stunning views, stylish rooms, sports facilities, and a large pool and terrace area.
There are also many villas in the hills behind such as the beautiful Villa Mirtilo with 5 beds and saltwater infinity pool.
Transfer time: 50 minutes from Girona airport.
Tamariu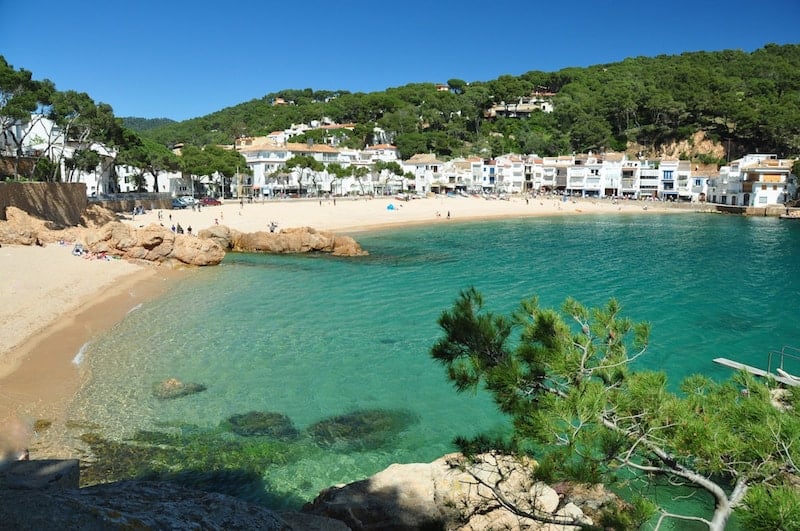 The small resorts of Tamariu, Llafranc, and Calella de Palafrugell form a trio of idyllic, upmarket, and well-maintained beach resorts a short drive from inland Palafrugell town.
This is arguably the nicest part of the Costa Brava as you have excellent beaches and the Cap de Begur is a just short drive away.
Small and scenic, Tamariu is situated in a pine-shaded bay south of Fornells. It has fishing village origins and is a likeable small resort with a medium-sized sandy beach with sheltered waters, ideal for those who like a beautiful setting and simple pleasures.
It has a small playground and mini markets but no organised entertainment, and the beach does get busy in August.
There are a few low-key hotels such as Hotel Hostalillo but most of the accommodation is self-catered – check VRBO or Booking.com for options.
Transfer time: 55 minutes from Girona airport.
Llafranc

Llafranc is a typical Mediterranean fishing village with terracotta tiles, whitewashed walls, turquoise waters, fragrant pines.
It's a handsome place with cobbled streets and envelops several lovely beaches – it's one of the most beautiful beach resorts in Spain.
Llafranc is slightly larger than Tamariu and has more amenities, including a small marina, and a wider choice of accommodation including several campsites.
Top hotels include:
Transfer time: 50 minutes from Girona airport.
Calella de Palafrugell

A short walk around Cami de Ronda walking trail takes you from Llafranc to Calella de Palafrugell, is the largest of the three beach villages near Palafrugell and the most resort-like in feel.
But it hasn't lost its fishing heritage and is popular with Catalans as well as varied international visitors. There are botanic gardens as well as a museum dedicated to the area's cork industry.
Coastal explorers will be happy here, there are some small islands offshore and a series of stunning coves (such as Cala Eto) the south well worth exploring. Kayaking, snorkelling, and diving are popular in the area. There are several small beaches of course-grained sand and the landscape is slightly hilly.
The hotels in Calella de Palafrugell are traditional and sometimes a bit dated, though often with great views. Good options include:
For a true slice of local life you can stay inland at Palafrugell, a laid-back working town with old backstreets just 10 minutes in the car from the coast where you'll find a clutch of stylish places to stay such as Can Liret Hotel and Le Rondini.
Transfer time: 45 minutes from Girona airport.
Palamos

Palamos is a historic harbour town and beach resort with a wide tree-lined promenade and a big fishing fleet known for for its prawns.
The town has a long trading history which is evident in some of its grand buildings. It's family friendly but with a summertime buzz and a character that the purpose-built resorts south of here lack. There's lots to do in the wider area and no shortage of amenities.
Palamos has a large sandy beach but head north to find are several smaller quieter beaches. Cala de la Fosca is an undiscovered gem, beautiful and less visited beach overlooked by the ruins of a medieval castle. It's perfect for picking up a kayak or SUP or chilling out at a beach bar.
Top hotels in Palamos include:
Transfer time: 40 minutes from Girona airport.
Sant Antoni de Calonge

Palamos blends into the larger town of Sant Antoni de Calonge is where the vibe changes from scenic fishing town to purpose-built resort with big flat beaches.
It's a large modern resort graced with a wide beach divided up by several breakwaters which create distinctive semicircles of sand. The beach is Blue Flag-rated with shallow waters popular with local families.
The beach is flanked by a wide promenade and a long line of apartment blocks. There are plenty of watersports, volleyball, and beach bars on offer. But it's more low-key and family-focused than neighbouring Platja d'Aro. There's plenty to explore in the surrounding landscape including walking trails and beaches with distinctive rock formations.
To the south is a wooded rocky zone with sandy coves. Camping Internacional de Calonge is right behind Cala Gogo.
Hotel Rosamar is the standout hotel in town – a boutique 3-star right on the beach which also has a shady pool area.
Transfer time: 40 minutes from Girona airport.
Platja d'Aro

Platja d'Aro is a lively purpose-built resort with something for everyone. It has plenty of beach bars, good nightlife, and some of the best shopping in the area. It's is a popular destination for young couples and groups of friends – a mix of Spanish and internationals.
The wide sandy beaches with lifeguards and playgrounds also appeal to young families. Other amenities include a tourist train, escape rooms, golf courses, boat trips, and the Aquadiver Water World water park.
There are many great-value resort hotels in Platja d'Aro. Pick of the bunch is Hotel Cap Roig, but it's worth checking Booking.com for deals. You can find packages from the UK to Platja d'Aro with Jet2.
Transfer time: 30 minutes from Girona airport.
S'Agaro and Sant Pol
S'Agaro is essentially the quieter and more upmarket southern end of Platja d'Aro. It's associated with a glamorous clientele and is home to exclusive villas and gated communities developed in a style sympathetic to the surroundings. S'Agaro is divided from Platja d'Aro by several streams and a rocky patch of coast.
It's next to the fantastic Blue Flag beach at Sant Pol where you'll find distinctive colourful beach huts for showering.
The area's 5-star hotel – Hostal de la Gavina – is the most famous luxury hotel in the Costa Brava. There are also a few resort hotels at Sant Pol:
Transfer time: 30 minutes from Girona airport.
Sant Feliu de Guixols

Sant Feliu de Guixols (sometimes known simply as Guixols) is a lovely seaside town with a good mix of amenities but without the crowds of the bigger resorts. As with Palamos, it retains some historic character – particularly its art nouveau villas, Maritime Museum, and notable Benedictine monastery.
These days it has a large dose of marina buzz and is surrounded by beautiful scenery. It has a large and clean town beach, plus Sant Pol beach is accessible to the north and there are many coves in the area.
South of Guixols is the Massis de les Cadiretes nature reserve – one of the most beautiful parts of the coastline with winding mountain roads leading to many cala beaches such as Giveroleta, Salionc, Pola, and Senyor Ramon.
Top places to stay in Guixols include:
Transfer time: 35 minutes from Girona airport.
Tossa de Mar

Tossa de Mar is the most versatile resort in the Costa Brava. It's a lively and family-friendly beach town with an atmospheric old quarter area – Vila Vella – within medieval walls which once attracted artistic types and today is packed with souvenir shops and bars.
The newer part of town is densely packed with apartment blocks.
Tossa is popular with both locals and northern Europeans looking for a beach break. Its two main beaches – Platja Gran and Platja Mar Menua – are both Blue Flag and overlooked by the Muralles de Tossa, a 12th-century castle. The coastal scenery on either side is fantastic with a few lovely hikes.
Top places to stay in Tossa de Mar include:
Transfer time: 35 minutes from Girona airport.
Cala Llorell and Canyelles
Sandwiched between two of the Costa Brava's busiest resorts are Cala Llorell and Canyelles, two almost untouched tranquil bays with just a handful of facilities, chiringuitos, and accommodation, perfect if you want to escape the crowds.
There are paid carparks and a diving schools, and villas tucked away in the hills behind, and a campsite at Canyelles.
Villa Cala Canyelles
Transfer time: 25 minutes from Girona airport.
Lloret de Mar

Lloret de Mar is he biggest and most popular beach resort on the Costa Brava. This is the Costa Brava's main party resort with dawn-to-dusk entertainment in the summer. Buzzing promenade. Think foam parties and casinos. Waterworld.
There are five beaches here. Two main beaches have a city vibe. Main beach is Platja de Lloret. The biggest beach in the region. Quieter beach is Fanals. The sand here is more coarse-grained than Tossa de Mar.
South along the coast are the Botanic Garden and several beaches in wilder cove scenery at Sa Boadella, Santa Cristina, and Cala Treumal.
Along with Tossa de Mar, it's the most international of the Costa Brava resorts. You'll find plenty of all-inclusive resort hotels and international restaurants here, as well as a large concentration of Brits. It's very youth-focused and is also popular with local visitors from around Spain.
Kids in tow? The Hotel Guitart Central Aquapark has 4 swimming pools.
Transfer time: 25 minutes from Girona airport.
Blanes

Budget-friendly bucket-and-spade resort Blanes is the last big town on the Costa Brava.
It's a large coastal town with an extensive 4km sandy beach lined with high-rise apartments, big port and fishing fleet and lots of markets. The vibe is cheery and local with lots of large family-friendly resort hotels and holiday villages. Big campsites.
The big resort feel continues into the Costa Maresme, the next stretch of coast to the south. Sometimes these resorts are sold as Costa Brava holidays (mainly Santa Susanna, Malgrat de Mar, Pineda de Mar and Calella) but technically this is a different region.
There are plenty of beachfront high rise hotels such as the Beverly Park & Spa plus well-located campsites like Camping La Masia.
Transfer time: 35 minutes from Girona airport.
Read more:
Where to Stay in Spain: Ultimate Beach Resort Guide
Where to Stay on the Costa Blanca: Ultimate Beach Resort Guide
Where to Stay on the Costa del Sol: Ultimate Beach Resort Guide
Where to Stay on Mallorca: Ultimate Beach Resort Guide
Where to Stay on Ibiza: Ultimate Beach Resort Guide
Where to Stay on Menorca: Ultimate Beach Resort Guide
10 Most Beautiful Beaches in Spain
Enjoyed this post? Follow us on Facebook or Twitter.
Click to save to Pinterest:

Image credits:
Costa Brava seascape: © Igor Normann
Fornells from the water: © damedias / Adobe Stock
Sa Boadella: © lunamarina
Cadaques: © Valery Bareta
Roses: © JackF
Empuries: © jljusseau/ Adobe Stock
L'Estartit: © Ralfik D/ Adobe Stock
Begur: © Boris Stroujko
Sa Riera: © pkazmierczak/ Adobe Stock
Sa Tuna: © pkazmierczak
Fornells: © pkazmierczak/ Adobe Stock
Tamariu: © P H O T O N I K O N
Llafranc: © oleg_p_100/ Adobe Stock
Calella de Palafrugell: © pkazmierczak/ Adobe Stock
Palamos: © Arpad/ Adobe Stock
Sant Antoni de Calonge: © Arpad/ Adobe Stock
Sant Feliu de Guixols: © Marlee
Platja d'Aro: © Marlee / Adobe Stock
Tossa de Mar: © Nikolai Sorokin
Lloret de Mar: © Unclesam
Blanes: © Sergii Figurnyi