Heading to Spain's Costa del Sol this year for some summer sun? This popular region in the east of Spain offers an enticing combination of sandy beaches, lively nightlife, whitewashed villages, buzzing marinas, and Andalucian culture.
This is a part of a Spanish beach resort guide and it covers:
which part of the Costa del Sol to choose
where to find the best sandy beaches
the best luxury and beachfront hotels
Costa del Sol's main resorts; the best places to stay for nightlife, cheap accommodation and a younger crowd
where to find the the best quiet resorts and prettiest places in the Costa del Sol

The Best Places to Stay on the Costa del Sol
BEST LUXURY HOTEL: Anantara Villas & Suites Benahavís Marbella Resort (Estepona)
BEST BEACH HOTEL: The Oasis by Don Carlo Resort, Nobu Hotel Marbella, Marbella Club Golf Hotel & Spa (all Marbella)
BEST VILLA WITH INFINITY POOL: Ifield House (Estepona)
BEST BOUTIQUE TOWN HOTEL: Palacio Solecio (Malaga)
BEST PLACES FOR BEACHES: Torremolinos, La Carihuela, Fuengirola, Marbella
BEST FAMILY BEACH RESORT: Fuengirola
BEST PLACES FOR NIGHTLIFE: Benalmadena, Marbella
BEST SMALL QUIET RESORTS: Caleta de Velez, Benajarafe
PRETTIEST RESORT TOWNS: Estepona, Marbella, Nerja
BEST PLACE FOR CULTURE: Malaga
BEST CHIC RURAL ESCAPES: Boho Club (Marbella), S/O Sotogrande (Sotogrande)
Keep reading for a full guide to the Costa del Sol's beach resorts.

Costa del Sol Overview
The Costa del Sol means 'the Sun Coast' and is the name given to the coastline of the Malaga province in Andalucia, southern Spain.
It's the most developed of the Spanish costas with a high concentration of package tourism. It was one of the first areas to open up to mass tourism in the 50s and 60s and the ensuing building boom went largely unchecked. High-rise apartment blocks and hotels are commonplace.
Unlike the Costa Blanca further up the coast, beaches on the Costa del Sol tend to be a dark grey-brown sand.
One of the Costa del Sol's main appeals is its easy access. You can step off your plane and be at your resort within 20 minutes.
The main resorts are linked by train and there is no shortage of excursions so you don't necessarily need a car (although there's plenty to explore if you do have one).
They may not be architecturally inspiring (although there are some beautiful old towns and villages such as Marbella and Estepona) but they are clean and tidy with crystal-clear water and plenty of child-friendly facilities like playgrounds, watersports, and lifeguards. Spanish beach resorts are nearly always family-friendly. It's also a major golfing destination.
There's an abundance of nightlife, restaurants, and entertainment options. Traditional beach bars called xiringuitos serve up beers and grilled sardines in the evening.
There are plenty of beachfront hotels in Spain but it's worth noting that many are separated from the beach by a promenade (a common feature on the coast) and sometimes a main road.
The climate is excellent, with 320 days of sunshine per year – one of the key attractions for its large expat community. Many snowbirds from Northern Europe choose to spend the winter here. English is widely spoken, apartments are excellent value, and many of the resorts are open year-round (although summer attractions might close). Package deals are readily available.
Another major appeal is Andalucia's wealth of history and culture. It has a unique Moorish heritage and is the spiritual home of tapas, flamenco, and bullfighting. Visiting the Costa del Sol means access to Andalucia's big sights:
Granada and the Alhambra palace
Cordoba
Seville
Jerez and the Sherry Triangle
Gibraltar
Ronda
the Caminito del Rey hike
The coast is heavily built-up – don't expect to find a quiet beach. But there are several resorts geared towards domestic Spanish tourists if the international scene is not your thing. If you prefer less crowded beaches then look instead to the neighbouring coastlines – the Costa Tropical and the Costa de la Luz.
Malaga itself is an up-and-coming city with a youthful vibe, great beaches, and incredible art galleries and museums.
Which Part of the Costa del Sol to Stay In?
CENTRE: Malaga sits in the centre of the Costa del Sol, with roads and urbanisations spreading out in both directions. The busiest resorts are south of Malaga, in a string along the coast to Fuengirola connected by train.
WEST: The expensive end. Beyond Fuengirola you'll find the glitzy high-end resorts Marbella and Puerto Banus, and upmarket Estepona.
EAST: Known as Axarquia, this is the quiet part that caters mainly to Spaniards. Attractive whitewashed resort town Nerja is at the far end. In between are a few purpose-built resorts and small clusters of expats.

Getting Around the Costa del Sol
Airports: The main airport for the Costa del Sol is Malaga Airport (AGP) which is 10km south of the city. A train line connects the airport with the city.
Further afield, there are also international airports at Granada, Malaga, Jerez, and Seville.
We recommend using Skyscanner to check for the cheapest flights.
Ferry: Most of the ferry connections in southern Spain are with Algeria and Morocco. If you do want to visit Morocco then the shortest routes are from Algeciras, Gibraltar, and Tarifa.
We recommend using Ferryhopper for route information and tickets.
You can find organised excursions to Morocco from some parts of the Costa del Sol.
Train and bus: Malaga is connected to Granada, Seville, Cordoba, Valencia, Madrid, and Barcelona by high-speed rail.
There is a train line west along the coast from Malaga to Fuengirola.
You can check train and bus routes on Rome2Rio and book tickets through Omio.
Nerja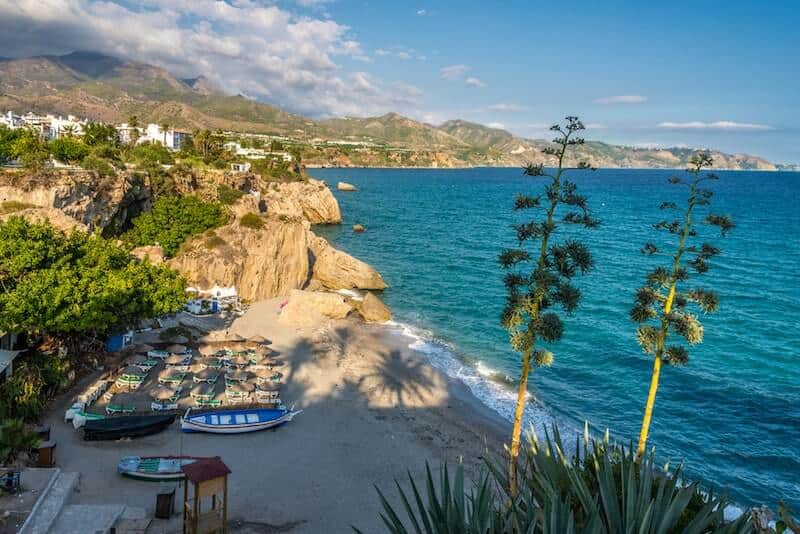 At the easternmost end of the Costa del Sol is the likeable resort town of Nerja. Backed by dramatic mountains and graced with several sandy bays tucked in between rocky headlands, Nerja certainly doesn't lack for scenery.
The town itself sits atop a cliff and has a charming whitewashed centre, abuzz with shops and restaurants. Balcon de Europa.
Although very popular with internationals, it feels distinctly Andalucian and is one of the nicest places in the Costa del Sol. It's more low-key than Marbella. It has a large year-round expat community including many Brits and Irish.
The centre is compact but there's a large modern sprawl reaching up into the hill behind the town, something to bear in mind when looking at accommodation.
The area around Playa Torrecillla and Playa la Caletilla is best for both beaches and access to town for the evenings
The largest beach is Burriana. It's a long walk into town for dinner from here – eat grilled sardines at one of the xiringuitos.
Car rental is a common way to explore the area's highlights, such as the beautiful mountain villages like Frigiliana. The mountain roads are steep and winding.
The best hotels in Nerja are:
Transfer time: 45 minutes from Malaga airport.
Torrox Costa
Torrox Costa is a small purpose built resort, popular with British and German retirees, with Torrox village up in the hills behind.
It's low-key and has good facilities and a Blue Flag-rated beach. Accommodation is mainly in apartment complexes but there are a few hotels.
Transfer time: 50 minutes from Malaga airport.
Torre del Mar

Torre del Mar is a beach resort catering to Spanish families. It has a wide beach of dark sand and a tree-lined promenade.
The town has a 5km Blue Flag-rated beach with variety of watersports on offer, as well as easy access to Aquavelis water park and the Baviera Golf Course.
There are many Spanish cafes, bars, and restaurants along the waterfront – it's particularly known for its fried fish.
To the east of Torre del Mar is a small town called Caleta de Velez. It has a harbour with working fishing fleet, a quiet beach, a weekly market, and an attractive marina. There's a small expat community here.
Velez-Malaga is a small city up in the hills behind Torre del Mar, if you have a car and enjoy authentic Spanish places it might be an option.
Most of the accommodation around here is self-catered – check VRBO for options. Hotels tend to be functional rather than enticing, but there are plenty of options close to the beach. Try the BQ Andalucia Beach Hotel.
Up near Velez, the whitewashed 4-star Hotel Cortijo Brava offers a rural retreat with a pool.
Transfer time: 35 minutes from Malaga airport.
Rincon de la Victoria
Rincon de la Victoria is within commuting distance of Malaga and is popular with Spanish families in the summer.
It does suffer from concrete sprawl but it also has Moorish remains and a golf course nearby. Outside July and August it is a convenient and cheap place to pick up an apartment for a longer stay (as long as you don't require English menus and bars).
Cute B&B Bed and Breakfast at Home in Malaga has shady landscaped gardens and a pool.
Between Rincon de la Victoria and Torre del Mar is the small coastal village Benajarafe. It has a handful of restaurants and facilities, and a wide beach which is relatively quiet for the Costa del Sol – a good option if you have a car and are looking to escape the crowds.
Transfer time: 15 minutes from Malaga airport.
Malaga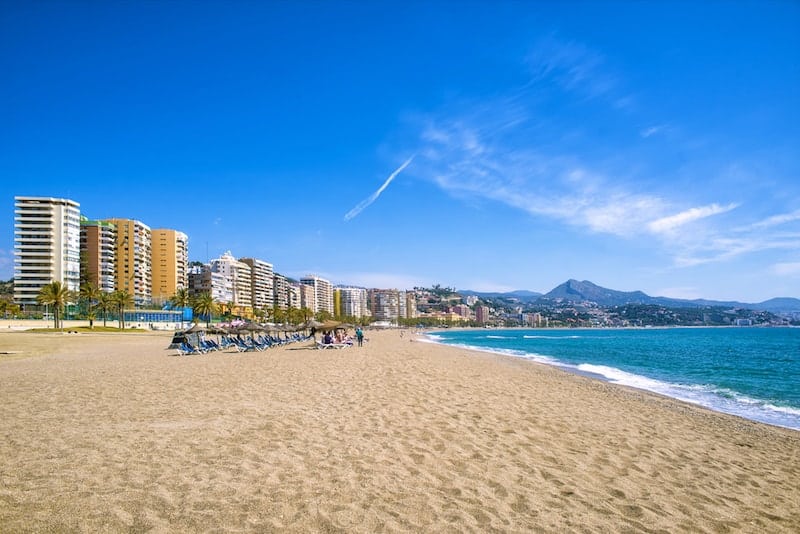 The coastal city of Malaga is the gateway to the Costa del Sol and an increasingly appealing destination in its own right.
It's a typical Mediterranean port city with a small old quarter and a large urban area which has seen a recent wave of regeneration. The vibe today is youthful, cosmopolitan, and culturally rich. It has an excellent tapas scene and it's easy to reach the coast, especially by bike. The past few decades have seen countless museums and galleries open.
Key attractions include:
Alcazaba and Gibralfaro Castle
Centro de Arte Contemporaneo
Picasso Museum
Centre Pompidou
Botanic gardens
Roman amphitheatre
Museo de Malaga
Mercado Central
Malagueta beach
Malaga is a very liveable city and has a large international community thanks to its year-round sunshine. In winter you can nip to the ski resorts near Granada. It's perfect for long stays as well as long weekends.
Trains connect Malaga with its airport.
The best hotels in Malaga are:
On a budget? Malaga has plenty of hostels. Try Oasis and The Urban Jungle Rooftop Hostel.
Transfer time: 20 minutes from Malaga airport.
Torremolinos

Torremolinos is the largest and busiest of the Costa del Sol resorts.
It was at the centre of the development boom back in the 60s. Whilst well-known amongst internationals, Torremolinos is a traditional seaside resort that also caters to domestic tourists and is popular with weekenders from Malaga. It has an extensive shopping with several pedestrianised streets in the centre.
The beaches are the star here – 9km of here exceptionally wide sands and Blue-Flag rated seas. The northern end (Bajondillo) is more Spanish and has lower prices for food and drink.
Wondering if you should stay in Torremolinos or Benalmadena? If you're after nightlife, and entertainment, and a variety of things to see and do you're after then choose Benalmadena. Torremolinos is flatter and more spacious, with better beaches. If you just want to sunbathe and eat local food then you'll be happy in Torremolinos. It's easy to travel between the two by bus or a long walk.
Torremolinos has a number of shady parks and botanic gardens. There are impressive hiking trails in the forests just outside the city and there's easy access to Aqualand water park.
A promenade runs alongside the beach from Torremolinos to Benalmadena via La Carihuela. This beach area is known for its restaurants and beach bars. The beach is also the best in the area. From La Carihuela you can be in either resort in 20-30 minutes.
The best hotels in Torremolinos include:
Transfer time: 10 minutes from Malaga airport.
Benalmadena

Benalmadena is a popular modern resort town with something for everyone – family-friendly beaches, a cosmopolitan marina quarter, thriving nightlife, and beautiful old village quarters up in the hills behind.
The town is divided into three parts – there's the main resort area by the beach and marina, and then up the hill are the old parts, Pueblo and Arroyo del Miel.
These are the traditional parts of town with pretty buildings and a laid-back cafe life. There's a large expat community and lots of foreign bars and amenities. It's a short but uphill walk from the beach or you can take the bus.
There's a cable car which runs up the hill to Calamorro Mountain.
Nightlife is focused around the marina and the weekend bar scene at Plaza Solymar which is known as 24-Hour Square.
Key attractions in the area include:
Castillo Monumento Colomares
Tivoli World
Paloma Park
Biopark
Top hotels in Benalmadena include:
Transfer time: 15 minutes from Malaga airport.
Fuengirola

Fuengirola is a large and lively resort at the end of the coastal train line from Malaga.
It has a traditional resorts appeal catering to a young Spanish crowd with a blend of upmarket shopping, vibrant eateries and bars.
There is over 8km of golden family-friendly sands lined with beach bars and high-rise hotels and apartment blocks. Los Boliches has the nicest sand.
Fuengirola is larger and flatter than Benalmadena. A promenade connects the two via Torreblanca (approximately 1 hour on foot).
The best places to stay in Fuengirola include:
Transfer time: 20 minutes from Malaga airport.
La Cala de Mijas
La Cala de Mijas is the beach outpost of the town Mijas which is 10km inland, up behind Fuengirola. Mijas town is whitewashed and charming – and particularly popular with daytrippers.
The resort area is west of Fuengirola and was once a fishing village which has grown into a a small/medium town with an established expat community. It's a popular area for holiday rentals and has good year-round facilities and numerous golf courses within reach.
You can find accommodation in both the old town and the beach area. Stay at 4-star Hotel TRH Mijas up in town, El Oceano Beach Hotel down by the sea, or check VRBO for rentals.
Transfer time: 20 minutes from Malaga airport.
Marbella

Marbella is the most glamorous resort on the Spanish coast with a scene to rival Mykonos or Ibiza Town.
It's a small city with an exclusive vibe, featuring lots of 5-star hotels and glitzy beach clubs like Nikki Beach. Dressing to impress is the norm here. The town is well-manicured, reflecting its sky-high property prices.
Its old town – Casco Antiguo – is particularly beautiful with whitewashed buildings, ornate balconies, flowers, narrow alleyways, ornate tiles, chic boutiques and bars, and the scent of orange blossom. The shopping is fantastic, as is its upmarket dining and bar scene.
Nightlife is centred around the Golden Mile – the strip between Marbella and Puerto Banus where you'll find swanky beach clubs and luxury hotels.
Marbella has a shady underbelly of crime and corruption but you're unlikely to come into contact with this side of it as a tourist.
The beaches around Marbella are the best in the Costa del Sol, with the silkiest sand. There are a few beaches in the centre of town but it's also popular to decamp to one of the many beach club in the surrounding area for the day.
The best hotels in Marbella are:
Transfer time: 25 minutes from Malaga airport.
Puerto Banus

Just down the coast from Marbella, Puerto Banus is a port town and luxury complex with a swanky marina andcasino. This is where celebs dock their megayachts for a spot of designer shopping or a night out.
Puerto Banus is smaller than Marbella but has easy access to several great beaches and beach clubs, the Golden Mile, good nightlife, and all the luxury amenities you're likely to need.
Puerto Banus has a good selection of beachfront resort hotels, including:
Transfer time: 35 minutes from Malaga airport.
Estepona

Estepona is an upmarket resort town with a large marina and a pretty flower-filled old town.
It's not as hectic as Marbella and less international than Nerja, so if you're looking somewhere quieter with a Spanish vibe it might fit the bill.
Estepona has 2.5km of Blue Flag-rated sands. A promenade runs alongside its long east-facing beach, Playa de la Rada, and down to the cosmopolitan harbour area.
The downside is that public transport is not as good here as in other parts of the Costa del Sol, and it's further away from some of the region's main attractions.
Urban sprawl is extensive so check locations carefully before booking – you'll need a car for some parts of town you'll need a car for some parts (or to explore the wider area).
The best places to stay in Estepona include:
Check VRBO for holiday rentals.
Transfer time: 50 minutes from Malaga airport.
San Luis de Sabinillas
San Luis de Sabinillas is a small modern fishing village which is increasingly popular with expats or as a base for commuting to Gibraltar.
It has a working Spanish feel and a long dark sand beach which is quiet for much of the year.
Apartments in complexes are readily available – check VRBO for vacation rentals.
Transfer time: 1 hour from Malaga airport.
Sotogrande

Bookmarking the western end of the Costa del Sol is another luxury marina complex, Sotogrande.
It's built in the style of a Moorish palace and has excellent leisure amenities including a polo club and a golf course, but is quieter and more family-focused than Puerto Banus.
The marina is surrounded by luxury villas and apartments.
Top stay in Sotogrande is the sleek S/O Sotogrande, a rural 5-star golf and spa hotel.
Closer to the marina is the 4-star Club Maritimo de Sotogrande.
Transfer time: 1 hour 10 from Malaga airport.
Read more:
Where to Stay on the Costa Brava: Ultimate Beach Resort Guide
Where to Stay on the Costa Blanca: Ultimate Beach Resort Guide
Complete Guide to Spanish Beach Resorts
Where to Stay on Mallorca: Ultimate Beach Resort Guide
Where to Stay on Ibiza: Ultimate Beach Resort Guide
Where to Stay on Menorca: Ultimate Beach Resort Guide
Enjoyed this post? Follow us on Facebook or Twitter.
Click to save to Pinterest:

Image credits:
Marbella aerial: © alexemarcel / Adobe Stock
Marbella old town: © e55evu / Adobe Stock
Nerja: © milosk50 / Shutterstock
Torre del Mar: © JackF / Adobe Stock
Malaga: © KikoStock / Shutterstock
Torremolinos: © JazzaInDigi / Adobe Stock
Benalmadena: © ANDREI / Adobe Stock
Fuengirola: © k009034 / Adobe Stock
Marbella beach: © pkazmierczak / Adobe Stock
Puerto Banus: © Kieran J. O'Neill / Adobe Stock
Esteponas: © e55evu / Adobe Stock
Sotogrande: © julia_gr / Adobe Stock