Heading to Spain this year for some summer sun and want to hit the beach? Here's a guide to the Spanish coast and islands – region by region – including where to find the best beach hotels, prettiest villages, and best sandy beaches.
This is a beach-lover's guide to Spain and it covers:
The Spanish costas, region by region
the best luxury resorts and beach hotels in Spain
which are the main beach resorts in Spain; the best places to stay for nightlife, cheap packages and a younger crowd
where to find the best quiet resorts, unspoiled scenery and seaside villages
including the Spanish islands Mallorca, Menorca and Ibiza, and the Canary Islands
The Best Places to Stay on the Spanish Coast & Islands
BEST LUXURY HOTELS: Nobu (Marbella), Nobu (Ibiza), Jumeirah Port Soller Hotel & Spa (Mallorca)
BEST INFINITY POOL: Cap Rocat (Mallorca)
BEST HOTEL RIGHT ON THE BEACH: Gecko (Formentera)
BEST CITY HOTELS: Sant Francesc Hotel Singular (Mallorca), Casagrand (Barcelona)
BEST PLACES FOR SANDY BEACHES: Balearic Islands, Costa Valencia, Costa de Luz, Fuerteventura
BEST PLACES TO GO FOR NIGHTLIFE: Ibiza, Barcelona, Valencia, Mallorca
NICEST UNSPOILT AREAS: Cantabria, Galicia, north Tenerife, Costa Brava, north Mallorca
For villas try Plum Guide, Oliver's Travels, VRBO, and James Villas.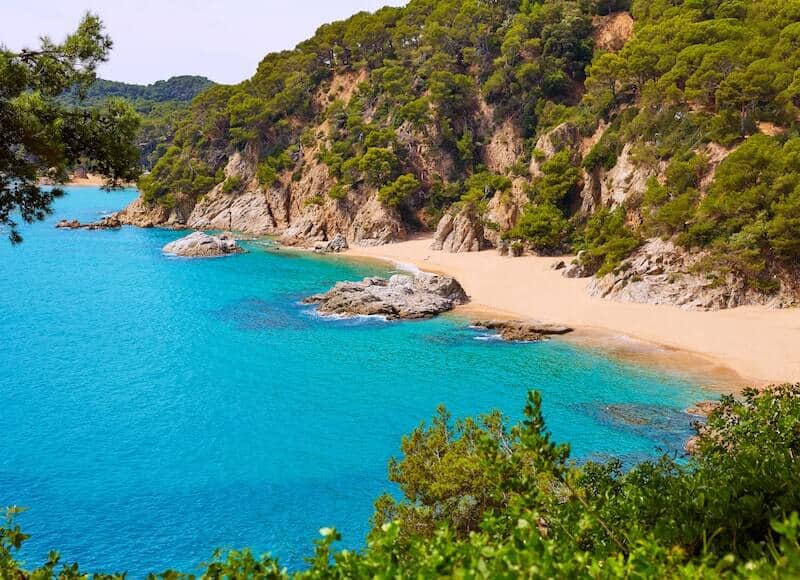 Beach Resorts in Spain – An Overview
Spain has a huge amount of coastline (both Mediterranean and Atlantic) as well as numerous islands graced with sun-drenched sandy beaches which are perfect for relaxing holidays. No wonder it gets such as large number of international visitors in the summer.
The most popular coastlines (known as 'costas') on the mainland are the Costa del Sol and Costa Blanca – this is where you'll find the largest resort areas.
Spain witnessed a huge building boom in the 60s and 70s to meet the growing demands of the new package tourism industry. Unfortunately much of this development was unchecked so Spanish resort towns are not always the prettiest, and beachfront high-rise apartment blocks are a more common sight than in Greece, for example.
However this scene might suit you if you enjoy busy and lively destinations with low prices, good weather, and plenty of entertainment catering to international tastes.
That said, these days most of the big resorts cater as much (if not more) to a family-friendly domestic crowd. The Spanish mainland resorts are largely great value and well-represented through the major tour operators.
The Costa Brava, north of Barcelona, is famous for its beauty – but expect crowds and correspondingly high prices.
The best white sand beaches and family-friendly are definitely found on the Balearic Islands. Prices are higher than on the mainland, but you will also find some of the best boutique and luxury hotels in Europe, especially on Mallorca.

The north of Spain is known as 'Green Spain'. It's significantly wetter but the scenery is incredible. There are plenty of activities on offer (especially surfing) and it's ideal for adventurous travellers. Other quieter areas include Tenerife's north coast and the western Canary Islands.
The major international airports in Spain are:
Girona
Barcelona
Reus
Valencia
Alicante
Murcia
Almeria
Granada
Malaga
Jerez
Seville
Santiago de Compostela
Santander
Bilbao
Mallorca
Ibiza
Menorca
Tenerife
Gran Canaria
Lanzarote
Fuerteventura
Catalonia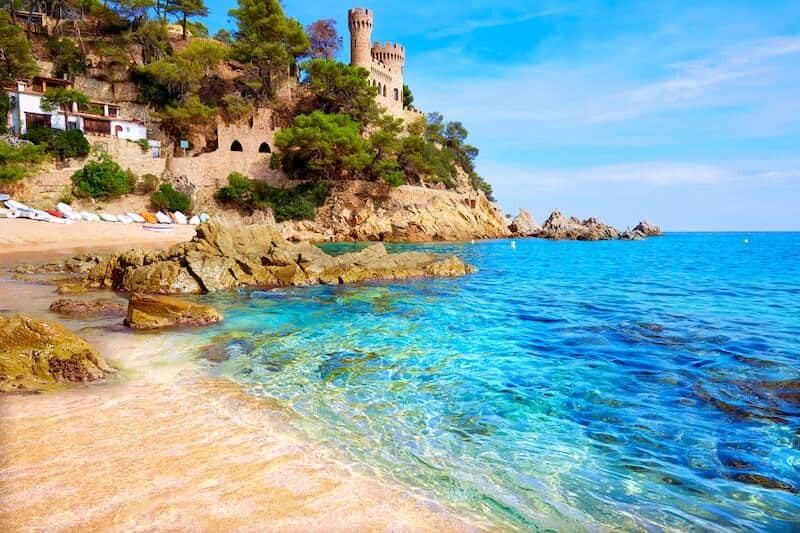 The region of Catalonia – or Catalunya – has a distinct Catalan identity and nearly 600km of beautiful coastline that stretches from the French border down to the Valencia region. It's rocky and scenic – perfect road trip territory – with lots of pretty coastline and busy beach resort areas.
As well as ancient and medieval history, Catalonia was at the epicentre of Spain's foodie renaissance and is packed with fascinating modernista architecture.
The whole coast is sometimes referred to as the Costa Brava but technically it's divided into three coastal provinces, of which the Costa Brava is the northernmost.
There are international airports at Barcelona, Reus-Tarragona, and Girona, plus there is a train line which connects coastal towns.
Costa Brava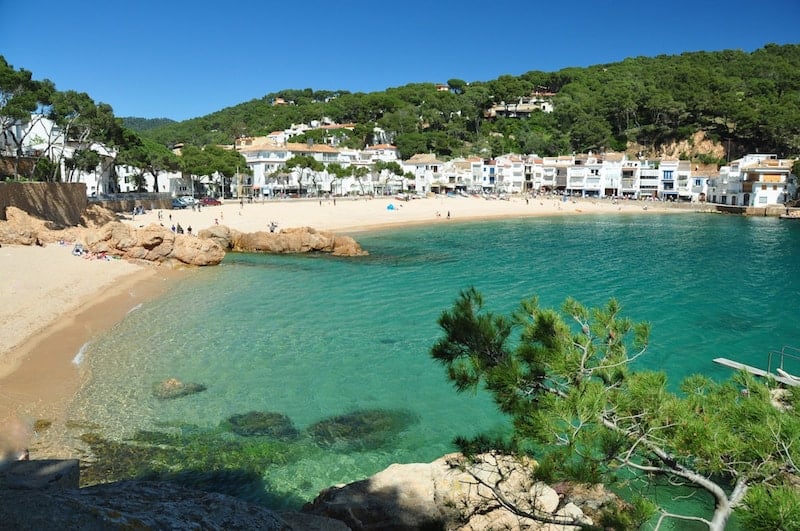 The Costa Brava ('The Rugged Coast' is one of Spain's most famous coastal areas. It's right on the French border and has a long history of package tourism but there are plenty of smaller quieter spots to discover too. It's wild, lush and impossibly beautiful in places – particular in the north. Long sweeps of sandy beach are tucked in between rocky headlands with lots of small pebble coves with emerald waters and steep rock formation.
The busiest resorts on the Costa Brava are in the south, with sandy beaches surrounded by high rises – Lloret de Mar, Tossa de Mar, and Blanes. But even the mega-resorts have small old towns and fantastic beaches. Tossa de Mar combines a busy town with two Blue Flag beaches overlooked by a turreted fortress.
The north, known as Baix Emporda, is scenic and quieter with many pretty villages and coves. Highlights include Cadaques – a rocky fishing village that draws an arty crowd thanks to its Dali connection, the nearby Cap de Creus Natural Park, and the coves around Palafrugell and Tamariu.
The Bay of Roses and Sant Feliu de Guixols are upmarket.
Head to L'Estartit and the uninhabited islets of the Medes for diving and snorkelling.
For culture, don't miss a trip to inland Girona or the area's many medieval villages.
Top hotels on the Costa Brava include:
For more information see Costa Brava Resort Guide
Barcelona, the Costa Maresme and Costa Barcelona

Barcelona itself is a beachside city. The main beach is Barceloneta. Naturally in the summer it can be very crowded so it makes sense to explore the wider shoreline as the locals do. It's easy to explore on the train which often runs right alongside the sea.
The coast north of Barcelona is called the Costa Maresme, and south is the Costa Barcelona. It's essentially one long developed stretch of beach that encompasses many family-friendly resort areas, some of which are sometimes marketed as being Costa Brava locations such as Santa Susanna, Sant Pol de Mar, and Calella de la Costa.
The best beach hotels in Barcelona are:
Tarragona and the Costa Dorada

The Costa Dorada (sometimes spelt 'Daurada') is the name given to the coastline of the province of Tarragona. It means 'The Golden Coast' – the beaches here are flat and sandy, and a hit with local families. The southern end is quieter, with wetlands and marshes around the Ebro river delta.
Salou, Sitges, and Cambrils are the big name resorts here.
Buzzing Sitges is known for its nightlife, promenade, and LGBT+ friendly scene. Salou (and next-door La Pineda) is an international package tourism destination with the PortAventura World theme park nearby. Salou merges into Cambrils which attracts a mainly domestic crowd.
Tarragona itself is beautiful historic port city, but also one of Spain's best coastal cities. It's a busy working port but the upper medieval town is definitely worth a visit, as are the UNESCO-listed Roman ruins.
Just inland Reus is often overlooked as a destination but it's the home of Gaudi, modernism, and of vermouth, and is within striking distance of the coast.
Top hotels include:
The Valencian Coast

The Valencia region has a little bit of everything. The landscape varied and green, and it is home to two major cities – Valencia and Alicante as well as the popular Costa Blanca. You will also find Blue Flag beaches galore and a rich cultural heritage.
Castellon and the Costa del Azahar

You might not have heard of the Costa del Azahar but it means 'The Orange Blossom Coast', named for the many citrus groves inland. Long parts of coast are rocky and quiet, dotted with working towns and ports rather than resorts.
The main resorts on the Costa del Azahar are the package tourism-dominated Benicassim (which hosts an annual music festival), and the attractive Peñíscola with its iconic medieval fortifications (pictured above) and double-sided beach. The two resorts are separated by rugged natural parkland.
Smaller resorts in the area include Oropesa del Mar, Benicarlo, and Vinaros.
Top hotels on the Costa del Azahar include:
Valencia

Valencia is one of Spain's most enjoyable cities to visit. Its recent rebirth has added modern sights like the City of Arts and Sciences to Valencia's old quarter Barrio del Carmen and its dazzling sands. There is a long beach in the northern part of the city – the main sections are Malvarrosa, Cabanyal, and Las Arenas.
Valencia has an international airport as well as ferry connections to the Balearic Islands.
Top beach hotels in Valencia include:
Alicante and the Costa Blanca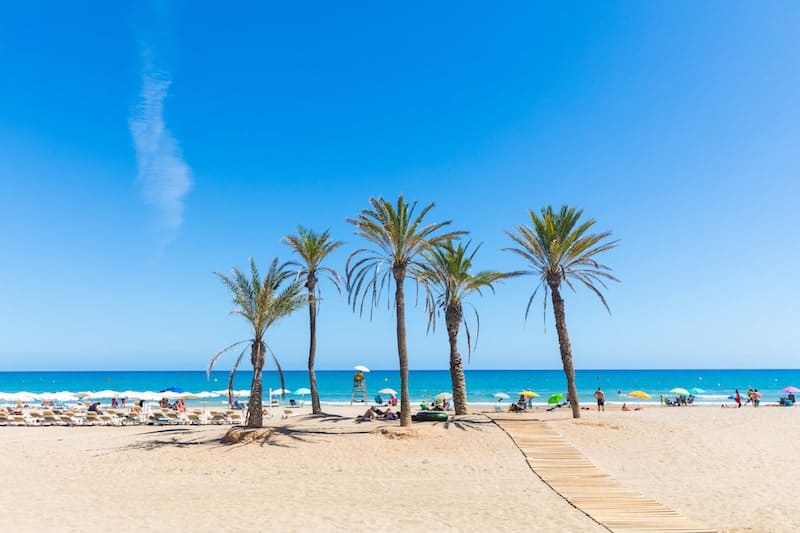 South of Valencia is one of Spain's most popular costas – the Costa Blanca.
'The White Coast' runs roughly from Gandia around the coast and past Alicante, down to Torrevieja. If you like vibrant city life and sandy beaches then the Costa Blanca is for you. This is the Florida of Spain.
The main beach resorts on the Costa Blanca are Torrevieja, and the famous/notorious Benidorm – long a prime destination for Brits. These are some of Spain's biggest package tourism destinations and their coasts are lined with high-rise apartment blocks and palms. Gibraltar-esque Calpe and Gandia are also apartment block heaven.
These are budget destinations and remain vastly popular with holidaymakers and expats, but today they might surprise you – they attract just as many domestic tourists as Brits and aren't as tacky as their reputation suggests.
The resorts are mostly tidy and clean, with plenty of good value hotels. Benidorm (pictured below) is quietly gaining a reputation for innovation in sustainability and accessibility.

Looking for something with character? Picturesque Javea hasn't lost its Spanish feel and is one of the Costa Blanca's highlights. It's surrounded by stunning coastline with lots of little coves like Portixol.
To its north is Denia, a port city where you'll find ferries to the Balearic Islands. Bypassed by most international visitors, it has a pleasant buzz and a two marinas overlooked by a hilltop castle.
Altea and Villaoyosa are both charming coastal towns. And birdwatchers should make for the pink salt flats at Santa Pola where you can see flamingos in the winter.
Alicante manages to combine all of the above into one. It has modern apartment blocks overlooking a vast sandy beach and a palm-lined esplanade, but it also has a medieval old town, a large marina, and a Moorish citadel. Don't miss a day trip to the tiny island of Tabarca.
Top beach hotels in the Costa Blanca include:
For more information see: Costa Blanca Resort Guide.
Murcia and the Costa Calida

The Costa Calida is one of Spain's lesser-known coasts and it has a low-key vibe. There are few international visitors, but it's popular with locals who enjoy the range of outdoors activities on offer – as well as its family-friendly beaches and warm climate.
At the north end of the coast is Mar Menor, a large saltwater lagoon fringed with watersports resorts and protected from the sea by the 21km La Manga spit beach. The shallow water here is perfect for young kids. Head to the Calblanque Regional Park for waves and vast empty beaches.
Coastal city Cartagena is a must for those who enjoy history. It has been a place of strategic importance since ancient times – and has the ruins to prove it. The old harbour area is atmospheric.
South of Cartagena the landscape becomes harsher and drier, the beaches less postcard-perfect. The main resorts are Puerto de Mazarron, Bolnuevo, and Aguilas.
Top hotels on the Costa Calida include:
Andalucia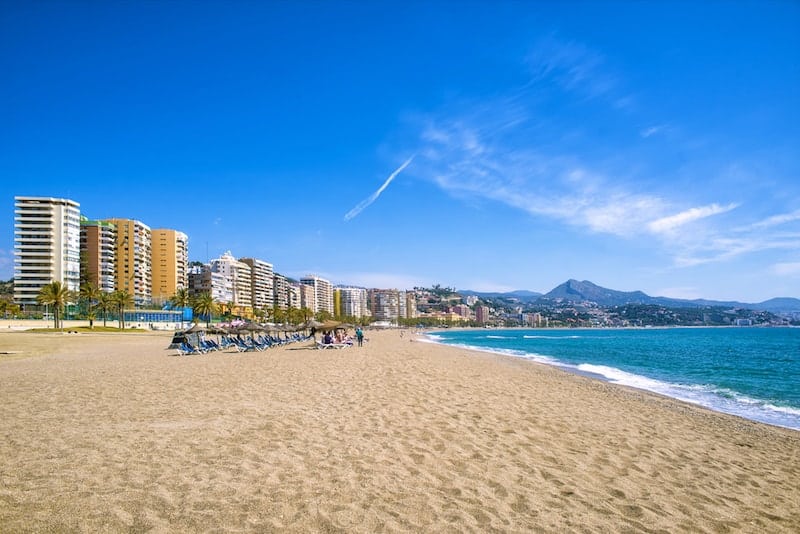 Andalucia is home to some of Spain's biggest resort areas as well as inland cultural delights like the Moorish cities and the Sherry Triangle. No wonder it's one of the most popular parts of Spain for tourism.
Despite the popularity of its beach resorts, if you're after pale sands you're after then you're better off looking at the Costa Blanca.
Almeria and the Costa Almeria

The Costa Almeria is home to vast dark sand beaches, crystal clear waters, whitewashed towns, and an unhurried way of life. It has a frontier feel and located on the southeastern corner of Spain between the Sierra Nevada mountains and the sea.
The Costa Almeria is good value and not as crowded as its neighbours, its resorts tend to consist of a low-lying sprawl rather than high rise tower blocks. Villas are springing up at a rapid rate.
The landscape is arid – it's the hottest and driest part of Spain – and you'll even find some areas of desert. The Tabernas Desert is known as Mini-Hollywood for its spaghetti western sets and is one of the main tourist attractions in the region. Beach weather lasts through November around here.
Of the main resorts, Aguadulce and Roquetas de Mar are the best for beaches. Almerimar has a large marina. Other popular resorts are Garrucha, Mojacar, San Jose, Carboneras, and La Almadraba de Monteleva.
Almeria itself is a small city with some interesting historic sites including its Moorish fortress. East of Almeria is the otherwordly Cabo de Gata Natural Park – a UNESCO Biosphere reserve. Inland there are also plenty of sprawling luxury estates with golf courses to take advantage of the climate.
Top places to stay on the Costa Almeria include:
Granada and the Costa Tropical

The Costa Tropical – named for its sub-tropical climate and beautiful scenery – remains somehow under the radar as most visitors make a beeline for the busier Costa del Sol.
The Granada region is culture-rich with a rugged and typically Mediterranean landscape, with lots of beautiful mountain villages inland.
Its coastline is much greener than the Costa Almeria and many resorts are backed by steep mountains. There's a wide variety of accommodation, including many large and well-equipped resort hotels. The beaches are mostly shingle though.
The main coastal town is Almuñecar which has an abundance of historical sites and beaches as well as an aquarium and waterpark. For buzzing marina vibes head to the port city Motril – where you'll find also find ferries to Morocco – or the smaller Marina del Este.
Smaller resorts to check out include Castell de Ferro, Calahonda, Salobrena, and La Herradura.
Top hotels include:
Malaga and the Costa del Sol

The Costa del Sol is the most developed stretch of coastline in Spain. It's home to a large number of northern European snowbird expats and retirees and has a reputation for being tacky and overbuilt.
The heaviest development is west of Malaga where you'll find Torremolinos and Benalmadena. These resorts have a reputation as seedy party towns however they have calmed down a lot since the 80s.
These days they are primarily budget family resorts aimed at the domestic market and somewhat at the sharp end of any economic fluctuations. Both resorts blend into each other but Benalmadena and the La Carihuela marina area are marginally more 'British' and better for nightlife, if that's what you're after. Just down the coast is Fuengirola which has a Spanish family vibe and lots of watersports.
The plus side? The Costa del Sol has every amenity you could ask for. If you (or your kids) are easily bored and require lots of entertainment, activities, and international food then you'll be spoilt for choice here.
There are many cultural delights inland like Ronda, whitewashed villages like Frigiliana, and the Caminito del Rey trail.
Well-known Marbella (of 'no carbs before Marbs' fame) is glamorous, cosmopolitan, and expensive. It has 25km of golden beach, a beautiful old town, and plenty of upmarket hotels, restaurants, and bars.
Quieter and more upmarket parts of the coast include the harbour town Estepona, ritzy marina Puerto Banus, and the whitewashed Nerja (pictured below) at the far eastern end which has a Costa Tropical vibe.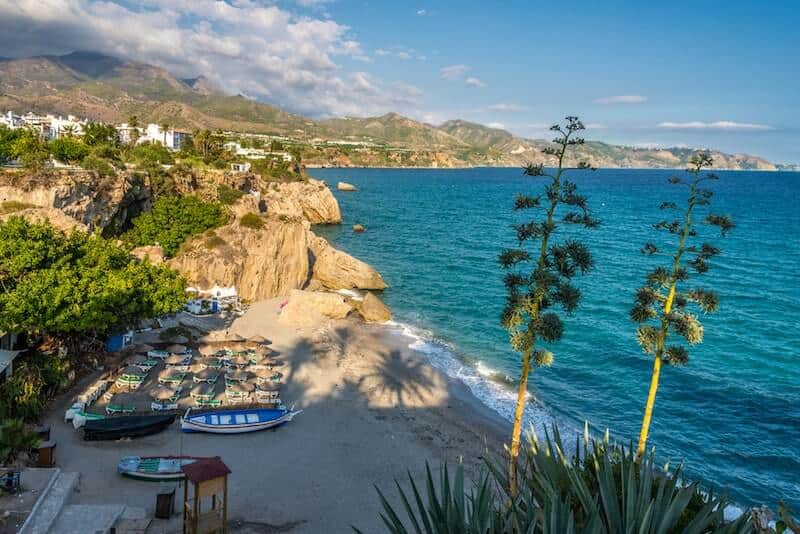 Malaga itself has been reborn as an exciting destination city. Regeneration has brought a youthful vibe to the city, as well as burgeoning art and foodie scenes. It has an atmospheric old town, two Moorish citadels, a Renaissance cathedral, the Picasso Museum, and a Roman amphitheatre. The city has few small beaches but you can also take the train along the coast to the main resorts. It's packed with appealing boutique hotels and rooftop terraces.
Top hotels on the Costa del Sol include:
For more information see: Costa del Sol Resort Guide
Gibraltar
Not Spanish but in Spain, Gibraltar and its famous Rock is technically a British Overseas Territory. It's an odd mix of old-fashioned British life (post boxes, afternoon tea, and high street stores), Spanish and North African culture, duty-free stores, modern marinas and high-rises, caves, monkeys, and naval history. Gibraltar is one of the most densely populated parts of Europe.
If you're visiting Gibraltar as part of a wider trip be aware that there are often long queues at the border, the monkeys can bite, and it's on UK time not Spanish. It has its own airport and entry rules.
The best hotels in Gibraltar include:
Cadiz and the Costa de la Luz

The coastline west of Gibraltar is known as the Costa de la Luz – the 'Coast of Light' – and it borders the Atlantic rather than the Mediterranean. It has big waves, big dunes, big sunshine, endless fortifications and bags of character, but is relatively undiscovered as a tourist destination.
It's worth noting that not only is the Atlantic coast windier than the Mediterranean, the water is also significantly cooler.
Immediately west of port town Algeciras is the surprisingly green Estrecho Natural Park which is where you'll find the lovely town Tarifa and the southernmost point in Europe. The beaches in this area are excellent (such as Bolonia – pictured above – and Zahara de los Atunes). It's hot, dusty, and windy, but there is also lots of pine forest. It's kitesurfer paradise.
Tarifa is trendy and bohemian with an appealing old quarter.
Cadiz is a historic port city and naval base with a unusual domed cathedral. It's an intriguing place if you enjoy off-the-beaten-track destinations, and is close to the Sherry Triangle.
Conil is a modern resort area for locals.
Top beach hotels on the Costa de la Luz include:
North Coast
Spain's north coast has a vastly different appeal to the south. It's green, rugged, and unspoiled – but also wet, wild, and windy.
If you don't mind the frequent rain (even in July and August) there are some stunning white sand beaches to be found, along with pristine scenery, great seafood, and authentic towns and villages.
Besides pilgrims, tourists are mainly domestic and accommodation is mostly traditional 3-star hotels and guesthouses.
Galicia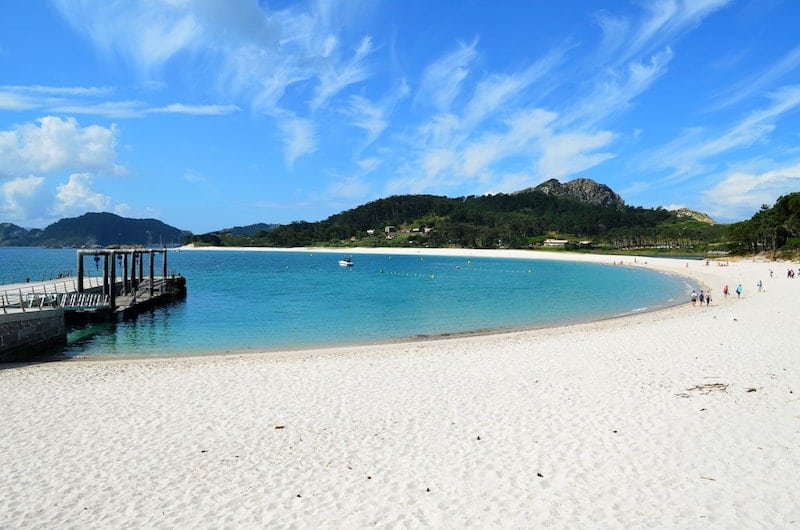 Galicia is the westernmost region in northern Spain. It has a north and a west coast, and is home to the beautiful cathedral city Santiago de Compostela – the final destination of many pilgrims walking the Camino – as well as several of the most spectacular beaches in Spain.
Port city Vigo is close to the Portuguese border and a beautiful section of coast which includes the Cies Islands with their white sand beaches, and pretty fishing villages like as O Grove.
The northwest corner of Galicia is the called the Costa da Morte – the 'Coast of Death' – for its steep dark rocks and wild waves so dangerous to sailors. Port city A Coruña is the main place to stay.
The north coast is called the Rias Altas and has many beaches with rock formations including the iconic Cathedrals beach.
Galicia's most popular beach resort in Galicia is Sanxenxo. For something smaller try Praia de Rodeira.
Top beach hotels in Galicia include:
Asturias and Cantabria

Asturias and Cantabria share much of the same appeal as Galicia but are even less crowded and more mountainous, with many natural parks and protected ecosystems.
The Costa Verde is the coastline of the Asturias region. It's known for its colourful and picturesque fishing villages like Cudillero.
On the Costa Cantabria, the beautiful historic city of Santander is a small but lively university and port city that also boasts excellent beaches. With the backdrops of the mountains of the Picos de Europa behind and the Dunas de Liencres Natural Park to the west. Santander is also the arrival point of ferries from the south coast of England.
Popular seaside resorts include Laredo, Noja, Comillas, and Santona.
Standout hotels in Asturias and Cantabria (all rural) include:
Costa Vasca

The Costa Vasca is the coastal region of the Basque Country which is well-known to international tourists thanks to its coastal cities – foodie hotspot San Sebastian and regeneration behemoth Bilbao. Consequently there's a greater choice of hotels here than the rest of the north.
The coastline is popular with surfers and other watersports – Mundaka and Ereaga are hotspots. Calmer waters can be found at family-friendly Gorliz.
Saturraran and Zarautz are beautiful. If you're just after a sandy beach to flop on then La Concha (pictured above) at San Sebastian is a good bet.
Game of Thrones fans won't want to miss the familiar fortifications at Gaztelugatxeko Doniene.
Top hotels on the Costa Vasca include:
Mallorca

The island of Mallorca – part of the Balearic island group – is one of Spain's premier tourist destinations. There are gorgeous sandy beaches and pretty coves all around the island, as well as fantastic scenery and one of Spain's most enchanting cities in Palma de Mallorca.
City sprawl extends west around the Bay of Palma and is the most developed stretch of coastline (although you will find overdevelopment all around the island).
Nightlife and entertainment is concentrated in Magaluf, there's a large and ritzy marina at nearby Portalnous. Alcudia, Pollensa, and Cala Millor are big family-friendly resorts graced with fantastic beaches.
The north of the island is mountainous and spectacular, with sleepy stone villages tucked in away in dramatic scenery – head for Soller, Deia, or Valldemossa. Beach resorts Pollensa Soller, and Alcudia both have charming old quarters up in the hills behind.
For small and scenic resorts try Canyamel, Sant Elm, or Camp de Mar.
Mallorca is home to Spain's biggest concentration of boutique and luxury hotels. Design-lovers are spoilt for choice. Prices are generally higher than on the mainland.
The best luxury hotels on Mallorca include:
For more information see: Mallorca Resort Guide
Ibiza

Ibiza is the second most popular island in the Balearic group, and is well-known for its exuberant nightlife. But this beautiful island also has endless sandy beaches and quiet bays, local character, a hint of hippiedom, and a handsome historic city.
The busiest and liveliest resorts on Ibiza are San Antonio and Playa d'En Bossa, but some of the big clubs are also located in Ibiza Town itself. There are plenty of beachfront hotels just outside the city at Figueretas and Talamanca.
For a quieter vacation, head to family favourite Portinatx, San Miguel, or Cala Vadella (pictured above). Or for castaway vibes, hop on a ferry to the smaller (and more exclusive) island Formentera.
The best hotels on Ibiza include:
For more information see: Ibiza Resort Guide
Menorca

The smallest of the main Balearic islands, Menorca really punches above its weight when it comes to incredible white sand beaches. In fact, it's one of the best places in Europe for dreamy sandy beaches.
It lacks the entertainment, activities, and nightlife options of Mallorca and Ibiza. But if straightforward relaxed beach holidays and beautiful scenery are your thing then you'll find plenty to love here. It's ideal for young families and couples needing a blissed-out break.
Menorca also on the rise as an eco-destination – the whole island is a UNESCO Biosphere rRserve and there's a trail around the island's coast.
Beach resorts are mostly purpose-built and low key – the main ones are Cala Galdana, Arenal d'en Castell, Cala en Porter, and Son Bou.
If you're after character or evening buzz head to the cities, Mahon and Ciutadella. And for unspoiled nature the wetlands area of Es Grau is a winner.
Top hotels on Menorca include:
For more information see: Menorca Resort Guide
Canary Islands

Spain's Canary Islands are another popular choice for holidaymakers. Located in the Atlantic Ocean, rather than in the Mediterranean, the archipelago is also significantly further south than the mainland. The islands are known for their year-round spring climate.
The western islands (La Gomera, La Palma, and El Hierro) are wetter and wilder – great for hiking – and the easternmost islands (Fuerteventura, Lanzarote) are hot, windy, and sandy. The two main islands in the middle – Gran Canaria and Tenerife – have a mix of everything.
Gran Canaria, Tenerife, Lanzarote, and Fuerteventura all have international airports and heavily developed beach resort areas.
Mass tourism is concentrated on the south coasts of Tenerife and Gran Canaria. The main resorts are Maspalomas, Playa del Ingles, Puerto Mogan, and Puerto Rico on Gran Canaria, and Playa de las Americas, Los Cristianos on Tenerife.
Other big package tourism destinations include Costa Teguise and Playa Blanca on Lanzarote, and Corralejo, Jandia, and Costa Caleta on Fuerteventura.

Gran Canaria and Tenerife also have cosmopolitan capitals, volcanic landscapes, varied microclimates, winelands, and beautiful traditional villages. The north east coast of Tenerife around La Laguna is particularly green and beautiful.
On Lanzarote and Fuerteventura you'll find spectacular empty beaches.
Tiny La Graciosa island is tranquil.
For surf head to Las Palmas on Gran Canaria, El Medano on Tenerife, El Cotillo and Corralejo on Fuerteventura, and Famara on Lanzarote. And
The best resort hotels in the Canary Islands includeL
For more infomation see Fuerteventura Resort Guide
Read more:
10 Most Beautiful Beaches in Spain
10 Most Beautiful Islands in Spain
Enjoyed this post? Follow us on Facebook or Twitter.
Click to save to Pinterest:

Image credits:
Sa Tuna, Costa Brava: © pkazmierczak / Adobe Stock
Costa Brava beach: © lunamarina / Adobe Stock
Menorca beach: © Roberto Zocchi / Adobe Stock
Catalonia: © lunamarina / Adobe Stock
Costa Brava: © P H O T O N I K O N / Adobe Stock
Barcelona: © Boule / Shutterstock
Tarragona: © funkyfrogstock / Adobe Stock
Valencian Coast: © lunamarina / Shutterstock
Peniscola: © May_Lana / Shutterstock
Valencia: © ilolab/ Adobe Stock
Alicante: © william87 / Shutterstock
Benidorm: © lunamarina / Shutterstock
Cartagena: © Shaun Dodds / Shutterstock
Malaga: © william87/ Adobe Stock
Almeria: © Frank/ Adobe Stock
Almunecar: © pacoparra/ Adobe Stock
Marbella: © Artur Bogacki / Shutterstock
Nerja: © milosk50 / Shutterstock
Costa de la Luz: © Juanamari Gonzalez/ Adobe Stock
Galicia: © jmubalde / Shutterstock
Santander: © saiko3p / Shutterstock
Sa Sebastian: © robcartorres/ Adobe Stock
Mallorca: © Erik / Adobe Stock
Ibiza: © pkazmierczak/ Adobe Stock
Menorca: © Paolo Gallo/ Adobe Stock
Parasol on Fuerteventura: © Neissl/ Adobe Stock
Tenerife: © Olena Tur / Shutterstock