The Mediterranean Sea is one of the most popular cruising areas in the world and is home to many awe-inspiring historic sites and port cities.
So where can you visit by ship and what can you see whilst you're there?
Here's your ultimate guide to Mediterranean ports of call, organised into Western Mediterranean and Eastern Mediterranean regions.
Western Mediterranean Cruise Ports
Ajaccio

Elegant Ajaccio is the capital of French island Corsica and one of its highlights. It's known for being the birthplace of Napoleon and has a buzzing cafe and restaurant scene focused around its old harbour area.
Ajaccio is a pleasant place to spend the day but popular shore excursions include boat trips around the coast, wine-tasting, and trips up into Corsica's spectacular mountains.
Alghero

Alghero, Sardinia's second city, will win you over with its Catalan Gothic architecture, seafood restaurants, ramparts and the long Maria Pia beach.
Shore excursions include city sightseeing tours, boat trips to Neptune's caves and the Porto Conte Natural Park, wine-tasting, and visits to the colourful towns of Bosa and Castelsardo.
Alicante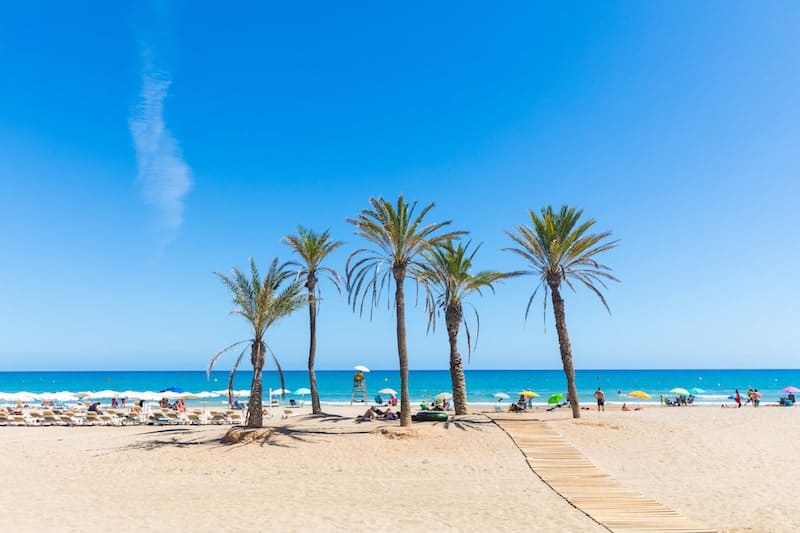 Alicante is a buzzing city on Spain's popular Costa Blanca. There's plenty to see in Alicante including palm-lined esplanades, Moorish architecture, medieval castles, and an excellent food and drink scene.
Excursions further afield will take in the best of the region including mountain villages of the Sierra de Aitana, palm groves, and the beaches of the Costa Blanca.
Almeria

Almeria is a port city on the south coast of Spain. It's relatively untouristy but there's enough to occupy you for a day here – the striking Moorish Alcazaba fortress, a cathedral and old quarter, and Zapillo beach. The surrounding coastline is stark and quiet.
The most popular shore excursion from Almeria is to the beautiful inland city of Granada and its incredible Moorish palace complex, the Alhambra (pictured above) .
Alternatives to Granada include the quirky Western film sets in Tabernas desert (there are three different locations), and the Cabo de Gata and Sierra Nevada natural parks.
Ancona
Ancona is one of the main port cities on Italy's east coast. It's in the Marche region, a pretty but lesser-visited part of Italy – perfect for getting off the beaten track.
The main attraction in the area is the splendid medieval walled hill town of Urbino, a UNESCO World Heritage site with Renaissance artwork to die for.
But Ancona itself also has a pleasant old quarter and there's some fantastic coastal scenery nearby along the Conera Riviera plus geology at the Frasassi caves.
Bastia

Bastia is maritime city on the north east coast of Corsica. It's less manicured than the other big cities in Corsica – spend the day in Bastia for seafood lunches in its old harbour quarter and ambles around its dense alleyways.
Popular shore excursions from Bastia include wine-tasting, trips around the stunning Cap Corse coastal area, and to the beaches of the Agriates desert on the north coast.
Barcelona

Barcelona is one of the most popular tourist destinations in the western Mediterranean. There's lots to see including Gaudi's famous architecture, La Rambla, and the Gothic Quarter. Food and wine tours are also popular.
The main shore excursions outside Barcelona is to the monastery of Monserrat which is located in a unique rocky landscape.
Bari

Bari is the capital of the Puglia region and one of the biggest port cities on Italy's east coast. It has an atmospheric old town with buildings hewn from the pale gold sandstone common to the area, and some fantastic food.
But there are so many beautiful places just outside Bari, you'll be spoilt for choice.
Popular excursions from Bari include Matera – home to distinctive cave houses and a filming location for the Bond film 'No Time to Die', the picturesque coastal towns Polignano a Mare and Monopoli, or trips inland to Puglia's many medieval villages.
Brindisi

Also located in Italy's Puglia region is the coastal city of Brindisi. It will easily keep you entertained for a day with its charming old harbour area, Aragonese castle, an archaeological museum, and foodie activities.
Popular excursions from Brindisi include the gorgeous baroque city of Lecce, the coastal areas of Costa Otranto and Torre Guaceta, wine-tasting, and trips to Puglia's inland medieval villages like Ostuni and Alberobello.
Cadiz

Located past Gibraltar and on Spain's short Atlantic coast, the port city of Cadiz is a popular stop for cruises entering and exiting the Mediterranean.
Cadiz is an underrated city with an ancient past – it's been an important naval base since the Roman times. It has over 100 watchtowers, several beaches, and an iconic domed cathedral.
Possible shore excursions from Cadiz include Seville, sherry tours to Jerez, the jaw-dropping clifftop village of Ronda, Gibraltar, Andalucia's white villages, Bolonia dunes, and the laid-back kitesurfing haven Tarifa.
Cagliari

Cagliari, Sardinia's amiable capital, is the gateway to the south of the island. This bustling city has a medieval hilltop quarter and palm-lined promenade, and an archaeological museum.
Beach lovers can hit the sand at Poetto, the city's main beach area, or head further afield to some of area's many excellent sandy beaches.
Shore excursions in Cagliari include walking tours of the city, bus and jeep tours of the surrounding coast and mountains, wine-tasting, and a visit to the Roman ruins at Nora.
Carrara (for Florence/Pisa)

Carrara is a small coastal city in the west of Italy, sometimes used as an alternative to Livorno for trips to Florence and Pisa.
Marina di Carrara itself is a small seaside town with many beach clubs, and there are free buses into Carrara town which is known for its world-class marble (tours are available), but most prefer to take advantage of shore excursions to Tuscany or the Cinque Terre.
Cartagena

The Spanish port city of Cartagena is often overlooked as a tourist destination despite a wealth of historical treasures – best of all its Roman theatre which overlooks the harbour.
Archaeology buffs will be happy here- it has several museums tucked away in its clean and elegant modernist streets.
The most common shore excursions from Cartagena are the tours of the Phoenician and Roman ruins in the city, food and wine tours, plus a trip to the inland city Murcia known for its baroque architecture.
Civitavecchia (for Rome)

Civitavecchia is a major port and is the main port of call for visiting Rome. The town itself is a coastal resort and an old Roman port that still has some of its ancient fortifications and harbour. It's one of the busiest cruise hubs in the Mediterranean and has one of its largest cruise terminals.
Most people visiting Civitavecchia are going to make a beeline straight for Rome.
The Eternal City's key attractions include the Colosseum, the Vatican City, the ancient Roman Forum, Imperial Forum and Palatine Hill, the Spanish Steps, the Trevi Fountain, and the elegant Piazza Navona. Phew! The shopping is also world-class.
You can take the train directly to Rome. Shore excursions from Civitavecchia will take you on themed tours of Rome, to the villa gardens at nearby Tivoli, or to the ancient site at Ostia Antica.
Genoa

Genoa is the main city in Italy's Liguria region and sits slap bang in the middle of the Italian Riviera, therefore many visitors disembarking at Genoa will skip the city head straight for one of the iconic coastal towns in the region such as San Remo, Portofino, or the Cinque Terre.
But Genoa itself is an underrated destination with a wealth of treasures dating from its time as a naval superpower, including opulent palaces, art galleries, and the beautiful statues at the Staglieno cemetery. Genoa has one of Europe's largest old town areas chock full of colourful buildings and narrow alleyways.
There are many food and wine-focused shore excursions from Genoa, as well as trips to various towns and villages of the Italian Riviera, and further afield to Milan and Piedmont.
La Goulette

La Goulette is the main cruise port in Tunisia and is located just outside capital city Tunis, a short drive inland. The city is home to the renowned Bardo Museum and a wonderful medina quarter.
From La Goulette you can take a shore excursion to the ancient ruins at Carthage and the beautiful white and blue village of Sidi Bou Said (pictured above), both a short distance to the north of the port.
La Spezia

La Spezia is not a well-known city in Italy but it's one of the main docking ports for visiting the iconic villages of the Cinque Terre.
The city itself has a long maritime history and still has a large naval presence today. There's plenty to see here – both old and new – including a variety of fantastic museums covering art, archaeology, and naval history.
Those heading to the Cinque Terre can travel by boat, train, or excursion. Nearby Portovenere and Lerici are quieter alternatives. There are also shore excursions from La Spezia to Florence, Pisa, Lucca, and the Tuscan countryside.
Livorno

Livorno is one of the busiest cruise ports in Italy and is the main gateway to Florence and the region of Tuscany. It takes just over an hour to reach Florence from Livorno. Those who stay in port will find an old Venetian quarter, a canal, a large food market, and several museums.
Common shore excursions include themed tours of Florence, as well as other Tuscan cities such as Pisa, Lucca, Siena, San Gimignano, and Assisi. Vineyard tours are also popular. Livorno is also well connected by train.
Mahon

Mahon (or Mao) is the capital of Menorca, one of Spain's Balearic islands. It's located in one of the world's largest natural harbour so unsurprisingly Mahon has a rich naval heritage as well as some quirky features from its days under British occupation.
Mahon has a laid-back vibe with lots of pretty outdoors cafes and boutique shops to enjoy.
Shore excursions from Mahon take in highlights of Menorca such as military history at Es Castell and baroque character at Ciutadella, as well as prehistoric monoliths, charming fishing villages, and some of the best sandy beaches in Europe.
Malaga

Malaga is one of the main cities on Spain's popular Costa del Sol. It has all the hallmarks of an Andalucian city – a Moorish fort, a Roman theatre, a palm-fringed promenade, a castle, a cathedral, flamenco, tapas – but recent regeneration has recast it as a city of art thanks to the Pablo Picasso museum and Centre Pompidou.
Shore excursions from Malaga will show you the best of city, or whisk you further afield to visit popular stops along the coast such as Marbella, Andalucia's white villages, or to Granada's Alhambra.
Marseille

France's lively second city is a large harbour city and a gateway to the French Riviera, which stretches from Marseille all the way to Italy.
Marseille is a typical port city with a strong local character and a gritty contemporary edge. Key attractions include the Notre-Dame-de-la-Garde, the historic Vieux Port area, the modern waterfront Museum of Civilizations of Europe (MuCEM), and its small fortified islands. This is also the home of bouillabaisse, the famously delicious (and pricy) fish stew.
Shore excursions from Marseille focus on the French Riviera, as well villages of Provence, wine-tasting, and the epic sea cliffs of the Calanques Natural Park.
Messina

Messina is a port city in Sicily and the main stop for visiting the east side of the island. Messina itself suffered heavy bomb and earthquake damage in the 20th century and there's not much to tempt the average tourist to stay in town beyond a few Caravaggio paintings in its regional museum, especially given the other glories on offer.
Common shore excursions from Messina include Mount Etna, wine-tasting, glamorous seaside resort Taormina, hilltop Castelmola, and sightseeing tours in the city of Catania. It's also possible to nip over to mainland city Reggio Calabria on the ferry.
Monaco

The Principality of Monaco is a small independent city state on the French Riviera and is a fascinating and unique place to spend a day.
It's a tax haven attracting the rich and the famous and the royal, known for its luxury facilities and the Monaco Grand Prix which takes place on its streets. Monte Carlo is the main resort area in Monaco and is home to the famous casino. It's a fascinating and unique place to spend a day.
Monaco is easy to explore by yourself, but sightseeing, art, and food/wine-focused shore excursions are available, as well as sports car experiences. Expect plenty of high end shopping and dining.
If Monaco your only stop along this part of the coast then it's also possible to take shore excursions around the French Riviera.
Naples

Naples is one of the biggest port cities in Europe and a popular cruise stop thanks to the wealth of attractions in the wider Bay of Naples – namely Mount Vesuvius, ancient sites Pompeii and Herculaneum, and the Amalfi Coast.
Naples has a different appeal to most Italian cities. It's large and dense, with intriguing historic sights spread across the city. It's also the spiritual home of pizza. Some will enjoy its slightly gritty offbeat appeal, others will prefer to spend their time elsewhere.
Popular shore excursions from Naples include city tours, visits to the volcanic crater at Vesuvius – sometimes combined with wine-tasting and/or the archaeological sites, Sorrento and the villages of the Amalfi Coast, the royal palace of Caserta, and the chic islands of Capri and Ischia. Food tours are also a treat in this area.
Nice

The city of Nice is a classic seaside destination on the French Riviera known for its Italianate feel and mouthwatering Mediterranean food.
Key attractions include its palm-lined Promenade des Anglais, the 7km pebble beach, its colourful old quarter Vieux Nice, the famous flower market, and increasingly its blockbuster art galleries (including the Musee Matisse and MAMAC).
Small ships can dock in Nice itself, but it's also a common shore excursion from other ports of call along the French Riviera.
Nice is a pleasant place to spend a day under your own steam but popular shore excursions take in the beautiful hilltop villages Eze, wine-tasting, perfumery visits, Monaco, and bus tours of the French Riviera or Provence.
Palermo

Palermo is the capital of Sicily and the main port on its western side. Often overlooked by visitors to Europe, it's one of Italy's most atmospheric and underrated cities. It boasts a huge array of historic attractions including its unique UNESCO World Heritage-listed Arab-Norman buildings. It also has one of the largest old-town areas in Europe.
There's plenty to see and do in Palermo and it's well-worth taking a sightseeing tour of the city to make the most of its history or food.
Outside the city, typical Palermo shore excursions visit the hilltop village Erice, ancient ruins on the south coast, or the medieval seaside village Cefalu. Alternatively you can visit one of Sicily's best beaches at nearby Mondello or the Zingaro Nature Reserve.
Palma de Mallorca

Palma de Mallorca is the capital of the Spanish island Mallorca and one of the main cruise hubs in the Balearic Islands. It has two cruise terminals which may require a shuttle or taxi into the city.
Palma is vibrant and entertaining destination with tapas and wine bars tucked away down atmospheric backstreets. There's a promenade which runs right around the Bay of Palma and encompasses several beaches and marina. Don't miss the gothic Le Seu cathedral and contemporary art at Es Baulard.
Shore excursions from Palma de Mallorca include city sightseeing, trips around island's the beautiful coastline, Soller and the mountains and stone villages of the Serra de Tramuntana, and the Caves of Drach.
Portofino

The beautiful village of Portofino is one of the most exclusive destinations on the Italian Riviera. This scenic harbour village is offered as a tender port by some cruises.
Ravenna
Ravenna is a city in on Italy's west coast famed for its art – and in particular its 5th and 6th century mosaics. It was briefly the capital of the Western Roman Empire and is home to an incredible 8 UNESCO World Heritage sites.
Ships dock at Marina di Ravenna, a resort town along the Adriatic Riviera which is a 20 minute drive from the city.
Salerno

An alternative port of call for the Amalfi Coast is Salerno, an unpretentious port city which bookends the eastern end of the popular region. If you find Sorrento and Amalfi too busy or overpriced then Salerno might be more up your street.
Shore excursions from Salerno offer numerous routes around the Amalfi Coast or head south to the impressive Ancient Greek ruins at Paestum.
Savona

You might not have heard of Savona but it's a coastal city on the Italian Riviera and has a large modern cruise terminal. It's located to the west of Genoa, in the middle of the Riviera di Ponente which is the name given to the western section of the Riviera. It's a lush and green section of coast with plenty of colourful towns.
No need to bypass Savona if you'd rather stay in port – it has plenty to offer if you're just looking to soak up the atmosphere and architecture of the region.
From Savona you can hop on the coastal train to the ritzy San Remo and Monaco, known for their casinos and high life, or beautiful seaside villages like Alassio (pictured above).
Popular shore excursions from Savona include Genoa, Turin, and highlights of the Riviera such as Santa Margherita Ligure and Portofino.
Sete

Sète is a lesser-known port city in France, located on the southeast stretch of the Mediterranean coast. Popular with French tourists, it's known for its artistic connections, picturesque canals (the Canal du Midi meets the sea here), and excellent food. The beaches in the area aren't bad either. If you visit in August you might catch the unique water jousting tournament!
Possible shore excursions from Sète visit nearby cities Montpellier or Beziers, Nimes, and the stunning medieval walled city Carcassonne.
St Tropez

St Tropez is one of the most recognisable names of the French Riviera and is a tender port offered by some cruises. This glamorous town has a hilltop citadel, an old quarter full of boutiques, galleries, and bars, and fantastic sandy beaches (some are clothing-optional).
Taranto

Taranto is a small port city on the south coast of Puglia in Italy – the 'heel' of Italy's boot. It's not the common tourist destination in the area although it does have an intriguing fortified old town, baroque churches, and an Aragonese castle – perfect for those who enjoy local character.
From Taranto you can take a shore excursion to Gallipoli (pictured above), amazing sandy beaches, or head inland to some of Italy's most beautiful medieval villages, including Alberobello, Ostuni, and Matera.
Tarragona
Tarragona is a small beach city on Spain's Costa Dorada known for its medieval old town, ancient ruins, and sandy beaches. Those who stay in port can expect fabulous architecture from many periods including Gothic, Romanesque, and Moorish, and incredible UNESCO World Heritage-listed Roman archaeological sites.
Shore excursions from Tarragona focus on the area's archaeological sites, as well as Gaudi's architecture in nearby Reus and Barcelona, the 12th century monastery at Poblet, and various beach towns along the coast.
Trieste

Trieste is Italy's easternmost city and often overlooked by visitors due to its proximity to Venice. Close to the Slovenian border, Trieste was formerly part of the Austrian Empire and looks more like Vienna than an Italy city. The main attraction is the elegant Canale Grande harbour area, surrounded by cafes and bar – and some of the best coffee in Italy.
Popular shore excursions from Trieste include trips to Slovenia to visit Ljubljana and Lake Bled, wine-tasting in the nearby Prosecco region, and bus tours to explore the area's many castles and caves.
Toulon
Toulon is a port city on the French Riviera, located in-between Marseille and St Tropez. Thanks to its large natural harbour it's long been an important maritime city and is home to a naval base and fishing fleet.
It's often overlooked by visitors who tend to fan out to the big name destinations along the coast, but it has a pretty old quarter, a handful of museum, and one of the best food markets in the area. Shuttles are available from the cruise terminal just outside the city. You can also hop on a cable car up to Mount Faron for fantastic views.
Shore excursions from Toulon visit various towns and villages of the Cote d'Azur and Provence.
Valencia

Spain's third city, Valencia, is one of its most enjoyable coastal cities to visit. These days it's also known for its incredible modern architecture such as the iconic City of Arts and Sciences, but it also has a beautiful Gothic old town and long sandy beaches.
Most shore excursions in Valencia are city tours of varying descriptions, as well as wine-tasting, jeep safaris, and hiking outside the city. Valencia is the home of paella – don't miss a taste of the national dish.
Valletta

The gateway to the archipelago state Malta is its capital city Valletta, home to one of the biggest natural harbours and best preserved medieval old towns in Europe.
Malta is a history-lover's dream, densely packed with incredible historic sites spanning thousands of years and many empires. Valletta itself is a beautiful and atmospheric place to spend time – it's not referred to as an open-air museum for nothing.
Landmarks include the St John's Co-Cathedral, the the Grandmaster's Palace, and Upper Barakka Gardens. You can also easily explore the old area known as the Three Cities.
As well as sightseeing tours of the city, you can also take shore excursions from Valletta around the island by bus or boat, to enchanting destinations like the medieval cities Mdina and Rabat or coastal highlights like the Blue Grotto and pretty fishing village Marsaxlokk.
Venice

Venice needs no introduction. Built on hundreds of islands connected by bridges, it's no wonder this unique Italian city is one of the most popular tourist destinations in Europe. It's also one of the biggest cruise hubs – many routes start or end at Venice.
Most shore excursions in Venice focus on the city itself – exploring on foot or by boat, taking in the big sights such as St Mark's Square and the Grand Canal, or the islands or Murano and Burano. It's also possible to visit nearby Verona or Padua.
It does suffer from over-tourism though, especially in the summer months, so it's well worth getting away from crowded sports and supporting local businesses as you explore.
Villefranche-sur-Mer
Villefranche is a small seaside town just 5km from the city of Nice. It's a popular tender port along the French Riviera as large ships can anchor in its vast scenic bay.
It's worth sticking around to enjoy this relaxed town and its nearby upmarket beaches and resort area – Beaulieu-sur-Mer and Saint-John-Cap-Ferrat.
Alternatively, shore excursions from Villefranche visit Nice, Antibes, Monaco, as well as smaller villages of French Riviera.
Eastern Mediterranean Cruise Ports
Alanya

Turkey is increasing in popularity as a cruise destination and has a number of compelling coastal cities including amiable Alanya. It has a hilltop Seljuk fortress overlooking a vast promenade-lined beach and modern city. It's good value and the food is excellent.
Available shore excursions from Alanya include boat trips around the coast, bus tours to nearby Manavgat waterfalls, and the impressive ancient ruins at Side, Aspendos and Perge.
Alexandria
If you want to visit Egpyt then look out for cruises which call at Alexandria which is located where the River Nile meets the Mediterranean. It's large port city with a modern cruise terminal a few kilometres outside the city.
Much of Alexandria's ancient marvels haven't survived – including its famous library – but there are some fantastic museums as well as the modern Biblioteca Alexandrina. Local life converges on the Corniche, an extensive waterfront promenade.
The most popular shore excursion from Alexandria is a visit to Cairo and the Pyramids of Giza. You can also take tours of Alexandria itself as well as smaller historic sites in the area.
Antalya

Antalya is a large seaside city on Turkey's south coast, and one of the country's most popular resort areas. There's plenty to see in Antalya itself, which has an atmospheric old Ottoman quarter called Kaleici. The city is perched on limestone cliffs surrounding the old harbour. Just outside the city the Duden Waterfalls cascade to the sea.
The main highlights are outside the city though. Shore excursions from Antalya visit the numerous incredible ancient ruins in the area, notably those at Aspendos, Termessos and Perge, or the sunken city at Kekova. Some tours will also take in Antalya's Archaeology Museum. You can admire the scenery at Manavgat waterfalls or take part in numerous adventure activities.
Ashdod (for Jerusalem)
Visitors to the Holy Land are likely to call at Ashdod, the main cruise port in Israel and 'gateway to Jerusalem'. Ashdod is a large modern port city, but most visitors will skip Ashdod for one of the country's many historical treasures.
A wide selection of shore excursions are on offer from Ashdod. It's only a 30 minute drive up the coast to Tel Aviv and 1 hour inland to Jerusalem, or you can hop on a tour to Bethlehem, Nazareth, or the Dead Sea.
Athens

Athens is known not just as the capital of Greece but as the home of democracy and western civilisation. The main tourist attraction is the evocative hilltop Acropolis, home to the Parthenon. But there are more ancient sites in Athens than you can see in a day. The Acropolis Museum is at the foot of the hill, and the Ancient Agora is also worth a visit.
Not into history? No worries. The Plaka district makes for a pleasant wander, whilst the rest of Athens has a modern and creative vibe.
Ferries dock at nearby Pireaus port – it's an easy metro ride into the city. There are many option for tours within the city.
Popular shore excursions from Athens include the Temple of Poseidon at Sounio, the Corinth Canal, and blockbuster ancient sites Mycenae, Epidaurus, and Delphi. There are also several hop-on hop-off bus routes.
Bodrum

Bodrum is a popular resort city on Turkey's southwest coast which is known for its whitewashed Aegean architecture and upmarket shopping and nightlife.
It's arguably the prettiest of Turkey's coastal cities, built around twin bays with a crusader castle overlooking its harbours. It's a pleasant place to simply wander and there are plenty of beach clubs too.
Most shore excursions from Bodrum focus on the city plus exploring the immediate area by jeep or boat. It's the spiritual home of the 'blue cruise', a relaxed sail around the area's stunning coastal scenery on board traditional boats called gulets.
Chania

Chania is one of the main cities on the Greek island of Crete and is also one of the most beautiful cities in Greece. It was once part of the Venetian and Ottoman empires and plenty of architecture remains from both of these periods, notably around its harbour.
It's located on Crete's northwest coast within easy reach of some of its best sights including the stunning beaches at Balos and Elafonisi.
Common shore excursions from Chania include city tours, beach trips, sea activities, jeep safaris, wine-tasting, and monastery visits in the hills. If Chania is your only stop on Crete you might also wish to visit the ancient ruins at Knossos.
Corfu

The Greek island of Corfu is one of its most green and most beautiful, and is a popular stop with cruise ships sailing the Adriatic.
If you would prefer to stay in port there's plenty to entertain you in atmospheric Corfu Town which has a Venetian old quarter and several forts.
Shore excursions in Corfu will take you around the island by bus to heritage sites like Achilleion Palace and the ruins at Palaiopolis, or to beauty spots around the around.
Dubrovnik

Dubrovnik is Croatia's most well-known and popular tourist destination thanks to its incredible UNESCO World Heritage-listed old city and Game of Thrones filming locations. Cruise ships dock in the new port at Gruz – it's easy to take a shuttle or bus to the old town.
The walled old quarter suffered heavy damage in the 1990s conflict but has been immaculately restored and is a joy to explore. You can walk the city walls for fantastic views, or make a beeline for the cable car.
Been to Dubrovnik before? It's easy to explore nearby Cavtat or the tiny island of Lokrum under your own steam.
Popular shore excursions from Dubrovnik include city and GoT tours, food and wine tours of the Peljesac Peninsula, coastal tours, sea kayaking, and day cruises to the unspoilt Elafiti islands.
Hydra

Hydra is a small Greek island not far from Athens which is sometimes offered as a tender port of call by smaller ships. It's famous for its pretty harbour, natural beauty, donkeys and Leonard Cohen connection.
It's a small island with only one town and no roads (as vehicles are banned), so you won't need an excursion to explore. Perfect for soaking up the laid-back way of life. There are also some lovely hikes along donkey trails.
Heraklion (for Knossos)

Heraklion is the capital of Greek island Crete and is the closest port to the incredible Minoan site at Knossos, one of the best ancient sites in Greece and a must for archaeology fans.
The city of Heraklion suffered heavy bomb damage in WWII and doesn't have the same aesthetic appeal as neighbouring Chania or Rethymnon, but it does have several good museums and a lively buzz.
Popular shore excursions from Heraklion include visits the the scenic coastal towns Agios Nikolaos and Elounda, Spinalonga island, jeep safaris, wine tasting, the hippie beach at Matala, Rethymnon, and of course Knossos. To make the most of Knossos it's worth visiting the accompanying Archaeological Museum in Heraklion.
Haifa
Haifa is a coastal city in the north of Israel located at the foot of Mount Carmel. For those who wish to stay in port, Haifa's key attraction is the cascading terraced gardens of Baha'i. There's also a cable car up the hills for amazing panoramas and some great sandy beaches in the area.
Haifa has a large modern cruise terminal and offers a good selection of excursions around the country. It's the main port of call for visiting Tel Aviv, but you can also take trips to Jerusalem, Nazareth and the Sea of Galilee, and Bethlehem.
Hvar

Hvar is the name of a beautiful Croatian island known for its high-end nightlife, herb-flecked hills, and well-preserved medieval towns. It's sometimes offered as a tender port.
Hvar Town is a small but enchanting place to spend a day, filled with boutiques and cafes. Shore excursions on Hvar explore the island by foot, bus, or sea kayak.
Istanbul

Istanbul is the capital of Turkey and the eastern gateway to the Mediterranean from the Black Sea. It's a tourism heavyweight having been the seat of power in the Byzantine and Ottoman empires.
There's an abundance of historic sites to visit including the Agia Sofia and Blue Mosque, Topkapi Palace, and the Grand Bazaar.
There's a tram from the cruise terminal to the old city area. Shore excursions in Istanbul focus on city tours. Boat trips up the Bosphorus and to the Princes Islands are also available.
Izmir

Izmir is a port city on Turkey's west coast. Once known as Smyrna – of the great cities of the Mediterranean – sadly most of its historic buildings were destroyed in the Great Fire in 1922.
Izmir today is a large modern city, not really a major tourist destination but it does have an extensive waterfront zone, a bazaar, and some Roman ruins.
From Izmir you can take a shore excursion to the ancient sites at Ephesus, Miletus, and Didyma, or to the famous hot springs and white terraces at Pamukkale. Boat trips around the coast are also easily arranged.
Katakolon (for Olympia)
Katakolon is a popular port of call for ships visiting Greece. It's the main stop for visiting the ancient site of Olympia, spiritual home of the Olympic Games.
Katakolon itself is a coastal resort town with good tourist infrastructure and some decent beaches and tavernas. You can visit Olympia by bus, taxi, or train. As well as Olympia, shore excursions from Katakolon will also take you wine-tasting or to traditional villages in the area.
Kefalonia

Kefalonia is a large Greek Island off the west coast of the mainland, in the Ionian Sea.
Boats dock outside capital Argostoli. Earthquake damage means Argostoli is largely a modern and functional town today, though there are some pleasant walks as well as the beach resort area Lassi.
Shore excursions on Kefalonia will whisk you around the highlights of the island such as delightful Venetian villages Fiskardo and Assos, spectacular beaches like Myrtos, and the incredible blue caves of Melissani. It's also possible to take a tour to neighbouring islands Ithaca, Zakynthos, or Lefkada.
Koper (Slovenia)

Not many people associate Slovenia with cruises, but this photogenic Central European country does have a short section of coastline and a cruise terminal at Koper.
Koper is a historic coastal town with a Venetian old quarter which is walking distance from the docks.
Shore excursions from Koper can allow you to visit the nearby Italian city Trieste as well as the inland highlights of Slovenia such as the famous Lake Bled (pictured above) and capital Ljubljana. It's possible to explore the Slovenian coast by bus.
Kotor

The walled city of Kotor in Montenegro has exploded in popularity over the past few decades thanks to its photogenic setting in the Bay of Kotor, surrounded by vast mountains.
Kotor is not actually on the coast, but an inlet called a ria created by rising sea levels. Cruise ships are able to dock right outside the gates to the UNESCO World Heritage-listed Kotor Old Town. It's worth climbing up
Shore excursions in Kotor will show you the old town, or take you to several other points of interest around the bay such as Perast. It's also possible to reach other places on the Montenegrin coast such as Budva and Sveti Stefan.
Kusadasi (for Ephesus)

Kusadasi is a large port city on the Turkey's Aegean coast and is also one of its biggest cruise ship destinations. It's the main port of call for visiting the epic ruins at Ephesus (pictured above) which are a short drive away.
The city itself is buzzing and modern and an excellent place to hit the beach – there are resort areas along the coast in either direction. In town, you can visit a hammam, shop in the bazaar, stroll along the promenade, and visit the fortified Pigeon Island.
Popular shore excursions from Kusadasi include Ephesus and charming nearby town Selcuk, the ancient sites at Aphrodisias, Miletus, and Didyma, or the beautiful traditional village Sirince.
Limassol

Limassol is the principal cruise port on Cyprus as well as one of its popular beach resort areas. Visitors will enjoy its laid-back vacation vibe, crusader castle, and pretty old quarter which is a short bus ride or long walk from the cruise terminal.
Common shore excursions from Limassol include traditional villages in the Troodos mountains, wine-tasting, and the ancient city of Kourion.
Mykonos

Mykonos is one of the most popular tourist destinations in Greece. This Cycladic island is famous for its pretty whitewashed old town and cosmopolitan nightlife.
Cruises dock in the new port, a bus or boat ride away from lively Mykonos Chora with its windmills and the colourful woodwork of its Little Venice area. Chora's narrow streets are filled to the brim with boutique, restaurants, and upmarket bars.
The most popular shore excursion is a visit to nearby uninhabited island Delos, home to evocative ancient ruins. It's also easy to take a bus or boat to one of the island's fabulous beaches. Island tours and wine-tasting are also available.
Rhodes

The Greek island of Rhodes is one of the main hubs in the eastern Aegean and a classic destination for visitors to Greece. The big name attraction here is the UNESCO-listed medieval city and its imposing crusader Palace of the Grand Masters. It's one of the largest and best-preserved old towns in Europe.
Rhodes Old Town is walkable from the dock for those with good fitness.
Shore excursions on offer on Rhodes include city walking tours, boat trips to picturesque bays, day trips to neighbouring Symi island, and island tours by bus or jeep. Don't miss the beautiful beach village Lindos with its hilltop acropolis.
Rijeka

The port city of Rijeka is one of Croatia's lesser-known destinations, although that might be about to change as it's been named a European Capital of Culture. Located on the northern end of Croatia's coastline, it's a gateway to the Kvarner Gulf and Istrian Peninsula.
The city itself has a large student population and will appeal most to fans of alternative places.
There are many shore excursions available from Rijeka including visits to nearby spa town Opatija, the island of Krk, food tours to Istria, or you can head inland to Zagreb or the waterfalls at Plitvice.
Rovinj

Located on the west coast of Croatia's Istrian Peninsula, Rovinj is surely one of the most beautiful coastal towns in the Mediterranean. Once a sleepy fishing town, its colourful waterfront houses, small islands, and towering steeple attract plenty of visitors these days. There are lots of small islands offshore
Shore excursions from Rovinj include walking tours of the town, a trip to the Roman amphitheatre at nearby Pula, coastal activities, and visits into the Istrian countryside – known as 'Croatia's Tuscany' for its rolling hills and excellent food.
Santorini

The Greek island of Santorini is one of the Mediterranean's most iconic sights and is a popular tender port in Greece. The unique villages of the caldera (volcano lip) such as Fira and Oia are the star attraction here, with their famous blue-domed churches and whitewashed cave houses.
Tenders land at the new port which is a bus ride from the caldera. It's easy to explore the caldera villages on your own.
Shore excursions on Santorini include boat trips to the volcano crater, visits to dramatic beaches, the archaeological site at Akrotiri, and the island's numerous (and fantastic) vineyards.
Sarande (for Albania)

If you fancy visiting somewhere a bit different, the Albanian resort city Sarande (or Saranda) might do the trick. This friendly city is located directly opposite Corfu and is the most established tourist destination in the country. Long visited by daytrippers from Greece, it's now increasingly offered as a tender port by cruise ships.
The city is a mix of old and new although it lacks blockbuster sights. There's plenty to see in the surrounding area though.
Common shore excursions include the dazzling Blue Eye, Lekursi Castle, scenic coastal spot Ksamil (pictured above), and the UNESCO sites at Butrint, Berat and Gjirokaster.
Sibenik

Sibenik is a historic coastal city in Croatia, somewhat off the mainstream tourist radar but none the worse for it. You could easily lose yourself in its elegant alleys. Its has the same red tiled rooftops and stone fortifications as Dubrovnik, only less crowds. The waterfront was used as a filming location for Braavos in Game of Thrones.
It's also perfectly positioned for exploring the mainland or islands. From Sibenik it's possible to take shore excursions to Zadar, Split, Trogir, Primosten, and the waterfalls at Krk National Park and Plitvice Lakes, the Kornati Islands, and even further afield to Mostar.
Split

Split is Croatia's liveliest coastal city and an enduring tourist destination thanks to its handsome architecture and intriguing ancient remains. Namely, the UNESCO World Heritage site Diocletian's Palace – an ancient Roman palace which is integrated with the city's architecture.
Split is also a major ferry hub for the Croatian islands and has a pleasant palm-lined harbourfront, a vibrant nightlife, and lots of small coves and beaches.
Popular shore excursions in Split include city sightseeing tours, trips to nearby Trogir or Hvar, the ancient ruins at Salona, boat trips around the coast, and the Krka waterfalls.
Thessaloniki
Thessaloniki is Greece's second city and the largest in the north of the country. It has been an important city throughout history but suffered heavy damage in the Great Fire of 1917 so much of the centre is modern. It's small and friendly and home to some of the best food in Greece.
Key attractions include the Archaeological Museum, the Jewish Museum, the White Tower, the Arch of Galerius, the pretty historic quarter Ladadika, and an extensive waterfront.
Available shore excursions from Thessaloniki include walking tours of the city, boat trips around Halkidiki, the ancient ruins at Philippi, and day trips to the incredible clifftop monasteries at Meteora.
Trogir

Trogir is beautiful coastal town in Croatia not far from Split, small but densely packed with history and art. It has a UNESCO-listed medieval old town on an island which is connected to the mainland with bridges.
Trogir is a pleasant place to spend a day but you can also take a shore excursion to Split, the waterfalls at Krka, or a number of islands including Vis, Solta and Hvar.
Zadar

Located in the centre of Croatia's coastline, the city of Zadar but has come into its own recently as an alternative to Split and Dubrovnik. It has a youthful vibe, an old town with Roman and Venetian remains, plus several great museums and art installations – don't miss the city's famous sea organ, unique chambers which play notes when the water flows.
Shore excursions from Zadar include city tours, Krka or Plitvice waterfalls, the Kornati Islands, Pag, and the scenic islet of Nin.
Zakynthos

Zakynthos is one of the premier tourist destinations in Greece's Ionian coast and its appeal can be summarised in one word: beaches. Northern Europeans flock to Zakynthos for the island's golden shores. But the most famous of them all is spectacular Navagio, otherwise known as Shipwreck Bay.
Tenders land in Zakynthos Town, a harbour town and the island's capital. Zakynthos is blessed with incredible scenery so most visitors don't linger in town – there are a few small attractions but earthquake damage over the years has destroyed most of the original architecture.
The most popular shore excursion on Zakynthos is a visit to Shipwreck Bay plus the Blue Caves by boat. Several alternative boat trips are also available, as well as bus tours to traditional villages and vineyards.
To read about Mediterranean cruise ports in more detail I recommend checking out Rick Steves Mediterranean Cruise Ports:
Read more:
10 Most Beautiful Mediterranean Cities
10 Most Beautiful Beaches in the Mediterranean
10 Most Beautiful Islands in the Mediterranean
15 Beautiful Small Mediterranean Islands
10 Most Romantic Mediterranean Islands
10 Best Mediterranean Islands for Foodies
10 Best Mediterranean Islands for History & Culture
Found this post useful? Click to save to Pinterest:

Image credits:
Rovinj waterfront: © Marcin Krzyzak / Shutterstock
Ajaccio: © Evannovostro / Shutterstock
Alghero: © Valery Rokhin / Adobe Stock
Alicante: © william87 / Adobe Stock
Alhambra: © Madrugada Verde / Shutterstock
Bastia: © fottoo / Adobe Stock
Barcelona: © Mapics / Shutterstock
Bari: © MZaitsev / Adobe Stock
Brindisi: © eunikas / Adobe Stock
Cadiz: © Fabio Peixoto / Shutterstock
Cagliari: © Roman Babakin / Shutterstock
Florence: © Olga Gavrilova / Shutterstock
Cartagena: © Shaun Dodds / Shutterstock
Rome: © ansmp / Shutterstock
Genoa: © The Mediterranean Traveller
Sidi Bou Said: © The Mediterranean Traveller
Cinque Terre: © Andrew Mayovskyy / Shutterstock
Livorno: © Fortgens Photography / Shutterstock
Mahon: © kite_rin / Adobe Stock
Malaga: © KikoStock / Shutterstock
Marseille: © S-F / Shutterstock
Taormina: © IgorZh / Adobe Stock
Monaco: © Irina Demenkova / Adobe Stock
Naples: © SC / Adobe Stock
Nice: © saiko3p/ Adobe Stock
Palermo: © The Mediterranean Traveller
Palma de Mallorca: ©
Portofino: © Dan Breckwoldt / Shutterstock
Positano: © ronnybas frimages / Shutterstock
Alassio: © Boris Stroujko / Shutterstock
Sete: © NAPA / Shutterstock
St Tropez: © NAPA / Shutterstock
Gallipoli: © kite_rin / Adobe Stock
Trieste: © eunikas / Adobe Stock
Valencia: © lunamarina / Shutterstock
Valletta: © Kavalenkava / Adobe Stock
Venice: © muratart / Shutterstock
Alanya: © Damla Karacabay / Shutterstock
Antalya: © muratart / Shutterstock
Athens: © neirfy / Adobe Stock
Bodrum: © ColorMaker / Shutterstock
Chania: © gatsi / Adobe Stock
Corfu: © kite_rin / Adobe Stock
Dubrovnik: © Dreamer4787 / Shutterstock
Hydra: © kokixx / Adobe Stock
Heraklion: © The Mediterranean Traveller
Hvar: © Evgeniya Moroz / Shutterstock
Istanbul: © Ruslan Kalnitsky / Shutterstock
Izmir: © casfotoarda / Adobe Stock
Kefalonia: © Miniloc / Adobe Stock
Lake Bled: © Fesus Robert / Shutterstock
Kotor: © The Mediterranean Traveller
Ephesus: © muratart / Shutterstock
Limassol: © kirill_makarov / Adobe Stock
Mykonos: © aetherial / Adobe Stock
Rhodes: © Vladimir Zhoga
Rijeka: © xbrchx / Adobe Stock
Rovinj: © Martin M303 / Shutterstock
Santorini: © hardyuno / Adobe Stock
Ksamil: © wildman / Adobe Stock
Sibenik: © Alexey Fedorenko/ Shutterstock
Split: © RossHelen / Shutterstock
Trogir: © DaLiu / Shutterstock
Zadar: © Stefan_Leitner / Shutterstock
Zakynthos: © GKor / Adobe Stock