One of the best things about the Mediterranean is the number of islands scattered across it, waiting to be discovered. The big names are well covered (see 10 Most Beautiful Mediterranean Islands for starters), but what about the lesser known islands?
Here are 15 islands that are small but perfectly formed and well worth a visit.
LEVANZO
Levanzo. Ever heard of it? Many haven't. It's one of the three Aegadian islands (along with Marettimo and Favignana) just off the west coast of Sicily, not far from Trapani. With just one small village and a handful of trails, there's little to do here but relax and enjoy la dolce vita – and the stunning turquoise seas of course.

KORCULA
This Croatian island is known for its handsome and well-preserved medieval town, so reminiscent of nearby Dubrovnik with its red-tiled roofs. But it's also increasingly known as Croatia's wine island – an enjoyable day spent cycling around vineyards sampling the local fare is a popular way to spend time on Korcula.

KOUFONISIA
Idyllic Koufonisia is one of the gems of the Cyclades in Greece. Not far from Naxos – one of the larger islands in the group – it belongs to a small group of minor islands known as the Little Cyclades.
And it's well worth the trip to get there – it's a tiny sun-bleached paradise with the most laid-back vibes (and immaculate beaches) you can imagine.

HYDRA
The one is firmly on the tourist radar in Greece – and for good reason. Hydra island, in the Saronic Gulf not far from Athens, has one of the most picturesque towns that you'll come across.
In fact, there's only one town or village in Hydra – it's a small island after all, and one with no roads. Vehicles are banned here, so the only way to get around the island is its ancient tracks.
With its elegant houses arranged amphitheatrically around its harbour, donkey trails and bohemian associations – Hydra is an unmissable (and easy) visit from Athens.

PORQUEROLLES
This tiny unspoilt paradise is one of the three Îles d'Hyères, just a 20-minute boat trip from the French Riviera but a world away from its glitz and hubbub.
Porquerolles is a protected natural zone – no cars or cigarettes here, please. Families come for the day to enjoy bike rides between the eucalyptus-scented forests and fine sandy beaches (Plage de Notre Dame is one of the best beaches in France).

PROCIDA
Long overshadowed by its glitzier neighbours Ischia and Capri, the little island of Procida off the coast of Naples is fast becoming a recognisable sight for its pastel-hued buildings.
Thankfully its diminutive size has helped to restrict the number of visitors it receives, helping it to retain its fishing village charm.

VIS
The Croatian island of Vis is just that little bit further away from the mainland than some of its more popular neighbours, but those who make the trip are rewarded by a pretty island with a tranquil boho vibe and excellent foodie credentials.
Vis was used as the filming location for Mamma Mia 2, which is increasingly drawing visitors to the island.

SYMI
A smorgasbord of neoclassical villas awaits you at picturesque Gialos harbourfront, the point of entry to Symi – a petite Greek island not too far from Rhodes. It's worth staying a few days here to enjoy this enchanting island after the daytrippers have left, and to make the most of its seafood tavernas and handful of remote bays.

BOZCAADA
One of the few Turkish islands in the Aegean Sea, it's a bit of a schlep from Turkey's more popular destinations to Bozcaada. But the islands charming streets – strewn with bougainvillaea and boutiques – are a good enough reason to leave the mainland.
It's become a popular escape for Istanbul hipsters and those looking for deserted beaches. Oh, and the wine's not bad either.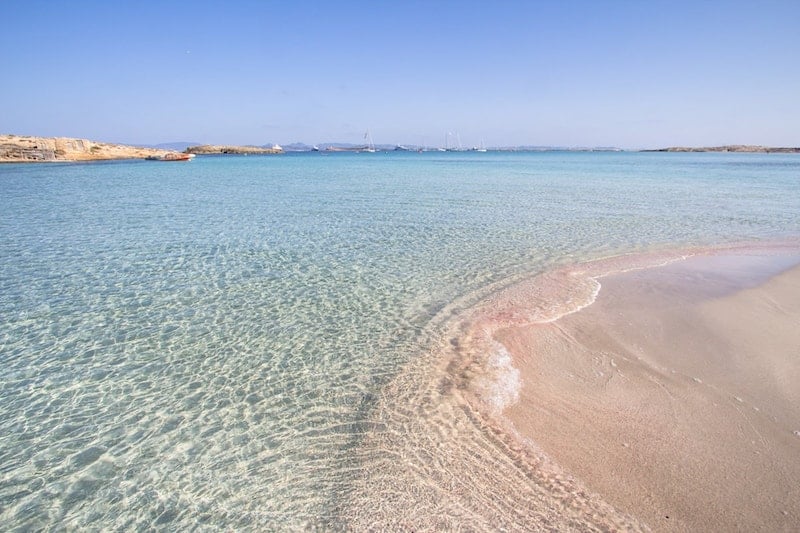 FORMENTERA
The smallest of Spain's Balearic islands, Formentera is not to be outdone when it comes to beaches. The exotic sands of Ses Illetes are some of the finest in Europe.
Most visitors come on a day trip – there aren't many places to stay on the island except a smattering of quiet boutique abodes.

GOZO
For a small island, Gozo is big on cultural attractions. It has all of Malta's appeal only in miniature – hilltop towns, baroque churches, prehistoric stones, golden harbours.
Gozo's famed Azure Window may be no more but there are plenty more swimming holes and intriguing rock formations (plus a few sandy beaches).

PANAREA
The whitewashed streets of Panarea could easily be mistaken for a Greek island, but Panarea is – in fact – Italian. Panarea is one of the 7 Aeolian Islands off the north coast of Sicily.
With ferry connections to the mainland too, it's become a chic retreat for Italy's rich and famous. It has a low-key but exclusive vibe, with smouldering views reminiscent of Santorini.

ANTIPAXOS
The Greek island of Antipaxos is small but mighty – mightily well endowed with dazzling beaches, that is. Part of the Ionian island chain, it sits off the west coast of the mainland and is not far from Corfu.
Antipaxos is all about the simple bucolic pleasures – iridescent waters, fragrant walks and fresh fish.

KASTELLORIZO
Kastellorizo has one of the prettiest harbours you'll ever see. This Greek island is nearer to Turkey than it is to its Dodecanese island neighbours, and infrequent ferry connections make it somewhat remote and hard to get to (unless you happen to be across the sea in Turkey that is).
But its elegant townhouses and bijou arty vibe are well worth the extra effort.

ELBA
The Italian island of Elba is famous for being Napoleon's place of exile. But it's also a cracking destination in its own right.
Elba forms part of the Tuscan Archipelago National Park and has a handsome harbour town (Portoferraio), a superstar beach (Sansone – pictured above – is one of the best beaches in Italy) and a lush landscape that's perfect for outdoors activities.
Read more:
10 Most Beautiful Mediterranean Islands
10 Most Beautiful Beaches in the Mediterranean
10 Best Mediterranean Islands for Sandy Beaches
15 Best Greek Islands for Sandy Beaches
10 Most Beautiful Small Greek Islands
15 Best White Sand Beaches in Europe
21 Dreamiest White Sand Beaches in the World
10 Best Quiet Beach Holidays in the Med
10 Most Beautiful Mediterranean Cities
Enjoyed this post? Click to save to Pinterest:

Image credits:
Porquerolles: © Donnerbold / Adobe Stock, Levanzo: © Andrea-Moreno / Shutterstock.com, Korcula: © kite_rin / Adobe Stock, Koufonisia: © Aetherial Images / Shutterstock.com, Hydra: © © kokixx / Adobe Stock, Porquerolles: © Samuel Borges Photography / Adobe Stock, Procida: © ronnybas / Adobe Stock, Vis: © xbrchx / Shutterstock.com, Symi: © timltv / Adobe Stock, Bozcaada:© Nejdet Duzen / Shutterstock.com, Formentera: © robertdering / Adobe Stock, Gozo: © Fred/ Adobe Stock, Panarea: © nata_rass / Adobe Stock, Antipaxos: Freesurf © / Adobe Stock, Kastellorizo: sonyakamoz © / Adobe Stock, Elba: © Jens Ottoson / Adobe Stock