Dreaming of the softest and whitest of white sand beaches? Of course you are – its everyone's favourite vacation fantasy! But where to find such a beach? Here are 21 of the very best exotic sandy beaches in the whole wide world.
Help to keep our beaches clean – leave no trace, pack your reef-safe sunscreen – and don't touch the wildlife.

KOH LIPE, THAILAND
Idyllic Sunrise Beach (or Hat Chao Ley) on the island of Koh Lipe is classic Thailand. Koh Lipe is an island in the Andaman Sea, near the border with Malaysia, and here you'll find 2km of lovely sand and crystal clear waters. Stay in a beach bungalow to catch the amazing sunrises that the beach is known for.

NUNGWI, ZANZIBAR
The Tanzanian island of Zanzibar is pretty much a byword for 'exotic'. Head to the northern end of the island for the palm-lined bright white sands of Nungwi beach, traditional boats, corals and a turtle conservation pond.

ANSE SOURCE D'ARGENT, SEYCHELLES
Anse Source d'Argent – the picture of a thousand desktop screensavers! Its famous granite rock formations look like something from The Flintstones. A ticket is required to enter this haven of powdery sand and turquoise seas – grab a coconut on your way in.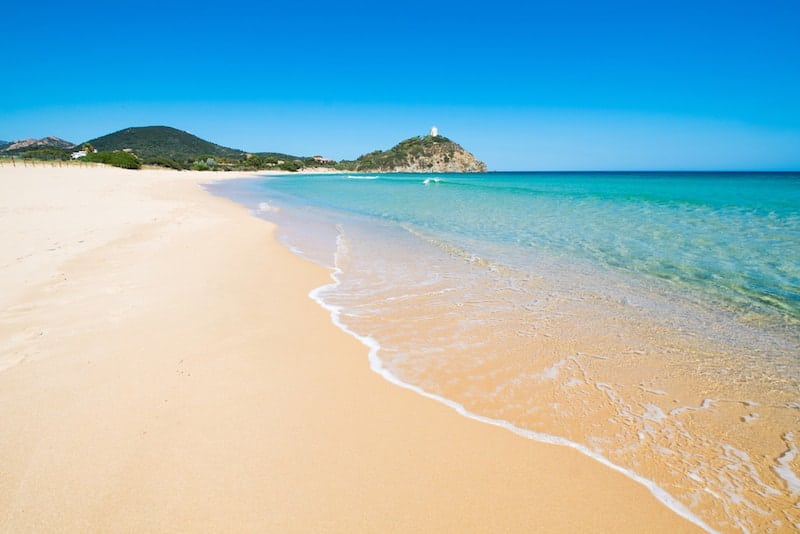 CHIA, SARDINIA
Pink flamingos, powdery dunes and juniper bushes are what you'll find at the Bay of Chia on Sardinia, widely regarded as the best beach on the island (although there are many contenders!). Sardinia is pretty much home to the best sandy beaches in Europe. The main beach alone is 3km of sandy loveliness.

MAYAN BEACH, MEXICO
For sand so fine it squeaks under your feet as you walk, consider a trip to Mexico's Riviera Maya. The jungle-backed Mayan Beach at Tulum delights history buffs with its Mayan ruins right by the Caribbean Sea.

GRACE BAY, TURKS AND CAICOS
Is Grace Bay the most perfect beach in the world? Polls of the internet (including Tripadvisor) certainly seem to think so. Head to Grace Bay for miles of pristine shore, luxury resorts, scuba diving, and plenty more islands to explore.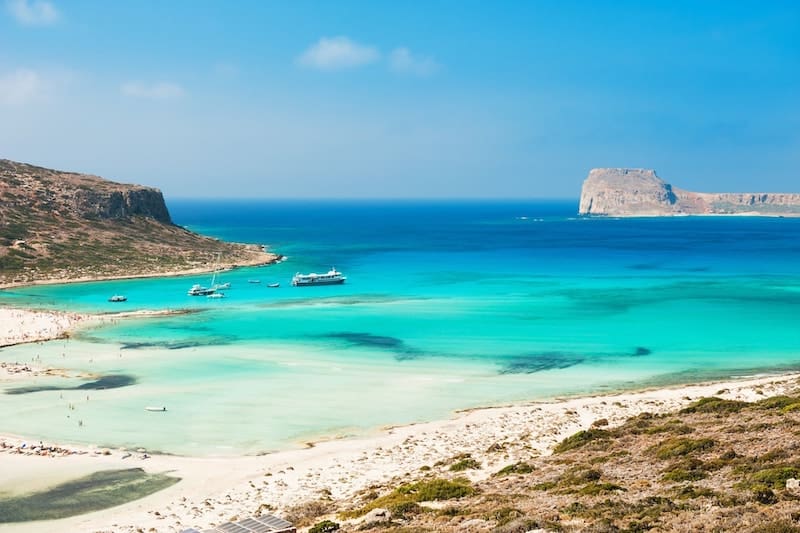 BALOS, GREECE
Another showstopper that regularly tops polls is Balos, an otherworldly lagoon of shapeshifting pinkish sands amongst inviting waters. Balos is one of the most beautiful beaches in Greece and a natural paradise – keep an eye out for the area's falcons and turtles.

NORTHERN MADAGASCAR
The first thing that springs to mind when you think of Madagascar is probably cute animals. Or maybe chocolate, or weird trees?
But Madagascar is just across the channel from Tanzania and Mozambique so it shouldn't be a surprise that it has stunning beaches. Just off the northwestern coast are a cluster of paradise islands such as Nosy Iranja (pictured) and the main resort Nosy Be.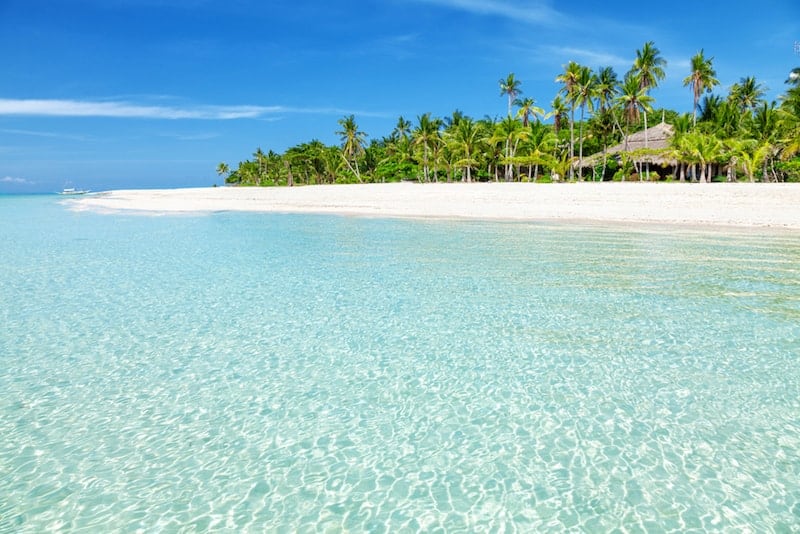 CEBU, PHILIPPINES
The famous White Beach on Boracay gets all the press in the Philippines, but beach bums in the know dodge the crowds and head to Cebu and its surrounding islands. Fulfil your desert island fantasies on dreamy Bantayan island with its crisp white sands and bathwater seas. Smack-bang in the middle of the Philippines, Bantayan is small but mighty – it's getting a rep as one of the most beautiful islands in the world.

PERNAMBUCO, BRAZIL
For beach bliss with a hint of wilderness, look no further than Brazil's Pernambuco region where you'll find the remote Praia dos Carneiros. Surrounded by mangroves and tall swaying palm trees, Carneiros' white sands meet the cool waters of the Formosa river. If Carneiros is a bit rustic for you, try the tourist-friendly Porto de Galinhas.

WHITSUNDAYS, AUSTRALIA
No list of white sandy beaches would be complete without Australia's iconic Whitehaven Beach on Australia's Whitsunday Island. Whitehaven's trademark 7km of swirling sands are composed of fine silica which remains cool to walk on even in the heat. It's been named the top eco-friendly beach in the world – leave your dogs and cigarettes at home as they're not allowed on the beach.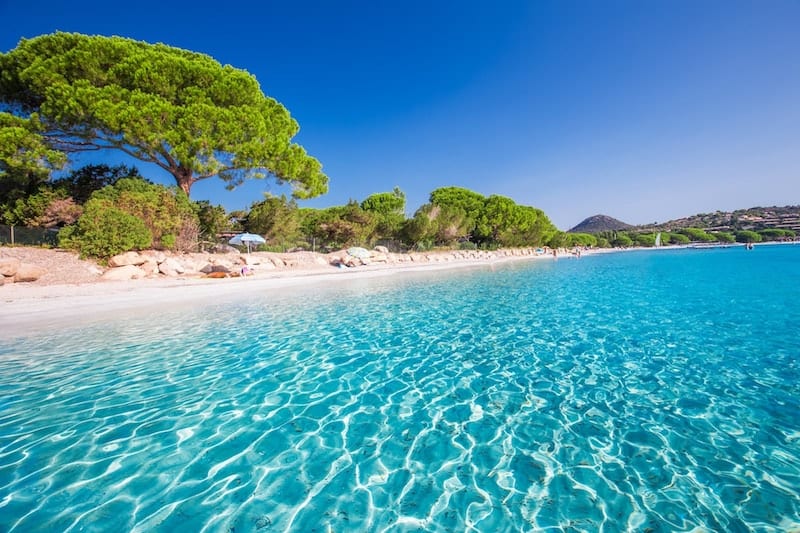 CORSICA, FRANCE
Some of Europe's most jaw-dropping beach scenery is found on the French island of Corsica. At Santa Giulia, sugar-soft sands meet electric blue seas – all with a rugged green backdrop. Pull up a sunlounger or take a paddle in the shallow family-friendly waters.

MALDIVES
Honeymooners' favourite the Maldives is definitely up there when you think of tropical beaches with immaculate white sand. With over 1000 islands you're spoilt for choice, but Fulhadoo and Rangali are two picture-perfect examples of palm-fringed paradise.

BORA BORA, FRENCH POLYNESIA
French Polynesia is the destination of choice for beach lovers in the Southern Hemisphere. And its most beautiful beach is found on the island of Bora Bora. With distinctive Mount Otemanu looming in the background, Matira Beach is a classic South Pacific – expect hammocks, coconuts, sharks, rays and luxury resorts aplenty.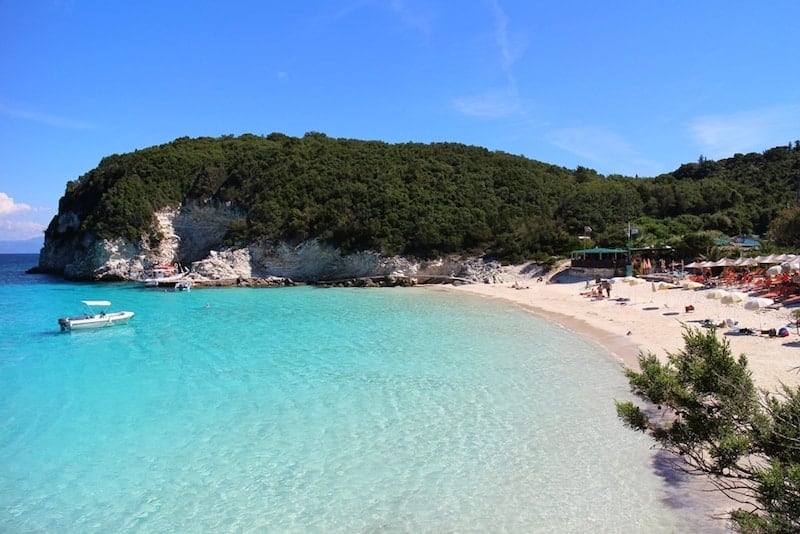 ANTIPAXOS, GREECE
A short boat ride from some of Greece's most popular beach destinations, the tiny Ionian island of Antipaxos quietly keeps its idyllic beaches (namely Vrika and Voutoumi), shimmering seas and simple pleasures to itself. It's not the easiest island to reach but you'll be rewarded with a true slice of the good life.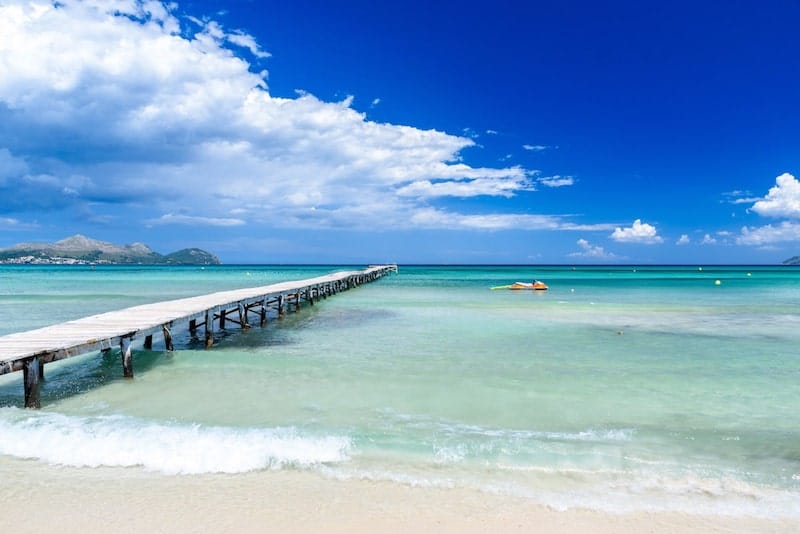 MALLORCA, SPAIN
The Spanish island of Mallorca has long been a popular vacation hotspot thanks to its plentiful white sandy beaches, some of the best in Europe. The cream of the crop is the resort of Alcudia with its organised 'golden mile', which gradually morphs into the 6km Playa Muro where there is space – and soft white sands – enough for everyone.

SAONA, DOMINICAN REPUBLIC
Little Saona Island lies off the coast of the Dominican Republic. Its protected beaches are home to starfish, turtles, startling white sands, and seas that almost glow green. The secluded Canto de la Playa is the best beach on the island.

DIANI, KENYA
The exquisite white sands of Diani Beach in Kenya have been named Africa's top beach countless times. It's Kenya's top beach resort, and for good reason. Backed by lush palm forest and kissed by the Indian Ocean, the vast beach here has something for everyone.

CALA TURQUETA, MENORCA
Tranquillity and turquoise are the order of the day on Spanish island Menorca, where the seas are a dream for swimmers and idle paddlers alike and the flawless white sand beaches are backed by fragrant pines. The best sands and crystalline seas are at small unspoilt Cala Turqueta.

SHOAL BAY, ANGUILLA
The pearly-white sands of Shoal Bay stretch for over 2km and take on a pinkish tinge at the end. This superior beach is one of the best in the Caribbean and the colour of the water is an intense shade of blue. Enjoy a cocktail at one of the laid back beach cafes and watch the spectacular sunset whilst the waves lap at your feet.

KSAMIL, ALBANIA
A rising star in the Mediterranean's canon of amazing beaches is the beauty spot Ksamil in Albania, home to some of the brightest turquoise waters you'll find in Europe. There are several small islands off the coast of Ksamil – perfect for exploring by boat trip.
Read more:
10 Most Crystal Clear Turquoise Seas in Europe
20 Best Sandy Beaches in Europe
10 Most Beautiful Beaches in France
10 Most Beautiful Beaches in Greece
10 Most Beautiful Beaches in Portugal
10 Most Beautiful Beaches in Spain
10 Most Beautiful Beaches in Croatia
10 Most Beautiful Beaches in Turkey
10 Most Beautiful Beaches in the Balkans
15 Best Greek Islands for Beaches
Enjoyed this post? Click to save to Pinterest: