If you're heading to Spain's Balearic Islands this summer, it's probably in search of sea, sand and sun. This small cluster of islands (Mallorca, Menorca, Ibiza and Formentera) is home to some of the best white sandy beaches in the Mediterranean. But which ones are unmissable?
Here are 10 of the most beautiful beaches that you'll find in the Balearic islands:

SA CALOBRA, MALLORCA
One of Europe's most beautiful secret beaches – Sa Calobra is hidden at the end of a gorge, deep in Mallorca's Serra de Tramuntana mountains. The intrepid can make the most of the area's hikes.
For everyone else, there are plenty of boat trips from nearby resorts (Soller being the main one) that take in this unique beauty.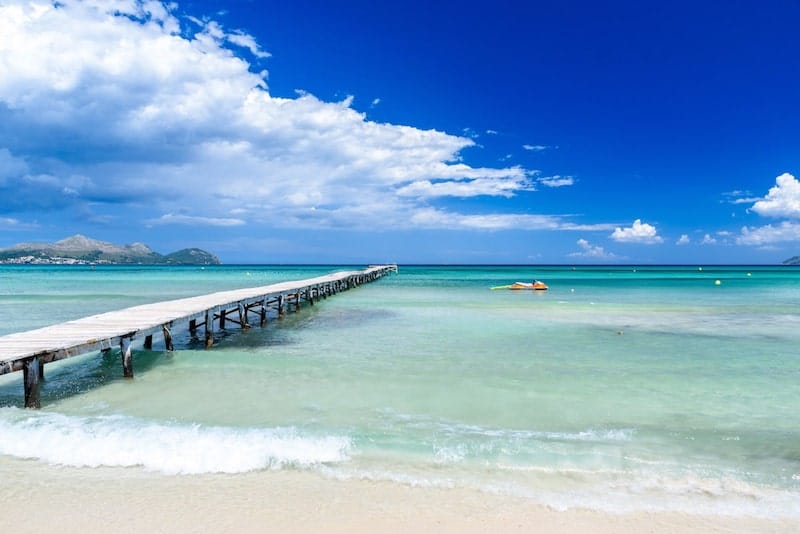 PLAYA MURO, MALLORCA
If you prefer endless sand to tucked away treasures, then Playa Muro is for you. One of the longest beaches on Mallorca at 6km, it starts off at the popular resort of Alcudia and gets progressively more quiet as you get further out.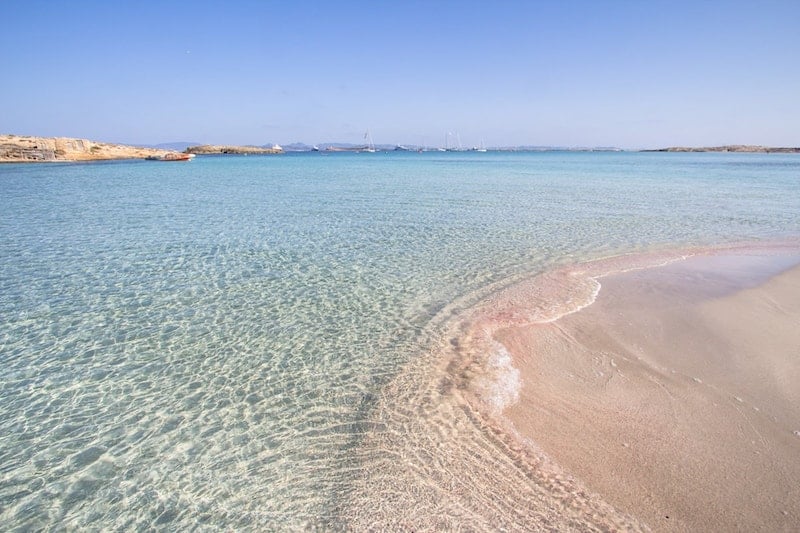 SES ILLETES, FORMENTERA
The crystal clear waters and pale sands of Ses Illetes have become a tourist attraction in themselves, with boats bring visitors over from nearby (and busier) Ibiza to bask in its pristine lagoons.

CALA COMTE, IBIZA
With its dramatic rock formations, sandy spit and shallow turquoise waters, Cala Comte's unique geography makes it one of Ibiza's most beautiful beaches – particularly if you can visit outside the crowded high season. It's also perfectly positioned for incredible sunsets.

CALA MACARELLETA, MENORCA
Menorca is packed with blissful bays that have the most beautiful electric blue waters and bone-pale sands. The twin bays of Macarella and Macarelleta – sandwiched between pine-flecked cliffs – are arguably the prettiest spots on the island (if not in the whole of the Mediterranean).

CALA TURQUETA, MALLORCA
Also on Menorca's south coast is the equally divine Cala Turqueta. Completely surrounded by pine forest, this beach is best enjoyed by taking a fresh morning hike that will bring you to this natural paradise in time to enjoy its tranquillity before the boat trippers arrive.

PLAYA DE FORMENTOR, MALLORCA
The Formentor area – on Mallorca's north coast – is home to the island's most breathtaking and dramatic scenery. Cap de Formentor is famous for its lighthouse and winding hairpin roads. But it's well worth stopping at Formentor's blue flag beach for its scenic views and shallow waters.

LAS SALINAS, IBIZA
Ibiza's most iconic beach is the big sand and blue seas of Las Salinas. You'll find a lively scene at Las Salinas, where hippie vibes have morphed into chilled out beach bars nestled amongst the tall trees of the nature reserve that surrounds it.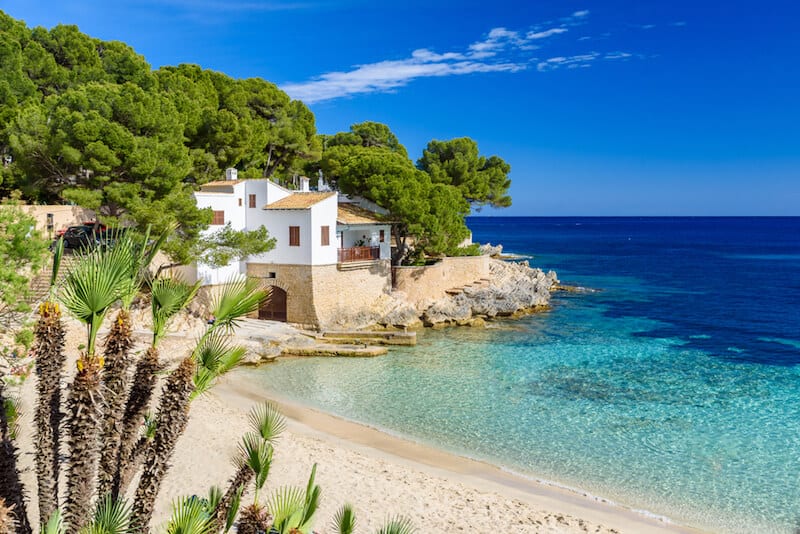 CALA GAT, MALLORCA
Picturesque Cala Gat is small but perfectly formed. This scenic beach is well worth the short walk from the nearby resort of Cala Ratjada for its intense turquoise seas and lovely setting.

CALA MITJANA, MENORCA
Another of Menorca's honeypots is the gorgeous pair of coves Cala Mitjana and Mitjaneta, which are walkable from nearby Cala Galdana (not a bad beach itself).
You won't believe the colour of the water here, you could be in the Caribbean if it weren't for the pine trees and rock formations so typical of this area.
Honourable mentions:
Cala d'Or (Mallorca)
Cala en Porter (Menorca)
Cala S'Amarador (Mallorca)
Cala Tarida (Ibiza)
Calo des Moro (Mallorca)
Read more:
10 Most Beautiful Beaches in Spain
10 Best Places for Sandy Beaches in Spain
10 Most Beautiful Islands in the Mediterranean
10 Best Mediterranean Islands for Sandy Beaches
21 Dreamiest White Sand Beaches in the World
20 Best White Sand Beaches in Europe
10 Most Exotic Crystal Clear Waters in Europe
11 Best Hidden Beaches in Europe
Enjoyed this post? Click to save to Pinterest:

Image credits:
Formentor: © Balate Dorin / Shutterstock.com, Sa Calobra: © thedronebook / Shutterstock.com, Playa Muro: © Simon Dannhauer / Adobe Stock, Ses Illetes: © robertdering / Adobe Stock, Cala Comte: © Pawel Kazmierczak / Shutterstock.com, Cala Macarelleta: © Roberto Zocchi, Cala Turqueta: © tuulijumala / Shutterstock.com, Playa de Formentor: © Balate Dorin / Shutterstock.com, Las Salinas: © Alex Tihonov / Adobe Stock, Cala Gat: © Simon Dannhauer / Shutterstock.com, Cala Mitjana: Mitjana © Naeblys / Adobe Stock