With over 100km of coastline and a variety of landscapes, there's a beach here for everyone in Sicily – from dazzling white cliff beaches to empty dune sands and pretty coves.
Here are 10 stunning beaches worth checking out.
Don't forget – take only pictures, leave only footprints, kill only time! Take your trash with you.
Torre Salsa

Wild and empty, Torre Salsa is a stretch of coast on the southwest coast between Sciacca and Agrigento home to endless golden sand beaches and luscious turquoise seas.
It's a protected nature reserve with over 5km of glorious unspoiled coast and wetlands. The beach is backed by dunes and the distinctive white chalk and limestone marl cliffs which are so characteristic of this part Sicily. Caretta Caretta turtles nest here in the summer.
You'll need a car to get there – head for Montallegro and make sure to bring your own snacks as there are no facilities here. Don't miss the Ancient Greek ruins nearby at Agrigento and at Eraclea Minoa.
San Vito Lo Capo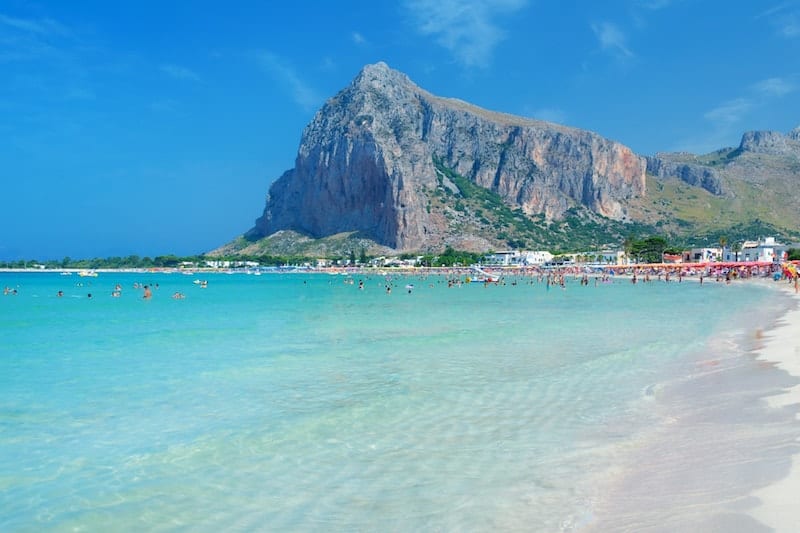 The west coast beach resort San Vito Lo Capo is popular for good reason – it has a beautiful beach of fine white sand and clear Blue Flag seas. The small but lively town sits in a crescent bay overlooked by the craggy peak of Monte Monaco.
San Vito Lo Capo is popular with Sicilians and Italians and is known for its fishing fleet and seafood couscous. It gets incredibly busy in the peak summer months.
Plemmirio

The Maddalena Peninsula is a short distance from the lovely city of Siracusa on the east coast and is home to the Marine Nature Reserve of Plemmirio and several more picturesque coastal spots such as Capo Murro and Minareto.
This area really illustrates the variety of coastal scenery that you find in Sicily. Here you'll find steep golden cliffs and rock formations plunging into emerald seas. There are many treasures underwater, including shipwrecks and sealife, so be sure to pack your snorkel mask.
The park is to the south of the city and you can reach it on organised boat trips, and you can also walk the trails of the Magdalen Pathway.
Scala dei Turchi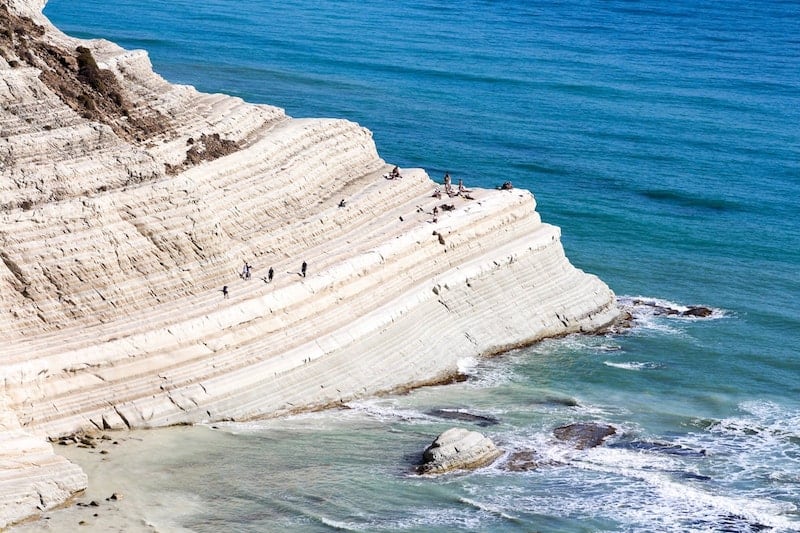 The most famous beach cliffs on Sicily belong to the Scala dei Turchi – the Stair of the Turks, where the white limestone and marl rocks resembles layers of melting gelato dripping into the sea. The layers form a staircase and it's possible to walk along them, hence the name.
The books and TV series of Inspector Montalbano have further popularised this unique area which is near Agrigento on the south coast.
Cefalu

The medieval seaside town of Cefalù is one of Sicily's most beloved – and atmospheric – tourist destinations. Here the honey-coloured historic buildings abruptly meet the beach, creating an unforgettable panorama.
But the beach doesn't play second fiddle to the town – it consists of fine gold sand and it extends for over a kilometre. If that's not enough for you then head west to the even longer beach at Campodelice di Roccella) .
North-facing Cefalù is overlooked by La Rocca and the lush green Madonie mountains. It even has a UNESCO-listed Norman cathedral.
Mondello

Entertaining Mondello is the beach outpost of Sicily's capital city Palermo. Here, the crescent of soft white sand meets dazzling blue waters against the Mondello's charming art nouveau architecture and looming backdrop of Montepellegrino.
It's a short bus ride from the centre of Palermo and during the summer it can seem as though the whole city has decamped here – visit for the impeccable sands and buzzing summer vibes.
Tindari

A hidden gem on the northeast coast is Tindari – any visitors overlook this part of Sicily in their rush to reach the nearby Aeolian islands, but those who linger will find the intriguing mountaintop sanctuary which overlooks an undeveloped section of coast with meandering lagoon beaches.
The Sanctuary contains ruins of a Byzantine castle, Roman baths, and a Greek amphitheatre which is still used for summer plays.
Tindari's unusual 'tongue of sand' beach stretches for 1.5km and contains several lakes.
San Lorenzo Noto

In the far southeast corner of Sicily is the fantastic San Lorenzo beach where soft yellow sand meets shallow waters. There's a lido with family facilities and car parking available.
San Lorenzo is just outside the boundaries of the Vendicari Nature Reserve so if you're feeling active there are some splendid coastal walks available, as well as smaller untouched beaches such as the lovely Calamosche.
The downside is that it gets very busy at weekends due to its proximity to Siracusa, and is prone to seagrass on the beach.
Zingaro Nature Reserve

Many of Sicily's most beautiful beaches are in protected areas, and a handful of them are located in the Zingaro Nature Reserve in the northwest, not far from Palermo.
The landscape here is stereotypically Mediterranean – green and rugged, with vibrant blue waters and enchanting coves.
Zingaro's string of coves and beaches – such as Cala Marinella, pictured above – are linked by a coastal trail which runs the 7km length of the park and can be accessed from car parks at either end (entrance requires a ticket) or on a boat drips.
Fontane Bianche

Back to the southeast where the small bay of pale sand and lively beach clubs at Fontane Bianche is a great choice for those looking to experience a typical Sicilian day at the seaside.
It's a family-friendly escape from nearby Syracuse, with shallow and calm seas perfect for paddling – there's nothing but sand underfoot – and plenty of gelato and seafood on offer.
Read more:
10 Most Beautiful Beaches in the Mediterranean
Where to Stay on Sicily: Ultimate Beach Resort Guide
10 Best Mediterranean Islands for Beaches
10 Most Beautiful Italian Islands
10 Most Beautiful Beaches on Sardinia
Enjoyed this post? Click to save to Pinterest:

Image credits:
Cala Marinella: © wildman / Adobe Stock
Torre Salsa: © dpVUE .images / Adobe Stock
San Vito Lo Capo: © nadisja / Adobe Stock
Plemmirio: © wildman / Adobe Stock
Scala dei Turchi: © Brad Pict / Adobe Stock
Cefalu: The Mediterranean Traveller
Mondello: © Aleksandar Todorovic / Adobe Stock
Tindari: © Anna Lurye / Adobe Stock
San Lorenzo: © Roberto / Adobe Stock
Fontane Bianche: © jana_janina / Adobe Stock