Sardinia is unrivalled when it comes to the sheer number of beautiful beaches it has – particularly if you're a fan of fine sand, turquoise waters, pretty scenery, and intriguing rock formations.
If you're lucky enough to be planning a trip to Sardinia, here are 10 of the best beaches to pencil in.
Spiaggia Rosa, Budelli

Budelli is a small island in the Maddalena Archipelago just off the north-east coast of Sardinia, and it's home to one of the most famous beaches on Sardinia – Spiaggia Rosa. The name makes sense once you see the wonderful pale pink colour of the sand, accentuated by darker rocks on the beach.
These days the beach is protected (to stop people from stealing the sand and damaging the unique ecosystem) so you won't be able to walk on the beach, only view it from the boat, but there are many excursions that include Budelli in their itineraries.
Spiaggia del Principe

The Costa Smeralda region is well-known for its rich and famous clientele who flock there on their megayachts to enjoy its impeccable beaches. These are the beaches of dreams.
One of the best is Spiaggia del Principe ('the Prince's beach'), where you'll find two crescent coves of pearly super-fine sand. It was a favourite of the Aga Khan. The water here is cool, shallow, and crystal clear. It's not developed but there is a cafe-bar in the summer.
It's extremely popular in high season – expect queues, expensive parking, and a short walk to the beach.
Cala Goloritze

Cala Goloritze takes first prize for dramatic coastal setting. It's a small beach with bright white pebbles and luminescent waters, but it's the sharp jagged rocks surrounding it that make the beach one of the highlights of the incredible Golfo di Orosei park area.
It's most commonly reached by boat – either excursions from Cala Gonone or by renting a small motor boat – but it's also possible to hike here if you're feeling fit. To control the numbers there's an entry ticket for the hike – best to buy in advance if you're travelling at peak times. The hike is steep and rocky and takes 2-3 hours.
Cala Coticcio, Caprera Island

The island of Caprera is the second-largest in the Maddalena Archipelago and is home to many incredible beaches, including the beautiful Cala Coticcio. It's one of several beaches on Sardinia given the nickname 'Tahiti' for its exotic turquoise seas.
Coticcio is also a stunning example of the area's topography – an exquisite beach surrounded by pink-tinged granite rock formations that have been sculpted by the wind and waves over the years.
Boat trips do visit Coticcio but it's also possible for intrepid hikers to reach it by foot.
Portopino

Porto Pino is less well-known amongst international visitors than some of the blockbuster beaches on this list but is no less worthy of a visit. Located in the southwest corner of Sardinia, the beach here stretches for 4 kilometres and is backed by a large expanse of sand dune dotted with juniper trees and pines. It's worth walking to the further end of the beach for the best sands.
The sea is generally calm and so Porto Pino is popular with families. Flamingos in the lagoon behind the dunes complete its appeal.
Cala Brandinchi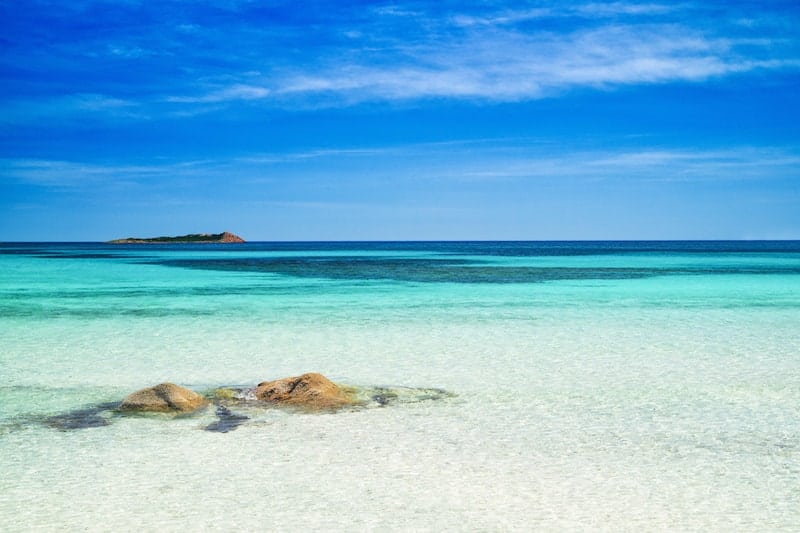 Cala Brandinchi is commonly known as 'Little Tahiti' and is one of the most popular and loved beaches in the east coast area of San Teodoro. The beach here is a 700m expanse of soft iridescent sand curved around shallow waters which are popular with local families. It's organised in the summer and has a lifeguard on duty.
It's backed by pines and one of Sardinia's characteristic lagoons.
Chia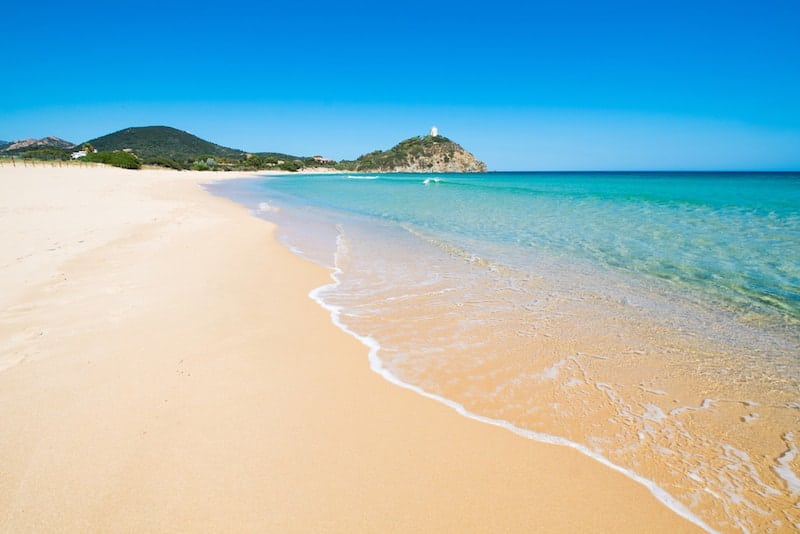 A star of Sardinia's south coast is the scenic area of Chia, a laid-back resort area that consists of 5 sandy bays and is one of the best quiet beach resorts in Italy.
Chia is not overdeveloped so it still has a tranquil and natural feel, and there are even some ancient ruins in the area. The sand is a pale golden colour. There's parking available if you're not staying here.
Cala Mariolu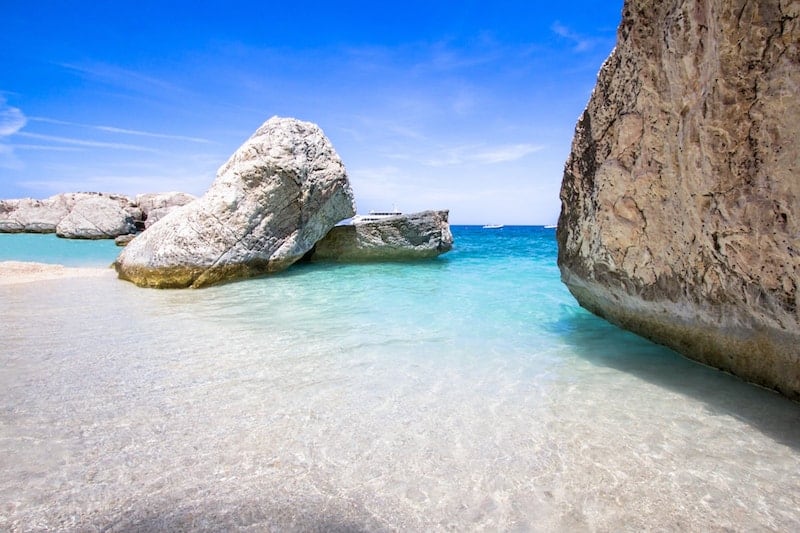 Cala Mariolu is another highlight of the Orosei region. It's a place of intense colours and jaw-dropping limestone scenery. The water here is translucent and the beach is a mix of sand and fine pebbles.
This beach north of Cala Goloritze and is also visited by boat (often the same excursion) or you can take a tough hike.
La Pelosa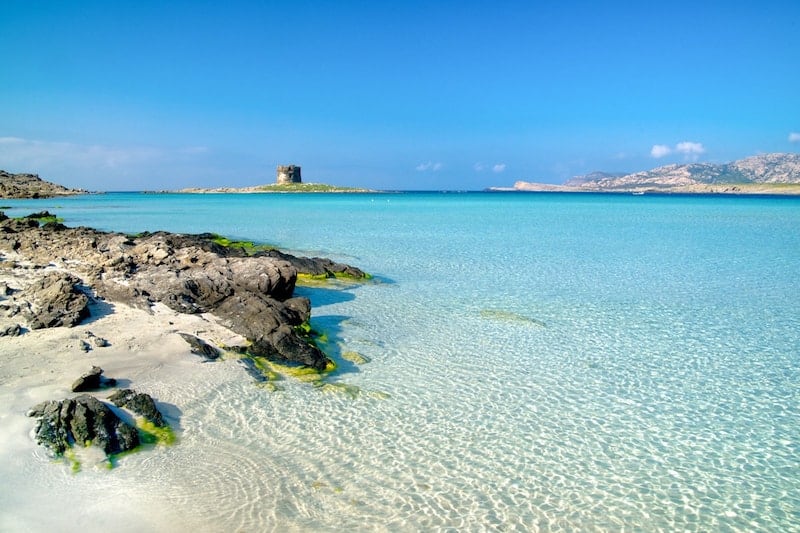 On an island with so many beautiful beaches, La Pelosa holds its own. It's located on the north-west coast near Stintino, and is notable for its tropical colours and vast lagoon-like waters which are overlooked by an ancient Saracen watchtower.
It's also one of the most visited beaches on Sardinia. La Pelosa is so crazy busy these days that there's an entry fee (you buy tickets online) and measures to protect the sand are strictly enforced.
Lu Impostu

Lu Impostu is not quite as well-known as its neighbour to the north Cala Brandinchi, but it's all the better for it. Lu Impostu has all the same plus points – a long curved white sand spit beach with a lagoon lake behind it – but minus some of the crowds. It's a bit longer too.
There's parking and a kiosk with umbrella and kayak rental at one end but the rest of the beach is unorganised.
Read more:
10 Most Beautiful Places to Visit in Sardinia
10 Most Beautiful Beaches in the Mediterranean
Where to Stay on Sardinia: Ultimate Beach Resort Guide
10 Best Mediterranean Islands for Beaches
10 Most Beautiful Italian Islands
Enjoyed this post? Click to save to Pinterest:

Image credits:
Cala Coticcio, Caprera Island: © Bogusz / Adobe Stock
Budelli: © gianluigibec/ Adobe Stock
Spiaggia del Principe: © Marco Alien/ Shutterstock
Cala Goloritze: © Content Creators/ Adobe Stock
Porto Pino: © Jan/ Adobe Stock
Cala Brandinchi: © Emiliano/ Adobe Stock
Chia: © Elisa Locci / Shutterstock
Cala Mariolu: © robertdering/ Adobe Stock
La Pelosa: © Emiliano/ Adobe Stock
Lu Impostu: © marco/ Adobe Stock