Planning a trip to Sardinia? Here's where to stay on this beautiful Mediterranean island. Town or beach? Lively or quiet? Glam or rustic? Apartment or hotel? Luxury or budget? This guide covers the popular Costa Smeralda, beach resorts near Alghero, and Cagliari – and plenty more beach towns and beautiful hotels.
This beach resort guide will help you decide where to stay in Sardinia.
For other destinations in Italy see: Where to Stay in Italy: Ultimate Beach Resort Guide
which part of Sardinia to stay in – north or south?
where to stay in Alghero and Cagliari
Sardinia's main beach resorts; the best places to stay for nightlife, families, sandy beaches
a rundown of Sardinia's best quiet resorts and unspoilt coastlines

Shortlist – Best Places to Stay in Sardinia
BEST LUXURY HOTEL: Colonna Grand Hotel Capo Testa, Baglioni Resort
BEST HOTELS RIGHT ON THE BEACH: Conrad Chia Laguna, Colonna Grand Hotel Capo Testa
BEST BUDGET BEACH HOTEL: Hotel Flamingo (Pula), Colonna Beach Hotel (Marinella)
BEST ROMANTIC MID-RANGE: Hotel Costa de Fiori (Pula)
SWANKIEST VILLA: Villa Oasi
BEST INFINITY POOL: Colonna Grand Hotel Capo Testa
BEST LUXURY FAMILY RESORT: Forte Village Resort
BEST PLACES FOR FAMILIES: San Teodoro, Budoni, Villasimius
BEST ALL-ROUNDER RESORT AREAS: Budoni, Pula, Costa Rei, Isola Rossa
BEST QUIET BEACH RESORT AREAS: Marinella, Golfo Aranci, Chia
BEST FOR COUPLES: Chia, Pula, Cala Gonone, Costa Rei
BEST PLACES FOR NIGHTLIFE: Porto Cervo, Baia Sardinia, Pula, Villasimius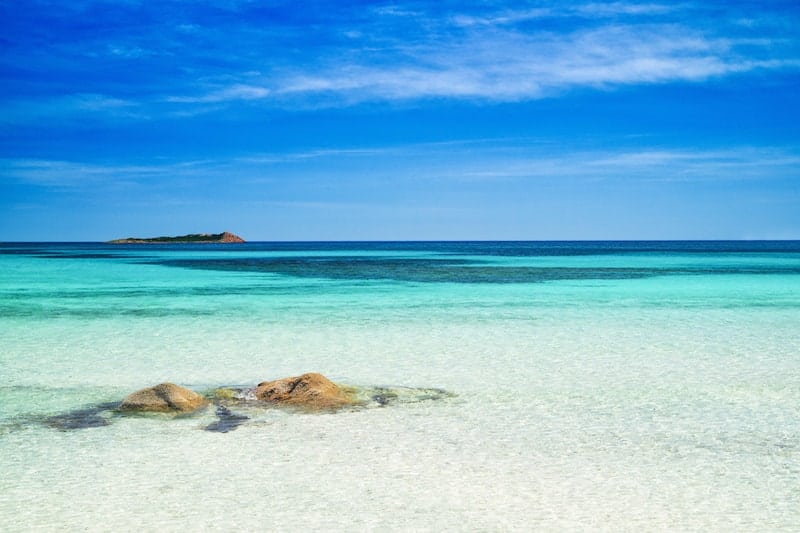 SARDINIA – A QUICK OVERVIEW
Sardinia's beaches will spoil everywhere else for you. It's the best place in the Med for white sand and shallow turquoise waters.
Sardinia is green and mountainous and with over 1000km of coastline, there's a vast number of beaches on offer (over 600) and most of them are impeccably sandy.
Italian love their beach clubs (lidos) so beaches close to towns and summer resorts are likely to be organised with lines of sun-loungers, usually attached to a hotel or club that charges for entrance.
Most beach towns in Sardinia are geared towards domestic tourists who visit in the summer school holidays (the second half of July and all of August). During this period it can feel as though the whole of Italy has descended upon the island. It can be hard to find a quiet beach during this time – generally the further away from the cities and airports you can get the better.
Outside the summer peak, the coastal resorts can feel very quiet. Sometimes too quiet. This is either a plus or a minus depending on your preferences. Don't come in late September expecting any nightlife.
The main international areas are Costa Smeralda and La Maddalena, and around Alghero and Cagliari. This is where you'll find the most English spoken. It can help to know a few basics in Italian if you're venturing far off the beaten track.
The most beautiful parts of Sardinia are the north coast and La Maddalena archipelago where you find a landscape of sandy beaches and granite boulders tucked between sculpted rocks that seem to glow in the sunset, the rugged beauty of the Golfo di Orosei and Costa Paradiso, the unspoilt Costa Verde, and the exotic lagoon beaches of the east and south coast.
But Sardinia is not just about sun and sand – don't miss a trip into the interior for a taste of the true Sardinia. It's the second largest island in the Mediterranean and has unique ancient attractions including the Bronze Age nuraghi and Neolithic stone sites. Strong agricultural traditions have resulted in a distinct (and delicious) food culture.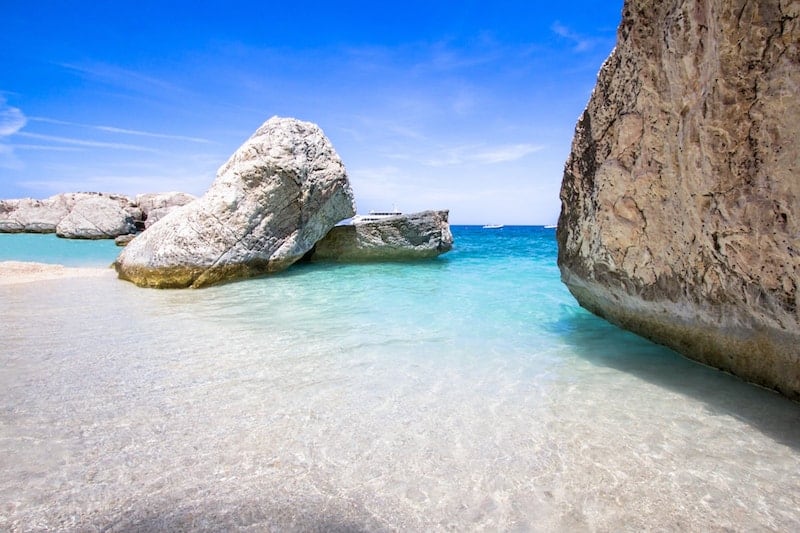 The hotel scene on Sardinia can feel a bit old school compared to other islands in the Med, even in the higher-end hotels. Except in the ritzy enclave of Costa Smeralda, there isn't the abundance of luxury hotels that one might expect given the vast swathes of amazing beach.
Traditional guesthouses (known as affittacamere), camping, and easygoing 3-star bucket-and-spade holiday villages and campsites are more common. Expect higher prices than on the Italian mainland.
Pretty much all the resort towns and hotels are family-friendly, but there can be strong winds (especially on the west coast) and strong currents (especially on the northern tip).
Historically, most of Sardinia's towns and villages were located inland so there are very few coastal settlements with charming old streets (if this is what you're looking for try Pula, Oristano, Bosa, Oresei, or La Caletta).
Most resort towns are modern and purpose-built for tourism, and as such can feel a bit bland with a lot of concrete constructions painted in faux-Moorish shades of coral. At least most buildings are low-rise – Sardinia has been spared from mega-hotels and the kind of overdevelopment that you see in Spain.
Sardinia is a big island – it's best to base yourself in either the north or south, depending on where you arrive.

Which Part of Sardinia to Choose?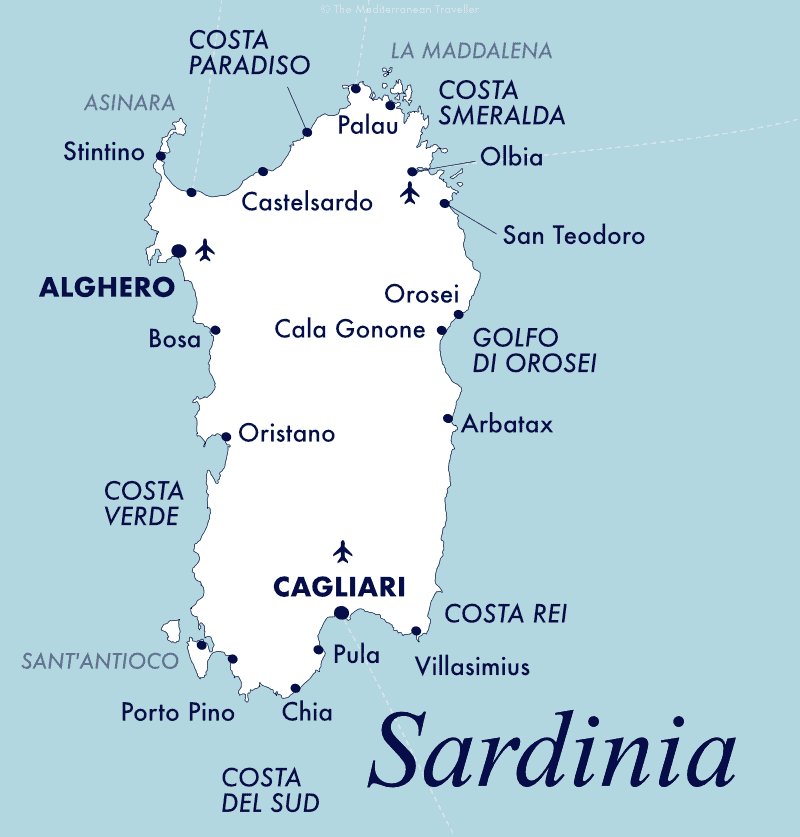 NORTH: The most developed and touristy part of Sardinia, with Olbia and the uber-pricey Costa Smeralda on one side and the city of Alghero on the other.
SOUTH: Capital Cagliari with the pretty and unspoiled Costa Rei to its east and some of Sardinia's nicest beach resorts to its west.
EAST: Family fun and lagoon beaches south of Olbia until you hit the mountainous Golfo di Orosei is in the middle – it's the most scenic side of Sardinia but you'll need to take a boat to visit the best beaches. South of Orosei you'll find hidden gems, quiet beaches and discrete resort hotels.
WEST: The wild west is windier, wavier, and less developed. A good choice for hiking, traditional culture, and untouched beaches.
Wondering which part of Sardinia has the best beaches? Thankfully the spectacular white sand beaches can be found in every part of the island, so pick your holiday destination based on the accommodation or the type of beach town you prefer.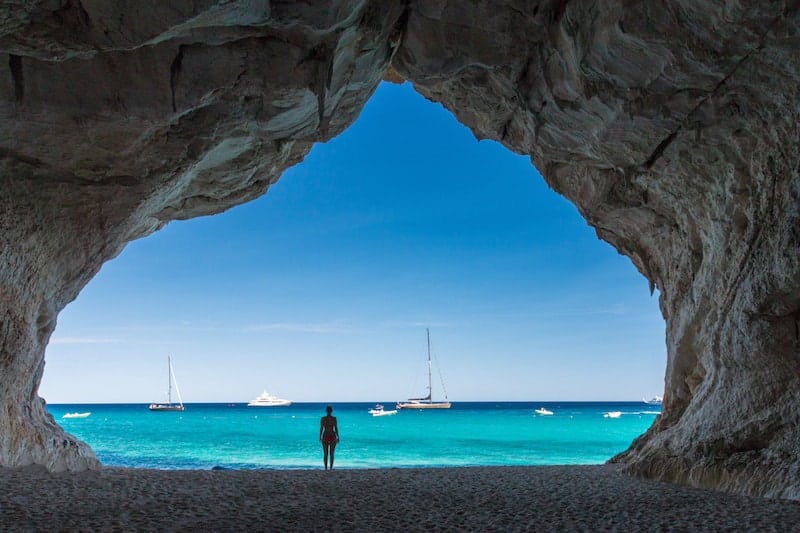 Getting Around
Airports: There are three international airports in Sardinia – Alghero, Cagliari, and Olbia (the closest to Costa Smeralda). There are also regional airports at Arbatax-Tortoli and Oristano.
Bus: Check ARST for timetables.
Train: See Sardegna In Blog for train routes and information.
Ferry: The main ferry ports are Olbia, Porto Torres, Santa Teresa Gallura, Golfo Aranci, and Arbatax.
Sardinia has ferry connections to Corsica (Bonifacio, Ajaccio, Propriano), Sicily (Trapani, Palermo), mainland Italy (Genoa, Livorno, Civitavecchia, Naples), Barcelona, and Marseilles. See Ferryhopper for tickets and information.

North West Sardinia

Alghero

Alghero is the perfect destination for a beach-and-city break. Whilst Cagliari in the south has a definite Italianate feel, Alghero's Catalan legacy is evident in its architecture and food.
Since the time of its occupation in the 14th century Cagliari has been known as Little Barcelona. Even a dialect of Catalan is still spoken here. The unique mix of architectural influences is clear in its churches.
But the sea is the focal point here – Cagliari's USP is its city walls and seafood restaurants. It also has a vibrant cafe scene and plenty of wine bars. The most popular day trip is a boat to the famous caves of Neptune's Grotto.
It's a short stroll to Lido San Giovanni, the nearest city beach, and the long stretch of sand at nearby, Maria Pia. Past Maria Pia is the Porto Conte National Park which covers a stretch of coast pocked with small sheltered coves such as Bombarde and Lazzaretto. Buses run along the coast so you don't need a car to enjoy this area which is popular with hikers and cyclists.
Further afield are the quieter (but windier) beaches at Mugoni, Porto Ferro, and Poglino where you can see why this stretch of shore is nicknamed the Coral Coast. More wonderful medieval towns are within a short drive at Sassari, Castelsardo, and Bosa.
Luxe-lovers can check in to:
There are plenty of solid and functional mid-range city hotels (like Hotel Catalunya close to the harbour) but there's a better selection by the beach – for example Alma di Alghero which has a hydromassage rooftop pool.
Round by Porto Conte you'll find more upmarket resort hotels:
Stintino and the Gulf of Asinara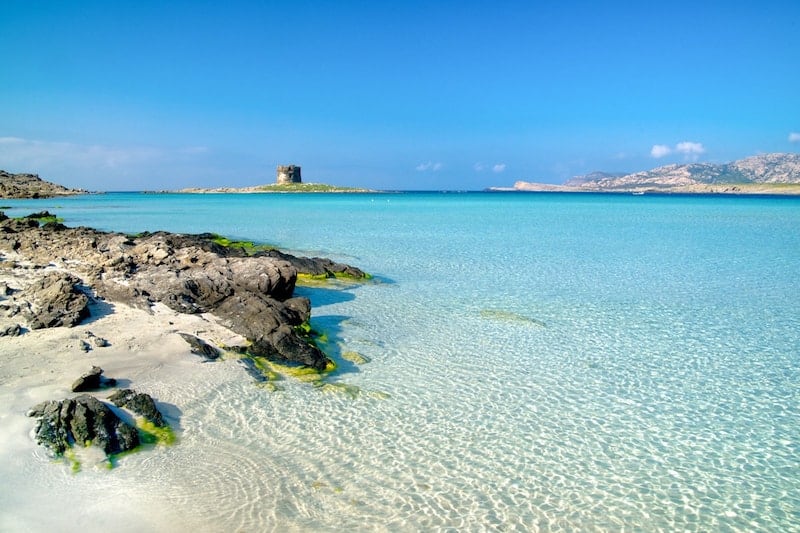 The Golfo dell'Asinara, or the Asinara Golf, stretches from Stintino around the coast to Santa Teresa Gallura and encompasses some fine sandy beaches and popular towns.
On the very northwest tip of Sardinia is La Pelosa (pictured above), one of the island's most remarkable – and Instagrammable – beaches thanks to its vast lagoon waters and iconic lighthouse.
The beach is a short-ish drive from both Alghero and Sassari, Sardinia's second city, hence the crowds (and traffic). If you want to stay in the area, the nearest towns are at Stintino and Porto Torres. The former is a tourist town with a small marina, the latter a large port town with ferry links to Corsica and the mainland.
Sassari is inland and little visited by tourists though it has a wonderful medieval old town and history buffs will love it.
Despite the numbers which flock to La Pelosa, much of the surrounding coastline is sparse and barren with a long history of fishing and salt production. South of Stintino there is a long stretch of sandy beach at La Saline. Tourist accommodation is clustered in Stintino and on the road approaching La Pelosa.
Holiday villages, villas, and landscaped aparthotels are the name of the game here – check on Booking.com for self-catered rentals.
Camping Golfo dell'Asinara Resort is on the other side of Porto Torres but is right by the beach at Platamona and has chalets and bungalows as well as a big pool. The long and pleasant beach here is backed by shady pines. This section of the coast is known as the Sassari Riviera and is a popular zone for lidos, campsites, and family-friendly restaurants. The nearest amenities and supermarkets are inland at Sorso.
Directly opposite La Pelosa are two uninhabited islands – the tiny Isola Piana and the larger Asinara which is a protected national park and marine reserve. These days it's full of hiking trails and heavenly beaches – a far cry from its past as a penal colony.
There are a few amenities but no real village to speak of, most visit as a day trip but you can find a bed for the night at Ostello Sognasinara (simple dorm rooms in a former barracks building) or a room at La Locanda del Parco. Boats run from Stintino and Porto Torres.
Castelsardo

The shoreline east of Porto Torres is known as the Sassari Riviera and one of its undeniable highlights is the charming medieval coastal town of Castelsardo. It's renowned for its traditional handicrafts and there is no shortage of shops and restaurants to service the daytrippers who flock here. Stay for sunset if you can. However it's not one of the best places for beaches – the coastline is rocky and hilly.
Accommodation within the town is very traditional, with a cluster of simple guesthouses in the old town – our pick is The Hotel Rosa dei Venti with its modern decor.
In the outskirts and at the nearest beach resort Lu Bagnu you'll find plenty of functional beach hotels and a few more comfortable picks including
Dorm beds are available at the Ostello Golfo dell'Asinara.
Badesi
East of Castelsardo is the endless (well, 20km) sand beach at Badesi which is backed by juniper bushes and surrounded by vineyards.
Divided into two main sections – Li Mindi and Li Junchi, the beach here is Blue Flag with organised sections and watersports – perfect for families. It hosts a carnival in the summer.
Le Dune Resort & Spa is tucked away behind the Li Junchi beach and has entertainment options for families.
Isola Rossa
Just north of Badesi is Isola Rossa – an unpretentious fishing village on a rocky stretch of coast named after its tiny island. It has a sheltered marina and 1km of town beach so is great base for those who don't like to feel too isolated.
The west-facing beaches here are popular with watersports, fishing, and diving enthusiasts – and even surfers. There are hiking trails, hidden coves, and boat trips aplenty. It is simultaneously tranquil but with lots to do. And for the kids there's the extensive Acquafantasy Water Park a short drive away on the road to Paduledda.
Stay at Hotel Corallo or Hotel Relax Torreuja.
5-star Marinedda Thalasso & Spa is close to La Marinedda beach, a beautiful crescent of pearly sand that hosts a windsurfing competition every August.
Costa Paradiso

Keep heading north from Isola Rossa and you'll hit the Costa Paradiso, a wild and scenic stretch of coast where unimaginably pretty beaches and rugged granite cliffs meet the emerald sea.
The Costa Paradiso stretches all the way around to Santa Teresa Gallura and has many tiny inlets and coves to discover. The landscape is green and lush with dense scrub. There are some beautiful hikes down to boulder-strewn beaches and even some natural swimming holes. It's a natural paradise – although the summer months see loungers and cafes pop up on some of the larger beaches like Li Cossi.
The village of Costa Paradiso is in the centre of the coastline. The area is privately owned hence development is restrained (although the sprawling resort itself won't win any design awards). You can find rooms at the 4-star Hotel Costa Paradiso and villas with private pools a the Costa Paradiso Resort.
North East Sardinia

The northeast coast of Sardinia (known as the Gallura region) is glamorous, beautiful, and deservedly popular. Here you'll find some of the best beaches in Sardinia with emerald seas, fine sands, granite boulders, and dense vegetation. Boat trips to the untouched beaches and the archipelago of La Maddalena are a highlight.
Strictly speaking, the Costa Smeralda is the section of coastline between Cannigione and Porto Rotundo but the name is often used as a catch-all for the wider area. The surrounding resorts have similar coastlines but better value and a (slightly) less exclusive vibe.
Santa Teresa Gallura

Santa Teresa Gallura is a small but lively modern harbour town in the northernmost part of Sardinia, opposite Corsica.
The town is a busy transport hub with ferries over to Corsica as well as mainland Europe, and boat trips to La Maddalena and along the coast.
Santa Teresa Gallura is not just a port town though – there are some great beaches around and a cosmopolitan bar scene that gets very lively in the summer. It's a short walk to the town beach Rena Bianca where Blue Flag sands are overlooked by a watchtower.
In town, try the Maison Margherita for modern rooms on a reasonable budget.
4-star Hotel Corallaro and Hotel La Collucia are in walking distance of the beach.
The top places to stay here are the Colonna Grand Hotel Capo Testa and the Resort Valle dell'Erica Thalasso & Spa.
West of Santa Teresa Gallura is the gorgeous scenery of the Capo Testa, a peninsula connected by an isthmus and home to dramatic rock formations and beaches.
Palau

Palau is an attractive and lively harbour town, gateway to the Costa Smeralda and the archipelago of La Maddalena.
It's not the best location for beaches but is a decent base if you plan to get around a lot or are looking for value.
There are plenty of large resort hotels in the surrounding area, the best of which is 5-star Capo d'Orso Thalasso & Spa. If you prefer to be in town the 4-star Hotel Palau has good facilities in a central location.
Porto Pollo
Porto Pollo is a popular windsurfing destination with several beaches backed by scrub and the tiny Seagull Island connected by a double-beach isthmus. It's an easy 7km to Palau. Stay at B&B PortoPollo Surf House.
Costa Smeralda

The exclusive Costa Smeralda – the Emerald Coast – is where the jet set comes for VIP treatment along a relatively unspoiled coastline.
Think sprawling luxury resorts with golf courses, impeccable beaches with powder-soft white sand, large boulders, and crystal clear seas.
A large chunk of the coast (14 square miles) was bought by a consortium headed by the Aga Khan IV in the 60s – development is (relatively) restrained and there's a sense of privacy, if not always taste. Beach clubs and restaurants in the area are very pricey. The resorts are mostly purpose-built and a little bland. Porto Cervo and Baia Sardinia are the biggest and busiest.
The landscape is less mountainous than the Costa Paradiso, but rocky and winding with lots of small inlets and coves. And, of course, the fine white sand beaches are strewn with the region's trademark boulders.
Pretty much every beach is a knockout.
There are many historic sites to discover inland, particularly around Arzachena.
Cannigione – once a fishing village, scenic Cannigione is an upmarket resort and yachting hub with boutique hotels, decent facilities, and is close to several fantastic beaches. It's located in a natural harbour with salt pans nearby – good for birdwatching and fishing. Hotels and beaches tend to be along the road heading north along the coast.
Polto Quatu – picturesque natural harbour with a small and expensive marina.
Porto Cervo – the main resort here and the unabashed and overblown capital of money on Sardinia. It's the main hub for megayachts and is home to streets of designer shops. It's a place to see and be seen, amongst its faux Moorish architecture. You'll either love it or hate it.
Baia Sardinia – one of the liveliest and most popular seaside resorts in the area. This is the place to come for buzzing beach clubs and all-night parties. Good selection of hotels and the nearby Aquadream water park is a short drive to the south.
San Pantaleo – an inland village which hasn't entirely lost its rustic local charm. A good choice if you're feeling adrift in the sea of luxury.
Portisco – a scenic harbour village with beautiful surroundings, popular with yachties.
Porto Rotundo – purpose-built resort home to a large ritzy marina and accompanying nightlife and shopping. Long and sandy Ira beach with its popular beach club is nearby.
The best luxury resorts in Costa Smeralda are:
On a budget? Try Booking.com for rooms in Palau or Cannigione.
La Maddalena Archipelago

Just off the north-east coast of Sardinia is the miniature archipelago of La Maddalena, a group of 7 major islands – La Maddalena, Spargi, Caprera, Santa Maria, Budelli, Razzoli, and Santo Stefano – and 55 tiny islets.
The main island and its only town both go by the name of La Maddalena. The island was once a smuggler's hotspot and then later a US Naval base, nowadays it's a firm hit with daytrippers and yachties. The town is sophisticated and has a lively harbourfront and marina.
The rest of the islands are empty and unspoiled (and some – like pink-tinged Budelli – are protected). If your idea of paradise is a desert island then this is paradise. There are many boat companies in town offering trips to the other islands, especially Budelli and Spargi.
Ferries for La Maddalena leave from Palau (20 minutes) and Santa Teresa Gallura but you can also find excursions from most of the resort towns.
La Maddalena is the only island with accommodation. The most luxurious is the Ma&Ma Grand Hotel. For a simple comfortable room check B&B Contravento or La Siesta.
Marinella
A small and relatively low-key village close to a long and sandy beach with shallow waters, perfect for kids. There are a few family-friendly resort hotels tucked away in the dense vegetation. Colonna Beach Hotel is a 4-star with beach access through the trees.
Golfo Aranci

Golfo Aranci is not somewhere you come for the town (unless you're on a yacht or want to catch a ferry to Livorno on the mainland) but the coastline on this peninsula is very pretty and the prices are much more appealing than the Costa Smeralda which is only a short hop away.
Highlights include the beautiful Spiaggia Bianca, the scenic Capo Figari (pictured above), and boat trips around the coast. You might even spot a dolphin or two. There are plenty of villas and beachfront hotels and the area hosts a huge dance music festival in August.
Try the 4-star Hotel Baia Caddinas or Gabbiano Azzuro Hotel & Suites which has private hot tubs. It's also a prime area for vacation rentals – check VRBO for villas.
East Coast

The east coast of Sardinia has a little bit of everything. The main town and gateway to the region is Olbia which is a major transport hub for ferries and flights. Frequent connections to the mainland bring over many Italian families during the summer.
This popular and family-friendly part of the coast has many lovely beaches, campsites, and shallow lagoons. Past Orosei things get mountainous. The stunning jagged cliffs and hidden coves of the Golfo di Orosei form a treasured national park and top destination for the adventurous. Around Arbatax there are some hidden gems and great resorts.
Olbia
Olbia is a large port town with an international airport which is served by budget airlines. But it's also a great stop for a spot of local life – it has a small historic centre, archaeological museum, and tree-lined promenade. There is great value eating and shopping, with plenty of cafes to sit and watch the world go by.
Olbia has the best selection of city rooms in Sardinia. Try Kkult Boutique Relais or the 4-star Jazz Hotel for stylish rooms in town. There's also a Hilton Doubletree.
On a smaller budget there's the Olbia Domus Inn with its charming whitewashed terrace, and bare stone walls at Da Viola Rooms.
There are some excellent beaches a short drive out of town at Pittulongu on the northern side – try the Pelican Beach Resort & Spa (Adults Only) or Hotel Stefania for accommodation – and Le Saline on the south. In the wider area you can find activities like wine-tasting, horse-riding, canyoning and windsurfing.
San Teodoro

The coast south of Olbia is studded with shallow lagoon-like beaches, and their warm waters and sheltered conditions are understandably popular with local families and mainlanders.
Along the way to San Teodoro there's a string of small purpose-built beach resorts with many campsites, self-catering holiday villages, and villas. You'll find picture-perfect beaches at La Cinta and Tahiti Beach, and Lu Impostu.

Don't miss a day trip to the islands of Tavolara (pictured above) and Molara – boats leave from Porto San Paolo and Porto Ottiolu.
San Teodoro is one of Sardinia's most popular beach towns. It's a welcoming and family-friendly resort with an excellent beach, is reasonably lively in the summer, and has an increasing number of nice boutique beach hotels.
Mid-range choices include the 3-star Hotel Onda is practically on the beach, and the 4-star resort Hotel San Teodoro which is further back in the village but has a modern interior and a large pool.
On a budget and with the family in tow? Try La Cinta Camping.
The top luxury choice in town is the 5-star Baglioni Resort which opened in 2021 and is located north of San Teodoro, up near Lu Impostu beach (although it's a short walk past the lagoon to reach the sands).
Budoni

Cala di Budoni is one of the most famous beaches in the area thanks to its fine powdery sands and shallow turquoise seas.
It's a large beach with space for watersports and facilities. Behind the trees and scrub you'll find the village and resort of Budoni which has a laid-back yet buzzing vibe in the summer months.
A few km north is Porto Ottiolu, a pleasant marina town which is the base for boat trips in the region. The beach isn't too bad either – it's a short walk through the trees from Hotel Baia del Porto (4-star).
There are many traditional family-run hotels and small resorts, here are a few to check out:
Accommodation can be pretty spread out so check the location before booking, many are closer to Porto Ottiolu than Budoni.
La Caletta
La Caletta is a small seaside fishing town with a culture and atmosphere that's lacking in many of the purpose-built resorts. It has a vast sandy beach and is a hotspot for windsurfing and kitesurfing, which brings quite a buzz in the summer months.
Hotel Residence Hibiscus (apart-hotel) is central and comfortable. A few miles inland is Posada, a historic hilltop village which is one of the most beautiful in Sardinia.
Orosei

The town of Orosei is the gateway to a spectacular region of dramatic coastal scenery known as the Golfo di Orosei. Much of it falls into a designated National Park zone.
Orosei is a flat town and is located at the end of the Cedrino river delta.
The fertile delta is one of Sardinia's premier agricultural and mining areas. Orosei has a traditional working town vibe, good tourist infrastructure, a small historic centre, and several kilometres of sandy beach at Marina di Orosei.
There are lots of smaller coves and swimming sports to the north of the town. 4-star Albergo Diffuso Mannois has beautifully restored rooms in historic buildings plus access to a private beach outside town.
Cala Gonone

Cala Gonone is a purpose-built resort with good tourist infrastructure and plenty of boat trips around the jaw-dropping coast.
The town itself is surrounded by mountains and accessed via a tunnel. There's a sandy beach and promenade, along with a good selection of accommodation and facilities.
But the main attraction is the chance to explore the incredible coastline – by boat, kayak, snorkelling, diving, climbing, canyoning or hiking.
There are many uninhabited beaches and dazzling caves and grottoes which can only be reached by boat. Highlights are Cala Luna, Cala Mariolu, and Cala Goloritze.
It's a great destination for couples, families with older children, and adventure lovers. 4-star I Ginepri Hotel has a landscaped pool area and is a short walk from the sea.
Santa Maria Navarrese
On the southern side of the Golfo di Orosei National Park is the coastal town of Santa Maria Navarrese, which is increasing in popularity as an alternative to Cala Gonone.
It's a pleasant seaside town with sandy beaches, a marina, a good range of accommodations, and boat trips running up the coast from the harbour.
The Lanthia Resort has direct access to a private beach.
Arbatax

Arbatax is a small port town with ferries to mainland Italy. The area is primarily known for its distinctive red rocks, the pretty scenery of the Capo Bellavista, and mussel farming.
There are further sandy beaches at Cala Moresca, di Orri, and Cea. Boat trips to the Cala Gonone coastline run from the harbour. Arbatax is a short distance from Tortoli, the region's main town and a good choice for those looking for a local feel, shopping, and inexpensive food.
The big resort here (over 60 hectares!) is the vast Arbatax Park Resort & Spa which is a complex of several hotels and suites, beaches, a spa, and a natural park.
South of here the coastline is fairly quiet until you reach the Costa Rei, with the occasional resort tucked into the shore such as Perdepera Resort and Cala Luas Resort.
It's a good area for vacation rentals – try Booking.com and VRBO.
Costa Rei

The 8km of sandy swathes on the Costa Rei (the King's Coast) give the Costa Smeralda a run for its money – but without the price tag or the posers.
It's no longer a hidden gem but it's not crazy busy either, especially outside August.
Costa Rei is perfect for beach lovers looking for total relaxation – there's something particularly tranquil about the landscape here with its shallow seas and gently rolling green hills.
Accommodation is mainly at campsites and unassuming low-rise holiday villages amongst the dense vegetation behind the beach such as the Villagio Piscina Rei.
For something more comfortable try the nearby Sant'Elmo Beach Hotel, 4-star Le Spiagge di San Pietro Resort, or check VRBO for villas and studios.
South Coast

Villasimius

Villasimius is one of the best holiday destinations in the south of Sardinia and with its many dreamy beaches, it's easy to see why.
The sand is sugar-soft and the sea (which is in a protected marine zone) is a tropical shade of turquoise. The village itself is inland and sprawls over a large area towards many beaches including Capo Carbonara and Porto Giunco, one of Sardinia's most photographed beaches (pictured above).
Villasimius is a small modern resort just a short hop from Cagliari airport and it has an international feel, a good range of amenities, and decent nightlife. Due to the number of daytrippers and holiday-homers it can feel traffic-plagued in the summer.
There are many more beaches on the coast between Villasimius and Cagliari linked by public transport so it's a good option for those without a car.
Top hotel picks close to a beach include:
4-star Cruccùris Resort is 1km from the beach but has lush landscaping and a pool.
5-star Pullman Almar Timi Ama Resort & Spa is a 10-minute walk from the beach but also runs a shuttle.
Cagliari

Sardinia's capital city is a choice spot for a city break.
Located in the centre of the south coast, Cagliari is refreshingly untouristy – only fairly recently appearing on the route maps of Europe's budget airlines.
It's ideal for walking – as long as you can handle hills.
It has centuries of history and that typical Italian combination of awful traffic, alluring alleyways, promenaded waterfront, palaces and churches, a Roman amphitheatre, and fantastic places to eat and drink. Museums are tucked away in the city's fortifications.
The hilltop old quarter is called Castello. The Marina district is the commercial heart and where you'll find the most restaurants and bars.
Cagliari is surrounded on both sides by salt flats and lagoons, complete with resident flamingos.
The nearest decent beach is at Poetta where an agreeable 6km of sand is lined with lidos and beach clubs. Regular buses ply the 15-minute route. It's a buzzing spot in the summer months (and very busy). There are plenty of watersports and all the facilities you'd expect from an urban beach district.
Want to head into the mountains? Trenino Verde is a small-gauge train line perfect for leisurely excursions inland.
There are plenty of 2 and 3-star hotels around the waterfront of Cagliari, mainly catering to business clientele.
The modern Hotel Aristeo is down by the waterfront, and Il Gallo Bianco is conveniently near the port and train station for transit connections. For luxury, head to the 5-star Palazzo Doglio in the waterfront district of Villanova.
Cagliari Boutique Rooms & Suites has central rooms and chic minimalist decor. Want to stay near the beach? Hotel Nautilus brings the coastal vibes.
If you're on a trim budget there are two hostels in town: Hostel Marina is central but a bit institutional, Hostel Sardinia is more modern but further out of town.
Pula
South of Cagliari is one of Sardinia's most appealing seaside resorts. Pula is one of the few coastal villages that have character and historic squares.
There's something for everyone here – the usual array of fantastic beaches, plus food markets, good restaurants, ancient sites, walking trails, and festivals. The village hums with activity in the summer and the nightlife is decent.
The main village is set back from the coast a little, along the river, but most of the hotels are at the beach. There are many archaeological sites in the surrounding area – notably at Nora, where you'll also find a fine beach and lagoon.
Within driving distance are a golf course and a water park. It's one of the best places to stay in Sardinia for couples thanks to the 10km long stretch of sand called Santa Margherita di Pula which is home to a good selection of appealing 4 and 5-star resort hotels:
Chia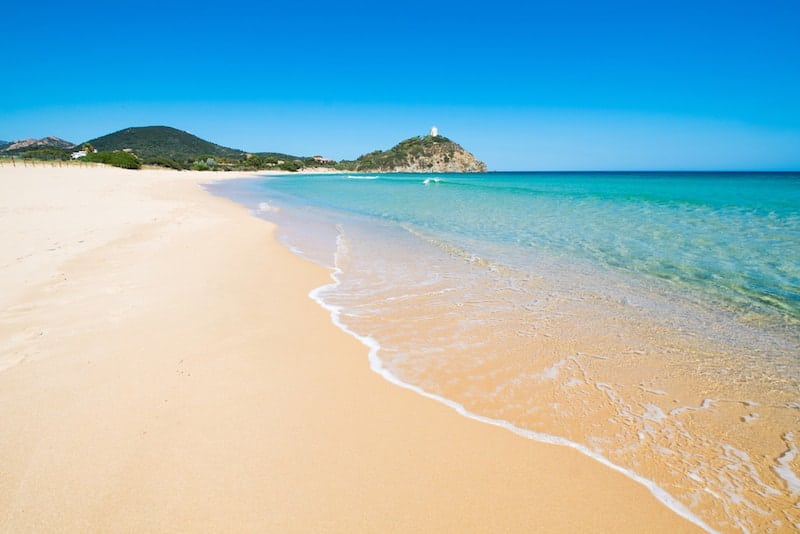 Chia is a small resort area that encompasses several scallops of sandy beach with shallow emerald seas, dunes, lagoons, pink flamingos, and juniper trees.
There are a few organised sections but overall it's a very tranquil and natural area with some good hotels tucked away.
If it's windy at Chia then take a short drive around the coast from Chia is beautiful west-facing Teurreda or any of the sheltered beaches on the way to Capo Malfatano. You can swim or kayak to the small island offshore or enjoy fantastic snorkelling.
The standout hotel here is the Chia Laguna Resort, a complex of boutique hotels and a natural spa spread out around the coast:
Porto Pino

Named after the pine forest which extends along its impressive 4km of white sands, Porto Pino is a small resort on the west side of the south coast with large lagoon lakes and vast dunes.
It's a simple and family-friendly destination with a handful of restaurants and amenities. The beach's natural beauty is well-known, so it gets busy with daytrippers in summer.
It can feel desolate outside during peak time and there's a military base nearby.
Accommodation is mostly simple summer clubs and family-run hotels such as the 3-star Hotel Cala Dei Pini and the 4-star Porto Pino Club.
Sant'Antioco and San Pietro Islands
Two reasonably sized islands lie just off the southwest coast of Sardinia – Sant'Antioco and San Pietro.
Sant'Antioco is the largest and is connected to mainland Sardinia by a causeway so it's possible to drive. It has the same salt pans and sandy beaches as the shore opposite but is much quieter and less visited (although you will still see sunloungers on the main beaches).
Del Corso is the nicest hotel in town. Check Booking.com for small finds.
To reach smaller San Pietro you must take a ferry from Sant'Antioco or mainland Sardinia. Check in to Hotel La Valle or Lu' Hotel Riviera.
West Coast
Wild and beautiful – the beaches on Sardinia's west coast are windy and less developed. This is long-walks-on-the-beach territory (just mind the turtle nests).
Surfing, windsurfing, and kitesurfing are common past-times. Much of the landscape is mountainous with limestone cliffs and evocative sunsets, interspersed with expansive dune beaches.
Accommodation tends towards the traditional and family-run – there are many agriturismos. Perfect if you want to connect with Sardinia's rural traditions.
Bugerru
An old mining town in a splendid setting. Bugerru, like the nearby beaches (including the gorgeous Cala Domestica), is wedged between steep green mountains and the sea.
There are several fantastic bays and excellent hiking. The industrial heritage adds an interesting aspect – there's a museum to visit and the abandoned mine at Malfidano.
Hotel La Rosa Dei Venti is a short walk from the beach.
North of Bugerru is the fabulous Portixeddu beach. There are a few places to stay up in the hills overlooking the sands.
Costa Verde

The Costa Verde is a 45km stretch of coast which is a magnet for those who like empty unorganised beaches.
It's ideal for a hiking holiday as there are old mining trails and an abundance of wildlife. Don't miss the impressive dunes at Piscinas.
Most accommodation options are inland at Guspini – try Booking.com – but the simple Hotel Corsaro Nero is close to the sea at Portu Maga.
Oristano

Oristano is the main city on the west coast's central zone. It's lacking in landmark attractions but is culturally and historically rich, with handsome buildings and elegant piazzas – and still somewhat off the tourist radar.
Downtown Oristano is located slightly inland and the main town beach at Torregrande is 10km away.
If you're looking for a real Sardinian feel and plenty of activities then Oristano fits the bill. For town stays, Hotel Il Duomo has elegant central rooms. Hotel Lido Beach is down by Torregrande.
The wider area of the Golfo di Oristano is a large sweeping bay home to wetlands lagoons and sandy beaches. Travel west along the gulf to the Sinis Peninsula where you will find untouched and beaches of tiny quartz pebbles and impeccable sand.
It's a wild and traditional area with a frontier feel and very little development – if you like your beaches as nature intended then this area will delight you. San Giovanni di Sinis is one of the finest sandy beaches in the area. There are also a few small offshore islands that sit in a protected marine park and can be visited by boat.
There's a good choice of guesthouses and holiday homes on Booking.com.
Bosa

The medieval town of Bosa is miraculously unspoiled by tourism given its Instagram-worthiness. The tall colourful houses could be mistaken for somewhere in the Italian Riviera.
It's the kind of romantic place where you can spend hours just getting lost in its charming streets and enjoying the atmosphere (and the excellent food and wine). There's a castle overlooking the town.
Bosa is located on a riverfront just in from the sea. Where the river meets the sea is a seaside resort known as Bosa Marina. It's a 30-minute riverside walk between the two parts.
The beach is not one of Sardinia's best in terms of sand however it's clean and well-equipped and the nightlife is pretty pumping in the summer. There are many small bays long the coast to the north – Spiaggia Cumpoltittu is one of the prettiest. From here the coast is wild and rocky all the way to Alghero.
The boutique hotel Palazza Pischedda is romantic and elegant. Downriver and closer to the sea, Hotel Baja Romantica has simple rooms and free parking.
Read more:
10 Most Beautiful Beaches on Sardinia
10 Most Beautiful Places to Visit in Sardinia
Costa Smeralda: 10 Insider Tips
Where to Stay in Italy: Ultimate Beach Resort Guide
Where to Stay on Corsica: Ultimate Beach Resort Guide
Where to Stay on Sicily: Ultimate Beach Resort Guide
Where to Stay on Ibiza: Ultimate Beach Resort Guide
Where to Stay on Mykonos: Ultimate Beach Resort Guide
Where to Stay on Mallorca: Ultimate Beach Resort Guide
Where to Stay on Menorca: Ultimate Beach Resort Guide
Where to Stay on Malta: Ultimate Beach Resort Guide
Where to Stay on Crete: Ultimate Beach Resort Guide
Where to Stay on Corfu: Ultimate Beach Resort Guide
Where to Stay on Skiathos: Ultimate Beach Resort Guide
Where to Stay on Kos: Ultimate Beach Resort Guide
Where to Stay on Rhodes: Ultimate Beach Resort Guide
Where to Stay in Halkidiki: Ultimate Beach Resort Guide
Where to Stay in the Cyclades: Ultimate Beach Resort Guide
Enjoyed this post? Follow us on Facebook or Twitter.
Click to save to Pinterest:

Image credits:
All maps ©The Mediterranean Traveller
Costa Smeralda beach aerial: © Travel Wild / Adobe Stock
Spargi Island: © robertdering / Adobe Stock
Cala Brandinchi: © Emiliano / Adobe Stock
Cala Mariolu: © robertdering / Adobe Stock
Spiaggia del Principe: © Marco Alien/ Shutterstock
Cala Luna cave: © Fabian / Adobe Stock
Alghero: © Valery Rokhin / Adobe Stock
La Pelosa beach: © Emiliano / Adobe Stock
Castelsardo: © Levranii/ Shutterstock
Costa Paradiso: © Anbusiello / Adobe Stock
Santa Teresa Gallura: © dpVUE .images / Adobe Stock
Palau: © Vladimir Sazonov / Adobe Stock
Porto Cervo: © Balate Dorin / Adobe Stock
Budelli: © gianluigibec / Adobe Stock
Golfo Aranci: © marco / Adobe Stock
San Teodoro: © Roman Babakin/ Shutterstock
Tavolara: © Travel Wild / Adobe Stock
Budoni: © Eva Bocek / Adobe Stock
Orosei: © aniad / Adobe Stock
Cala Goloritze: © Content Creators / Adobe Stock
Arbatax: © pkazmierczak / Adobe Stock
Costa Rei: © goreme / Adobe Stock
Villasimius: © Andrew Mayovskyy / Adobe Stock
Cagliari: © Roman Babakin/ Shutterstock
Chia: © Elisa Locci/ Shutterstock
Porto Pino: © Jan / Adobe Stock
West Coast: © goreme / Adobe Stock
Oristano: © gevision/ Shutterstock
Bosa: © pixelshop / Shutterstock