Heading to Sicily this year for some summer sun? Here's a beach-lover's guide to where to stay in Sicily – including a beach resort guide and where to find the best sandy beaches and beach hotels. This guide will cover:
which part of Sicily to choose
where to stay in Palermo and Cefalù, Catania and Taormina
Sicily's main beach resorts; the best places to stay for nightlife
the best luxury and boutique beach hotels in Sicily
the best quieter areas for couples, families and nature-lovers

SICILY OVERVIEW
Sicily is a large and culturally rich island (it has 7 sites on the UNESCO World Heritage List). The landscape is varied, the food is fantastic, and it has some of the best white sand beaches in Europe.
Tourists have long visited for the impressive historic sites and towns, but with the exception of classy Taormina and Cefalù beach resorts are a relatively new phenomenon on Sicily. The past few decades have the emergence of lidos (beach clubs with an entrance fee) with along many stretches of coastline, particularly close to the cities. Much of the beach tourism here is geared towards locals and visiting Italian mainlanders with a smattering of northern Europeans in baroque towns or tucked away in villas. There are a handful of islands off the shore of Sicily means you can combine a beach trip with a mini island hopping expedition.
The good news is lots of relatively undeveloped vast sand beaches. The bad news is that you'll need a car (and lots of patience) to access many of them. Parts of Sicily can feel a bit run-down compared to similar Mediterranean destinations. If you're planning to hire a car and go exploring it's worth sticking to Blue Flag beaches as some areas are unfortunately polluted, particularly around industrial towns. Sicily is a big island and the roads are not always great so it's best to focus on either the east or the wide side.
There is a tourist tax charged per night which varies by season, accommodation rating, and location.

GETTING AROUND
Airports:
Palermo Falcone Borsellino Airport (PMO) is 30km west of Palermo.
Catania-Fontanarossa International Airport (CTA) is 8km south of Catania.
Sicily also has two secondary airports – Comiso in the southeast, and Trapani on the west coast – which are mainly served by domestic airlines but have occasional international flights in high season.
Skyscanner is a great tool for finding cheap flights.
Train:
It's possible to reach Sicily by train from the mainland – trains board the ferry for the short journey across the Straits of Messina and then rejoin the rail line. It's a unique travel experience. Sleeper trains run the length of Italy and then on to Sicily through this route, allowing you to connect to Italy's major cities by train.
At Messina, the main rail line divides into two directions – down to Catania, and across the north of the island to Palermo. Numerous regional routes connect to these two hubs. It's worth noting that the inbound service is often running late. Most of Sicily's main historic cities and towns are connected by rail however the services aren't necessarily geared towards tourists – routes can be slow and infrequent.
You can buy train tickets online through Omio.
Bus: Usually faster and more frequent than the train. Hunting down timetables can be a challenge if you don't speak Italian. You can buy tickets from kiosks and shops. They must be validated before boarding or else risk a fine.
Ferry : Ferry services connect Sicily with its minor islands as well as the mainland (Naples, Rome, Livorno, Genoa, Salerno, Vibo Valentia), Sardinia, Tunis, and Malta. You can buy tickets through Direct Ferries.

THE BEST PLACES TO STAY IN SICILY
BEST LUXURY HOTELS: Calette N5 (Cefalù), Sikelia Luxury Resort (Pantelleria)
BEST HOTELS ON THE BEACH: Capo San Vito, Castello San Marco Hotel & Spa, Belmond Villa Sant'Andrea, La Plage, Grand Palladium Sicillia Resort & Spa, Musciara Siracusa Resort
SWANKIEST VILLA: Stazzo Castle
BEST INFINITY POOL: The Ashbee Hotel (Taormina)
BEST PLACE FOR COUPLES: Panarea
BEST BOUTIQUE BEACH HOTELS: Hotel Alberi del Paradiso
BEST PLACE FOR NIGHTLIFE: Palermo, Catania, San Vito Lo Capo, Giardini Naxos
BEST SANDY BEACH RESORTS: San Vito Lo Capo and the west coast, Lampedusa
BEST APARTMENTS: Ortigia Luxury Apartments
WHICH PART OF SICILY TO STAY IN?

It's worth noting that the cities empty out in August when inhabitants flee for the cooler coast and mountain areas.
NORTH: Train line runs along the north coast linking coastal towns with Palermo. White sandy beaches towards the east. On the west side, the Aeolian Islands funnel off the visitors. Mountainous and green with mainly residential areas.
SOUTH: Long windswept sandy beaches, many of them empty, plus impressive Greek ruins and characterful (if scruffy) working towns. The Montalbano effect is drawing some tourism to the south.
EAST: The most popular area for beach tourism, with sandy beaches running down the east coast from Catania and the glamorous Taormina to the north. Lots of baroque villages and chic rural B&Bs around the UNESCO Heritage zone of Val di Noto. The landscape around Mount Etna is also ideal for adventure activities.
WEST: The best area for sandy beaches. Some resort areas such as the lively San Vito Lo Capo, plus gems like the Egadi Islands, golden baroque towns with Arab heritage, and fantastic vineyards.
PALERMO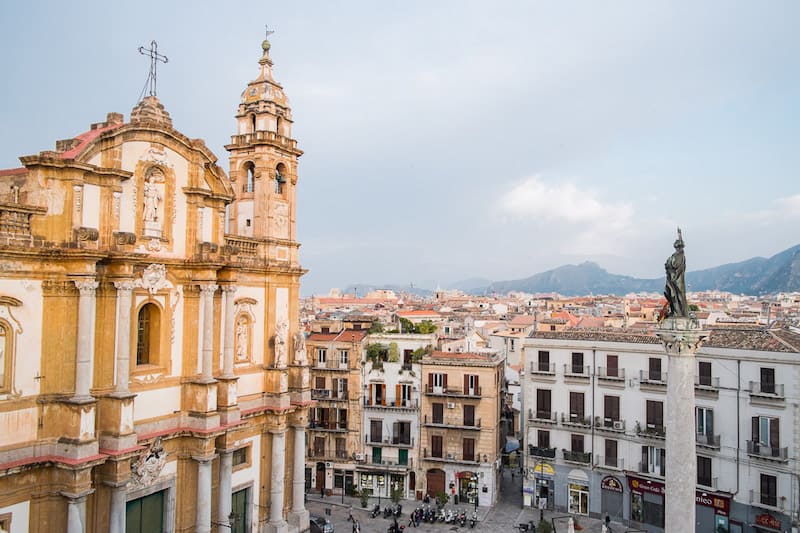 Palermo is one of the most underrated cities in Europe, with historic treasures to rival anywhere on mainland Italy. It's a large city with one of the biggest old quarters in the whole of the Mediterranean. The city's dazzling and unique Arab-Norman heritage is recognised by the UNESCO World Heritage list, which picks out 9 sites for inclusion – which includes the nearby cathedrals at Cefalù and Monreale. The city is awash with secret courtyards and chic wine bars but served with a generous dose of grit.
The old town is neatly divided into 4 neighbourhoods (La Kalsa, Vucciria, Albergheria, and Capo) by the Quattro Canti crossroads. It's awash with secret courtyards, art galleries, buzzing food markets and chic wine bars, all served with a generous dose of grit.
The best luxury hotel in Palermo is the newly renovated 5-star grand resort hotel Rocco Forte Villa Igiea which is a 20-minute drive to the north of the centre an on the coast, but worth it for its Capri-esque feel and views.
For a central 4-star stay right by the Quattro Canti try the nostalgic grandeur of Eurostars Centrale Palace Hotel or modern boutiques like BB22 or Quintocanto Hotel & Spa. Elsewhere, Accommodation in the old town can be a mixed bag for first-time visitors as noisy streets and dodgy alleys are common.
The Politeama/Teatro Massimo is a safe and popular neighbourhood for vacation rentals (such as this 2-bed apartment) and budget hotels, though it doesn't have the same character as the old town and is 20-30 minute walk from the main sites and the train station. Friendly boutique hostel A Casa di Amici is the best place for backpackers (and don't miss the amazing gelato at nearby Pasticceria Cappello).
Transfer time: 35 minutes from Palermo airport.
MONDELLO

Beach-lovers will be pleased to hear that one of Sicily's best sandy beaches is a bus ride (line 806) away at the ever-popular Mondello.
Mondello dates to the early 1900s when the marsh area was drained to make way for a French Riviera-styled beach resort for Palermo's elite. Its a place to see a be seen; it comes alive in the hot summer daytimes when it seems as though half the city has decamped to its toasty white sands, electric blue waters, and Art Nouveau villas.
To stay right by the sea, the Splendid Hotel La Torre is a large 4-star resort hotel in Mondello with sea view balcony rooms. Unico Boutique Hotel d'Arte has modern rooms, an infinity pool and hot tubs. But note that the bus into the centre of Palermo only runs during the summer season and it can get very busy so Mondello is a better base for exploring the area by rental car than visiting the city.
Other coastal parts of Palermo worth checking out include Bagheria, where you'll find villas and the Roman ruins at Solunto, Porticello, Santa Flavia, Aspra, Capo Zafferano, Adaura, and Sferracavallo.
CEFALU

The star of the west coast, Cefalù might well win the prize of most beautiful town on Sicily. It's historic buildings sit right on the beachfront, the green Madonie mountains tower over the bay. The medieval centre is a tangle of narrow streets, orange-tiled roofs, shops groaning with local produce. Behind the town the hill of La Rocca is topped by the temple of Diana. To add to the atmosphere, fisherman dock their boats right on the beach.
There's even a Norman cathedral with UNESCO-listed mosaics. It has a similar dolce-vita vibe to Sorrento and Taormina but a more appealing layout and with several sandy beaches. Lungomare – the main beach – is 8km long with calm waters. Quieter beaches nearby include Caldura, Pollina, and Lascari beaches. It attracts a cosmopolitan crowd of mainland Italian families and foreigners drawn by the history and the scenery. Understandably, it does get very busy in July and August.
5-star Calette N5 is the best luxury hotel in Cefalù and boasts impeccable views, chic decor, and a private sandy beach at the same location as 4-star sister hotel La Calette Garden & Bay. It's a 20-minute walk to the old town.
The appealing 4-star Hotel Alberi del Paradiso has a spa and shuttles to the beach, and Hotel Kalura is an affordable and fun 3-star resort hotel with a small private beach (though lots of steps are involved). For villas and vacation rentals in the area check VRBO.
Either side of Cefalù there are long stretches of sandy beach in organised lido areas and home to sprawling resort hotels and self catering accommodation. This is the most popular part of the Sicily for fly-and-flop packages – TUI offer several hotel options with flights from the UK.
Transfer time: 120 minutes from Palermo airport.
CAMPOFELICE DI ROCCELLA
Campofelice di Roccella is 20 minutes outside Cefalù and has a 12km long straight beach with flat area in front of the main road. It has a quiet bucket-and-space feel and bags of space, but it's worth noting the sea gets deep quickly.
There are a few large resort hotels with beach access – check out the spacious 5-star Grand Palladium Sicillia Resort & Spa and the palm-dotted 4-star Acacia Resort – as well as many smaller hotels and villas. For accommodation behind the the main road and train line you'll need a car to get to the beach, it's connected with the main village by underpass roads.
CASTELLAMMARE DEL GOLFO

Virtually unknown amongst English-speaking tourists, the picturesque seaside resort of Castellamare del Golfo is to the west of Palermo, on the road to the Zingaro Nature Reserve.
It's medieval waterfront buildings are reminiscent of Cefalu but not quite as cosmopolitan or polished. More popular with local visitors. The town has a tuna fishing heritage and the waterfront is packed with bright blue wooden boats. It has two small beaches, with the larger (and cleaner) Spiagga Playa further out along the coast.
Castellamare de Golfo tends to be a stopping off point rather than a base and is not well served by public transport. The train station is out of town and buses are infrequent. Part of its attraction is its proximity to Zingaro and Scopello and this is much easier if you have a car. Along the coast are the similar smaller towns of Balestrate and Alcamo.
Hotels close to the beach include 3-star Marina di Petrolo Hotel & Spa which has a rooftop pool and on-site parking.
Transfer time: 35 minutes from Palermo airport, 55 minutes from Trapani airport.
SCOPELLO

Scopello is the view that launched a thousand tourist brochures. This tiny hamlet is located in the beautiful Lo Zingaro Nature Reserve which is a treat for walkers. Unsurprisingly, it's popular given its tiny size, attracting many daytrippers. But the scenery is unspoiled and unparalleled, with its iconic rock formations and old tonnara (tuna fishery) and baglio buildings. The tonnara has been renovated and reopened as an event venue and now controls access to the cove, one of the most beautiful beaches in Italy.
There are many villas in the area as well as several small hotels – try the 3-star Hotel Torre Bennistra for classic Italian charm and great views, or the Guidaloca Residence for whitewashed vacation rentals.
Transfer time: 40 minutes from Palermo airport, 1 hour from Trapani Airport.
SAN VITO LO CAPO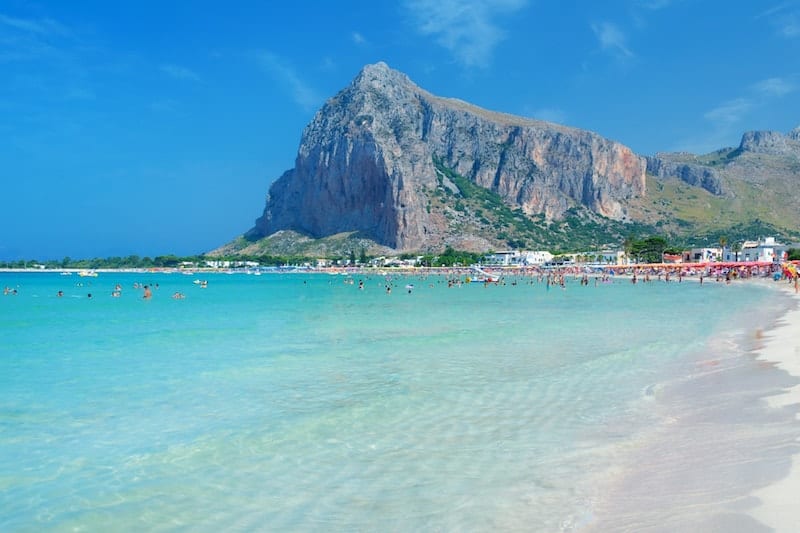 At the other end of the Zingaro National Park is San Vito Lo Capo, one of the most popular and lively beach resorts in Sicily. And what a beach it is, blessed with some of the best white sands in all of Europe. San Vito occupies a scenic position on the north west tip of the island, which more than makes up for its purpose-built buildings.
It's ideal for younger travellers looking for a lively resort with some nightlife, as well as families with teenagers. San Vito is also good value, and is the home to a special seafood couscous dish. There's a strong fishing fleet presence with traditional links to North Africa. The town hosts the annual Couscous Festival in September (check). Active travellers will enjoy the watersports on offer, including kite-surfing.
Beachfront 4-star Capo San Vito is one of the best beach hotels in Sicily, with cosmopolitan decor, a wellness centre and is one of the few hotels directly on the fine sands rather than behind the main road.
On a budget? Backpackers can shack up at Timbuktu Hostel, with African-influenced design and welcoming vibes.
Transfer time: around 1 hour from both Palermo and Trapani airports.
TRAPANI

The small city is the main hub of the west coast and the gateway to the tiny Egadian Islands (see below). Although this region is popular with mainlanders as it has a small domestic airport, it's largely overlooked by foreigners – except for a brief period when international Ryanair flights landed here. Most head straight up the coast so prices are good value and it has the feel of somewhere undiscovered.
Trapani is a working port town with a charming old quarter, a decent place stop if you're driving around Italy or want to be somewhere with decent transport links. There are salt flats and endess vineyards to explore in the surrounding coastal areas, plus 2 lido beaches in the city plus some swimming platforms. Central Gallery Palazzo Rooms are airy and right by the sea, and Giardini Mon Plaisir has a pool.
Transfer time: 1 hour from Palermo airport, 20 minutes from the smaller Trapani airport.
EGADIAN ISLANDS

The 3 tiny islands that make up the Egadian island group – Favignana, Levanzo (pictured above), and Marettimo – are some of the most enchanting islands in Italy. The sea here is a vibrant turquoise and the buildings are whitewashed with blue shutters and doors.
The islands are popular daytrip destinations for holidaymakers on the beach resorts of the west coast. Favignana is the biggest and busiest. There are a few beaches (such as Cala Azurra and Cala Rossa) but much of the coast is rocky and Favignana is well-suited for swimming, snorkelling, diving, and cycling. There are a few upscale and eco-friendly hotels and guesthouses – top picks are the friendly L'Oasi Villagio Albergo and chic Dimora complex.
Levanzo (pictured above) is the smallest island, it's picturesque but has very limited accommodation and dining options. The furthest island, Marettimo, feels quiet and remote which attracts walkers rather than daytrippers. The Marettimo Residence is a traditional 4-star hotel with a pool.
Transfer time: The ferry port at Trapani is 1 hour from Palermo airport, 25 minutes from the smaller Trapani airport. Ferry journeys are an hour or less, depending on the island and ferry.
PANTELLERIA
A longer ferry journey (or a short flight) will take you south to the island of Pantelleria. This small and rocky volcanic island is becoming a chic retreat for those looking to escape the modern world. No sandy beaches but you won't miss them at the dreamy Sikelia Luxury Resort.
MARSALA

Another gem on the west coast is the small city of Marsala. The name is probably familiar to you as the area is well-known for its wine. It has a beautiful baroque centre and a relaxed vibe. South of town is a long stretch of fine sand beaches, the most popular of which is the lively Lido Signorino. It's ideal for a short beach break with culture at close hand. The scenery is flat and cycling is a popular pasting.
There is a selection of traditional guesthouses and self catered lets in the area behind the beach, like the laid-back Case Vacanze Signorino Resort. In the high season you can also take a hydrofoil to the Egadi islands.
Transfer time: 1 hour 20 minutes from Palermo airport, 25 minutes from Trapani airport.
MAZARA DEL VALLO

To the south of Marsala is the fishing town of Mazara del Vallo which is surrounded by vast white sand beaches. The beach at Tonnarella alone is 8km and one of the best in Sicily. There are many beach resorts and vacation rentals in the wider area and its popular with windsurfers and kitesurfers.
The town itself has a distinct Arab and North African heritage as well as baroque backstreets and a working harbour. It's well-placed for exploring the region's archaeological treasures.
Despite the fantastic beach the accommodation options in Mazara are not great, with most hotels inland and looking a bit dated. Avoid the beaches closer to town which can be polluted. Try the 4-star Mahara Hotel and Wellness which is within walking distance of the centre and offers a beach shuttle.
Transfer time: 1 hour 25 minutes from Palermo airport, 50 minutes from Trapani airport.
SELINUNTE

The area of Selinunte is well known for its archaeological park and ancient ruins. It's also an option if you're looking for a villa in a low-key location close to vast dune beaches and well placed for trips by car. The sand along this section of coast becomes a medium golden colour. Some beaches have organised lido sections (particularly around Menfi) and others are wilder and surrounded by the delta landscape of the Belice Nature Reserve.
Check VRBO which has rentals right on the beach.
Transfer time: 1 hour 30 minutes from Palermo airport.
SCIACCA

The sandy beaches continue along the south coast through to Sciacca, a working fishing port with a long history, a baroque centre, and a bustling harbour. The town is not too touristy though Italian visitors come for the thermal springs nearby as well as the fantastic sand beaches like Lido di Tonnara.
The coastline around here has many mid-range 4-star resort hotels like the Cala Club Regina which has direct beach access.
Transfer time: 1 hour 25 minutes from Palermo airport.
AROUND AGRIGENTO

Around the corner from La Scala dei Turchi is the sweeping golden beach of Punta Piccola which has beachfront rental units and restaurants all the way round to the bigger town of Porto Empedocle. Most visitors are here for the ferries that run to the islands Lampedusa and Linosa.
Inland Agrigento is home to the famed Valley of the Temples archeological site. Most visit on a day trip, but it has a small old town with narrow medieval streets surrounded by post-war apartment blocks.
From here, the coast swerves south and is dotted with small windswept villages like Punta Secca (pictured above) – known for being the location of the TV's Inspector Montalbano.
A search on Booking.com will surface all sorts of properties in this region.
Transfer time: 1 hour 45 minutes from Catania airport, 45 minutes from Comiso airport.
MARINA DI RAGUSA

The sleepy south has seen recent development sprout up along its coast, which has desirable golden sands. Marina di Ragusa is low-rise, whitewashed, barren and windswept – it's a popular area with windsurfers and kitesurfers. Development is focused around its modern marina. The wide and flat sandy beach is flecked with palms for an exotic feel. It's also well placed for jaunts to Ragusa and the Val di Noto to the north.
The Acacia Marina is a resort hotel with beach access (package are available through TUI).
Transfer time: 1 hour 40 minutes from Catania airport.
AROUND POZZALLO
Little-known Pozzallo has several wide sandy beaches – and is home to half of Sicily's Blue Flags, though the sand is darker than you might find at other beaches though. Pietre Nere is the main town beach. It's a large town with a traditional Sicilian feel and a year-round population. It's also a ferry port – from here you can be in Malta in just 90 minutes.
The inland area north of Pozzallo is a hotspot for resort hotels such as family-friendly Borgo Rio Favara complex and the Hotel Club Marispica, and chic rural stays like the stylish Cambiocavallo.
For beach access the 4-star Modica Beach Resort at Marina di Modica is a solid choice.
Transfer time: 1 hour 25 minutes from Catania airport.
LAMPEDUSA AND LINOSA

These two islands off Sicily's south coast are not as well known as the Aeolian islands but are just as dramatic. Wild and rocky Lampedusa is Italy's most southerly point (it's closer to Tunisia than mainland Italy) and is home to one of it's most beautiful beaches – Spiaggia dei Cornigli. The water is turquoise and warm with fantastic marine life, ideal for divers and snorkellers.
There's a good selection of comfortable 3 and 4-star hotels such as the Hotel Baia Turchese and Hotel Giglio which are both is right by sandy beaches. There's also the Roccia Camping & Village for those who love the outdoors.
Linosa is quiet and remote with small black sand beaches and just a handful of guesthouses including the 3-star Hotel Pelaghea.
MARZAMEMI

Sicily's southeast coast – the stretch between Marzamemi and Syracuse – is home to some of the island's nicest beaches villages. It's more accustomed to tourism than the remote stretches of the south coast, and there are lots of lovely boutique hideaways tucked away. The tuna fishing heritage is evident in laid-back Marzamemi which has a reputation for good food, sandy beaches and crystal clear water. Cute rentals like Casa Memi are the order of the day here. The nearby Vendicari Nature Reserve has fantastic walking and beaches.
Transfer time: 1 hour 20 minutes from Catania airport.
FONTANE BIANCHE

The coastline past Vendicari gets progressively busier and livelier as you edge north towards Syracuse. There's a string of popular suburban lido beach along the coast – the main ones are Lido di Noto, Marina di Avola, Fontane Bianche, Ognina, and Arenella.
Fontane Bianche and Lido di Noto are lined with beach clubs, hotels, and sunloungers during the Italian summer holidays. Outside this time they can be very quiet with many facilities closed.
The villa Holiday Fontane Bianche Beach is very close to the beach, whilst the Hotel Villamare is one block back. Fontane Bianche and Avola both have train stations which make it possible to visit both Syracuse and nearby Noto without a car. If you do have a car, don't miss a trip to the fantastic Cavagrande Nature Reserve if you have a car.
Transfer time: around 1 hour to Catania airport.
SYRACUSE

Formerly an Ancient Greek colony of great repute, Syracuse (or Siracusa) was one of the most important cities outside Greece. And it's one of the most beautiful cities in Sicily, with layers of history on display. The centre is all gleaming white baroque. The tiny island of Ortigia is the heart of the medieval old town and is connected by several bridges. Here you'll find a bustling food market, a Byzantine castle, archaeological treasures, and buzzing cafe life.
There are rocky platforms off Ortigia for swimming. The nearest lido beaches are at Plemmirio, Arenella, and Ognina. Avoid the coast to the north which is heavily polluted.
For a chic town stay check out the dreamy rooftop at Caportigia Boutique Hotel. Further out, the 4-star VOI Arenella is right by a large sandy beach. The Musciara Siracusa Resort has the best of both worlds with a city location but small private beach.
Transfer time: 50 minutes from Catania Fontanarossa airport.
CATANIA

Sitting in the shadow of Mount Etna, Catania is Sicily's second city. Despite its proximity to the volcano and many of Sicily's tourist highlights (the baroque hilltop towns and smart seaside villages of the east coast), the city itself remains off the tourist radar. It's a gritty university city with a vibrant nightlife – more alternative than the classical appeal of Palermo – and the centre is chock full of frilly baroque and buildings hewn from dark volcanic stone.
Accommodation in the city is excellent value – particularly apartments in the historic centre and boutique hotels like Duomo Suites & Spa. Backpackers looking for dorms should check out the frescoed Ostello Degli Elefanti.
Catania is also a coastal city with popular sandy lidos stretching out to the south. The most popular is the wide beach at Lido Azzurro which is decked out with day beds in the summer. There are some rentals and small guesthouses along this part of the coast but facilities are very seasonal. Try Romano Palace Luxury Hotel.
North of the city, along the coast to Acireale, is the Cyclops Riviera – a series of rocky volcanic coves that have been swallowed into one resort area. It gets very busy in the summer. It's lined with restaurants, boardwalks, and swimming platforms, and gets very busy in the summer. Beyond Acireale there is a long and pleasant pebble beach at Fondachello and Fiumefreddo which attracts a local crowd – stay at the 4-star beachfront baroque palace Castello San Marco Hotel & Spa for a quieter alternative to Taormina.
Transfer time: 20 minutes from Catania airport.
TAORMINA

Taormina is Sicily's most well known seaside resort and is the island's answer to the Amalfi Coast or Italian Riviera. It oozes glamour and has been attracting the rich and famous for decades. It has a well-heeled 'grand tour' feel which is topped off by its ancient ruins and view over the bay to Etna. The main town is perched upon a clifftop with breathtaking views. There's a cable car linking the town to its beaches and seafront promenade down below. It's colourful, busy, scenic, and fun.
The main beaches are the two either side of the famous Isola Bella, both are pebbly. There's a larger lido-style beach with some sand and children's facilities at Mazzaro.
For more room head north of Taormina to the long strip of pebble beach at Letojanni. Keep going and you'll reach Forza d'Agro, an atmospheric hilltop village that was one of the filming locations for The Godfather.
Taormina has Sicily's best selection of resort hotels, all infused with old-world charm. The 5-star Belmond Villa Sant'Andrea and La Plage both have small private beaches, whilst the VOI Grand Hotel Atlantis Bay has panoramic views and a swimming platform.
Transfer time: 1 hour from Catania airport.
GIARDINI NAXOS

Giardini Naxos is the popular family-friendly outpost of Taormina, 5km to its south. It's not quite as ritzy – though there's still plenty of shopping, family facilities, nightlife, and it does benefit from a long beach which is a mix of pebble and sand. It's traditional bucket-and-spade appeal attracts a European crowd including package holidaymakers. There's an organised section and a free section of the beach. Taormina is just 5km away for an easy visit.
Pick of the resort hotels is the stylish new Nautilus. Package are available through TUI and (including all-inclusive options).
Transfer time: 45 minutes from Catania airport.
NORTH EAST COAST
The north east corner of Sicily is quiet and untouristy as most visitors are just passing through. Milazzo and Messina are ferry and cruise ports, whilst Portorosa is the departure point for the Aeolian Islands and has a buzzing yacht marina. Beaches tend to be quiet and geared towards local tourism – the best are around Mortelle, Milazzo, and Tindari around to Capo d'Orlando (known as the Saracens Coast). The mountains and national park of the Nebrodi is just inland.
Transfer time: 1 hour 45 minutes from Catania airport.
AEOLIAN ISLANDS

The unique (and UNESCO World Heritage-listed) volcanic islands that make up the Aeolian chain have long been one of the highlights of Sicily. The islands are: Lipari, Salina, Panarea, Stromboli, Vulcano, Filicudi and Alicudi. It's a popular destination for summer vacations and each island has its own identity. Catch a ferry from Portorosa, Messina, Milazzo, and in high season Palermo and Naples, or visit on a sailing trip. Expect good food, black sand beaches, and spectacular landscapes.
Of the islands, Lipari is the biggest and busiest and has the most holiday vibe with a good range of traditional guesthouses and rentals. Salina is quiet and scenic and has some lovely boutique hotels. Vulcano is upmarket and caters to the luxury crowd and couples.
Top hotel picks include Hotel Raya and the Quartara Resort Hotel on Panarea, Hotel Principe di Salina and Capofaro on Salina, and Odysseus and Hotel Mea on Lipari.
Read more:
10 Most Beautiful Beaches in Italy
10 Most Beautiful Islands in Italy
15 Things Not to Miss in Palermo
A Quick Tour Around Palermo's Historic Centre
Where to Stay in Italy: Ultimate Beach Resort Guide
Where to Stay on Sardinia: Ultimate Beach Resort Guide
Where to Stay on Corsica: Ultimate Beach Resort Guide
Where to Stay in Greece: Ultimate Beach Resort Guide
Where to Stay in Malta: Ultimate Beach Resort Guide
Enjoyed this post? Follow us on Facebook or Twitter.
Click to save to Pinterest:

Image credits:
Scopello: © mRGB / Adobe Stock
Mondello Beach: © Aleksandar Todorovic / Adobe Stock
San Vito Lo Capo aerial: © Alexey Oblov / Adobe Stock
Taormina: © Natalia Macheda / Shutterstock
Ortigia: © Romas_Photo / Shutterstock
Map of Sicily: ©The Mediterranean Traveller
Palermo: ©The Mediterranean Traveller
Mondello: © Paulo Resende / Adobe Stock
Cefalu: The Mediterranean Traveller
Castellammare del Golfo: By leonori / Shutterstock
San Vito Lo Capo: © nadisja / Shutterstock
Trapani: © leonori / Shutterstock
Levanzo: © Andrea-Moreno / Shutterstock
Marsala: © Gandolfo Cannatella / Shutterstock
Mazara del Vallo: © imagesef / Adobe Stock
Selinunte: © Pixelshop / Adobe Stock
Sciacca: © e55evu / Adobe Stock
Punta Secca: © yolfran / Adobe Stock
Marina di Ragusa: © Stefano / Adobe Stock
Lampedusa: © Giacomo / Adobe Stock
Marzamemi: © siculatour.com / Adobe Stock
Fontane Bianche: © jana_janina / Adobe Stock
Syracuse and Ortigia: © eddygaleotti / Adobe Stock
Catania: © ingusk / Adobe Stock
Taormina: © IgorZh / Adobe Stock
Giardini Naxos: © vvoe / Adobe Stock
Panarea: © nata_rass / Adobe Stock