Heading to the beautiful Italian Riviera this year?
This popular region in the northwest of Italy offers an enticing combination of picturesque towns, flavoursome food, lush scenery, and a bit of glitz and glamour.
But with so many towns, how do you narrow down where to stay on the Italian Riviera?
This is part of an Italian beach resort guide and it covers:
which part of the Italian Riviera to choose
where to stay in the popular Cinque Terre area
a run-down of the main beach resorts on the Italian Riviera
the best luxury hotels and resort areas on the Italian Riviera
where to find the best beaches, quiet resorts, and prettiest places

Shortlist – Best Places to Stay in the Italian Riviera
BEST LUXURY HOTEL: Belmond Hotel Splendido (Portofino)
BEST BEACHFRONT HOTEL: Grand Hotel Miramare (Sestri Levant)
BEST HOTEL INFINITY POOL: Excelsior Palace (Rapallo)
BEST VILLA: Il Signorile (Portofino)
BEST SEA VIEW HOTEL IN THE CINQUE TERRE: Hotel Porto Roca
BEST SMALL AND CHARMING HOTEL: Hotel Punta Est (Finale Ligure)
BEST BOUTIQUE CITY HOTEL: Palazzo Grillo (Genoa)
BEST VIEW: Hotel Helvetia (Sestri Levante), Cenobio dei Dogi (Camogli)
GLITZIEST RESORTS: Portofino, Sanremo
BEST ALL-ROUNDER RESORTS: Santa Margherita Ligure, Finale Ligure
BEST QUIET RESORTS: Bordighera, Laigueglia
BEST PLACES FOR BEACHES: Laigueglia, San Terenzo, Diano Marina, San Remo
HIDDEN GEMS: Laigueglia, Lerici, Framura, Varigotti
BEST PLACE FOR CULTURE: Nervi, Sanremo, Albenga
BEST BUDGET BEACH HOTEL: Hotel Bellevue et Mediteranee (Diano Marina)
CHIC RURAL ESCAPE: Relais Del Maro (Borgomaro)

Keep reading for a full guide to the Italian Riviera resort towns.
Italian Riviera – A Quick Overview

The Italian Riviera is a stretch of coastline which belongs to the province of Liguria and runs from the French border around to Tuscany. It's eternally popular with both domestic and international visitors – and for good reason.
It is packed with colourful beach towns, rugged green scenery, a sense of old-school glam, and food that explodes with flavour. If you're looking for la dolce vita, you'll find it here in spades – along with plenty of pesto, limoncello, and focaccia.
Though there are some sandy beaches here, you won't find white sand beaches here – for that look to Sardinia, Sicily, and Puglia.
Most resort towns cater to the domestic Italian crowd and this is reflected in kilometres of private beach clubs and family-friendly traditional accommodation.
The most international places on the Riviera are upmarket Portofino, Sanremo with its casino crowd, and the pretty villages of the Cinque Terre – a favourite of Instagrammers, hikers, and cruise-ship crowds.
But what many don't realise is that the Riviera is crammed full of places that are just as picturesque but much less crowded.
Most towns are connected by the train line that runs the length of the coast. Genoa itself is an oft-overlooked city with lots to do.
The coastline is developed yet craggy enough to provide pockets of peace. Any beach of reasonable size tends to have a lido (beach club) or two on it though.

Which Part of the Riviera to Stay In?
The Riviera is divided into two sections – the Riviera di Ponente (west) and the Riviera di Levante (east) with the main city Genoa in the middle.
GETTING AROUND
Airports:
Genoa Christopher Columbus Airport (GOA) is located right in the middle of the Riviera coastline.
The eastern coast is also accessible from Pisa International Airport (PSA).
The western coast is accessible from Nice Côte d'Azur Airport (NCE).
There are also 3 airports in Milan, which is around 2 hours north of Genoa depending on the airport and the mode of transport.
We recommend using Skyscanner to check for the cheapest flights.
Public transport: The train line runs the length of the coastline with stations at most major locations.
You can check train and bus routes on Rome2Rio and book tickets through Omio.
Ferry/Cruise: The main cruise ports are Genoa and La Spezia as well as Livorno in Tuscany.
From Genoa, there are ferry connections to many destinations in the western Mediterranean – see Ferryhopper for more route information.
During the summer there are smaller ferry boats (batello) around the Cinque Terre – for more information read The Cinque Terre Travel Guide.
Riviera di Ponente
The western half of the Italian Riviera is known as the Riviera di Ponente (the Riviera of the Setting Sun), from Genoa all the way out west to the border with France and its own Riviera.
Just to confuse you, this itself is also split in two.
Riviera dei Fiori is the name for the coastline between Ventimiglia to Capo Mimosa – it has a beautiful landscape and is known for its flower cultivation, gardens, and elegant tourist destinations.
Riviera della Palme is the name for the coastline between Capo Mimosa around to Genoa – here you'll find a wilder shore and more domestic tourism.
Ventimiglia

Ventimiglia is the first Italian city as you cross the border from France. It's the main train terminal for connecting to France and is popular with tourists from over the border (just 7km away).
It attracts crowds for its weekly market selling clothes including high fashion items. The market is one of the largest in Italy and is held on Fridays. For food, there's also a smaller indoor market.
Ventimiglia also has an old town with remains of ancient city walls and a Roman theatre, a large covered market, and a small harbour. The town is divided in two by the River Roia. Hanbury Gardens.
The best beaches around are
Le Calendre
Camporosso
Vallecrosia
Ventimiglia tends to be a day trip destination so hotels in town are mostly traditional and somewhat functional 3-star guesthouses. Try Kaly or the seafront Sole Mare.
Transfer time: 2-hour drive from Genoa airport, 40-minute drive from Nice airport.
Bordighera
Bordighera is a lesser-known but pretty town with elegant pink buildings and shady palm-lined streets.
It's an excellent base for exploring enchanting inland villages in the Nervia Valley such as Dolceacqua with its famous bridge, Seborga, and Vallebona.
Lively. Popular with locals and domestic tourists?? Known as the 'Queen of the Palm Trees' and noted for its flora and fauna. It has several gardens (such as the Pallanca Exotic Gardens) and the longest promenade on the Riviera.
Transfer time: 2-hour drive from Genoa airport, 45 minute drive from Nice airport.
Ospedaletti
Just up the coast is the smaller Ospedaletti which has a stony beach and a few places to stay, handy if you don't want to stay in Sanremo itself. Quieter local beaches, one for dog walkers, although there are a few beach restaurants for the summer.
San Remo

Sanremo (sometimes spelt San Remo) is one of the most upmarket resorts in Italy, famous for its casino, art nouveau buildings, lush gardens and mild winter climate.
Sanremo is absolutely worth visiting if you like a flutter, but also if you enjoy a resort with a packed cultural calendar as well as plenty of recreational activities. It's an international tourist resort popular year-round, it doesn't close down in the winter.
It hosts big poker tournaments, numerous music festivals and an annual flower parade.
Expect to see designer boutiques, a large marina, lush villa gardens, and the iconic Empress seafront promenade.
It has a beautiful old quarter – La Pigna (the pinecone) and the iconic San Siro cathedral with its onion domes.
It's also home to some of the best beaches on the Italian Riviera, with several buzzing sandy beaches right in town and quieter stretches such as the lovely Tre Ponti just outside.
The top luxury hotels in town are:
Not a baller? Try the modest Hotel Paradiso which has a pool.
Transfer time: 1 hour 50 minutes from Genoa airport, 1 hour from Nice airport
Imperia

Imperia is a town formed from several harbour areas combined into one. The area around the hilly Porto Mauritzio headland is particularly charming. Paraiso hill, historic buildings, and waterside cafes.
The main part of town is Oneglia which has a more workaday feel but also a long beach, a large marina, and better facilities.
There's an abandoned village inland at Bussana Vecchia.
There are two train stations in Imperia, one in Oneglia and one in Porto Mauritzio.
Diano Marina
The start of a string of popular coastal resorts, Diano Marina has a large sandy beach with lots of lidos.
It's a rather functional but family-oriented resort popular with locals. If you're in search of typical Italian charm, nightlife, or posh dinners you can probably skip through Diano Marina.
What it does have is safe and clean beaches and plenty of facilities and activities for families with small children.
There's a water park nearby at Cereale, and a beautiful hilltop town slightly inland at Diana Castello.
The eastern part of Diano Marina blends into neighbouring San Bartolomeo al Mare and Cervo. This area is ripe with resort hotels near the beach.
4 star:
3-star:
Cervo

One of the highlights of the western coast is Cervo, a small walled ancient town by the sea with wonderful atmospheric streets to wander..
The old quarter is on a hill and hosts music festivals in the summer. There's a tourist information office at the top if you want to learn more about its long history.
The beach at Cervo is small and stony, better to stay in nearby Diano Marino if that's your priority.
There are small traditional guesthouses, the standout is B&B Palazzo del Duca
A few kilometres up the coast is Andora where you'll find a sandy beach with lots of lidos and a small selection of guesthouses.
Laigueglia

Laigueglia is a beautiful coastal town where you'll find colourful buildings and a small castle right on the beachfront.
It's quieter, and less well-known than many of the beach resorts in Ligura – particularly on this stretch of the Riviera de Ponente. It retains its original fishing-village feel, but is still lively enough in the summer with plenty of cafes and bars.
The 3km beach is sandy and it's backed by green hills full of hiking trails. The sea is shallow and suitable for children.
Alassio

It's a straight drive along the coast from Laigueglia to Alassio, one of the most popular resorts in the area.
Like Laigueglia, it has a long sandy beach with plenty of beachfront establishments and shallow child-friendly seas. The beach is narrow in some parts and is lined with lidos.
Alassio is livelier and more expensive than Laigueglia, very popular with Italian families and very busy in the high summer months.
Albenga
Albenga is a historic coastal city just north of Alassia. It dates back to Roman times and has a medieval centre with many towers, a Romanesque cathedral, and a maritime museum.
It's also known as the City of Wine and is ideal for those looking to immerse themselves in local life.
It has a small island – Gallinara – which is a popular scuba diving site.
Caves nearby at the Grotte de Toirano.
There are several city beaches but the old part of the city is slightly upriver.
To the south of town, there's the small sandy Baba Beach popular with dog owners.
Rooms near the beach:
Rooms in the city:
Ceriale
Ceriale is a popular traditional resort area. It has a coarse sand lido beach, colourful buildings, and a palm-lined promenade.
But the main attraction in Ceriale is the waterpark – Aquatic Park le Caravelle.
Accommodation is mainly in B&Bs/small hotels.
Borghetto Santo Spirito and Loano
Borghetto Santo Spirito is a small coastal area with lots of postwar apartment blocks attached to a large lido beach consisting of dark sand and shingle. The vibe is urban sprawl rather than riviera chic but it has sheltered waters and a castle.
It blends into Loano which has a more upmarket vibe centred around the large yacht club and marina.
Stay at the 5-star Yacht Club Marina di Loano or the 3-star Torre Antica Hotel & Spa.
Pietro Ligure and Borgio Verezzi
Pietro Ligure and Borgio Verezzi (the two are separated by a stream) which consists of a shingle/coarse sand lido area (known as Rin Tin Beach) with modern apartment blocks. There's a small medieval village and cave system up in the hills behind.
Best hotels in Pietro Azzuro include:
Pietra Ligure also has two campsites.
Finale Ligure and Varigotti

The town of Finale Ligure is a pleasant and popular traditional resort with an old town full of history and character. Lively and versatile, it has something for everyone.
It's one of the best spots along the coast for lovers of adrenaline/adventure activities including mountain biking and rock climbing. There are hiking trails with spectacular views. The adventure junkies bring a youthful vibe and a good selection of bars.
Finale Ligure has two long Blue-Flag lido beaches (Finalmarina and Finalpia) overlooked by a castle-topped headland.
Uphill is a medieval hilltop village called Finalborgo, one of Italy's most beautiful villages (and part of the Borghi Piu Belli d'Italia association).
Don't miss beautiful Varigotti and the Bay of Saracens, a short 5km drive east along the coast, where you'll find pastel buildings on several wonderful beaches.
Noli

Noli is a small east-facing resort town tucked away behind Cape Noli, It has a beautiful setting hugged by green mountains and a traditional fishing village feel. There are some lovely old streets right by the shore.
The beach is Blue-Flag rated and a mix of shingle and pebble.
Seafront accommodation options include:
Spotorno
Spotorno is a small modern lido resort with postwar apartment blocks.
At the northern end of the beach is Bergeggi, a small islet with a church and remains of a monastery, and around the headland are several shingle beaches at the bottom of steep cliffs (accessible via the main road).
Accommodation options are functional/trad B&B – check Booking.com.
Savona and Vado Ligure
Vado Ligure is a modern industrial town with a busy port – ferries from here make the run over to Corsica – and a railway construction plant.
The north end blends into Savona, an important seaport and one of the biggest cities in Liguria.
Savona also has an attractive old town, a pleasant harbour area, a modern marina, and a few sites of interest (including the second Sistine Chapel, and old galleon,). It's not a popular tourist destination.
Although it has a long stretch of lido beach it's not really a beach resort. Accommodation is mostly in modern city B&Bs/hostels such as the Mare Hotel Savona.
But 4km northeast of Savona is Albissola which has a generous course sand beach, colourful buildings, a marina, and seasonal accommodation.
Celle Ligure

Celle Ligure is a medium-sized traditional resort town tucked in at the foot of Monte Beigua, well-known amongst Italian visitors.
It has an abundance of characteristic colourful Ligurian buildings. The main beach (Bagni Ellida) is coarse sand with a few pebbles and a generous width. In the summer months, it's packed with loungers.
There are hiking trails up in the hills behind.
Varazze, Cogoleto, and Arenzano
Varezze, Cogoleto and Arenzano are coastal towns in the outer Genoa area, at the foot of the Monte Beigua National Park.
Mainly popular with visitors from the city, they are not known for anything in particular but have a little bit of everything – pastel-hued old buildings, good local restaurants, and beach bars. Hotels tend to be functional/cheap.
Arenzano is the prettiest of the three, with lush scenery and excellent gardens. There's a cycle path along an old train track connecting it to Cogoleto.
Stay at the waterfront Grand Hotel Arenzano.
Genoa

As well as being the gateway to the region, Genoa is a busy but underrated city with plenty to discover.
Genoa was once one of the wealthiest trading ports and maritime empires of the world – Christopher Columbus was born and lived here.
There's an abundance of palaces and villas, churches and art. It's gritty but filled with riches, unpolished, sprawling but authentic and under-touristed.
It also has one of Europe's largest old quarters. The Centro Storico encircles the port and has plenty of caruggi (narrow alleyways with the tall building so typical of the area) and an uncommercial feel.
The port area (Porto Antico) is a bit more industrial/modern – still used by passenger and container ships – but has aquarium and pirate ships for kids.
Main sights include:
Garibaldi Street (lined with 15th-century palaces)
Palazzo Rosso
Palazzio Bianco
Bigo Elevator
The airport is just west of the city and a free shuttle bus runs frequently to the centre.
The main train station is Genova Piazzza del Principe.
For a luxury/boutique stay there are plenty of options:
Need an apartment? Try stylish Casa Rame or Leone X.
On a budget? Check out a flashpacker hostel with stylish design such as Ostello Bello Genova or Ostellin Genova.
Boccadasse

You'd be forgiven for thinking this colourful cluster of fisherman's houses around a small beach is in the Cinque Terre.
But actually, Boccadasse is within the city boundaries of Genoa – just a 20-minute drive from Piazza del Principe, or around 1.5 hours to walk from the centre along the main seafront road.
You can continue walking through the neighbourhood along the coast to Vernazzola which is similar but slightly less touristy.
The houses look idyllic but don't be fooled, it's surrounded by modern city development. You can stay a few streets away at Rex Hotel.
Nervi

Nervi is one of the first proper resort areas as you head east from Genoa (although technically it's part of the city).
Long a favoured spot for Genoa's wealthy, it has excellent art and museum collections housed in its many villas. There are several museums and galleries to visit as well as a vast park, a marina, a shingle beach, and a 2km coastal promenade and path.
Check in to 3-star Hotel Esperia just a few blocks back from the beach, or Hotel Villa Bonera which is housed in a 15th-century building.
Rivera di Levante
Camogli and the Golfo Paradiso

If you're looking for a quieter alternative to the Cinque Terre then the Golfo Paradiso (Paradise Gulf) is for you. The name refers to the section of coast from Bogliasco to Camogli and encompasses 5 villages/towns:
Bogliasco (pictured above) – a small fishing village with big waves and good sunsets.
Pieve Ligure – a small and known for its flowers.
Sori – a large but quiet and traditional town.
Recco – a modern town (it endured heavy damage in WWII) with excellent food.
Camogli (pictured below) – a larger town with iconic tall waterfront buildings and maritime heritage. The seafood here is particularly good.

Camogli, at the foot of the Monte Portofino Natural Park, is the best base. The surroundings are stunning but it's not overrun by tourists.
There's no coastal trail connecting the villages but in the summer small boats connect the piers in the Porto Golfo as well as destinations further east for day hikes.
The Bogliasco Foundation study centre provides residential fellowships.
The best places to stay in Camoglia include:
San Fruttuoso

San Fruttuoso is an idyllic bay with a 10th-century monastery set right on a pebble beach.
The abbey is open to the public and there are a few restaurants to feed you afterwards.
There's no road to San Fruttuoso, you can reach it by boat (it's a popular day trip from practically every nearby settlement) or by hiking through the park.
Under the sea, a bronze statue of Christ sits at a depth of 15 metres which attracts divers.
The only place to stay here is the apartment of Casa de Mar, a Landmark Trust property.
Portofino

Legendary Portofino is one of the most glamorous and beautiful coastal destinations in Italy, if not in the whole of Europe.
It was once a small but idyllic fishing village and is one of the prettiest spots on the coast with its recognisable curved harbourfront and lush surroundings.
Portofino has several interesting churches and the remains of a castle, but most come for the refined atmosphere and high-end restaurants and shops (not to mention the celebrity-spotting). The coastline is enchanting with lots of small coves, the nearest beach is at Paraggi.
The accommodation in Portofino is very exclusive.
Paraggi is the nearest beach, it's gravelly but scenic and is home to the fancy Le Carillion beach club.
The nearest train station is at Santa Margherita Ligura.
If you don't have that kind of cash to splash then your best bet is small B&Bs or apartments towards the back of the village – browse Booking.com for your options.
Santa Margherita Ligura

Santa Margherita Ligura is a large coastal town with old-school charm.
It's a classic Riviera resort but it's not exclusive like Portofino – there's something for all budgets here. It hasn't completely lost itself to tourism and is big enough to absorb the number of visitors it attracts.
Villa Durazo-Centurione hosts events and has gardens. There's a big fish market – be sure to try the red shrimps.
SML, as it's sometimes known, is one of the best towns to stay in the Riviera if you're looking to do lots of exploring. It's bigger than Camogli and convenient for visiting Portofino and the Cinque Terre plus it has nearby hiking options – take the bus to Ruta to avoid the worst of the uphills
The best hotels in Santa Margherita Ligure include:
Rapallo
Rapallo has a similar appeal to Santa Margherita Ligure, only it's larger and less touristy. It has more local bustle and sprawl as well as good bus, road, boat, and train connections.
There are hotels here at all price points. It's a good spot for deals.
Attractions include the 16th-century Castello di Rapallo, the cable car to Sanctuary of Montallegro, and plenty of buildings with trompe-l'oeil facades. It's possible to hike from the sanctuary to Chiavari.
Between SML and Rapallo is the picturesque fishing village of San Michele di Pagnana.
Top hotels in Rapallo include:
Chiavari and Lavagna
Chiavari is a small but lively working city where the river meets the sea. On the other side of the river is Lavanga.
It's not one of the more popular coastal resorts but there's plenty of interest here – notably the Shrine of Our Lady dell'Orto inspired by the Pantheon in Rome.
Chiavari has a medieval centre with the typical carrugi backstreets, Ligurian villas and gardens. It's known for its medieval arcades (covered walkways, a bit like Bologna) and its namesake chairs. There's a marina and beaches on the outskirts.
There are some great places to stay in the area:
Sestri Levante

The old part of Sestri Levante is built on a promontory with a beach on each side, hence its name – 'the town of two seas'. It was once an island and particularly scenic by the waterfront.
It was loved by Hans Christian Anderson.
The old part is beautiful and charming but the narrow beach gets very busy in the summer.
Top places to stay in Sestri Levante include:

Between Sestri Levante and the Cinque Terre National Park are a number of small traditional coastal towns.
As with the Golfo Paradiso, these villages make an excellent alternative base for the Cinque Terre. All are on the rail network and you can be on the Cinque Terre within 30 minutes – although the train stops are not as frequent as at larger stations.
Most are overlooked in the stampede to reach the Cinque Terre and so are relatively quiet.
Riva Trigoso – a small and quiet fishing village with a dark gravel beach
Deiva Marina – a small traditional resort with a sandy beach
Moneglia – a borghi village with a beach, similar to Monterosso
Framura – made up of 5 tiny villages, a hilly and quiet hidden gem
Bonassola – a small resort town with a long gravel/sand beach
Levanto – right next to the national park, Levanto has a dark golden sand beach and a traditional family resort vibe
Levanto, Framura, and Bonassola are connected by a trail where old railroad tunnels have been turned into a cycle path. E-Bikes are available to hire.
The area is just 10 minutes from the Cinque Terre by train and can almost be considered an extension (the hike from Levanto to Monterosso al Mare is one of the nicest in the park) or an alternative.
Standout places to stay include:
The Cinque Terre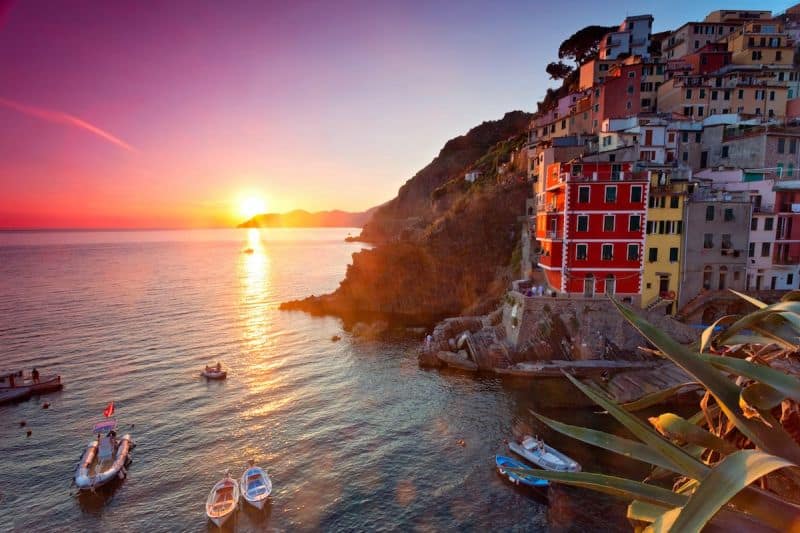 The famous Cinque Terre area refers to 5 small coastal villages (the '5 lands' of its name):
Monterosso al Mare
Vernazza
Corniglia
Manarola
Riomaggiore
These villages are all colourful, exquisitely beautiful, and connected by a hiking trail as well as by train and boat. The wider area is a National Park.
You're unlikely to have the villages to yourself – it's one of the most popular parts of the coast. Daytrippers flock here, especially when the cruise ships are in (check La Spezia, Genoa, and Livorno on Cruisemapper if you want to plan your trip for when there are fewer crowds).
Most of the accommodation in the villages is in traditional B&Bs. This isn't luxury territory – expect rugged coastal scenery, fishing villages, agriturismos, a lack of roads and parking, and steep UNESCO-protected vineyards.
It's best to stay a couple of days if you can rather than squeeze the trail into one day (sections vary in difficulty). Part of the beauty of this area is enjoying la dolce far niente (which translates as 'the sweetness of doing nothing').
For more information read: How to Plan a Trip to the Cinque Terre
Monterosso al Mare

Monterosso al Mare is the largest and flattest of the Cinque Terre villages and is also the best for beaches. It has a traditional Italian beach resort vibe with its lidos and beachside restaurants bringing a summertime buzz.
Monterosso has 3 beaches of coarse dark sand which are inhabited by some lively lidos, though there is a public stretch of beach in the middle.
The hikes on either side of Monterosso are the most challenging of the coastal trail.
You'll find the widest selection of hotels here (as opposed to guesthouses), swimming pools, and parking – Monterosso is the only real option within the park if you're bringing a car.
Vernazza

Vernazza is the classic Cinque Terre destination. It feels the most elegant and spacious of the villages.
Along with Riomaggiore, it's the most photographed thanks to its colourful fishing harbour, castle, and many vantage points.
It has a small unorganised beach and its streets are lined with shops selling local produce, focaccia, and excellent gelato.
Vernazza and Monterosso feel the most touristy of the villages but also have the best facilities and widest selection of eateries, better if you plan on staying for a few days.
Corniglia

Corniglia is perched high up on a hill and so lacks the coastal feel of the other villages. As such, it's the quietest of the villages and has a cosy and romantic feel.
There are steep steps (382 of them!) down to the shore though, with small hidden beaches at the bottom.
It's worth knowing that the train station is at sea level so you'll likely need to climb the steps to reach your accommodation.
Stay at cute B&Bs like Da Beppe or Il Magan.
Manarola

Idyllic Manarola has a quiet charm and is famous for its sunsets.
It does get busy around midday when it swells with people walking from Riomaggiore, but in the evening the crowds completely disappear.
It's a good alternative to Corniglia if you prefer to be by the sea. There's no beach but you can join the locals for a morning swim off the rocks by its small harbour.
There are hiking trails through the steep vineyards up behind Manarola and Corniglia.
Stay at:
Riomaggiore

Riomaggiore is the easternmost village of the Cinque Terre and also one of the most iconic. You're sure to recognise it from appearances on desktop screensavers and Instagram.
Despite its small size it's a popular place to stay and has the best selection of budget accommodations and restaurants.
The coastal trail starts here – it has recently reopened after several years of renovation. The trail from here to Manarola is known as Via dell'Amore and is the easiest and flattest section (and therefore the busiest – especially with cruise ship tourists).
There is a small pebble beach tucked away south of the harbour.
Portovenere

Situated just outside the Cinque Terre Natural Park and away from the train line, pretty Portovenere nonetheless has a similar appeal to its neighbours.
It's a fishing town with picturesque waterfront buildings, a fortress, and its own natural park encompassing Palmaria Island. It has a low-key feel with good facilities and excellent restaurants.
Portovenere is connected to the Cinque Terre villages by a regular boat as well as by bus, making it easy to take day trips (to Lerici and Portofino too). But equally it's big and pleasant enough place in its own right.
This section of the coast is known as the Gulf of Poets and is associated with Shelley and Byron.
Top hotels in Portovenere include:
La Spezia

La Spezia is a major cruise port for the area but is often overlooked, despite having a small old quarter and several interesting museums.
The wider bay is dominated by a naval base.
It's a great option for budget accommodation for a longer stay soaking up local life. From the train station, you can easily reach the Cinque Terre villages.
Fezzano is a small seaside area with a harbour halfway between La Spezia and
La Spezia has a good selection of hostels – check out the award-winning Costella.
Lerici and San Terenzo

Famous with Italians but not so well-known internationally, this small bay just beyond the La Spezia breakwater is a paradise for beaches.
Lerici is a harbour village with the requisite tall buildings, a weekday market and a medieval castle.
Just up the coast, San Terenzo has one of the finest sandy beaches around and so has more of a resort feel.
There are plenty more beaches to discover in between and beyond, ranging from pretty coves to exclusive beach clubs to wild cliff beaches.
To the south is the idyllic little village of Tellaro (pictured below), one of the best-kept secrets in the region. This pastel-hued fishing village is just as beautiful as the Cinque Terre but without the crowds of daytrippers.
A 20-minute drive inland you can find the historic village Ameglia and the Montemarcello-Magra Natural Park.
The best hotels in the Lerici area are:

Read more:
How to Plan a Trip to the Cinque Terre
Cinque Terre – How to Escape the Crowds
Italy's Coasts and Beach Resorts
Enjoyed this post? Follow us on Facebook or Twitter.
Click to save to Pinterest:

Image credits:
Vernazza (featured image): © f11photo / Adobe Stock
Tall buildings in Portovenere: © iryna1/ Adobe Stock
Map of Italian Riviera: © The Mediterranean Traveller
Beach near Noli: © Soldo76/ Adobe Stock
Portofino villas: © By Dan Breckwoldt/ Adobe Stock
Ventimiglia: © monticellllo/ Adobe Stock
San Remo: © Olena Z/ Adobe Stock
Imperia: © parntawan1987 / Adobe Stock
Cervo: © Boris Stroujko / Adobe Stock
Laigueglia: © Mor65_Mauro Piccardi / Adobe Stock
Alassio: © Boris Stroujko / Shutterstock
Finale Ligure: © Roberto Zocchi / Adobe Stock
Noli: © faber121 / Adobe Stock
Celle Ligure: © Olena Z / Adobe Stock
Genoa: © monticellllo / Adobe Stock
Boccadasse: © aceshot / Adobe Stock
Nervi: © Roman Sigaev / Adobe Stock
Bogliasco: © By Alex Tihonovs / Shutterstock
Camogli: © By aceshot1 / Shutterstock
San Fruttuoso: © Frank Krautschick / Adobe Stock
Portofino: © Boris Stroujko / Adobe Stock
Santa Margherita Ligure:© Boris Stroujko / Adobe Stock
Sestri Levante: © By monticello / Shutterstock
Levanto: © The Mediterranean Traveller
Cinque Terre: © santosha57 / Adobe Stock
Monterosso al Mare: © Balate Dorin / Adobe Stock
Vernazza: © lamax / Adobe Stock
Corniglia: © Simon Dannhauer / Adobe Stock
Manarola: © Jag_cz / Adobe Stock
Riomaggiore: © By Andrew Mayovskyy / Shutterstock
Portovenere: © anko_ter / Adobe Stock
La Spezia: © saiko3p / Adobe Stock
Lerici: © Freesurf / Adobe Stock
Tellaro: © By StevanZZ / Shutterstock