Looking for the softest finest sandy beaches in Italy?
Here are 10 of the most dazzling sands and wide curved bays to discover along the Italian coastline.
Costa Smeralda, Sardinia

Sardinia's exclusive Costa Smeralda is one of Italy's premier beach resort areas. And it's easy to see why.
Located in the north east of the island of Sardinia, this region is home to achingly beautiful coastal scenery – much of it undeveloped. The beaches here are some of the best in Europe. The sand is fine, the water is turquoise, and the beaches are surrounded by boulders and fragrant scrub.
The sand is finest and the water bluest at the Spiaggia del Principe – also known as Portu Li Coggi, or the Prince's Beach. It's no secret though, expect crazy crowds in the summer.
San Vito Lo Capo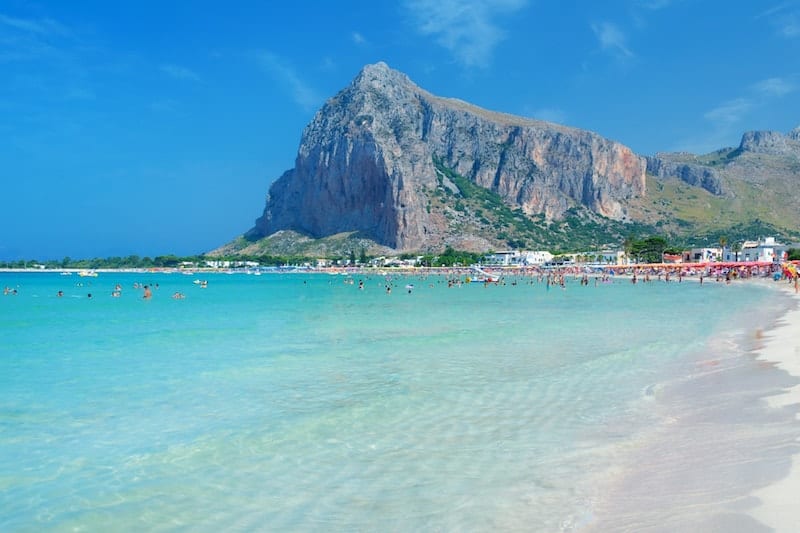 The Sicilian beach resort town of San Vito Lo Capo is enduringly popular with Italians but less known outside Italy.
Domestic tourists flock here for its iridescent white sand beach (which sometimes has a pinkish tinge), seafood couscous, and lively summer buzz. It's family friendly and has a mix of organised and unorganised (free) sections.
Visit outside the high summer months and you'll have the beach pretty much to yourself.
La Pelosa, Sardinia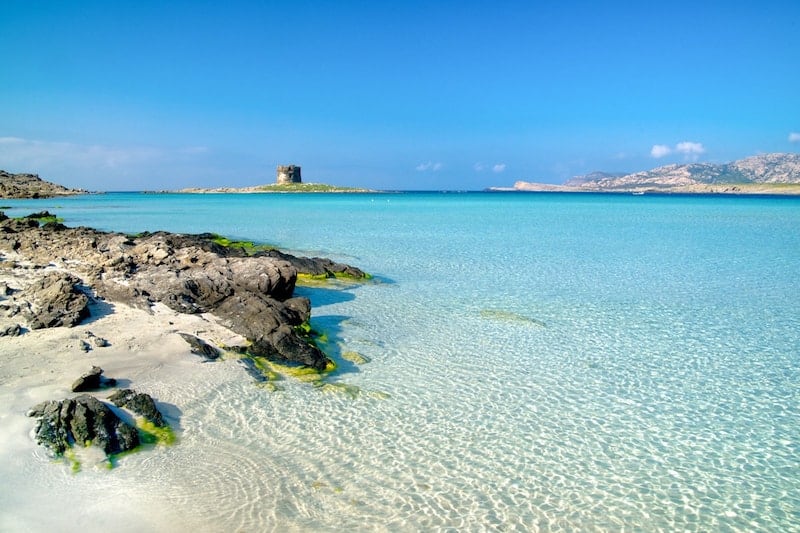 On an island of beautiful beaches, La Pelosa somehow manages to stand out. Located in the north west tip of Sardinia, its vast shallow waters seem to stretch for miles.
La Pelosa is so popular these days that an entry ticket system has been introduced to help keep numbers manageable. It's much less busy midweek and out of season.
Otranto, Puglia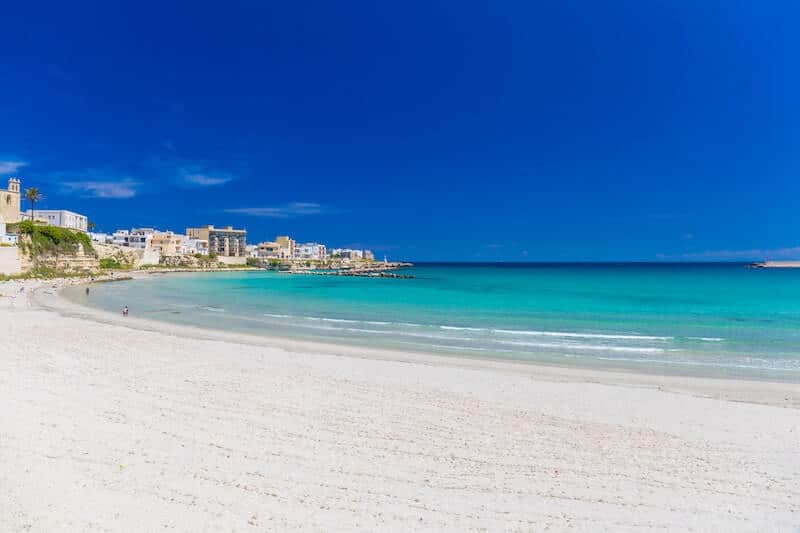 The southern region of Puglia is increasingly a go-to destination for its white sand beaches served with a hefty dose of medieval charm. Exemplifying this combination is the fortified resort town Otranto which sits on the southern tip of the Salento Peninsula.
The town is atmospheric and is surrounded by fantastic coastal scenery. To the south is rocky seascapes for exploring by boat, and to the north a string of white sand beaches such as the Bay of Turks and Alimini Beach (pictured above).
Pescoluse, Puglia

Head over to Puglia's southern shore for miles and miles of straight dune beaches backed by low-lying forest. This is prime campsite territory. Summers here are relaxed and (mostly) family-friendly.
The most beautiful stretch of beach is at Pescoluse, also known as the 'Maldives of Puglia' for the dazzling colour of its waters. If Bali beds and sunset cocktails are your thing you'll love it.
San Teodoro

The resort area of San Teodoro on Sardinia's east coast is surrounded by so many fabulous beaches we couldn't narrow it down to one.
The best are a short drive north of the town – La Cinta, Lu Impostu, and Cala Brandinchi (nicknamed 'Tahiti Beach').
This series of lagoon beaches is notable for its soft curved bays and calm clear seas.
Tropea

The Calabrian city of Tropea has a fine white sand beach but it's all about the backdrop here. The beach is overlooked by steep cliffs and vertiginous buildings giving it a unique appearance.
At the end of the beach is the medieval Santa Maria dell'Isola monastery perched atop a rocky promontory. This stretch of coast is not known as the Coast of the Gods for nothing!
Villasimius, Sardinia

Villasimius is a coastal resort in Sardinia's scenic southeast corner. It has a laid-back buzz and several bays with knockout beaches including the famous Notteri lagoon (pictured above).
Boat trips are a popular pasttime here as Villisimius also part of a protected marine area – the Carbonara National Marine Park.
Campo di Marina, Elba

The island of Elba is a popular summer destination for Italians who rate it for its lush and unspoiled landscapes and impeccable beaches, but it's somewhat off the beaten track for international visitors.
Marina di Campo is one of the main tourist resorts on the island. It's set in a scenic bay and has a wide golden sand beach at its centre.
Torre Lapillo

Torre Lapillo is small village with a a huge sandy beach on Puglia's south coast, a short distance north of nearby resort town Porto Cesareo.
Part of a nature reserve incorporating wetlands and dune areas, it's one of the longest beaches in Puglia and is loved by local families for its shallow waters, juniper trees, and clean sands.
Honourable mentions:
Chia and Tuerredda Sardinia
Portopino, Sardinia
Cavoli, Elba
Fontane Bianche, Sicily
Rabbit Beach, Lampedusa
Garibaldi Beach, Caprera
Cefalu, Sicily
La Maddalena, Sardinia
Mondello, Sicily
Read more:
10 Most Beautiful Beaches on Sardinia
10 Most Beautiful Beaches on Sicily
10 Epic Beautiful Beaches in Italy
Where to Stay in Italy: Ultimate Beach Resort Guide
10 Most Beautiful Coastlines in Italy
Enjoyed this post? Click to save to Pinterest:

Image credits:
Porto Cesareo aerial: © EnricoPescantini / Adobe Stock
Spiaggia del Principe: © Marco Alien / Shutterstock
San Vito Lo Capo: © nadisja / Adobe Stock
La Pelosa: © Emiliano / Adobe Stock
Otranto: © jsk12 / Adobe Stock
Pescoluse: © Balate Dorin / Shutterstock
Cala Brandinchi: © Emiliano / Adobe Stock
Tropea: © Diego Grand/ Shutterstock
Lu Impostu: © marco / Adobe Stock
Porto Cesareo: © BrunoBarillari / Adobe Stock