Italy is home to some truly jaw-dropping coastal landscapes – the only trouble is deciding where to go. You'll find plenty of variety in Italy, whether you're after rugged cliffs, picturesque coves, or scenic fishing villages.
Here are 10 of the most spectacular and unspoiled coastlines in Italy not to miss:
Orosei

The National Park of the Golfo di Orosei and Gennargentu is on Sardinia's east coast and is known for its dramatic and jagged limestone cliffs and vibrant turquoise waters.
There are many coves, hidden caves, and secret beaches to discover in this incredible landscape – as well as some challenging hikes and climbs.
Stay at nearby Cala Gonone and explore the park by boat.
Amalfi Coast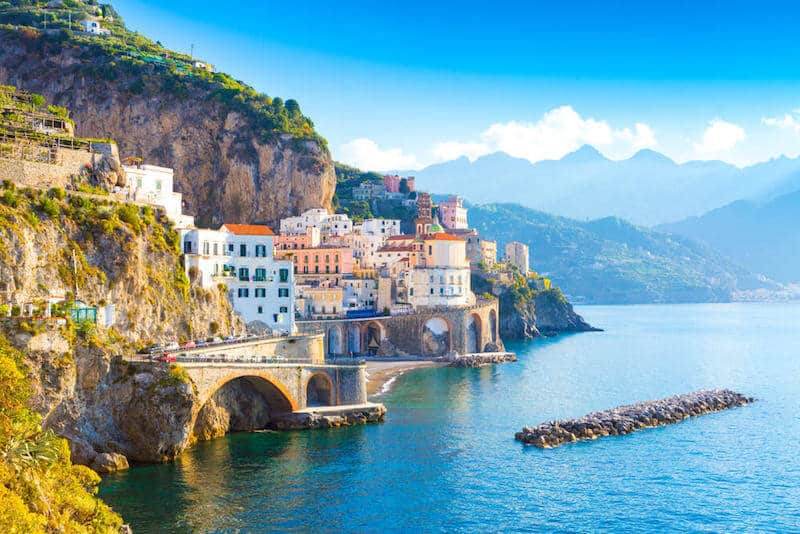 The Amalfi Coast is world-famous for its beautiful coastline enhanced by scenic seaside towns, dark sand beaches, and steep terraced geography.
The UNESCO World Heritage-listed region occupies 50km of coastline and incorporates numerous towns and villages including Amalfi, Ravello, and Positano.
Take in the views by hiking the 8km Sentiero degli Dei – the Walk of the Gods.
Gargano National Park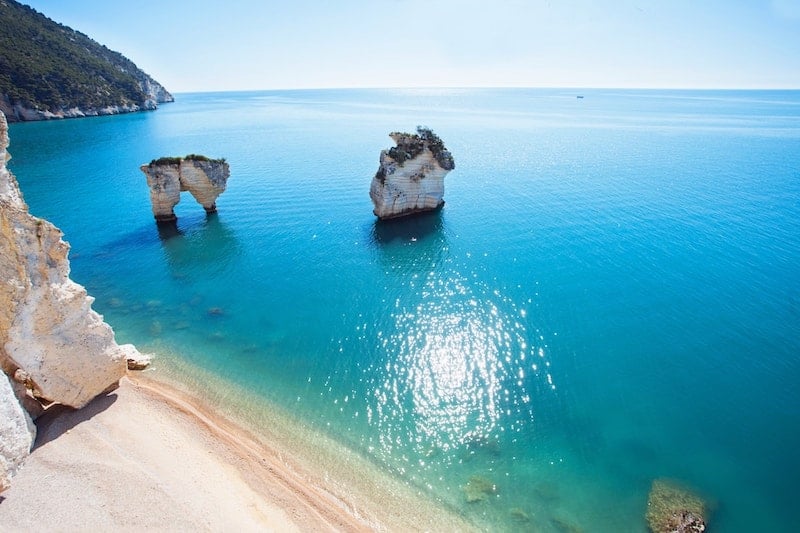 The Gargano Peninsula is the 'spur' of Italy's boot, dividing Puglia from the north of the country, and it has a very distinct landscape compared to its neighbours.
Green and mountainous, it has dense oak and beech forest and steep limestone cliffs. Nearly the entire peninsula is part of the Gargano National Park.
As well as unspoiled nature you can find several picturesque seaside resorts – Peschichi and Vieste – as well as some of Italy's most spectacular beaches and the little-visited Tremiti Islands.
Salento

The Salento Peninsula is the Italy's 'heel' and is full of coastal treasures. The Adriatic coast is lined with beautiful harbour villages like Trani, Molfetto, Polignano a Mare, and Monopoli.
At the far end is Otranto, a charming historic coastal town surrounded by sandy beaches, swimming holes, and the Costa Otranto Regional Park.
This protected marine park runs along the coast to Santa Maria di Leuca. Within it you'll find oak forests and pinewoods, vibrant turquoise seas and towering rock formations.
Aeolian Islands

Sicily is surrounded by minor islands and the most unique of all are the Aeolian Islands, a popular summer destination for Italians.
The Aeolian Islands are also UNESCO-listed on account of their unique volcanic geology and history.
Highlights including a hike up the crater of still-active Stromboli, the mudbaths at Vulcano, exclusive Panarea, and tranquil Filicudi.
Cinque Terre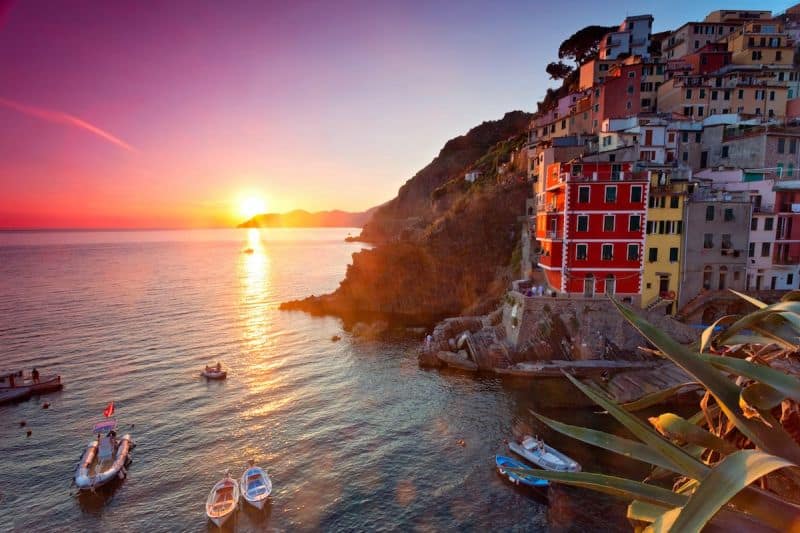 Liguria's Cinque Terre rivals the Amalfi Coast for most photographed coastal scenery in Italy. This National Park is named after its five villages with colourful buildings that tumble down to the sea, linked by a train line and hiking trails.
The five villages are: Monterosso al Mare, Vernazza, Corniglia, Manarola, and Riomaggiore.
The park is on the UNESCO World Heritage list along with its neighbour Portovenere (an incredibly beautiful town in its own right).
Cilento

Keep heading south past the Amalfi Coast and you'll reach its underrated neighbour, the Cilento and Vallo di Diano National Park.
It's Italy's second-largest national park but slow roads keeps the crowds away. It's worth the journey if you enjoy unspoilt nature, emerald seas, clean shingly beaches
Cilento is another coastline on the UNESCO list thanks to the wealth of ruins tucked away including the Ancient Greek temple at Paestum. But it's not only classical remains, there's evidence of civilisation going back as far as the Neolithic period here.
La Maddalena

Fans of soft sand beaches and uninhabited islands will have a field day in the stunning La Maddalena archipelago just off Sardinia's north coast. It consists of are seven major islands and a handful of islets.
The largest two islands – La Maddalena and Caprera – are linked together by a causeway. The rest of the islands in the groups can be explored by boat and on foot (apart from a few which are protected).
La Maddalena is famed for its translucent bays, granite rock formations, and impeccable beaches. Little wonder the islands are popular with visiting yachts.
Elba

The Tuscan island of Elba has it all: handsome harbour towns, beautiful beaches, and pristine landscapes.
Elba is most famous outside Italy for being Napoleon's place of exile, but Italians love it for its incredible nature and the multitude of activities on offer.
It's part of the Tuscan Archipelago National Park – the largest marine park in Europe. There are 6 more islands in the chain, including pretty Giglio, but Elba is the largest and most popular destination.
Honourable mentions:
Costa degli Dei, Calabria
Ulysses Riviera, Lazio
Conera Riviera, Le Marche
Maremma Regional Park, Tuscany
Zingaro and Vendicari Nature Reserves, Sicily
Egadi Islands, Sicily
Read more:
10 Most Beautiful Beaches on Sardinia
10 Most Beautiful Beaches in Sicily
A Complete Guide to Coastal Italy
10 Colourful Italian Towns & Villages
10 Best Coastal Cities in Italy
10 Best Sandy Beaches in Italy
Enjoyed this post? Click to save to Pinterest:

Image credits:
Orosei: © Content Creators / Adobe Stock
Amalfi: By Oleg Voronische/ Adobe Stock
Gargano: © kite_rin/ Adobe Stock
Salento: © jsk12/ Adobe Stock
Aeolian Islands: © Carolina09/ Adobe Stock
Cinque Terre: © santosha57/ Adobe Stock
Cilento: © Giuma/ Adobe Stock
La Maddalena: © Bogusz/ Adobe Stock
Elba: © Jens Ottoson / Adobe Stock