Planning a trip to Cyprus? Here's where to stay on this beautiful Mediterranean island. Town or beach? Lively or quiet? Glam or rustic? Apartment or hotel? Luxury or budget? This guide covers the popular Ayia Napa area, Paphos, and Larnaca – including the best beaches and the standout hotels in the area.
which part of Cyprus to stay in
where to stay in Nicosia, Paphos, Larnaca, Limassol, and Ayia Napa
Cyprus' main beach resort areas; the best places to stay for nightlife and a younger crowd
the best quiet resorts and villages on Cyprus; the best places to stay for couples, families and nature

Shortlist – Best Places to Stay in Cyprus
BEST HOTELS HT ON THE BEACH: Anassa, Coral Beach Hotel & Resort, Nissi Beach Resort
SWANKIEST VILLAS: Villa Adam, Kissonerga
BEST INFINITY POOLS: Anassa, Hotel Napa Suites, Villa Paradiso
BEST PLACES FOR FAMILIES: Protaras, Coral Bay
BEST HOTELS FOR FAMILIES: Anassa, Amara, Capo Bay Hotel, Grecian Sands
BEST FOR COUPLES: Almyra, Sunrise Jade Hotel , Cape Serenity Resort
BEST CHIC RURAL ESCAPES: Apokryfo Hotel, Gillham Vineyard Hotel
BEST BOUTIQUE TOWN HOTELS: Almyra, Polis 1907, Alasia
BEST PLACE FOR NIGHTLIFE: Ayia Napa, Limassol, Larnaca
BEST QUIET BEACH RESORTS: Polis and Latchi
BEST AREA FOR SANDY BEACH RESORTS: Ayia Napa, Protaras
BEST AREA FOR EMPTY BEACHES: Karpas Peninsula

CYPRUS – A QUICK OVERVIEW
Cyprus is the third largest island in the Mediterranean, one of its newest nation states, and one of its most popular destination for beach holidays. Cyprus is the easternmost part of Europe and one of the hottest places in the Mediterranean. As such, the season is longer than other European destinations, with beach weather possible from April to the end of November.
Outside this time you will still find hotels open but bear in mind the pools and sea will be cold and the weather sometimes wet and windy. There's a wealth of archaeological sites (with many temples dedicated to Aphrodite) and historic buildings around the island.
The Big Four resorts – Limassol, Paphos, Larnaca, and Ayia Napa – are coastal cities which draw international crowds and have an urban, cosmopolitan outlook and an abundance of large resort hotels. Prices are higher than you might expect – many items are not far off UK prices, except in north Cyprus which uses the Turkish Lira.
The coastline is very developed, with miles of high rise hotels and apartment blocks (and a woeful environmental record) as well as industrial areas and military bases. If you're looking for the kind of charming harbour towns that are a dime a dozen in Greece then you won't find them here, though Latchi is your closest approximation. Instead, look inland for charming villages and unspoilt landscapes.
The Republic of Cyprus is part of the EU and uses the Euro. From 1878 to 1914 the island was under British administration and is still a popular destination for tourists and expats from the UK.
What are the beaches like?
Although it's a popular package holiday destination, fine white sand beaches are somewhat thin on the ground and focused around the Ayia Napa / Protaras area.
Sands on the rest of the south coast tend to be a dark golden or greyish colour with some grit. Much of the coastline is barren and rugged with incredible rock formations and dazzling turquoise waters – a boon for boat trip lovers, snorkellers and divers.
North Cyprus is much less developed and you'll find some incredible untouched beaches here, particularly on the Karpas Peninsula, but don't expect beachfront hotels. You'll need a car and a sense of adventure to explore this area.

What's the hotel scene like?
Package tourism and resort hotels are the name of the game Cyprus, though it's also big with the second-home crowd so there are many vacation rentals on the market. Russians also visit Cyprus in large numbers and many of the big resort hotels cater to this demographic. The main resorts are also working cities with a year-round population (with the exception of Ayia Napa) and there are boutique rooms and business hotels available.
At the budget end, look for apart-hotels studios on the outskirts. Charming traditional guesthouses are easier to find inland, in mountain villages abundant with old stone buildings and frescoed monasteries.
Northern Cyprus
The Turkish Republic of Northern Cyprus is a self-declared Turkish-Cypriot state which occupies the northern third of the island and is recognised only by its sponsor Turkey. The island was divided in 1974 when the Turkish invaded following decades of inter-communal violence and a Greek coup d'etat. Thousands were displaced and lost land on each side.
The UN Buffer Zone (also known as the Green Line or the Attila Line) is a demilitarised zone which bisects the island and also its capital city Nicosia. Restrictions on crossing the line were eased in 2003.
The north of Cyprus is beautiful place for the adventurous, with prices and infrastructure more similar to Turkey than the rest of Cyprus. The political situation has kept development at bay and its considerably more rustic than the south.
If you only intend on visiting north Cyprus then you can fly in to Ercan International Airport from Turkey (connecting flights are readily available). However if you wish to explore the whole island then you should fly in to Larnaca or Paphos.
Which Part of Cyprus To Choose?


NORTH: Quieter, rustic and less developed, some fantastic wild beaches and historic sites but poor infrastructure. Lots of cheap casino hotels around Kyrenia and north of Famagusta.
SOUTH EAST: This is where you'll find some of the best beaches on the island as well as the party hotspot of Ayia Napa and the beautiful Capo Greco National Park. There's a wide selection of hotels and resort areas.
SOUTH: The big modern cities of Larnaca and Limassol dominate the busy south coast; it gets quieter as you go west towards Pissouri.
WEST: The urban delights and archaeological sites of Paphos, with quieter coastline and turtle beaches around the pretty Akamas Peninsula.

Getting Around
Airports: Cyprus has two main international airports:
They are both well served by European budget airlines – check Skyscanner for cheap fares.
Bus: The main cities and towns on Cyprus are well connected by intercity routes. During the summer season there are many routes connecting resort areas to the cities. Beyond this, it can be frustrating to travel by bus in Cyprus as local routes cater to school/work times. See Cyprus By Bus for more information.
Taxi: Taxis are generally expensive and drivers will often resist turning on the meter or attempt to overcharge. Transfers and shuttles are readily available to resort areas, and car rental is common.
Ferry: There are currently no ferry links between Cyprus and other international destinations although a future link with Greece has been given the green light.
Polis & Latchi

The northern shore of Cyprus is quiet and wild compared to the south, with few resort areas. The twin settlements of Polis and Latchi are located in Chrysochou Bay, just around the coast from the Akamas Peninsula. It's no longer the hidden gem it once was – tour operators have invaded – but it's is still popular with independent travellers. Polis is the larger town and Latchi is the closest thing Cyprus has to sleepy fishing village.
At the western end of Latchi is the beautiful Asprokremmos Beach. The luxury 5-star hotel Anassa occupies a prime beachfront location here. It's an elegant yet laid-back complex featuring classical design that has been recently renovated, with an infinity pool overlooking the sea, and vies for the titles of best beach hotel in Cyprus. The location is tranquil and attracts couples and families looking for a luxe escape with entertainment for the kids. Also in the areas is the Caprice Spa Resort.
In town, the Polis 1907 is a good-value boutique 4-star with cool neutral decor in a renovated old stone building. On a budget? The Aphrodite Beach Hotel is a modern 2-star on Asprokremmos.
There are lots of villas both here and up the coast at Pomos, like the Villa Paradiso which has an incredible infinity pool.
Transfer time: 1 hour from Paphos airport.
Coral Bay

Coral Bay is the first proper beach resort outside Paphos, with a wide Blue Flag beach of medium golden sand. It's a 15-minute drive from Paphos and connected by regular buses throughout the season. It has a small commercial strip with a handful of lively eateries and bars.
The 5-star Coral Beach Hotel & Resort has a large tree-lined pool right by the waterfront and plenty of amenities.
Spacious 4-star Coral Thalassa Hotel is also by the sea, though a walk from the beach and strip.
Coral Bay is dominated by its two luxury hotels but you can also find villas (beautiful Villa Harmony sleeps 6 and has an infinity pool) and budget studios (try Petsas Apartments).
Transfer time: 35 minutes from Paphos airport.
Paphos

The coastal city of Paphos is the gateway to western Cyprus and is also one of its most enjoyable cities, with a slightly less brash feel than Larnaca or Limassol. It was a European Capital of Culture in 2017 and there's a wide variety of things to see and do.
The main tourist area is called Kato Paphos. This harbourside area is where you'll find the majority of tourist restaurants and shops, a small castle, as well as a few rocky platforms and small municipal beaches. A long promenade runs the length of the harbour and beyond. Keep walking west along the waterfront and you'll eventually reach the huge Archaeological Park, a wave-battered coastline, and a prominent lighthouse. South of Kato Paphos you'll find many big hotels and tourist entertainment like mini golf and a waterpark.
The old town area of the city is called Ktima and it's situated 3km inland and uphill. Head here for cafes, local cuisine, the old Agora and Turkish quarter, and a few museums.
One of Paphos' big draws is its vast UNESCO World Heritage-listed archaeological complex which spans two different sites and dates back to the 4th century BC. The Tomb of the Kings is part of the park but requires a separate entrance ticket.
Paphos Castle. Aphrodite Waterpark. Adonis Baths Waterfall. Pikni Forest. Scuba dives and boat trips. Plenty of international cuisine.
But the riches don't stop in the city. The best beaches are to the north of Paphos, such as the protected Lara Beach with its turtle hatchery. The remote and beautiful Akamas Peninsula is a short drive away and is home to numerous nature trails, the Baths of Aphrodite, Adonis Baths, and the Avakas Gorge. South of Paphos is the famous Aphrodite's Rock – and dramatic dark beaches with white cliffs.
With such a lot to see and do in the area, Paphos is a good choice for a cultural break year-round and it has a large ex-pat community.
Best 5-star hotels in Paphos:
Chic hotels Almyra and Annabelle have a central location, impressive pools, and lively young crowd. Perfect city crash-pad for pleasure-seekers.
Intercontinental Aphrodite Hills Resort Hotel is a vast luxury complex located south of Paphos near the village of Kouklia – with a golf course, sports facilities, villas and a hotel.
Elysium is an upmarket resort hotel past the lighthouse and archaeological park
Best 4-star hotels in Paphos (lots of choice in this range):
Best 3-star hotels in Paphos:
Axiotheo Hotel is a traditional guesthouse up in Ktima with spectacular views.
Dionysios Central is a huge centrally-located 3-star with shady courtyard and pool.
Trip Yard Hostel has dorms for backpackers.
Glamping fans should check out Yurts in Cyprus, located inland near the extensive Paphos Forest.
Transfer time: 20 minutes from Paphos International airport.
Pissouri

The beach resort of Pissouri is on the south coast, just past Aphrodite's Rock but before you hit Limassol. It's a small resort in an attractive location along 1km of sandy beach, with the main part of the village a short drive uphill. There is a small selection of cafes and restaurants by the beach, but you'll find the majority of eateries and accommodation options up in the main villages.
There are many vineyards in the wider area. And if you feel the need for a day or a night out then Paphos and Limassol are both within half an hour.
Columbia Beach Resort is located down by the beach, as is Kotzias Beach Apartments.
Transfer time: 30 minutes from Paphos airport.
Limassol

Limassol (officially called Lemesos) is the second biggest city after capital Nicosia, and has the feel of an up-and-coming destination. It sits on the south coast, faceing south east in the Bay of Akrotiri.
The historic attractions here are Crusader and Ottoman rather than ancient ruins (though there are archaeological sites nearby at Amathous and Kourion). It's appealing old quarter is a highlight. Day trips into the Troodos mountains or the area's many vineyards are another popular past-time.
But most people come for the buzz. It's both a good-time resort city and a working town with a year-round population. The harbour area has had a ritzy revamp and attracts the megayacht crowd. Limassol is also the main cruise ship terminal on the island. It has a nightlife to rival Ayia Napa and is also an up-and coming foodie destinations.
Ladies' Mile Beach runs south from the marina down to the military base that occupies the peninsula south of Limassol, and Akti Olympion beach runs northeast along the coast for several kilometres, backed by a promenade, a main road, and high rise buildings. The Blue Flag beach is a dark golden sand with some grit.
Limassol has a long season and is popular with Russians in the winter months. Avoid the stretch of coast between Limassol (past the Parklane Resort) and Larnaca which is depressingly seedy.
There's a dazzling array of resort hotels along the waterfront, many are bookable as packages through TUI. Some are a long distance along the beach but there are regular buses that will sweep you downtown.
The top luxury 5-star hotels in Limassol are:
The best 4-star hotels are:
For boutique town rooms try Alasia or the S Paul City Hotel.
On a backpacker budget? There are dorms at Lima Sol House and Lemongrass.
Looking for something unique and Instagrammable? Quirky Euphoria Art Land has colourful dome houses covered in mosaics.
Transfer time: 50 minutes from both Larnaca and Paphos airports.
Larnaca

Larnaca (or Larnaka, as you will sometimes see it spelt) is home to an international airport and is the gateway to the east of the island.
As with the other coastal cities on the island, Larnaca has a small historic centre which contains a buzzing harbour area and promenade, a modern marina, old mosques, an archaeological museum, Byzantine churches, a medieval fort, and pleasant backstreets.
The urban spreads out along the coastline and as with Limassol, the sand is a slightly drab dark gold colour – though wide and with plenty of amenities and beach hotels. But if you find yourself craving a better beach then it's easy enough to visit Ayia Napa for the day.
Don't miss a visit to beautiful mosque of Hala Sultan Tekke which is set in flamingo-inhabited salt flats.
South of Larnaca – past the airport – is Perivolia, a small and still relatively traditional beach resort area. The beach here is quieter and windier (surfing and kitesurfing is possible) and you can pick up some bargains on Booking.com.
The top luxury resort hotels in Larnaca are:
For stylish rooms in town check out:
Wooden camping bungalows are available at Cyprus Glamping Park.
Transfer time: 15 minutes from Larnaca airport.
Ayia Napa

Cyprus' premier beach resort, Ayia Napa has been a package tourism stronghold since the 1970s. It's the party town of Cyprus and its hedonistic nightlife is the stuff of legends. Its notoriety peaked around millennium. Although it has calmed down a lot since then, it still attracts young groups and you can party dawn-to-dusk at the square, on boats, and at pool parties and beach clubs.
Those just looking for a self contained beach break will find a selection of tempting white sands beaches.
Ayia Napa is a large modern town which sits on the south side of a peninsula at the eastern end of Cyprus. Boat trips are available around the Capo Greco National Park with its steep cliffs and turquoise waters.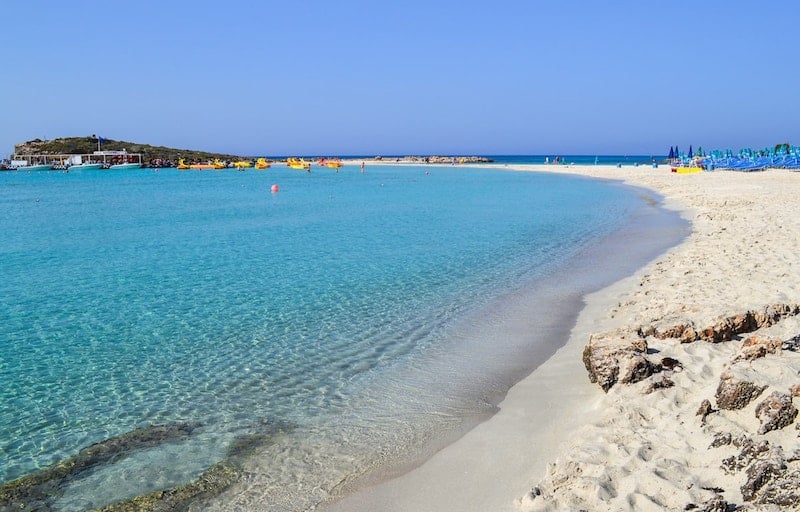 Of the big 4 resorts, Ayia Napa is more resort town than Cypriot city. There are more self-contained all-inclusive resort hotels here, and little else to do but sunbathe, eat, drink, sleep, shop, and party (though there is a waterpark for the kids). Tourism is seasonal and it closes down in the winter.
The main town beach is Pantachou which is long and sandy and lined with beach bars. West of here is a series of sandy beaches – you can cycle, walk, or catch a bus along the coast. The most beautiful is undoubtedly Nissi Beach (pictured above), 2km west of town. Here you'll find shallow turquoise lagoon waters and powder-soft sands that connect a small island to the shore. It's also crazy popular, especially in the summer when it hosts beach parties. West of Nissi there are fine beaches at Landa and Makronissos.

For 5-star luxury, the best hotels in Ayia Napa are:
Beachfront 4-star hotels include:
And for stylish town rooms check out:
Backpackers can head to the House of Nissus Hostel for dorm beds and BBQs.
Transfer time: 40 minutes from Larnaca airport.
Protaras (Fig Tree Bay)

The popular resort area of Protaras (also known as Fig Tree Bay) is over on the north side of the peninsula, a short distance from Ayia Napa. Some of the nicest organised beaches on the island are around here. The name encompasses a long stretch of shore with several beaches – Sunrise, Fig Tree, Pernera, Sirena, Konnos Beach.
The main part of Protaras is a series of large self-contained hotels with landscape gardens leading to a narrow sandy beach. The northern end of Protaras blends into the quieter village of Pernera, and then to the larger workaday conurbation of Paralimni. The beaches here become smaller and more local. The southern end towards Konnos Beach is very pretty and you have the benefit of being close to the Capo Greco National Forest Park for walks.
Many of the hotels in Protaras are all-inclusive but you will find restaurants, rentals, and other facilities along the main strip which runs parallel to the beach, and also at Pernera. It's a 20-minute drive to Ayia Napa.
If you're not all in for the vibes of Ayia Napa then this is a good alternative – it's a bit more relaxed and more family friendly, attracting a mixed crowd (and a lot of Scandinavians).
The best hotel around is the 5-star Sunrise Jade Hotel (Adults only). Pick of the 4-stars is the Sunprime Protaras Beach (Adults only).
Kids in tow? Try the Capo Bay Hotel.
The Artisan Resort is a complex of beachfront villas near Konnos Bay, or for resort hotels look at Grecian Park Hotel and Cape Serenity Resort (Adults-only).
Transfer time: 1 hour from Larnaca airport.
Nicosia

Nicosia is the divided capital of Cyprus and it sits squarely in the centre of the island. It's less touristy than the coastal cities, but if you don't mind being inland then it's a good base for exploring the island, given its central location and good roads that fan out in every direction. You may also wish to stop here and explore en route to north Cyprus.
On the plus side, Nicosia is two cities in one – it's culturally rich and the best place to learn about local history, politics, culture, and cuisine. Fans of archaeology and urban grit will appreciate the city.
The old town is encircled by crumbling Venetian walls and 'the Green Line' runs straight through it, dividing the city in two. Each half has a distinct feel – the south more modern and more commercial, the north sleepier with some interesting Gothic and Ottoman architecture. Highlights include the Cyprus Museum (one of many archaological museums), and Büyük Han caravanserei (pictured below). There's also a burgeoning cafe and bar scene, particularly around Famagusta Gate, traditional hamams, and a forest park.

Downsides are that the tourist infrastructure is not great and the political problems are on stark display. There's endless urban sprawl and much of the old town is in a bad state.
You can cross the border by foot (at least in normal times) – bring your passport. Nicosia is the kind of place that benefits from a walking tour and the municipality runs free tours on both sides of the line.
Nicosia (the 'Greek' bit)
Accommodation in the city is geared towards business travel and and visiting dignitaries, so there are a few high end hotel worth checking out:
You can also find good value in the mid-range hotels:
Decent budget options are hard to come by though. There are a few hostels such as Nex but reviews are mixed and prices on the high side.
Airbnb can yield some gems such as this beautiful loft renovation.
North Nicosia (the 'Turkish' bit)
Generally the north Nicosia (the Turkish bit) is cheaper and you can also find some quirky boutique hotels in the old quarter such as:
Transfer time: 40 minutes from Larnaca airport.
Northern Cyprus

Kyrenia
Although North Cyprus has less tourism than the south, it's all centred around the seaside town of Kyrenia. And it's easy to see why – Kyrenia has a well-preserved medieval quarter surrounding its horseshoe-shaped harbour. Its well-loved by Brits and has a large ex-pat community, many of whom reside in pretty villages that dot the hillsides.
Up in the hills behind is the photogenic St. Hilarion Castle, carved into limestone crags, and the romantic Bellapais Abbey. Wildfires in 1995 caused substantial damage to the local flora but it's still a fantastic area for walking, being greener and hillier than the south coast.
Most of the big resort hotels are located on the coast and tend to be huge and gaudy Vegas-style affairs with in-house casinos. Best of the bunch are:
For something a little less splashy, Kyrenia Palace Boutique Hotel has cosy rooms in a renovated historic building. And if you want to be right on the harbour then Nostalgia has quaint rooms in a traditional building. There are more charming guesthouses and hotels are found in up the hills though, such as Bellapais Gardens Hotel and Kenerli Konak.
Plenty of options on the budget end – Meryem's Hotel is good value and has a pool. There are many apartments and villas in the area on Booking.com.
Transfer time: 40 minutes from Ercan airport.
Karpas Peninsula

The long spindly bit of land at the far east of north Cyprus is the Karpas Peninsula.. This is one of the most beautiful and unspoilt parts of Cyprus, if not the whole Mediterranean. The beaches here are vast, sandy, and largely empty. You'll need a car to explore it.
There isn't an abundance of hotels, which is part of its charm. But there is a small cluster at Risokarpaso such as Oasis at Ayfilon and the Glaro Garden Hotel.
Try VRBO for vacation rentals in the area.
Famagusta
Abandoned since the invasion of 1974, the resort of Famagusta was once one of the most popular destinations Cyprus, attracting a ritzy glamorous set. Occupying a prime position in Salamis Bay, Famagusta is surrounded by amazing sandy beaches. Tourism was centred around the beach at Varosha which was lined with high-rises and grand hotels.
The Greek-Cypriot population fled after invading Turks bombed the city (which also caused heavy damage to its historic quarter), and then were prevented from returning when the island was partitioned. A 1984 UN resolution decreed that the city could not be resettled. Now it's a ghost town and nature is reclaiming the city. Famagusta is still a flashpoint in local politics. You can visit on organised tours from neighbouring resort areas but be aware that you can't enter Varosha which is fenced off. It's possible to stay in the northern part of town.
North of Famagusta and the ancient ruins at Salamis there is a stretch of coast up to Boğaz which is home to vast cut-price (though slightly depressing) resort hotels.
Read more:
10 Most Beautiful Beaches in Cyprus
Where to Stay on Mallorca: Ultimate Beach Resort Guide
Where to Stay on Ibiza: Ultimate Beach Resort Guide
Where to Stay on Menorca: Ultimate Beach Resort Guide
Where to Stay on Sicily: Ultimate Beach Resort Guide
Where to Stay on Sardinia: Ultimate Beach Resort Guide
Where to Stay on Corsica: Ultimate Beach Resort Guide
Where to Stay on Malta: Ultimate Beach Resort Guide
Where to Stay on Crete: Ultimate Beach Resort Guide
Where to Stay on Corfu: Ultimate Beach Resort Guide
Where to Stay on Kefalonia: Ultimate Beach Resort Guide
Where to Stay on Lefkada: Ultimate Beach Resort Guide
Where to Stay on Zakynthos: Ultimate Beach Resort Guide
Where to Stay on Skiathos: Ultimate Beach Resort Guide
Where to Stay on Kos: Ultimate Beach Resort Guide
Where to Stay on Rhodes: Ultimate Beach Resort Guide
Where to Stay in Halkidiki: Ultimate Beach Resort Guide
Where to Stay on the Turkish Coast: Ultimate Beach Resort Guide
Enjoyed this post? Follow us on Facebook or Twitter.
Click to save to Pinterest:

Image credits:
Aerial view of Ayia Napa beach: © Valentinos Loucaides / Adobe Stock
Rocky coastline of Capo Greco: © zinaidasopina112 / Adobe Stock
Rock of Aphrodite: © pkazmierczak/ Adobe Stock
Limassol old town: © kirill_makarov/ Adobe Stock
Cyprus resort map: © The Mediterranean Traveller
Hala Sultan Tekke: © Evgeni/ Adobe Stock
Latchi harbour: © efesenko/ Adobe Stock
Coral Bay: © pixtour/ Adobe Stock
Paphos Cathedral: © ais60 / Adobe Stock
Pissouri: © Grispb/ Adobe Stock
Limassol marina: © f8grapher / Adobe Stock
Larnaca coastline: © ais60 / Adobe Stock
Ayia Napa aerial: © diy13/ Adobe Stock
Nissi Beach: © Aleksandr / Adobe Stock
Makronissos Beach: © Tupungato/ Adobe Stock
Nicosia skyline: © Klemen Misic/ Adobe Stock
Buyuk Han in Nicosia: © ingusk / Adobe Stock
Kyrenia harbour: © vladislav333222 / Adobe Stock