Heading to the beautiful Greek island of Kefalonia this year? Here's a complete rundown on where to stay on Kefalonia (also spelt Cephalonia). This post will help you choose which part of the island to stay in, which town, resort or beach is for you, and the best hotels – whether you're booking your own accommodation or looking for a package holiday.
This resort guide will cover:
BEST HOTELS AT A GLANCE
Check out my ♥ Kefalonia Wishlist ♥ on Airbnb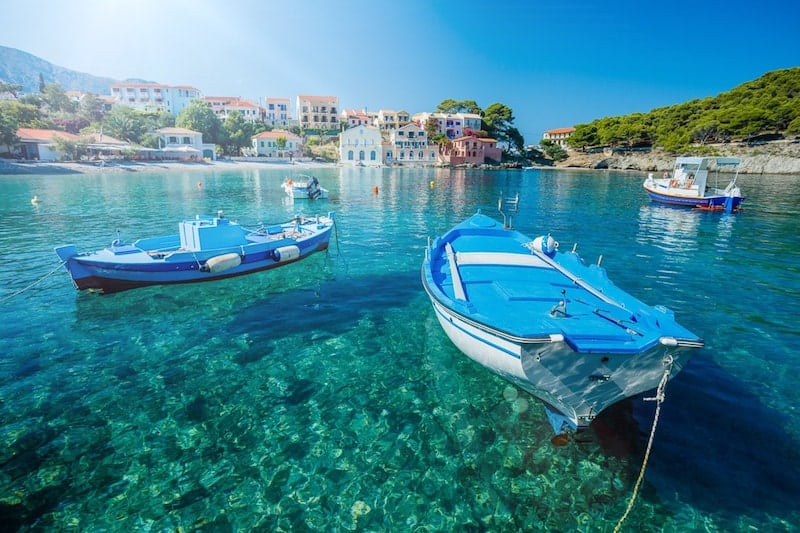 WHICH PART OF KEFALONIA TO STAY IN?
Despite its starring role in Hollywood's Captain Corelli's Mandolin (the scenery was definitely more memorable than Nicholas Cage's acting), Kefalonia still hasn't given in to mass tourism. It's a large and mountainous, one of the greenest and most beautiful Greek islands. And one of the best for beaches, food and nature.
That's not to say there is no tourism on the island. It has an international airport which brings in devoted fans from around Europe who return year after year. Its mild climate, relaxing atmosphere, vineyards and jaw-dropping coastal scenery makes it a favourite with couples, posh sailors, Italians and mature travellers.
The seas are also ideal for watersports – with windsurfing, dinghy sailing and yacht flotillas popular throughout the summer.
It's worth watching the film or reading the book before you go if just to give you an insight into the Italian and German occupations of WWII. Around 5000 Italian soldiers died when they were tricked by the Nazis into surrendering their arms and then massacred. The occupation along with the massive earthquake of 1953 have shaped modern-day Kefalonia.
Before that, the island was occupied by the British, Venetians, Ottoman and Byzantine Empires, French, Russians, Normans and Romans. The island was ceded to Greece in 1864.
Inland, the region around Mount Ainos is a protected National Park with (shy) herds of wild horses, eagles and raptors. The island's other natural attraction is the cave systems at Melissani and Drogarati.
NORTH – dramatic cliffs and mountain scenery. Kefalonia is topped with Fiskardo, a popular and handsome village frequented by many yacht flotillas in the summer. Pretty village Assos is a highlight.
SOUTH – home to the sandier beaches, with Skala is the main resort.
EAST – Poros is the main port linking Kefalonia to the mainland and is a pleasant base for independent travel in the area. Nearby Agia Efimia is a more upmarket fishing village popular with package holidaymakers. The main attractions in the area are the caves and beach at Antisamos (the one in Captain Corelli).
WEST – Paliki Peninsula is quiet and has more of a Greek feel, base yourself in Lixouri or Xi for access to striking beaches, turtle hatching grounds, and windsurfing spots.
For public transport options check the KTEL website. Services are geared towards locals though, and the island is best explored by car. Pefanis and Greekstones come recommended for rentals. The drive around Assos is particularly pretty.
ARGOSTOLI – THE MAIN TOWN
Kefalonia's capital Argostoli was largely levelled during the earthquake of 1953, which took out much of the island's lovely historic architecture. It's an unpretentious working port town with a pleasant feel, airy modern streets and a few pockets of surviving original buildings. It has a palm-lined promenade with cafes and seafood restaurants facing Koutavos lagoon.
Argostoli juts out on a little peninsula that is connected to the other side by the island landmark Drapano bridge. Built during British rule in 1813, it's the longest stone bridge in the world and a popular evening stroll.
It does have a tourist presence though. thanks to its nearby beaches (it's walkable distance or a short taxi ride from the beach resort Lassi) and the presence of Caretta caretta turtles who come into the harbour to feast on the unwanted catch of the town's fishermen. Morning is the best time to see them.
Whilst you're in town you might want to check out the Focas Cosmetatos Museum, the Archaeological Museum, the open-air Anny Cinema, and the English bookstore The Bookmark.
Keep walking north along the promenade and you eventually reach the town's beach Fanari, although the beaches of Lassi make for a better day out. The main square Platia Valianou is the centre of the town's cafe and evening life, and Lithostroto is the main shopping street.
Note: there's no public transport from the airport to the city, a journey of around 11km, meaning a taxi fare of around €20. Agree on a fare with the driver before setting off to avoid unpleasant surprises.
LASSI
On the other side of the peninsula from Argostoli is Lassi, one of the island's main beach resorts.
Strung out along several sandy beaches – Blue Flag Platis Gialos (pictured above) and lively Makris Gialos – Lassi makes an appealing base for its combination of beach and good access to the island's infrastructure. It's just a thirty(ish) minute walk into town and there are frequent buses too.
Development is modest and low-rise and has sprung up in the forested area behind the beaches. There's no centre to speak of – just one strip along the main road – but the area does get extremely busy in high season. Think of it more as Argostoli's city beach zone with plenty of tourist facilities.
West-facing Lassi gets excellent sunsets, and there are a few beachfront bars and tavernas to take advantage of this. It's the best resort on the island for sandy beaches and activities/facilities. Don't miss the quieter beaches of Kalamia, Gradakia and Tourkopodaro tucked away around the coast.
Further on from Lassi you'll find the rolling hills of the quieter Livatho peninsula, which feels like a wealthy suburb outpost of Argostoli with its mansions and villas. Svoronata is near the airport and has some holiday homes and good value studios.
Airport transfer to Lassi is around €20.
LIXOURI
On the other side of Argostoli is its mirror image town Lixouri. It's located across the water on the opposite side of the bay, on a finger of land known as the Paliki Peninsula. Some scholars argue that Paliki was once an island and potentially the home of Odysseus (rather than the commonly-attributed Ithaca).
Lixouri is the second largest settlement on Kefalonia with a population of around 3000; it's a working fishing town and a good base for the area's quiet beaches. The main attraction in Paliki is the photogenic Xi beach with its orange sand, therapeutic muds and white cliffs. Megas Lakkos and Lepeda are also worth a visit.
Lixouri is most easily reached by the small car ferries from Argostoli that run regularly throughout the day. Otherwise, it's a long drive around the peninsula.
Kipouria Monastery with its amazing sunset views, and Petani Beach – less well-known than Myrtos but similarly spectacular – are also nearby.
Airport transfer to Lixouri is around €60.
ASSOS

The north of Kefalonia is home to its scene stealers. Photogenic Assos (or Asos, as it's sometimes spelt) is included on every island tour – and every postcard – and is well worth including on your itinerary if you renting a car.
The village is wedged onto a narrow isthmus with a beach on either side and a 16th-century Venetian castle on the rock at the end. It's undeniably the most beautiful village on the island (if not in the whole of Greece) – wind your way down hairpin roads to its colourful Italianate houses and flower-filled villas dotted around a cluster of small pebble beaches and a tiny harbour.
After the village was damaged in the earthquake, the French helped with the restoration and it's now one of the best examples of the island's original Ionian architecture. Assos exudes an air of timeless romance and is a perfect pitstop for a lunch with a view.
Not far to the south is the dazzling Myrtos beach with its sheer cliffs and bright white pebbles. One of the best beaches in the Ionians – it's a must-see, stay for sunset if you can.
Airport transfer to Assos is around €70.
FISKARDO

The glam hotspot of Kefalonia is pretty harbour village Fiskardo (or Fiscardo), just around the northern tip of the island from Assos.
Fiskardo survived the worst of the earthquake and so still retains some of its Venetian buildings and old-world charm. The handsome pastel-hued mansions and natural horseshoe-shaped harbour attract the rich and famous on their yachts, as well as legions of flotillas who stop in during the summer on their sails around the Ionians. It attracts upmarket holidaymakers and the backstreets are lined with boutiques and some of Kefalonia's priciest restaurants. The boat trade brings a buzz to the bars in summer.
It's a small resort though, and lacking a beach – you'll have to go around the corner to Fokis (to the north) and Emplisi (to the south) for delightful swimming and seafood taverna lunches.
There are three excellent day hikes around Fiskardo which have been signposted thanks to the local club Asteris.
Airport transfer to Fiskardo is around €85. Fiskardo is also a passenger port with ferry connections to Ithaka and Lefkada.
AGIA EFIMIA
Agia Efimia (various spellings) is a former fishing village turned low-key resort, now popular with British holidaymakers and yachties for its picturesque setting and renovated waterfront.
It has great tavernas and cafes for people watching. There's a small marina but it doesn't get anywhere near as busy as Fiskardo. Its location in the centre of Kefalonia makes it an ideal base for exploring the island by car. In fact, it has everything except great beaches – which is what keeps the masses away.
Keep walking to the north and you'll reach a few small pebble beaches and rocky platforms where locals and tourists take a dip in the late afternoon.
I can highly recommend local tour agency Avgerinos Travel who organise various tours around the island – all very friendly and high quality.
SAMI

Sami is a port town and former capital of the island. Unless you're here for a ferry to Ithaca or mainland Greece, then you're more likely to be in Sami for its surrounding attractions than the town itself. It has a pleasant seaside promenade but little else of note – but its fans enjoy Sami for its unpretentious workaday vibe.
The town was used as a filming location for Captain Corelli's Mandolin – not that you'd be able to tell, save for the odd themed bar. Instead, if you're looking for filming locations, get yourself to the beautiful Antisamos beach which featured heavily in the film. 2km from Sami, in high summer it feels crowded and commercial but in shoulder season it's a delight.
Also close to Sami are the cave systems of Drogarati and Melissani, together making up one of the most popular attractions on the island. Sami is the main ferry port for reaching Ithaca and its proximity makes it possible to do as a day trip – you'll find day trips departing from here and Poros.
Just west around the bay is the quiet village Karavomylos where you'll find a lake, a few resort hotels and a water mill. There are some good walks in the area.
Airport transfer to Sami is around €50.
POROS
Halfway down the coast on the way to Skala is Poros, a somewhat-sleepy working port and fishing town set around five bays.
At first glimpse, Poros appears a tad scruffy. But it's a good choice of location if you want to avoid the package holidaymakers and stay in a town with a 'real' feel rather than a resort – usually return visitors to the island rather than first-timers. The town beach pebbly but swimming is excellent and wilder Ragia beach is not too far.
Poros is the main entry point for the island's ferries, with boats connecting with Patras, Zakynthos and Athens via Kyllini on the mainland throughout the year. In summer there's an occasional water taxi service that runs between Poros, Skala and Katelia.
Airport transfer to Poros is around €60.
SKALA
Kefalonia's other main beach resort after Lassi, Skala is a popular vacation hotspot thanks to its wonderful sandy beaches. Development sprung up around the original village and still retains some of its character despite expansion. It has a 3km shady long shingle-sand beach, plus some nearby ruins of a Roman villa.
It's still a quiet and relaxed resort though, with the wind and sea the prominent sounds. Skala's east coast position is not so handy for exploring the island but you'll find plenty of excursions and boat trips available.
The town is compact and flat and there's a good selection of restaurants (a mix of Greek and international), cafes, bars and shops.
Nearby Potomaki, Kaminia and Mounda beaches are some of the best (and longest) sandy beaches on the island. They are also loved by the Caretta caretta turtles who nest there during the summer nights. There are some good hikes in the area – it's possible to walk the 12km to Poros.
Airport transfer to Skala is around €55.
KATELIOS
Clockwise around the bay from Skala is quieter Katelios, which is gradually becoming more built up. There's a small seafront with a handful of cafes and tavernas; it attracts vacationers looking for somewhere quiet, traditional and relaxing. Kaminia beach is a turtle nesting zone.
Katelios is a 10-minute drive from Skala.
LOURDAS
Another tiny resort slowly making a name for itself is Lourdas. There's 1km of organised sand and shingle beach and translucent waters which get deep quickly. The small village is narrow and backed by dense greenery. It has a charming and peaceful feel, but with a decent variety of places to eat in the evening.
It's an uphill walk to Lourdata village and the main Argostoli-Skala road which is behind the village. Airport transfer to Lourdas is around €35.
Don't miss the boulder-strewn cove at Pessada Beach which is further around the coast to Argostoli.
You might also like:
Where to Stay on Corfu: Ultimate Beach Resort Guide
Kefalonia – 10 Tips from a Local
10 Most Beautiful Beaches in Greece
15 Best Greek Islands for Beaches
10 Best Greek Islands for Hiking and Nature
10 Best Greek Islands for Watersports and Swimming
10 Best Greek Islands for Food and Wine
Where to Stay on Lefkada: Ultimate Beach Resort Guide
Where to Stay on Skiathos: Ultimate Beach Resort Guide
Where to Stay on Crete: Ultimate Beach Resort Guide
Where to Stay on Zakynthos: Ultimate Beach Resort Guide
Where to Stay on Rhodes: Ultimate Beach Resort Guide
Enjoyed this post? Follow us on Facebook or Twitter.
Click to save to Pinterest:
Image credits: Myrtos Beach , Pink taverna in Fiskardo © Miniloc / Adobe Stock, Assos © © The Mediterranean Traveller, map of Kefalonia © dramaj / Adobe Stock, Argostoli © napa74 / Adobe Stock, Lassi © The Mediterranean Traveller, Lixouri © pkazmierczak / Adobe Stock, Aerial view of Assos © Noradoa / Adobe Stock, Fiskardo © Calin Stan / Adobe Stock, Agia Efimia © pkazmierczak / Adobe Stock, Sami © steevy84 / Adobe Stock, Antisamos Beach© miladavidovic / Adobe Stock, Poros © © The Mediterranean Traveller, Poros beach © The Mediterranean Traveller, Skala © The Mediterranean Traveller