Greek islands are the perfect place for a great escape, but which ones are the best for hiking and epic nature experiences?
There's such a wide variety of landscapes across the Greek islands, it's hard to know where to start. Are you looking for fascinating geological formations, peaceful lagoons, ancient donkey trails, languid waters or forested mountain views?
To give you a starting point, we reckon these 10 islands are top of the pile for getting back to nature.
SAMOTHRAKI
Untouched Samothraki is one of the least-visited Greek islands. It's mainly domestic tourists who make the journey to Samothraki, and it has something of an alternative vibe. Come here for empty beaches, skinny dipping in the moonlight, peaceful oak forests, and the island's hundreds of magical pools and waterfalls. If you're looking for another island to combine with Samothraki (or Samothrace, as it's also known) then consider nearby Lesvos, where a petrified forest forms a unique geopark.
ANDROS
The quiet island of Andros in the Cyclades is making a name for itself as one of the best Greek islands for hiking thanks to its extensive trails. The Andros Route crosses the island from north to south, a distance of over 100km through bucolic countryside with stone bridges and burbling brooks. And it's just one of the recently restored trails – part of a coordinated attempt to promote natural and sustainable tourism on the island. The beaches aren't bad either.
NISYROS
Between Kos and Tilos lies the unique island of Nisyros. When you view it from above you'll see why – it's clear that this island is a volcano! If you want to get up close and personal with the forces of nature then you can't beat staying in one of the cute whitewashed villages which cling to the edge of this island. On Nisyros you can visit the volcanic crater and bathe in natural pools. It's a popular day trip from nearby Kos but it's worth staying a few nights on the island to experience the real magic.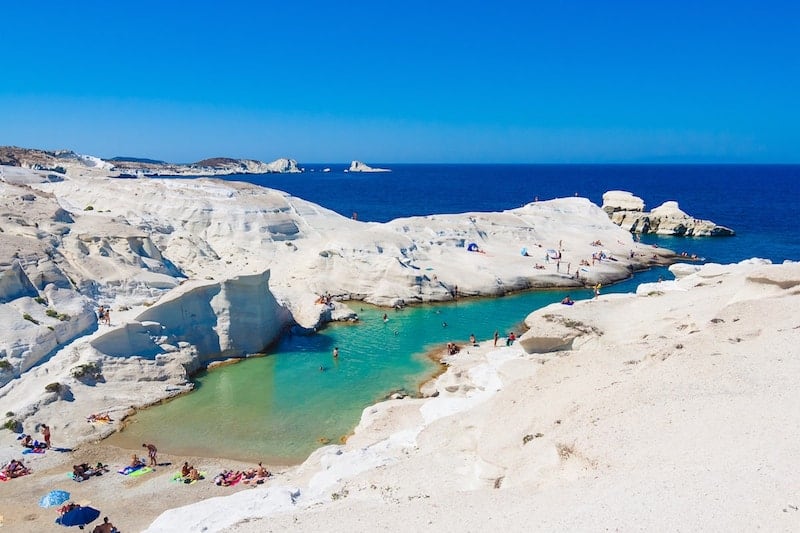 MILOS
Another volcanic superstar for geo-nerds is the beautiful island of Milos. The lunar rock formations of Sarakiniko beach are a unique attraction but the rest of the island is full of remote beaches to explore.
There's an extensive network of ancient paths (although they're not particularly well signposted) – the coastline is arguably best explored by boat, so get onto the water and don't miss the waters between Milos and nearby islands Kimolos and Polyaigos.
Of course, if you enjoy volcanic views then the famous island Santorini is not too far away, and the hike along the Caldera villages is a must-do for walkers.
CRETE
No list of natural wonders in the Greek islands would be complete without mentioning Crete. The Samaria Gorge – probably the #1 day hike in Greece – is located in the south of the island in the White Mountains, and not to be missed if you're in the area. Samaria is one of the longest and deepest gorges in Europe. Enjoy the world Biosphere Reserve surroundings on your way down this 7 hr hike. The gorge pops you out in Agia Roumeli – it's worth staying here a little longer if you're into hiking as there are some smaller gorges in the area as well as sections of the E4 long-distance hiking trail.
If your wobbly legs need some recovery after all that downhill then you can take them to one of Crete's famous lagoon beaches to recover. Balos and Elafonisi are two of the most beautiful beaches in Greece.
Of course, this is just the tip of the iceberg when it comes to Crete, which is a huge island with plenty of remote areas and secluded beaches to discover. It's also one of the best parts of Greece for spotting marine animals such as dolphins and occasionally whales.
KEFALONIA
The wild and dramatic scenery of Kefalonia makes it a must for nature lovers. Although there are some touristy enclaves, Kefalonia is a large island with a rugged and green interior. It's also one of the best Greek islands for beaches, many of them formed of blinding white pebbles at the base of dramatic cliffs. There are plenty of day and circular hikes, including the highest peak Mount Ainos.
For even more P & Q you can catch a ferry over to neighbouring Ithaki, a tiny island with nothing to do but relax and enjoy the unspoilt scenery.
CORFU
Nearby Ionian island Corfu is another destination with a great variety of hikes, including the cross-island Corfu Trail. It may not be the easiest long distance route thanks to lack of accommodation and waymarking in some places, but some of the smaller sections make for outstanding day hikes.
Corfu may be one of the busier island destinations, but there are still plenty of spots to get away from the crowds and commune with nature. Korission lagoon is one of the best – big sand dunes and excellent birdwatching opportunities. You might even spot some flamingos.
And if it all gets too much you can always hop on a ferry to nearby Paxos.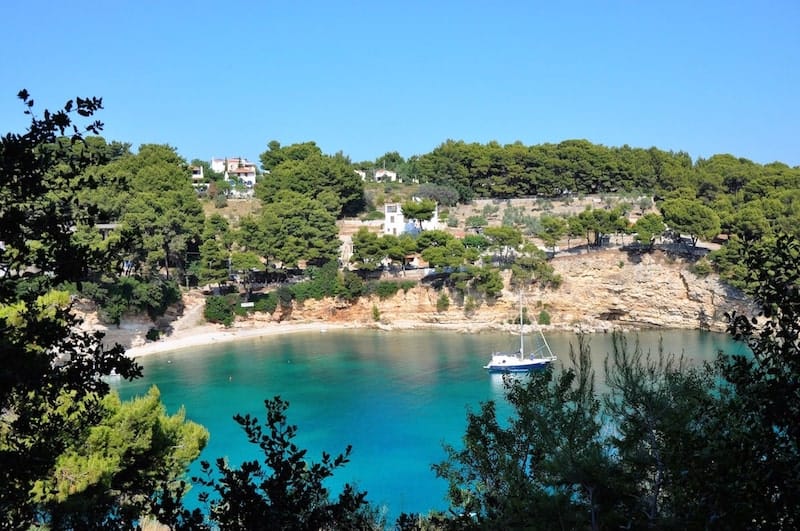 ALONNISOS
For pure unbridled nature and languid emerald waters, the protected marine park of Alonnisos and its surrounding islets is hard to beat.
The marine park was created in the 1970s to protect the Mediterranean Monk Seal, which has a presence in the area. It's now an eco-haven, popular with divers and sailors. Strap on your snorkel mask and enjoy some of the clearest waters in the Aegean Sea.
SIFNOS
Many of the islands in the Mediterranean have ancient networks of trails that were once used for agricultural purposes, and for transporting goods and people. Donkey paths, sometimes paved with stone, which take you past heritage buildings and endless sea views.
Sifnos is no exception – with over 200km of trail in total. There are 19 waymarked paths altogether. And Sifnos is known to be one of the best Greek islands for foodies. Sounds like a delicious combination.
SKYROS
Continuing lack of convenient ferry links and sandy beaches keep the island of Skyros in the Sporades feeling remote and untouched by mass tourism.
But this natural playground is popular with hippies, birdwatchers and outdoors types and you'll find plenty of yoga and alternative workshops on the island. Hiking trails criss-cross the island, which is raggedy and forested in places, barren and rocky in others. And there's even a native type of pony – the Skyrian pony.
RHODES
Rhodes might spring to mind as one of the best Greek islands for history or even beaches, but nature? In fact, it's easy to escape the crowds here as they tend to stick to the same few beaches. Local honeypots Seven Springs and Butterfly Valley do get busy with daytrippers, but the densely forested western side of the island is a well-kept secret. And the further south you get, the quieter it is. Lush and shady, there are hiking trails, abandoned ruins and vineyards to explore – but you'll need your own wheels. I recommend sourcing a copy of Walk and Eat Rhodes if you want to do a lot of hiking on the island.
MORE IDEAS
Other islands tending to their trails include
Hydra – a beautiful island with excellent hikes not far from Athens
Aegina – also close to Athens, Aegina has 9 routes for hikers and cyclists that are well signposted from the ferry dock
Tinos, Kythnos and Kea – three more islands in the Cyclades which not far from Athens and laced with ancient trails
Enjoyed this post? Click to save to Pinterest: