All of the Greek islands have their own unique charm, but which are the best Greek islands for couples?
The ingredients for the perfect romantic trip to Greece might include pretty bougainvillaea-filled streets and romantic open-air restaurants. Beautiful boat trips and hikes to take in the hot thyme-scented scenery. Secluded beaches. Perhaps a daybed for lounging by the pool or sea. A dash of solitude, a smattering of incredible views, and to top it all off a selection of cute boutique rooms and discrete luxury hotels.
Whether you're looking for a honeymoon destination, or to whisk your new beau away for a romantic break, we reckon these 10 islands are the best for couples.
SANTORINI

The classic couples' choice, Santorini has plenty to offer in the way of luxury and romance. Part of Santorini's attraction is its smouldering volcanic landscape; sculptural clifftop buildings carved out of soft rock and transformed into chic white abodes with picture-perfect infinity pools and sunset views. It's full of classy and imaginative high-end hotels; there's nowhere else quite like it. Restaurants and experiences on the island – like wine tasting and sunset yacht cruises – are geared towards couples and honeymooners.
Of course, the tradeoff for such beauty is high prices, crowds, and quite a commercial vibe compared to other islands.
Santorini is one of the most popular destinations in Greece, and everyone has come to take the same photographs as you. Crowds peak in the pretty dome-speckled streets of Fira and Oia, particularly at sunset (and it's worth bearing in mind that the sculpted architecture of the caldera villages can feel quite communal at times). For privacy, book in the smaller caldera villages of Imerovigli or Firostefani, or head inland to quieter villages in wine territory. Good value can be found on the island's beach resorts, just don't go expecting white sand – beaches here are of the black/red variety.
Couples are spoilt for choice when it comes to dreamy accommodation. For the best of the best, start with Perivolas and Grace. Zoe Aegeas has charming caldera rooms at a good value price point.
FOLEGANDROS

If the very thought of all the crowds on Santorini gives you the shivers then consider a trip to quiet Folegandros. It's white clifftop Chora scores highly on the Cycladic-charm factor, but this is a haven that hasn't yet been discovered by mass tourism. Yet it's not far from Santorini and Ios and is easily combined on an island-hopping itinerary.
There's something special in the air here. Impeccable views, friendly locals, and wild beaches are the order of the day.
The Blue Sand Boutique Hotel & Suites offer dreamy white-hued suites with views of the sea and Aegali Beach.
MILOS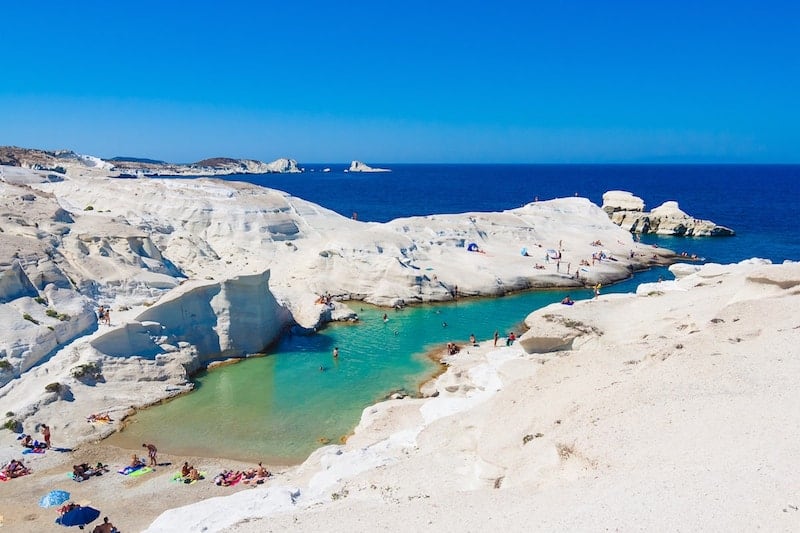 Milos is another volcanic showstopper in the Cyclades island chain, which is increasing in popularity as people look to alternatives to Santorini and Mykonos.
The comparison with Santorini is obvious – crazy geology. But Milos has one big draw that Santorini is lacking: sandy beaches. And oh what beaches they are! Sarakiniko, with its lunar rock formations, is a contender for the most beautiful beach in Greece. For vibrant blue-green seas and buttery beaches that aren't (yet) packed with holidaymakers.
Milos is also known for its great food, pretty villages, and unique sirmata (colourful boat garages). It's a perfect destination for couples who like to explore; rent a car or quad for a few days to seek out the more remote beaches tucked away in various corners of the island.
Try Eiriana Luxury Suites and Artemis Deluxe Rooms for romantic luxe on Milos.
ASTYPALEIA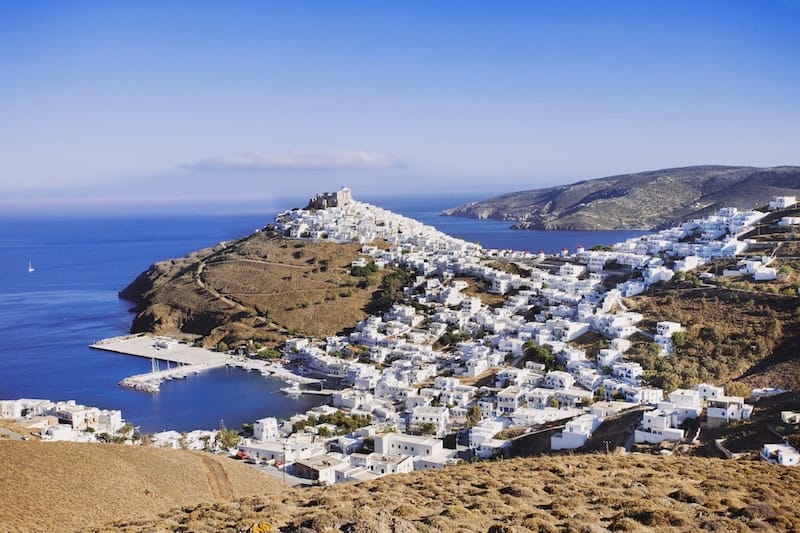 This butterfly-shaped island is not a place where people come to party. Halfway between the Cyclades and the Dodecanese, the ferry journey from Athens alone (8 hours + ) puts off all but the most determined (although you can also fly from Athens); leaving it blissfully crowd-free and authentic.
This is what island-hopping 30 years ago looked like: friendly family-run business, unspoilt views, and plenty of opportunities for skinny dipping. If you want to feel world's away from the trials of modern life, Astypaleia is a smart choice.
Even better, it has the admirable aim of becoming Greece's first smoke-free island.
Pylaia Boutique Hotel & Spa is the smartest accommodation on the island, with chic suites and sea views.
AMORGOS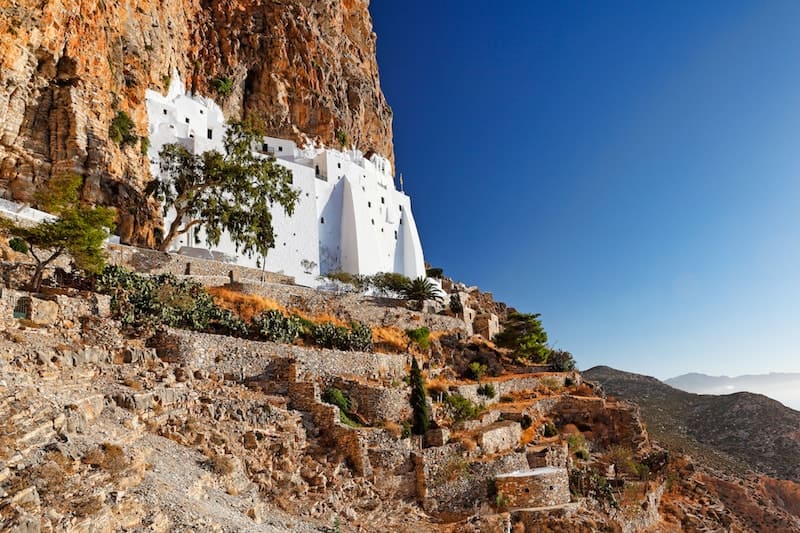 Another off-the-beaten-track wonder, Amorgos just far enough away from Athens to keep the crowds at bay. But really, it's just the other side of Naxos and so easily combined with Naxos, Paros, and/or the lovely Little Cyclades islands on a multi-island trip.
Amorgos is famously the principal filming location for Luc Besson's The Deep Blue. Quiet and seductive, Amorgos has a special kind of spiritual appeal. It is simplicity, intensified. The sun is fierce and the surroundings bewitching.
Don't come here unless you're prepared to fall in love.
Accommodation on Amorgos skews more towards the traditional than the luxury; Amorgion and Vorina Ktismata are two solid choices.
HYDRA

Charming Hydra is a popular spot for a romantic break – it's just 2 hours by high-speed ferry from Athens, making it an easy one to combine with the capital or a mainland trip. Hydra is famously a vehicle-free island, so you won't be disturbed by continual scooter horns or late night traffic here.
Hydra Town is notoriously pretty, set around the main harbour like an amphitheatre, with its resident braying donkeys. The island has a long association with bohemian set thanks to its famous former residents Leonard Cohen, Sophia Loren.
Hydra is ideal for a short break as there's not much to see on the island – Hydra Town is the only settlement of any size. The high summer months bring a classy nightlife thanks to the well-heeled yachties doing the rounds in the Saronic Gulf. Outside peak summer, it's fantastic for hiking the donkey tracks which circle the island.
There are many converted townhouse hotels and guesthouses in Hydra Town – try Hydroussa for high-end comfort – or the Four Seasons is a short walk around the waterfront and has its own shingle beach.
RHODES

Rhodes is one of the most versatile and popular Greek islands with tourists thanks to its combination of astonishing historic sites and fab beaches. It has the bonus of an international airport, unlike some of the islands on this list which are a little harder to reach.
But lovers shouldn't miss the spectacularly pretty whitewashed village of Lindos. It checks all the boxes for a romantic vacation – small town atmosphere with charming streets, good restaurants, a cluster of perfect sandy beaches, amazing views, and it's even topped with the archaeological site of Lindos Acropolis.
Yes, Lindos can get busy during the day as its a popular excursion stop, but there are numerous luxury resort hotels (ideal for honeymooners) along the coast where you can enjoy your own private idyll during the day, then head into Lindos Town when the crowds have dispersed. Lindos Sun Hotel and Lindos Blu are two of the best.
Alternatively, you can stay in the dreamy medieval streets of Rhodes Old Town (Kokkini Porta Rossi wins on charm) or at fab new boutique offering Casa Cook Rhodes near Kolymbia.
KEFALONIA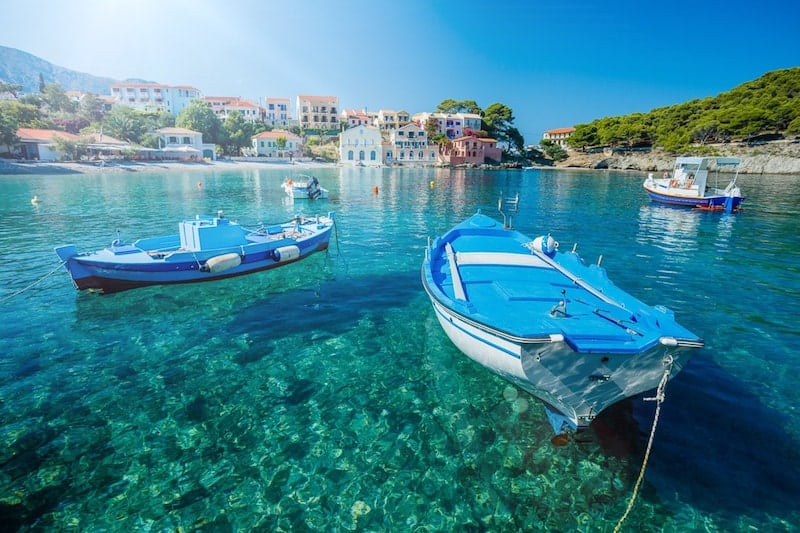 Representing the Ionian islands off the west coast of Greece, Kefalonia is another perfect destination for couples. Despite having incredibly pretty scenery and sandy beaches, it hasn't been overtaken by mass tourism or family beach resorts. The scenery is mountainous, mysterious and green, making for some dramatic coastal scenery.
Much of Kefalonia's (also spelt Cephalonia) historic Venetian buildings were damaged in the earthquake of 1953. The upmarket fishing village of Fiskardo is one place where the buildings have remained intact; this pretty harbour town is popular with yachties.
And the other big draw is beautiful Assos with its colourful traditional houses that were reconstructed after the earthquake. It's a perfect spot for a romantic seafood lunch.
Kefalonia is ideal if you love hiking and nature, remote beaches, and laid-back towns. It's popular with couples, expats and mature travellers, but the sailing and watersports scene brings a bit of life in the summer. It's also easy to access thanks to its international airport.
F Zeen is the swankiest boutique hotel on the island. Alternatives are the Kefalonia Grand if you want to be in town for the buzz or White Rocks for the beach.
KOUFONISIA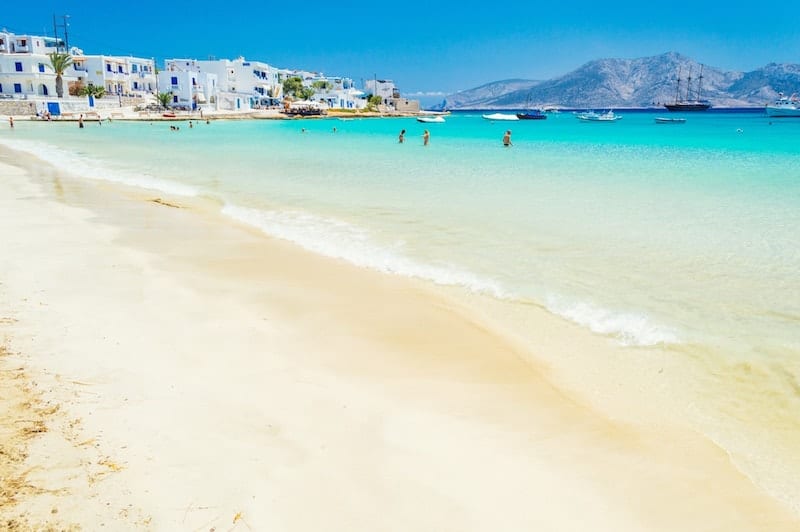 The dreamy little island paradise of Koufonisia (or sometimes Koufonissi) is one of the Little Cyclades island group, just off the coast of Naxos.
If your idea of a perfect couples' getaway involves little more than low-key beach bars, fine white sand and inviting turquoise waters, then consider seeking out Koufonisia. Accommodation is similarly low-key and clustered around the white and blue cuboid buildings of Koufonisia Chora.
Pack your snorkel mask, rent a bicycle, or take a few boat trips around these stunning islands.
The world is cottoning on to the appeal of tranquil Koufonisia, which is in fact made up of three islands (only one is inhabited). There's a new high-speed ferry from Mykonos in high season, as well as connections to Naxos and the other islands in the Little Cyclades.
There are a cluster of cute and laid back places to stay on the island such as Keros Art Hotel.
CRETE

The largest island in Greece (and one of the largest in the Med), Crete has abundant charms which make it ideal for a romantic vacation. Namely, some of the most beautiful beaches in the country, blockbuster ancient sites, historic cities, and one of the longest tourist seasons thanks to its southerly position in the Aegean. There's no shortage of things to do on Crete.
If you're looking for luxe suites plus sandy beaches then look no further. Crete's north coast is well developed and its big sandy beaches are home to a wide variety of resorts, including gorgeous five-star options. It's the best selection of luxury suites that you'll find outside Santorini.
Look for boutique hotels and rooms in the Venetian old towns in Chania (try Serenissima Boutique Hotel) and Rethymnon (start with Rimondi), as well as quieter beach resorts such as Bali, Panormou and Plaka. The south coast is more remote and wild; perfect for adventurers.
Lovely luxe beach resorts to check out include Domes Noruz Chania, and Daios Cove over on the east coast.
Read more:
10 Most Romantic Mediterranean Islands
Greek Island Hopping Guide – Everything You Need to Know
15 Best Greek Islands for Beaches
10 Best Quiet & Secluded Greek Islands
The Secret Greek Ferry Pass You Need to Know!
Enjoyed this post? Click to save to Pinterest:

Image credits:
Santorini: © hardyuno / Adobe Stock
Santorini flowers: © The Mediterranean Traveller
Folegandros: © jcfmorata / Adobe Stock
Milos: © jsk12 / Adobe Stock
Astypaleia: © kite_rin / Adobe Stock
Amorgos: © costas1962 / Adobe Stock
Hydra: © kokixx / Adobe Stock
Rhodes: © The Mediterranean Traveller
Kefalonia: © Max Topchii / Adobe Stock
Koufinisia: © aetherial / Adobe Stock
Chania, Crete: © gatsi / Adobe Stock