All of the Mediterranean islands have their own unique charm, but which are the best destinations when romance is in the air?
If you're looking for an achingly romantic break for you and beau, we reckon these 10 islands are the best for couples – overflowing with pretty bougainvillaea-filled streets, historic charm, remote beaches, incredible views, and a delicious dash of solitude and discrete luxury,

SANTORINI
The undisputed queen of romance is the Greek island of Santorini, which has garnered a reputation for unique luxury thanks to its volcanic surroundings, cave-hewn architecture and awe-inspiring sunsets. It also has an incredible selection of luxury and boutique accommodation.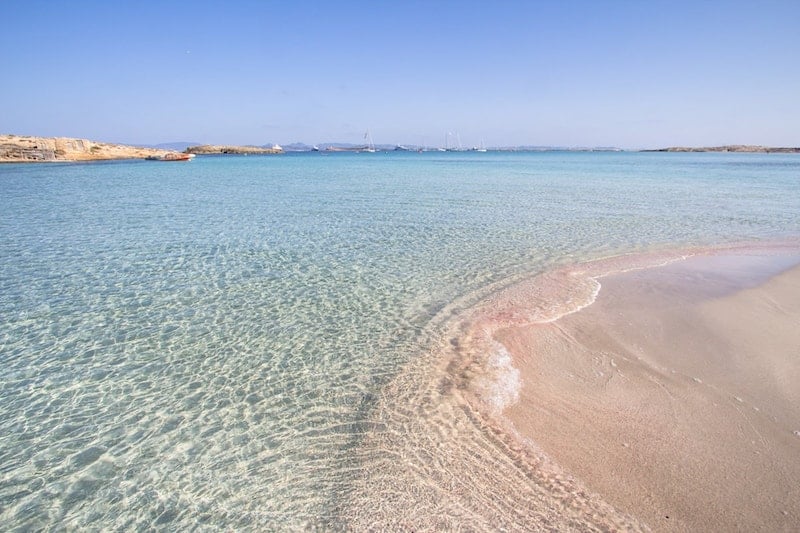 FORMENTERA
Looking for a romantic Spanish island getaway? The tiny Balearic island of Formentera is just off the coast of Ibiza and is known for its beautiful pink-tinged lagoon sands and shallow turquoise waters. It gets a lot of daytrippers but come the evening you'll have the place almost to yourself because there are just a few quiet villages with traditional white achitecture and a selection of upmarket accommodation.

PANAREA
To Italy now, and the smallest of Sicily's Aeolian islands. Panarea has a volcanic landscape an exclusive vibe thanks to the celebs and fashionistas from the mainland who favour it for a weekend escape. Hotels are glamourous and discrete with sweeping sea views.

MILOS
If you'd rather get off the beaten track in Greece, consider the Cycladic island of Milos. It's another stunner with volcanic scenery, bougainvillaea-strewn streets and whitewashed architecture. It doesn't get as crowded as Santorini and is perfect for low-key exploration – there are some cracking remote beaches, and the boat trips and snorkelling are excellent too.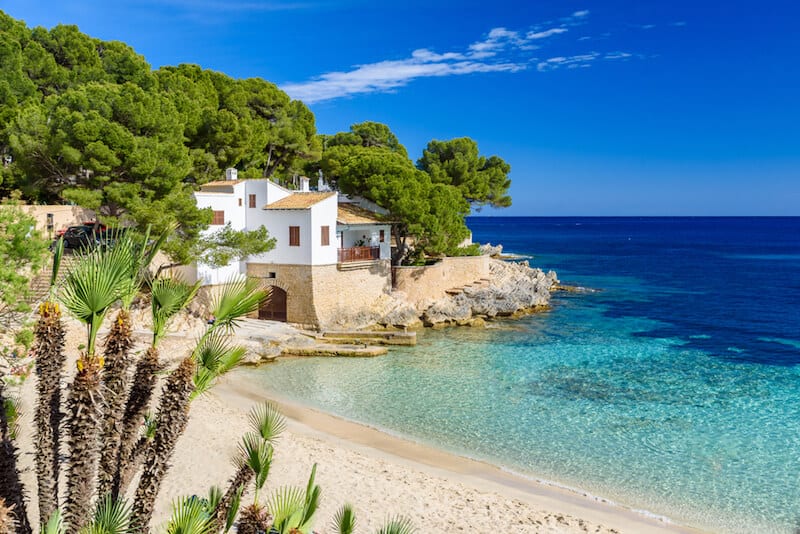 MALLORCA
Not every couple wants to visit somewhere quiet. If this sounds like you, then the Spanish island of Mallorca is a contender.
This popular island is large enough to have it all – a buzzing historic capital city that has a burgeoning foodie scene and top nightlife, miles of white sandy beach, and a dramatic mountainous interior filled with charming villages. As one of the Med's original summer destinations it also accommodation for all tastes – including a great selection of luxury and boutique properties.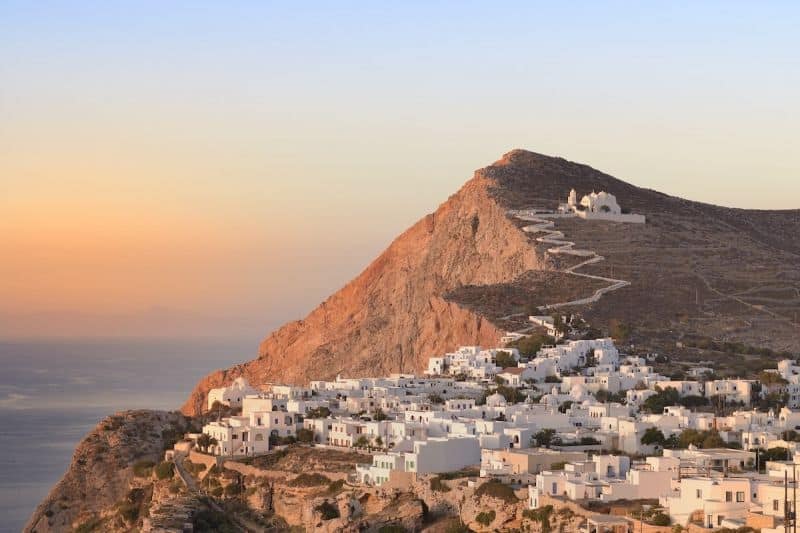 FOLEGANDROS
In Greece, you are spoiled for choice for mesmerizing sunsets and endless clifftop views. The island of Folegandros is another great choice for romantics – with its pretty whitewashed town and traditional feel. Get here before the rest of the world cottons on.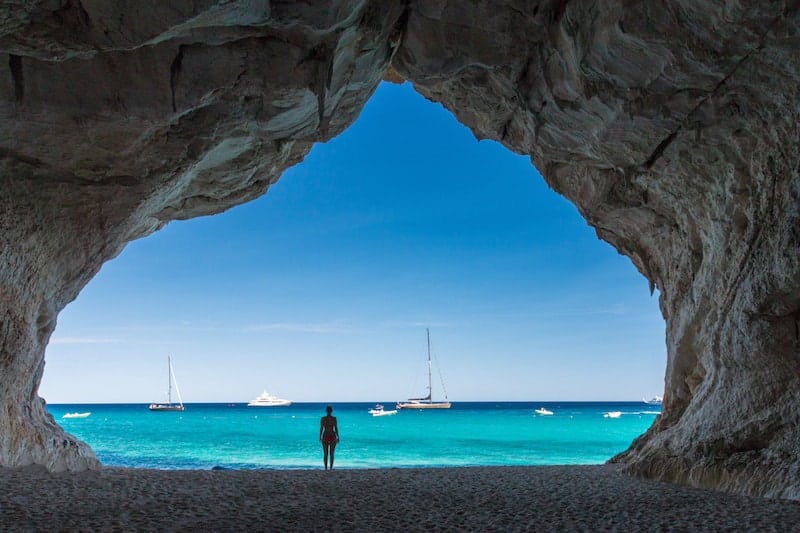 SARDINIA
Sardinia is for beach lovers – it's home to the finest white sands in the Mediterranean. The Costa Smeralda region has some of the clearest turquoise waters you've ever seen – and some of the most mind-boggling luxury prices to boot. Other coastal highlights are the mountainous Golfo di Orosei and the islands of La Maddalena. And you can top that off with some of the best food you've ever eaten.

PATMOS
The Greek island of Patmos (one of the Dodecanese chain of islands) is known more for its spiritual associations than as a romantic destination.
But Patmos has one of the most beautiful whitewashed villages in all of Greece. The well-heeled have been visiting Patmos for a while – there are elegant mansions, designer boutique and fine dining tucked away in its backstreets. The overall aura is sophisticated and serene.

CAPRI
We couldn't mention romance and not mention Capri, the lover's favourite Italian island. Just a short boat ride from Naples and the Amalfi Coast, the rich and glamorous have been visiting Capri for decades.
You'll find great designer shopping here, as well as elegant villas, blue caves, and excellent food.

LEVANZO
If the thought of a tiny but beautiful island getaway appeals to you then little Levanzo, off the coast of Sicily, should check your boxes. It has the most stunning colour waters and a cute harbour town with blue-shuttered windows. Colourful fishing boats line the harbour.
There isn't much to do here, but sometimes that's exactly what you want. Levanzo feels amazing remote considering it is only 20 minutes from Trapani. Take your own food though – tourist services are limited.
Read more:
10 Best Mediterranean Islands for Beaches
10 Most Beautiful Islands in the Mediterranean
15 Most Beautiful Small Islands in the Mediterranean
10 Most Beautiful Beaches in the Mediterranean
10 Most Beautiful Mediterranean Cities
Enjoyed this post? Click to save to Pinterest:

Image credits:
Santorini 1: © The Mediterranean Traveller
Santorini 2: © The Mediterranean Traveller
Formentera: © robertdering / Adobe Stock
Panarea: © nata_rass / Adobe Stock
Milos: © akturer / Adobe Stock
Mallorca: © Simon Dannhauer / Shutterstock
Folegandros: © jcfmorata / Adobe Stock
Sardinia: © Fabian / Adobe Stock
Patmos: © giumas / Adobe Stock
Capri: © Neirfy / Shutterstock
Levanzo: © Andrea-Moreno / Shutterstock