The Ionians are an island group located off the west coast of the Greek mainland. The archipelago consists of seven main islands (and the group was originally called the Heptanese – 'the seven') and countless minor islands and islets.
They are notable for their lush green landscapes (in contrast to the stark barren landscapes of the Greek Cyclades), Venetian heritage and architecture, stunning beaches, and popular beach resorts.
The Ionian Islands are some of the best Greek islands for beach-lovers – and dramatic west coast cliff beaches amongst the country's most beautiful coastal landscapes.
Sailing the Ionian islands is a popular past-time thanks to its combination of idyllic anchorages, pretty harbour villages, short sailing distances, and moderate conditions.
However they are not as easy to combine in an itinerary as some of the other Greek islands group.
This guide will give you a quick overview of each of the islands in the Ionian Sea and its highlights, and – crucially – how to travel to and between them (including ferry routes).

Where are the Ionian Islands?
The major islands run in a chain alongside the coast of western Greece. Corfu, Paxos, and Antipaxos are close to the port city Igoumenitsa.
Lefkada, Kefalonia, Ithaki, and Zakynthos lie at the entrance to the Gulf of Patras and then the Gulf of Corinth.
Kythira and Antikythira are far from the other islands, located in between Crete and the mainland.
Which islands are in the Ionian island group?
The major islands in the Ionian group are: Corfu, Paxos, Lefkada, Kefalonia, Ithaki, Zakynthos, and Kythira.
Corfu

Corfu is one of the most well-known and popular Greek islands. It's also one of the northernmost islands, with a good chunk sitting closer to Albania rather than the Greek mainland. It's green and mountainous, and home to endless beaches and a wide variety of beach resorts that serve the hundreds of thousands of international visitors who arrive each summer.
Main town Corfu Town is one of the most beautiful cities in Greece. It has a UNESCO World Heritage-listed Venetian old quarter and an impressive waterside fortress. Corfu has been ruled by many occupying forces over the centuries, leaving a treasure-trove of historic sites and a distinctive architecture and culture which feels quite different to the rest of Greece.
Most visitors stay outside Corfu Town in the island's many resort towns. The main resorts on Corfu are Sidari, Kassiopi, Acharavi, Roda, and Kavos (the party one). The north – especially the areas around Paleokastritsa and Kalami – is popular with those looking for pretty scenery.
For a full run-down of Corfu's resorts read: Where to Stay on Corfu: Ultimate Beach Resort Guide.
Boat trips to neighbouring islands Paxos and Antipaxos, to Albania, and to the blue lagoon and beaches at Syvota near Parga are popular.
How to get around Corfu:
Ktel Corfu Green Buses provide good coverage of the island, most routes run from Corfu Town with some extra cross-island routes in high season.
Transfers, car and scooter rental, and taxis, boat hire, excursion boats, and sometimes water taxis are readily available in the resorts.
Roads are frequently narrow and winding.
Paxos

Paxos is the smallest of the major Ionian islands and is located just to the south of Corfu. Lush and green with several handsome harbour towns, it's one of the most beautiful small islands in Greece.
The beaches are mostly pebble with crystal clear waters, surrounded by pines and old olive groves. There's a sandy beach
The main town is Gaios – pictured above – on the eastern side of the island. Small and pretty with traditional Venetian and Ionian architecture, it's popular with the yachting fraternity and has quite a buzz in the summer as well as a good range of amenities for such as small place.
Also popular are the lovely harbour villages of Loggos – which is the best area for beaches – and Lakka in the north which is another yachtiing hotspot.
How to get around Paxos:
Ktel Paxos provides public buses (no timetables online)
From Gaios, Lakka, and Loggos you can catch buses and water taxis, as well as rent a car, scooter, or boat
Antipaxos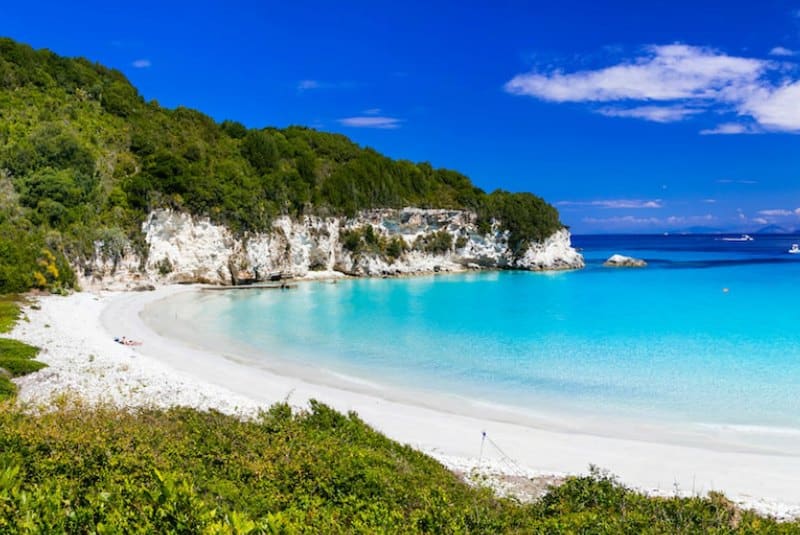 Antipaxos is a satellite island 2km south of Paxos. They are separated by a . Antipaxos (or Antipaxi) is famous for its dazzling white sand beaches which are often visited by tourist boats from both Corfu and Paxos.
The main sandy beaches are Voutoumi and Vrika, with a quieter pebble beach in between. It's about 4km long and has a tiny population and no shops or amenities beyond a few tavernas by the beach.
Antipaxos is very quiet, there is just a handful of places to stay. There are roads but it's so small a car isn't needed. Visit by water taxi from Paxos or excursion boat from Paxos, Parga, or Corfu.
Lefkada

Lefkada (or Lefkas) is so close to the mainland that it's connected by a road. In ancient times it was an isthmus that was made into a canal. Great news for those who don't like ferries. There's an airport nearby at Preveza which is itself a lovely seaside town.
For many years Lefkada has been the underdog of the Ionian islands. It doesn't have the mass tourist resorts of Corfu or Zakynthos or picturesque harbour towns. What is does have in spades is jaw-dropping cliff beaches. And wind. Lefkada is one of the most best destinations in Greece for watersports.
The main resorts on Lefkada are Nydri (best for sailing) and Vassiliki (for windsurfing). From Nydri you can pick up a boat to the small islands between Lefkada and the mainland, and from Vassiliki to the beaches of the west coast.
Lefkada's easy/cheap access make it very popular with Greeks from the mainland during the July/August summer season.
How to get around Lefkada:
KTEL Lefkada provide public buses. The east coast resorts are well connected by bus but to explore the mountainous west coast you'll need a car.
Boat trips to the beaches leave from Nydri and Vassiliki.
For a full run-down of Lefkada's resorts read: Where to Stay on Lefkada: Ultimate Beach Resort Guide
Kefalonia

Kefalonia is the most majestic and mysterious of the Ionian islands. It has an international airport but hasn't been seduced by commercial tourism in the same way as Corfu and Zakynthos. Perhaps because its rugged landscape and pebble beaches don't attract the crowds in quite the same way.
The island is awkward shape with limited public transport and tourist infrastructure which makes trying to see everything from one base difficult. A common recommendation is to split your time up and choose 2 or 3 places to stay around the island. A week is too little to explore the island in depth but you can see the highlights in 1 week.
Capital Argostoli is a functional modern town but not a bad base if you're looking for buzz (or buses).
The main beach resorts on Kefalonia are Lassi (the beach suburb of Argostoli) and Skala. And the main attractions on Kefalonia are the beautiful Venetian villages of Assos and Fiskardo, the blue cave at Melissani, and cliff beach like the famous Myrtos (pictured above).
How to get around Kefalonia:
Ktel Kefalonia provides public buses. The bus network on Kefalonia is fairly extensive but has several hubs and is geared towards local. Often it's not practical for use buses for day trips.
Bus and boat excursions are available in high season with pickups from all the main resorts.
Car hire is necessary for exploring the island in depth.
Kefalonia is large and mountainous and unsuitable for exploring by scooter.
The main ports for ferry connections are Sami, Poros, and Pesada (not Argostoli).
For a full run-down of Kefalonia's resorts read: Where to Stay on Kefalonia: Ultimate Beach Resort Guide
Ithaki

Ithaki (or Ithaca) is a small island separated from the mountainous NE coast of Kefalonia by a deep channel. They were once part of the same landmass – which you can see from the geography.
The island is almost cleaved into two parts with just a narrow piece of land joining the two. All of this makes for some hair-raising driving.
But Ithaki is worth the journey. It's small, green, and pretty, with none of the crowds of the larger islands. It's also the most expensive of the Ionian islands.
Main town Vathy which is sits at the end of a natural harbour which is well-used by yachts. Smaller harbour villages Frikes and Kioni are somehow even more beautiful.
There are dramatic beaches scattered around the island but it helps to have a wheels – or a boat – to visit them. There is little in the way public transport. Unhelpfully, the main car ferry from Sami on Kefalonia arrives at the small port of Piseatos but there are no buses here. Some ferries from Poros on Kefalonia and Nydri on Lefkada do call at Vathy.
How to get around Ithaki:
KTEL Kefalonia provide some bus routes on Ithaki but the ferry port is not not served by public transport.
Most car rental agencies on Kefalonia allow you to take the car on the ferry across to Ithaki (but double check before you book).
It's possible to visit Ithaki as a day trip from various resorts on the northern side of Kefalonia or Nydri on Lefkada.
Meganisi

Meganisi is a small and unspoilt island off the east coast of Lefkada. It's becoming increasingly popular with those who discover the island on a day trip to Lefkada.
Simple charm is what you'll find on Meganisi – unorganised beaches, authentic tavernas, and traditional accommodation (with a smattering of high-end villas).
There are two main villages – Spartochori, where the ferries arrive, and Vathy, which is popular with visiting yachts.
How to get around Meganisi:
There are no buses on Meganisi.
Taxis, car and scoot hire, and boat hire is available.
Zakynthos

Zakynthos (also known as Zante) is one of the most popular package holiday destinations in the Mediterranean and is also famous for its iconic Shipwreck Bay (real name: Navagio).
Development is concentrated in the south and around capital Zakynthos Town which is functional but vibrant. It's awash with sandy beaches, particularly on its south coast where you'll find the main party resort Laganas. Other major resorts include Tsilivi, Alykes, and Argassi.
There are plenty of pockets of quiet though. The Vasilikos Peninsula is hushed and tranquil beyond the beaches, and the entire west coast is wild and undeveloped – ideal for boat trips.
You can kayak with the turtles at Marathonisi island or visit the rescue centre at Gerekas, one of the main nesting beaches.
The main ports are Zakynthos Town and Agios Nikolaos – note that there is no public transport to the latter.
How to get around Zakynthos:
Ktel Zakynthos buses connect Zakynthos Town with the main resorts.
Car and scooter hire is readily available in the resorts.
Taxis are concentrated in Zakynthos Town but you may find some in the resorts in high season.
Bicycles, ATVs and scooters are popular in the low-lying resorts and Vasilikos Peninsula, but a car is recommended for the hillier west coast.
For a full run-down of Zakynthos' resorts read: Where to Stay on Zakynthos: Ultimate Beach Resort Guide
Kythira and Antikythera

The islands of Kythira and Antikythira are technically part of the Ionian island group even though they're nowhere near the rest of the islands. Instead, you'll find them in between Crete and the mainland.
This remote location isn't easily included on an island hopping adventure and so they remain somewhat off the beaten track – perfect for an adventure! They have a less commercial feel than the rest of the Ionian islands. You can reach them via Athens, Crete, or the southern Peloponnese.
Kythira is a medium-sized island with a attractive green interior, natural beaches, and a few traditional beach resorts.
One thing Kythira does have in common with its Ionian neighbours is the remnants of Venetian architecture.
Main town Kythira Chora is in the south, in the hills above the popular beach at Kapsali. Also worth visiting is small harbour village Agia Pelagia in the north, and the pretty Avlemonas in the east.
How to get around Kythira:
Ferries dock at Diakofti.
There is a small domestic airport in the north of the island.
Buses through KTEL Kythira are very limited, it's worth renting a car.
Antikythira is small and remote island with an interesting histpry some way to the south of Kythira. It's not often visited by tourists however there are a few places to stay, and you can reach it on the ferry line that connects Crete and Kythira.
Minor islands:

The main Ionian islands are reasonably well-known, but there are plenty of smaller islands waiting to be discovered!
The three Diapontia Islands (Mathraki, Erikoussa, and Othonoi) lie off the north-west coast of Corfu. All three have a small population and it's possible to stay overnight, though they are usually visited as a daytrip on an excursion boat. You can reach them from Corfu Town, Sidari, or Agios Stefanos NW.
Skorpios is one of the most famous tiny islands in Greek. Very close to Lefkada's Nydri, it is a private island that once belonged to Aristotle Onassis and is associated with Jackie Kennedy glamorous visitors and the famous 'Pink Villa'. It was recently bought by a Russian billionaire for an exclusive tourist development. Unfortunately it's closed to the general public but tourist boats will often sail past it.
Two more inhabited islands close to Lefkada are Kalamos and Kastos. They are even quieter and more tranquil than Meganisi. There are excursion boats which visit on a day trip, but if you want to stay overnight you'll have to catch a quick ferry from Mytikas on the mainland.
You may also sometimes find boat trips which anchor at the uninhabited islands Arkoudi and Atokos (privately owned).
Closer to the mainland are the uninhabited private island of the Echinades group, including Drakonera, Provati, Petalas, and Oxia. Six of these are currently owned by the Emir of Qatar.
There are also several small islands off the west coast of the Peloponnese including the remote Strofades islands, Proti, Sphacteria, Sapienza and Schiza.
How to Get to the Ionian Islands

Air: There are international airports on Corfu, Kefalonia, Zakynthos, Kythira, and also at Preveza which is located on the mainland very close to Lefkada.
If flying in to Athens International Airport, it's a straightforward highway drive to Patras (toll road).
There are no airports on Ithaki, Paxos, or Antipaxos.
Ferry: Igoumenitsa and Patras both have international ferry connections to Bari, Brindisi, Ancona, Venice. Corfu Town has connections to Sarande in Albania.
How to Island Hop in the Ionian Islands

Travelling between the Ionian Islands is more complicated than some of the other Greek island groups.
The main islands are large and spread out over a vast area in a long chain. Many of the main ferry connections are with the mainland rather than to each other. If you turn up hoping for the kind of easygoing island-hopping that you can easily do in the Cyclades you might be frustrated. Ditto if you hope to see the whole group in 1 week. Or if you have a car.
Ferry frequencies change throughout the season, and routes often change year-to-year.
Map of north Ionian island ferry routes

Map of south Ionian island ferry routes

Ferry Connections
Ionian inter-island ferry:
Thankfully these days tere is one ferry – Azimut Ferry – that links all of the Ionian islands in high season. This makes island hopping much easier. It runs from April through to the end of September and runs up the chain one day, and back down the next. This is a high-speed ferry for foot passengers only.
Corfu (Corfu Town) – Paxos (Gaios) – Lefkada Town – Meganisi – Ithaki (Piseatos) – Sami (Kefalonia) – Zakynthos (Zakynthos Town) – see example timetable.
Update for 2022: No sign of the Azimut timetable yet, but it looks like Kamelia will be running an inter-island route on the Lefkada Palace – see timetable.

Other island connections:
The remaining ferry connections are geared to local use and tend to connect islands with their nearest point on the next island or mainland, which is not always the most helpful destination for travellers.
Boats are a mix of large car ferries and small passenger routes. If you only have a short-time to island-hop you will find it easier to stick to a couple of nearby islands (such as Corfu – Paxos – Antipaxos, or Lefkada – Ithaki – Kefalonia) rather than try to see them all.
If you have a car, the best way to island-hop in the Ionians is to ferry from Corfu (or Paxos) to Igoumenitsa then drive overland to Lefkada. Take the car ferry from Nydri/Vassiliki* to Fiskardo in Kefalonia. Optional side-trip to Ithaki. Then take the car ferry from Pesada to Agios Nikolaos on Zakynthos (or the same in reverse).
In high season there are also some flights available between the islands with airports.
Corfu Ferry Connection
Paxos Ferry Connections
Lefkada Ferry Connections (*Vassiliki ferries are currently routed via Nydri whilst the port is under construction)
Kefalonia Ferry Connections
Sami – Patras, mainland
Sami – Igoumenitsa (summer only)
Poros – Kyllini, mainland
Poros – Piseatos, Ithaki (Levante Ferries)
Argostoli – Lixouri
Pesada – Agios Nikolaos, Zakynthos (Ionian Pelagos)
Ithaki Ferry Connections
Mainland
Kythira
Diakofti – Pireaus (Sea Jets)
Diakofti – Gythio (Sea Jets)
Diakofti – Neapoli (Triton Ferries)
Diakofti – Antikythira (Sea Jets)
Diakofti – Kissamos, Crete (Sea Jets)
Diakofti – Kalamata (Lane Sea Lines)
Antikythira
Antikythira – Diakofti, Kythira (Sea Jets)
Antikythira – Gythio (Sea Jets)
Antikythira – Kissamos, Crete (Sea Jets)
Antikythira – Pireaus (Sea Jets)
Antikythira – (Triton Ferries)
We recommend using Ferryhopper website or mobile app to check times and purchase ferry tickets. Rome2Rio is good for checking routes that involve other means of transport. However some of the smaller passenger ferries might not be available online.
To keep up to date with Greek ferry strikes, keep an eye on Livin' Lovin' – Greek Work Stoppages.
Best Places to Go in the Ionian Islands
Highlights of the Ionian islands include:
UNESCO-listed Corfu Town
Coastal scenery of north Corfu
Lake Korission and Issos dune beach, Corfu
Beautiful coastal villages Fiskardo, Assos on Kefalonia, Frikes and Kioni on Ithaki, and Loggos on Paxos
Sandy beaches Vrika and Voutoumi on Antipaxos
Traditional mountain villages in Corfu and Lefkada.
Melissani blue cave and Drogarati Cave on Kefalonia
Cliff beaches of Kefalonia and Lefkada.
Boat trips to quiet islands like Meganisi and Othonoi
Zakynthos and Kefalonia's turtle beaches
Vasilikos Peninsula, Zakynthos
It's easy to combine some of the Ionian islands with highlights of Western Greece. Zakynthos is easily combined with the ancient site of Olympia. And from Corfu or Paxos you can reach Parga and the lovely coastal region of Epirus.
Useful Facebook Groups:
Read more:

Enjoyed this post? Click to save to Pinterest:
Image credits:
Vrika, Paxos: By Desislava Lyungova / Shutterstock
Map of the Ionian Islands: © The Mediterranean Traveller
Corfu: © Kess16 / Adobe Stock
Paxos: © kite_rin / Adobe Stock
Antipaxos: © Freesurf / Adobe Stock
Lefkada: © Calin Stan / Adobe Stock
Kefalonia: © Dimitar Georgiev / Adobe Stock
Ithaki: © The Mediterranean Traveller
Meganisi: © Chester Tugwell / Shutterstock
Zakynthos: © GKor / Adobe Stock
Kythira: © gatsi / Adobe Stock
Othonoi: © Giovanni Rinaldi / Adobe Stock
Ferry: © The Mediterranean Traveller
Ferry ticket: © The Mediterranean Traveller
Ferry map – Igoumenitsa and the northern Ionians: © The Mediterranean Traveller
Ferry map – Patras and the southern Ionians: © The Mediterranean Traveller
Zakynthos travel agency: © The Mediterranean Traveller