Everyone has a rough idea what to expect of the Greek islands in the summer, but what are they like over the autumn and winter months? Low season in the Greek islands is roughly mid-October to mid-April.
WHEN DOES THE TOURIST SEASON END?
The tourist season usually starts to wind down during October, in anticipation of a shift in weather. The dates are not set in stone though and vary locally depending on the weather and flight and cruise schedules. Cruise ships stopping at big attractions such as Santorini and Rhodes carry on occasionally throughout the winter. Generally speaking, most beach towns will keep some bars and accommodation open as long as the sun is shining and people are still arriving. This can be a great time to visit as the vibe is relaxed and prices are low.
THE CONS OF VISITING THE GREEK ISLANDS IN WINTER
Unless you're a fan of desolately empty resort towns with wind-whipped waves, then the best Greek islands to visit during low season are the ones that retain some life over winter. Which means the ones that have either student populations or industry other than tourism, or both. Islands and resort towns that depend on tourism tend to shut down almost completely over the winter, leaving just skeleton services open, if any. Seasonal workers return to their mainland homes for the winter to catch up with friends and family (or head out of Greece altogether). The climate is mostly mild although changeable, with bad weather (cold and wet with rough seas) is a distinct possibility.
THE PROS OF OFF SEASON TRAVEL IN THE GREEK ISLANDS
If you're up for a bit of an adventure, the Greek islands out of season represent a great opportunity to really get to the heart. For those who remain on the islands over winter, a special village atmosphere remains and life slows down considerably. The only activity is renovation work to buildings and streets and live music in the evenings. Imagine sipping warm rakomelo (a raki and honey drink), enjoying the low winter sun, the smell of wood fires in the air and a cosy atmosphere in cafes and tavernas (although beware the cigarette smoke).
ISLAND ACCOMMODATION IN AUTUMN AND WINTER
The challenge can be finding somewhere to stay. Most small hotels and pensions shut down over the winter; not only is there less demand but the intricacies of the tax system mean it makes more sense to close completely. They're also not equipped for winter tourism – it can be tricky to find a guesthouse with adequate heating, for example. Booking a whole home is a good bet so try Airbnb; prices are likely to be very affordable. Hotels in business districts are another option. If you've got cash to splash and your own wheels then you might want to consider something more luxurious; you can find beautiful lodges and villas up in the mountains, perfect for a crackling fire, winter stews and some hiking.
I do recommend booking in advance during winter, and checking the heating situation with the accommodation before hitting that 'confirm' button.
GREEK ISLAND FERRY SCHEDULES OVER AUTUMN AND WINTER
Another consideration is much-reduced ferry schedules during the autumn and winter. Ferry crossings are likely to be rougher; this is not so bad in the big steady car ferries, but hydrofoil and fast catamaran crossings are less suitable for rough seas. Most islands will remain connected to Athens by car ferry, but connections between islands are less frequent.
POROS
If you're in Athens over the winter and dying for a quick taste of the islands, then one option is to bolt for one of the closest islands whilst the weather is looking good. I'd avoid Hydra as it's only served by hydrofoils, which – although they do run over the winter months – are not very pleasant when the sea is rough and prone to long journey times.  My top recommendation would be the lemon and pine-scented island of Poros. It's so close to the mainland that you could almost swim across to the Peloponnese, meaning you're unlikely to be stranded due to high seas, and you'll still find a few tavernas open to serve the visiting weekenders from Athens.
AEGINA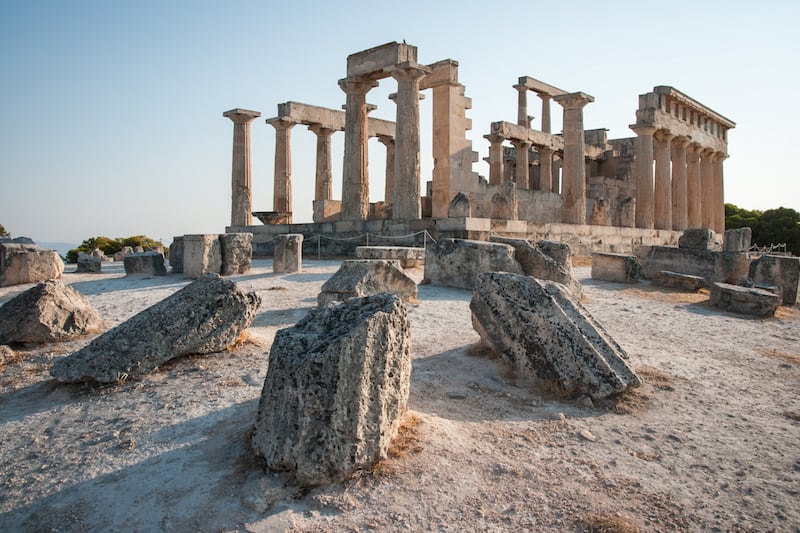 Aegina is the closest island to Athens and well served by frequent ferries, even during the winter. This makes it easy to visit Aegina as a day trip from the capital. That's enough time to wander around the pretty harbourfront with its neoclassical buildings, and to get a taste of some of the island's famous pistachios and fresh fish, and to check out the Temple of Aphaia. But if you stay longer than a day you'll find a (relatively) lively taverna scene in Aegina Town, with a host of live music throughout the season.
CORFU
Corfu's beautiful capital is coming into its own as a winter destination. Its elegant Venetian Old Town, a designated UNESCO World Heritage Site, looks stunning in the crisp winter light and is still lively during the winter thanks to its student population. Rather than hitting the beach, why not hit one of the hiking trails that wind through mountain villages. Bring your umbrella though: Corfu is one of the greenest and wettest islands in Greece. Corfu Town is a popular destination during the Christmas and New Year period.
CRETE
Crete has some of the warmest temperatures over the autumn and winter months, in fact it has one of the mildest winter climates in Mediterranean Europe due to its southerly position. Only the hardy will brave the cold sea temperatures, though. Crete has not yet been discovered by retirees fleeing cold Northern Europe, like Cyprus, Malta or Andalucia, so tourist infrastructure is fairly non-existent during the winter. Hire a car and you'll have the island to yourself; a real boon at ancient sites such as the famous Knossos. The charming university cities Chania and Rethymnon in West Crete make excellent bases.
RHODES
Rhodes has the double advantage of a university and a southerly position in the Aegean. The medieval Old Town with its impressive castle and fortifications and cobbled streets is one of the most stunning historic sites in Greece, and one that is best enjoyed out of season when the cruise-ship crowds and holidaymakers have all but disappeared. Beautiful whitewashed village Lindos has one of the best microclimates in the Med making it a solid bet for sunshine in October and November.
LESVOS
Once a thriving commercial centre and popular vacation spot, Lesvos is often overlooked these days. Perhaps it's the association with the refugee crisis – the crossing from nearby Turkey is one of the major refugee routes, and Lesvos has one of the biggest volunteer presences in Greece. Or maybe the distance from Athens helps keeps the crowds away (it's 15 hours on the ferry). But for those undeterred by both factors, the lively capital Mytilene provides one of the best year-round island spots. The vibrant working town has a student population and long-held liberal associations. It can be wet and windy at times, but the payoff is beautiful green hills for hiking and exploring places like colourful Molyvos.
CHIOS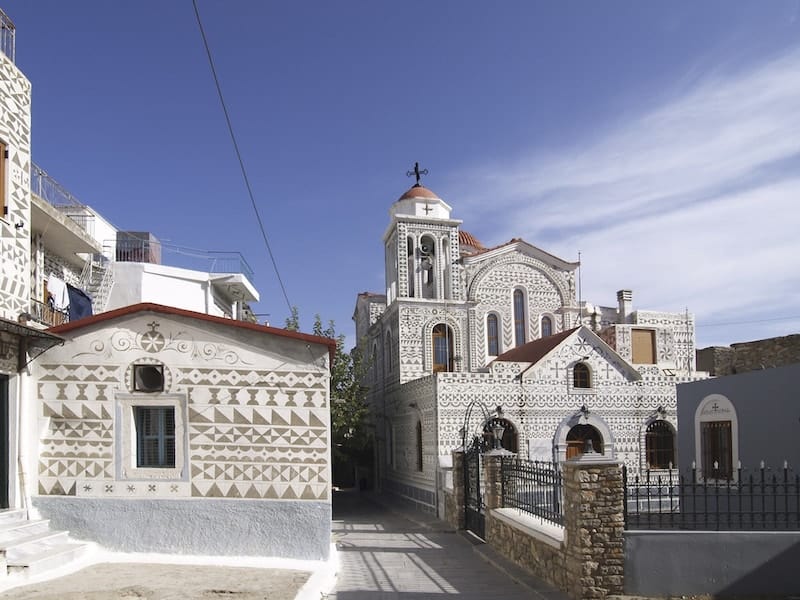 Is Chios the most ignored island in the Aegean? If you're looking for a true local experience then head to Chios. Its capital is a workaday port city; the island lives on agriculture rather than tourism. Winter is peak citrus season here on Chios, which is known for its lemons, oranges and mandarins, as well as mastic (a resin product unique to the island). Rent a car and head out to the countryside to explore the quiet beauty of the island's historic villages.
NAXOS
If you're after a classic Cycladic experience with whitewashed buildings head then Naxos during the off-season. Most islands in the Cyclades depend almost entirely on tourism and can be a tad desolate during the winter. Naxos has a strong agricultural industry and year-round residents, plus an increasing number of expats who stay throughout the winter season. Stick to the Chora to enjoy its low key charms in the blustery and bright winter weather.
SYROS
Handsome Ermoupoli, capital of Syros, is one of the most unique towns in the Greek islands with its stately neoclassical buildings, a legacy of its shipbuilding past. Ermoupoli is also the administrative hub of the Cyclades island chain which means there's a decent year-round population of workers and students. Expect cosy tavernas, live music and seasonal festivities.
SANTORINI
Santorini's increasing popularity means its tourist season is becoming longer and longer, so you won't find it completely shut down in the winter – although tourist infrastructure is much reduced. Nightlife and restaurants will be limited so foodies are better off visiting during shoulder season if possible, but a few more hotels are opening throughout the year now as a part of a drive to spread out the impact of tourism on the island. Rather than the deserted Caldera villages, try nestling up in mountain village Pyrgos which is bolstered by its wine industry and has fab sunset panoramas. Pack a good jacket as it does get windy.
Found this post useful? Click to save to Pinterest: