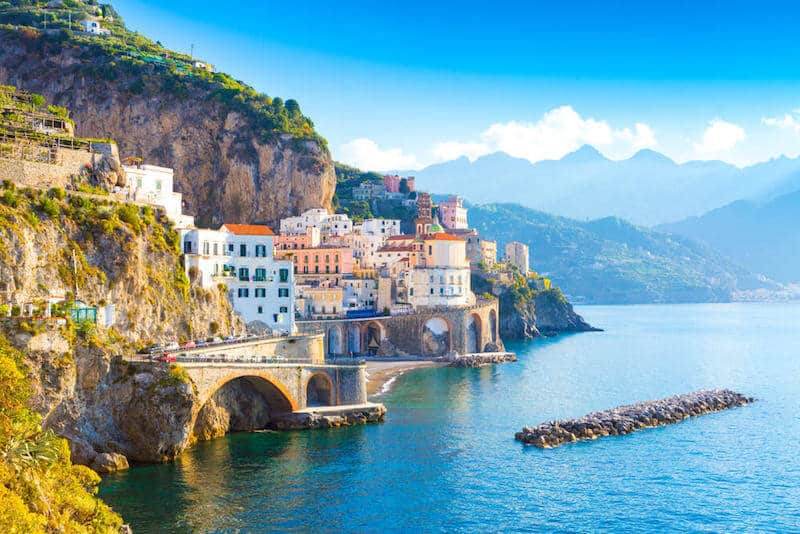 Italy is not just of the best places for solo travellers in Europe – it's one of the best countries to visit, period. It's a feast of art, history, glorious landscapes, and incredible food.
There are beaches, mountains, islands, and gelato. Always gelato. Plus Truffles, hilltop towns, palaces, medieval intrigue and baroque sculptures.
Hostels used to be a bit dated but have thankfully improved in recent years, with much more variety. However prices have increased too, and summer in the main cities means prices upwards of €30 a night just for a dorm bed.
The cheaper beds tend to be located outside the city in converted farms and on campsites but these can be an experience in themselves – plus you're more likely to find a pool.
The emergence of Airbnb means there is at least an alternative to expensive hostels though. And to keep costs down you can also look at accommodation in surrounding towns which are usually well connected by public transport – looking at nearby Padova instead of pricey Venice, for example.
ROME
Ah, the Eternal City. It's the unmissable capital of modern Italy as well as of Ancient Rome. And today Rome is a historian's playground, surrounded by layers.
Rome has the Colosseum, the Vatican, the Imperial Forum and Palatine Hill, the Pantheon. It's been at the heart of power in Western Civilisation for millennia. Ancient ruins spill into baroque streets, grand cathedrals sit next to tiny cafes, churches with ancient excavations underneath.
And that's before you even think about the Spanish Steps, the Trevi Fountains, the Piazzas Navona and Campo di Fiori, and the Villa Borghese for those Roman Holiday-inspired photo ops.
Rome is chic and splendid with excellent shopping and dining options. Head to Trastevere for a laid-back slice of la dolce vita, with restaurants spilling out into pretty cobbled streets.
Outside the centre of the city are the vantage points from its hills, plus vast underground catacombs and old Roman roads providing opportunities for walks and cycling.
There are some great hostels for solo travellers in Rome. Party animals will want to check in to The Yellow – the best hostel in Rome for socialising, with its cheap bar and frequent parties. It even has an on-site tattooist.
If you prefer quiet and chill then the Beehive Hostel has long been regarded as the best hostel in Rome with its homemade vegetarian courtyard breakfasts and variety of room types. Generator Rome is a decent alternative – both are located in the Termini area of town which is near the main train station.
VENICE
No trip to Italy is complete without a visit to Venice. This unique floating city comprises 118 islands separated by canals and some of the most beautiful architecture you'll ever seen. Venice has to be seen to be believed.
Originally it was a lagoon inhabited by fisherman, then it became a place of refuge for Roman citizens fleeing barbarian invasions. Eventually, it became the centre of a great trading empire.
The Rialto Bridge, the Grand Canal, the Doge's Palace, and St. Mark's Square form the epicentre of touristic Venice. And the pretty multicoloured houses on the island of Burano have become an internet sensation. But try to get out to the less touristy corners as well, Venice is a city that rewards exploration. Don't forget to wear some comfortable walking shoes, and be prepared to get lost.
Vaporetti (water buses) make a cheaper alternative to the notoriously expensive gondola rides.
Venice has historically been a difficult place to find a good hostel, but the arrival of flashpacker-brand Generator Venice kick started the design hostel trend here. It's not on the main island so will require a ferry pass, but has all mod cons and comfortable beds.
Other good hostels include an outpost of Wombats, and hipster vibes at Combo Venezia which is located in a converted monastery.
FLORENCE
Florence (or Firenze) is the birthplace of the Renaissance and during that time it was the most important city in Europe, leaving us an incredible cultural legacy. It's the gateway to Tuscany and home of David and the Duomo. Gateway to Tuscany.
But Florence is also the home of money, as we know it. Of opera, the Medici family, and the Uffizi gallery (amongst others). There are more museums in Florence than you could see in a month, and enough nightlife to keep you entertained for a few days. It's no wonder Florence is one of the most popular cities in Italy!
Most hostels in Florence are looking a bit dated, but the boutique art nouveau B&B Mosi Firenze also has dorms and social amenities as well as beautiful decor.
PLUS Hostel is larger and has two pools (one indoor one outdoor), female dorms, and a rooftop terrace – it's probably the best option for socialising.
For a taste of the good life, head outside the city to the Ostello del Bigallo. Set in a gorgeous medieval monastic building, it's a magical place with a real communal spirit. Expect pasta nights and epic sunrises.
NAPLES AND THE AMALFI COAST
Naples is no stranger to tourism thanks to its proximity to Mount Vesuvius, the volcano-devastated archaeological sites of Pompeii and Herculaneum, and the stunning Amalfi Coast with its famously winding coastal roads. Plus the islands of Capri and Ischia are a short boat trip away. But Naples itself is only just coming into the spotlight.
Gritty and vibrant, Naples is known mostly for its crazy traffic, strong dialect, mafia associations, and tourist scams. But did you know that Naples has the highest number of churches in the world (448), or the biggest historic centre in the world (which is now UNESCO World Heritage-listed)?
Its looming buildings, many in a state of dilapidated, have a very different feel to other Italian cities – catch it now before the gentrification.
Don't miss the kitsch of Christmas Alley, or the fabulous wine bars and cobbled streets of Chaia in the evenings. And, of course, it's the home of pizza.
La Controra and NeapolitanTrips are the pick of the hostels in the city.
If Naples doesn't sound like your scene, it's only a short journey to the nearby Amalfi Coast with its swoon-worthy coastal scenery and pretty villages beloved by Instagrammers.
Proper hostels are sparse in the Amalfi Coast villages, but Seven Hostel is located in nearby Sant'Agnello (close to Sorrento) and has panoramic views from its rooftop sun terrace.
SICILY
Ok, so it's cheating a little bit to have the whole of Sicily as one entry, but it's the perfect place to end a solo trip to Italy because everything here is Italy-max.
It's hard to pick just one place and there are a few excellent hostels spread across the island,
The west of the island has Palermo – which is chock full of architectural treasures and incredible street food, the beautiful coastal town of Cefalu. Casa di Amici Hostel in Palermo is friendly base, or if you're in need of a beach vacay there is Timbuktu Hostel at the popular beach town of San Vito Lo Capo (which has one of the best sandy beaches in all of Italy, as well as amazing seafood couscous).
Prefer to go east? You'll be within reach of the main beach resort towns Taormina and Giardini Naxos, plus the UNESCO-listed late baroque towns Noto, Modica, and Ragusa.
The capital of the east is fascinating Catania, standout hostels include Ostello degli Elefanti with its ornate ceiling and The Yard which boasts industrial chic decor.
Alternatively, you could stay in Syracuse with its polished baroque beauty – LOL Hostel brings the boutique hostel vibes.
CINQUE TERRE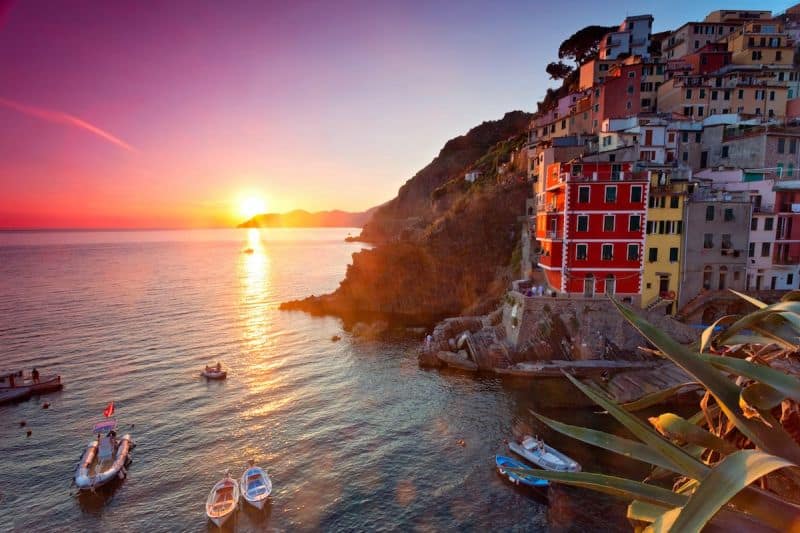 Italy's beautiful Cinque Terre has really shot to fame in the past decade. The name refers to five colourful coastal villages linked by hiking trails, in a National Park.
The villages are: Monterosso al Mare, Vernazza, Corniglia, Manarola, and Riomaggiore.
The Cinque Terre is halfway between Genoa and Pisa, and to the south of Milan. This part of Italy is called Liguria and is the home of pesto – and trust me, you'll want to eat as much of it as you can here.
Parts of the trail are sometimes closed due for safety reasons or due to work on the tracks so it's not always possible (or advisable) to do the walk in one day. Plus there are lots of smaller less busy hiking trails behind the villages. I recommend at least 2 days for this paradise.
These days there are some good hostels in the area, although the better ones are outside the villages – 5 Terre Backpackers and Ostello Tramonti.
If you'd rather be in the villages have a look at the more traditional Ostello Corniglia or Mar-Mar in Riomaggiore.
BOLOGNA
Bologna is a historic university city in the region of Emilia-Romagna that has really risen to prominence recently on account of its foodie delights. It has become known as Italy's top culinary destination thanks to the quality of its produce – in particular, its cured meats such as bologna, prosciutto and mortadella.
There's also bolognese, stuffed pasta, and visits to nearby producers of world-class parmesan (DOP Parmigiano Reggiano), balsamic vinegar (DOP Balsamic di Modena), and local wines Lambrusco, Pignoletto and Barera.
But Bologna is not just about food – it's also home to the oldest university in the Western world, and a long-standing tradition of supercar production. Ferrari, Lamborghini and Ducati all have museums in the area. It has one of the best-preserved medieval town centres and is known for its beauty, elegant piazzas, towers and porticos in shades of red and burnt orange. It has a modern – yet resolutely Italian – vibe.
The standout hostels in Bologna are Dopa Hostel which is downtown and has a cosy social vibe, and We_Bologna near the station which is spacious and has bicycle rental available.
MILAN
The grand and modern city of Milan makes a refreshing change if you've been on the history track for a while. Shopaholics and soccer fans will be happy here – Milan is Italy's capital of modern pursuits fashion and football, as well as the older passions of opera.
The grand gothic Duomo, famous opera house La Scala, football stadium San Siro, and Leonardo's Last Supper are the major attractions.
It's the commercial capital of the north and one of the biggest cities in the country, with a more European feel than many Italian cities.
As one of the main cities in the north, it's also well connected by train – the Italian Lakes are nearby, as is the hilltop city of Bergamo, and it's a short cross-country ride to Bologna, Verona, and Venice.
Milan really comes into its own in the runup to Christmas, with extensive lights and the best hot chocolate you'll ever taste.
Ostello Bello has the best (dorm) beds in town. It comes highly rated and has excellent facilities (including free breakfast and apperitivo).
Other hostels worth checking out are Ostello Bello Grande, Madama Hostel & Bistrot, and Combo Milano.
PERUGIA
For a taste of Italy without the tourist crowds consider Perugia, a beautiful historic city and capital of Umbria – a region less crowded than Tuscany but with the similar attractions of wine, glorious scenery and honey-hued medieval hill towns.
And Perugia itself must be one of the most underrated destinations in Italy. At its centre is a walled old town known for its palazzo and fountains, endless steps, Gothic cathedral, and Renaissance art. It also has a maze of underground streets that once formed a 16th-century fortress. And a Roman aqueduct. And an ancient Etruscan arch.
Plus there are truffles. Jazz. Chocolate. And there are day trips to nearby Assisi and vineyards.
Not just a tourist ghetto, the university attracts many foreign students giving it a cosmopolitan vibe. It's a city made for walking and it's halfway between Florence and Rome – 2 and a half hours to either on the train. Perugia has an international airport that is served by budget European airlines so makes a handy entry or exit point into the area.
There are two excellent hostel options – Little Italy Hostel is a modern design hostel inside a converted 11th-century church.
And outside the city, you'll find Perugia Farmhouse Backpackers is a long-standing hostel which is located in a 200-year old farmhouse and it has a pool – rerfect for hot summer days.
MATERA
The hilltop town of Matera in the southern region of Basilicata is one of the most unique and compelling destinations in Italy.
This fascinating town is home to the Sassi, a unique form of housing built into soft rock on the slope of a ravine. Some of the Sassi date as far back as 7000BC, making Matera one of the oldest continually inhabited sites in Europe (check). But that habitation came to an end in the 1950s when sanitation was poor and disease was rife – the population forcibly removed to more modern accommodation.
But Matera rose from the dead in the 1980s when people started to move back to the cave dwellings – first hippies and artists, then widespread renovations. Now it's a popular spot for creatives and is enjoying a tourism boom. It's a European City of Culture for 2019, and has been used as a filming location for major Hollywood blockbusters (most famously The Passion of the Christ) – it often stands in for ancient Jerusalem.
Matera has certainly come a long way in the last 70 years.
Lay your head at The Rock Hostel in a restored farmhouse built into the rock, or check out the beautiful new Sassi Hostel has cave-hewn rooms.
Read more:
How to Visit the Cinque Terre on a Budget
10 Best Places for Solo Travel in France
10 Best Places for Solo Travel in Spain
10 Best Places for Solo Travel in Croatia
10 Best Places for Solo Travel in Turkey
10 Best Places for Solo Travel in the Greek Islands
10 Best Places for Solo Travel in Portugal
10 Best Places for Solo Travel in Morocco
Enjoyed this post? Click to save to Pinterest:
Image credits:
Amalfi Coast: Oleg Voronische / Shutterstock
Rome: © ansmp / Shutterstock
Venice: © muratart / Shutterstock
Florence: © Olga Gavrilova
Naples: © SC / Adobe Stock
Sicily: © lapas77 / Adobe Stock
Cinque Terre: © santosha57 / Adobe Stock
Bologna: © RossHelen / Shutterstock
Milan: © Anton_Ivanov / Shutterstock
Perugia: © OlgaMerolla / Shutterstock
Matera: © rudi1976 / Adobe Stock