I reckon Portugal is one of the best (and most underrated) countries in Europe for solo travel – it's beautiful, vibrant, good value, and has amazing beaches. It's also got one of the best hostel scenes in the whole wide world. What's not to love? Let's look are some of the best destinations if you're flying solo to Portugal this year.
The big cities are a lot of fun – with a buzzing nightlife and incredible cultural scene. Independent travel is thriving along the coast where you'll find a laid-back surfer vibe present, even in the big beach resorts. But it's also easy to get off the beaten path in Portugal if you want – just head inland.
And let's just talk about those hostels for a moment. The Portuguese certainly take pride in their hostels – boutique design is par for the course here. Standards are high and most hostels also have an emphasis on social activities and always seem to offer something extra (bar crawls, BBQs, evening meals, free walking tours, yoga, wine tasting, beach runs, etc.).
English is widely spoken amongst the younger generation in Portugal and public transport is easy to figure out. But if you're apprehensive about solo travel in Portugal here are some go-to destinations where you'll find everything you need for a stress-free solo trip – including hostels, good transport links, a bit of nightlife, and a range of activities and tours suitable for solo travellers.
LISBON
One of Europe's top city break destinations and digital nomad hotspots, capital city Lisbon is popular for good reason. Its cobbled streets, retro trams and tiled buildings are hugely atmospheric. Lisbon has fascinating historic sites, fado, and great bar scene. It's not far from the beach. Oh, and don't forget to eat custard tarts. Lots of them.
There are so many amazing hostels in Lisbon that it's hard to list them all. And considering their very reasonable prices, the hostels in Lisbon are excellent value for money. Every year they seem to dominate the HOSCARS (Oscars for hostels).
My personal favourite is the centrally-located boutique hostel Lisbon Lounge – the nightly social dinners were a highlight of my trip. The same team also run Living Lounge. If you're travelling during the summer then the rooftop pool at Sunset Destination Hostel takes some beating though.
PORTO
Not to be outdone, Portugal's second city takes atmosphere into overdrive with its tile-fronted (and UNESCO-listed) buildings, riverside setting and hipster modern cultural scene. The cuisine here is amazing, as is befitting a city on with the Douro vineyards on its doorstep – take a food tour, wine-tasting, or hop on the wine train to explore the valley's port lodges.
It's not to be outdone on the hostel front either. The art-filled Gallery Hostel is the classic choice; it was one of the original boutique hostels in town and still gets rave reviews. But The Passenger Hostel is the coolest hostel on the block – it's located in a historic train station and takes design luxe to a new level. If surf is your jam check out Salty Days Lodge.
COIMBRA
Lots of travellers don't make it to inland Portugal, but picturesque Coimbra is well worth a day or two of your time if you want to break up a journey between Porto and Lisbon with a slice of local life. History nerds (and photographers) can geek out in the old medieval town at the wide array of monuments and architectural styles on display – from Roman to Moorish to baroque. It's a university town and the large student population keeps things lively and cheap. The university buildings themselves are on the UNESCO World Heritage list.
The Luggage Hostel is clean and modern and quiet, but if you're looking for somewhere social then Hostel Se Velha or Serenata are better bets.

PENICHE
Welcome to Peniche, a sleepy fishing village turned surf capital of Portugal (and perhaps all of Europe). The seafood here is as spanking fresh as the Atlantic breeze. Around the bay is the Baleal peninsula where you'll find beaches facing different directions – meaning there's always a wave to ride. Baleal is popular with local surf schools and camps. The big waves are over at famed Praia dos Supertubos, where the Rip Curl Pro annual tournament is held, and at Nazaré.
The main attractions in Peniche are nature and surf-related (those endless sunsets!), and summer brings a buzz to the town. Non-surf highlights of the area include the Berlingas – a cluster of uninhabited islands 10km offshore which form a nature reserve, and the pretty town of Obidos.
For accommodation, there's no shortage of surf lodges. Check out the highly-rated Castaway Guesthouse, Surfies Baleal and The Peniche Hostel for starters.

ERICEIRA
Another top spot for surfers is the town of Ericeira, which is just 30 minutes from Lisbon. It's proximity to the capital means it has a bit more life out of season – the sun-bleached streets are popular with weekenders from the city looking for ocean views and delicious food.
Of all the hostels and lodges in town, Aktion Surf House stands out for its outdoor space and fun active vibes (though there are plenty of options closer to town). Outside Ericeira, Ondina Guesthouse has soothing boutiquey neutrals and – like many of the surf lodges – it offers yoga (either PAYG or packages) as well as surf lessons.
CASCAIS
Cascais is Lisbon's super fun beach resort outpost and is just 35 minutes on the regular commuter train from Lisbon. The area around Cascais is known as the Portuguese Riviera and features some fabulously colourful and unique villa architecture as well as a traditional resort feel. It has the perfect balance of city access and beach if you want to escape the heat of the city in summer.
The friendly and chic The Salty Pelican Beach Hostel has surf, yoga and BBQs on offer. The other top pick is the spacious Nice Way Cascais with its boutique design (including pod beds) and an outdoor pool.
SINTRA
Sintra is no stranger to Top Ten lists – the photogenic palace complex is one of Portugal's top tourist attractions. But most tourists simply nip over to Sintra for a day trip – usually to visit the Pena Palace (pictured) – then back to Lisbon.
But if you do it that way you're missing out because Sintra isn't just the palace complex – it's also a town and a national park (known as the Sintra-Cascais National Park). There's magic in the air here, and the scenery here is beautiful. Staying in Sintra for a few days gives you the time to explore more of Sintra's fairytale palaces, and also the park's wild beaches – which are surprisingly crowd-free given its proximity to Lisbon.
The Almaa Sintra Hostel is an eco-hostel set in its own gardens, or you can even stay in a renovated palace at the quirky Sintra Nice Way hostel.

FARO
Portugal's popular Algarve area is where most of the country's summer tourism is based. Many skip through its capital Faro and head straight for the beach (and who can blame them – the beaches are epic), but Faro has a beautiful old town and is a good base for the region.
The city is surrounded by the extensive 5km Faro beach and the swirling lagoon sands of the Rio Formosa (complete with flamingos), pretty cobbled backstreets and the legacy of Moorish rule and the area's fishing and salt panning heritage. The Algarve may be touristy but here you can still feel the local character.
Faro is a hub for cheap flights with Europe's budget airlines (I recommend Skyscanner for finding the lowest fares), and it's also the last major stop before Spain. Don't miss a boat trip around the Rio Formosa.
Stay at Casa d'Alagoa for weekly BBQs and a great social atmosphere, whereas Wax Hostel is right on the beach and really nails laid-back coastal cool.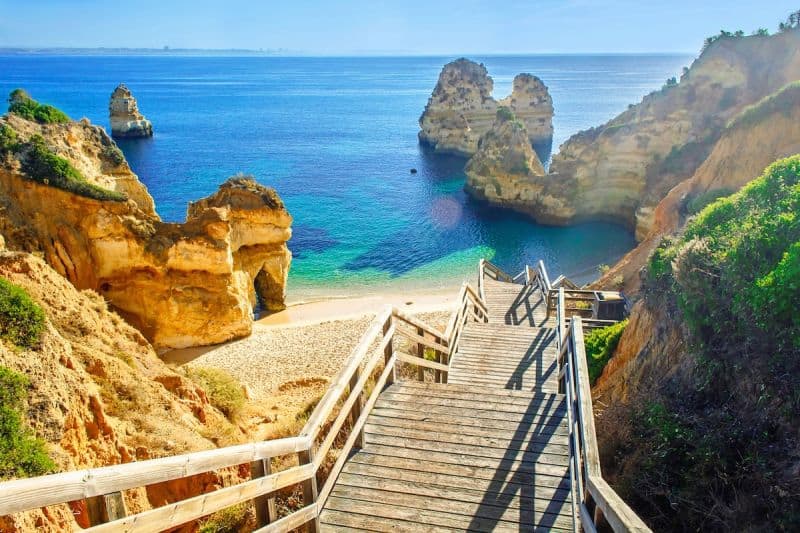 LAGOS
If you're heading to Portugal because of all those photos you've seen of amazing beaches with giant rock formations and golden sand, then be sure to hit up the Algarve city of Lagos. It's one of the best beach cities in Europe – with a lively party scene and several small town beaches plus close proximity to some of the Algarve's stunners such as Praia do Camilo (pictured) with its famous wooden staircase. Lagos itself has a pleasant whitewashed old town with historic churches.
For accommodation, Old Town Hostel is my pick for backpackers who like activities. Taghostel brings the boutique vibes. If what you're after is beach chill, try the villa-style Bura Surfhouse which is a walkable distance from town but has a pool and an emphasis on relaxed vibes.
Read more:
10 Most Beautiful Beaches in Portugal
Wild View Retreat – Juice & Yoga in the Algarve
10 Best Greek Islands for Solo Travel
10 Best Places in Croatia for Solo Travel
Enjoyed this post? Click to save to Pinterest: