Heading to Portugal's Algarve region this year for some sun? This popular coastal area offers an enticing combination of stunning sandy beaches, lively nightlife, beautiful whitewashed villages, and an excellent climate.
This resort guide covers:

The Best Places to Stay on the Algarve
BEST LUXURY HOTELS: Conrad Algarve, Pine Cliffs Village
BEST HOTELS RIGHT ON THE BEACH: Praia Verde Boutique Hotel, Dunas Douradas Beach Club, Salgados Dunas Suites
BEST BUDGET BEACHFRONT HOTEL: Holiday Inn (Armação de Pêra)
SWANKIEST VILLA: Quinta do Lago Villa
BEST INFINITY POOL: One2Seven (Ferragudo)
BEST PLACES FOR FAMILIES: Praia da Luz, Carvoeiro
BEST HOTELS FOR FAMILIES: Martinal Sagres Family Resort, Ria Park Hotel & Spa
BEST CHIC RURAL ESCAPES: Vila Monte Farm House, Conversas de Alpendre, Vila Valverde, Farmhouse of the Palms
BEST PLACES FOR NIGHTLIFE: Albufeira, Praia da Rocha (Portimão)
CHARMING TOWNS AND VILLAGES: Tavira, Olhao, Ferragudo
BEST QUIET BEACH RESORTS: Burgau, Salema, Ferragudo, Cabanas de Tavira
For surf camps, check Booksurfcamps.
For villas, browse VRBO and James Villas.
Keep reading for a full guide to the Algarve's resort towns and villages.
Algarve Overview

The Algarve is Portugal's premier coastal region and it runs all the way along the south coast of Portugal roughly from Sagres in the west to Vila Real on the border with Spain.
The beaches in the Algarve are overwhelmingly sandy and scenic – the area around Lagos in particular is famous for its incredible golden cliffs and rock formations.
Add in fantastic seafood, a relaxed vibe, excellent infrastructure and facilities, and one of the best climates in Europe and it's easy to see the Algarve's appeal.
The Algarve has one of the longest summer seasons in Europe, with beach weather still possible in November. The Atlantic Sea is very cold though and might be a shock to those accustomed to warmer temperatures.
As the area is popular with second-homers, retirees, and snowbirds from northern Europe, it unsurprisingly has a large concrete sprawl of villas and apartments.
The most developed area is between Faro and Lagos, where you'll find the main resorts Portimão, Albufeira, Vilamoura, and Quartiera. There's a big package tour presence.
But there's also plenty on offer for independent travellers and it's becoming increasingly popular out-of-season for digital nomads.
It's also one of Europe's top destinations for golf and there's a wide variety of courses and golf hotels open year-round.
The Ecovia do Litoral cycle path runs the length of the coastline.
Inland Algarve is quiet and undeveloped, with miles of forest punctuated by picturesque towns with a Moorish heritage. Highlights include:
Silves
Aljezur
Lagoa
Loule
Almancil

Which Part of the Algarve to Choose?
The nicest and most unspoiled parts of the Algarve are at the far ends of the coastline, where towns like Sagres and Tavira are charming and more traditional.
The beaches at the eastern end around Tavira are flat lagoon beaches with lots of sandbar islands. Over on the west side, around Sagres, are vast cliff beaches that can get windy.
If you enjoy luxury travel the most upmarket parts of the Algarve are Vilamoura and Vale do Lobo.
The liveliest and most developed part of the Algarve is in the centre, between the cities of Faro and Lagos. This is also where you'll find the Algarve's most iconic golden cliff beaches.
The best party towns are Albufeira and Praia da Rocha (part of Portimão).
Getting Around the Algarve
Airports: The main gateway to the region is Faro International Airport (FAO) also known as Algarve Airport, which is 6km west of Faro. It's a pleasant modern airport and well-served by Europe's budget airlines.
We recommend checking Skyscanner for cheap fares.
Bus: Resorts are well connected by buses provided by EVA and Frota Azul although online schedules are difficult to come by. Rome2Rio will give you an idea of routes but its best to double-check locally.
Train: There is a train line that runs through the Algarve but not always along the coast.
Destinations accessible by train include: Lagos, Portimão, Faro, Olhao, Fuseta, Taviro, and Vila Real.
Sagres

Perched on a cliff at the westernmost tip of the south coast, Sagres (and the towns to its north which are technically part of the Algarve region) spiritually seems to belongs to the wilder shores of Portugal's west coast.
It's home to the southwesterly point of Europe as well as one of Europe's most powerful lighthouses. No wonder it has an 'edge of the world' feel.
This rugged town is popular with surfers, walkers, outdoorsy folk, and campers. There are several immense cliff beaches with different orientations. It has a low-key vibe but it will be too quiet and windy for some.
Sagres is within the Costa Vicentina National Park. The Rota Vicentina Fishermen's Trail long distance trail starts here and heads north.
Transfer time: 1 hour 2o minutes from Faro airport.
Burgau and Salema

Burgau and Salema are two quintessential Algarve seaside villages with white-washed village tumbling down red-tinged rocks to meet a sandy beach and an azure sea.
They are both an old-school fishing village that has been co-opted by holidaying families in the summer months. The waves are small.
Outside the summer peak you'll find them quiet, reclaimed by fishermen as well as walkers exploring the Costa Vicentina National Park. Facilities are fairly limited compared to nearby Praia da Luz. There are dinosaur footprints
Transfer time: 1 hour 10 minutes from Faro airport.
Praia da Luz

Praia da Luz (or just Luz) is a family-friendly beach resort which is particularly popular with Brits and Irish.
It's similar Burgau but is much bigger and busier. Its fans flock here for the beautiful fine sand, gently shelving sea, and wide range of restaurants (mainly international) and amenities.
Luz also has a buggy-friendly promenade and play facilities for the little ones.
For the adults, there's a golf course nearby, plus walking trails along the cliffs.
It's become extremely popular in the summer months with families and parking can be a problem. Some may find it too busy and commercial.
Transfer time: 1 hour from Faro airport.
Lagos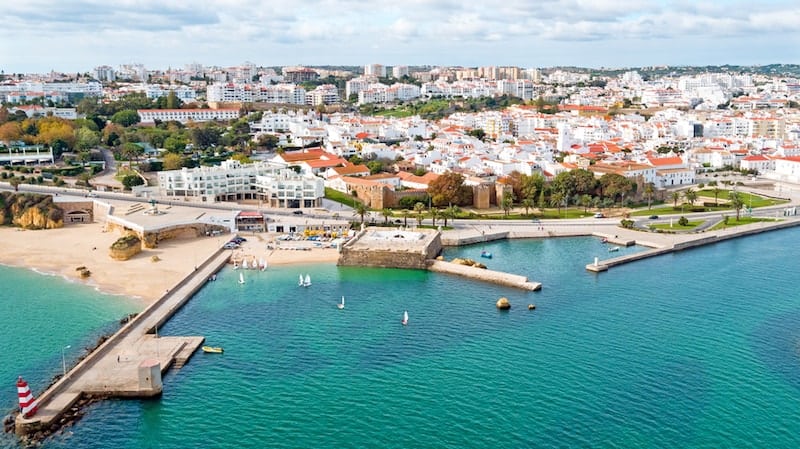 A busy city which has retained its traditional old town, Lagos is touristy but thankfully hasn't been completely lost to commercialisation. It's the cultural hub for the region and also has a sizeable marina and a lively nightlife scene.
But its main appeals is proximity to incredible beaches – you'll be spoilt for choise.
The closest beach to town is Praia da Batata.
There are walking trails along the coast that will take you to the Ponta de Peidade where you'll find many spectacular golden cliff beaches – some of the most beautiful beaches in Portugal such as Praia de Dona Ana and Praia do Camilo.
There are also caves that you can visit on a kayak or boat tour. Ponta de Peidade is approximately a 25-minute walk from town. Beach buses and water taxis are available in the summer.
There's also the family-friendly Porto de Mos beach and the long sandy Meia Praia.
Cultural attractions include:
Medieval fort and city walls
Slave Market Museum
Church of Santo Antonio
There are several golf courses just outside the city, and for the kids there is the Splash & Slide Water Park and Parque Aventura tree-top adventure park.
Lagos is the best all-rounder location in the Algarve and it's also a hotspot for for solo travellers, surfers, and digital nomads looking for somewhere sociable (there are loads of hostels).
Transfer time: 1 hour from Faro airport.
Alvor

Alvor is a pretty seaside town just east of Lagos, separated from the city by a lagoon. It's located on banks of the Rio de Alvore estuary and the whole area is part of a nature park.
Small but lively, it's a fishing town with a Moorish heritage and has a good selection of restaurants (don't miss the sardines, a local speciality) catering to both locals and internationals.
It has a charming riverfront area lined with trees and is mostly flat save for the odd small hill.
The large dune beach is a 15-minute walk from town along boardwalks criss-crossing the protected wetlands area. Bike hire is also popular.
There are hotels by the beach however eating options for the evening are limited.
There's an abundance of activities in the wider area so it's ideal for active travellers – canoeing, cycling, kitesurfing, and birdwatching. Easy access to both Lagos and Portimão.
Transfer time: 45 minutes from Faro airport.
Portimão / Praia da Rocha

Portimão is a port city and one of the most popular destinations in the Algarve.
As with neighbouring Alvor, Portimão is located on the bank of a river estuary – the Rio Arade – and was originally a fishing harbour and port of strategic importance.
Unfortunately earthquake damage in 1755 destroyed much of the town's original architecture. Portimão today is a modern city with plenty of high-rise buildings.
When people talk about Portimão as a resort they're really referring to Praia da Rocha, its main beach and purpose-build resort area 3km south of the city. If you like nightlife, beach parties, casinos, golden sands, and plenty of entertainment then Praia da Rocha is the place for you.
Most international visitors stay in the beach area. The city itself is a working town with a small old quarter and modern marina and it caters mainly to local needs. Relaxed and good value. Some industrial parts.
Don't miss a boat trip to the famous Benagil Cave, or up the river to Silves for local culture.
Transfer time: 45 minutes from Faro airport.
Ferragudo

The picturesque village of Ferragudo sits opposite Portimão across the Arada River.
It has a traditional fishing village feel and peaceful white-washed buildings, a hilltop fort, and cobbled backstreets.
It's a popular daytrip from Portimão – there's a small ferry connecting the two in the summer in the summer. – many come for scenic cafes, watersports, and seafood dinners.
The closest beaches are Praia Grande, Praia da Angrinha, and Rei das Praias beach.
Ferragudo is a popular day trip from Portimão – there's a small ferry connecting the two in the summer in the summer.
Transfer time: 45 minutes from Faro airport.
Carvoeiro

Carvoeiro is one of the Algarve's most iconic seaside resorts – its colourful buildings and fishing boats appear on plenty of postcards.
It's a family resort with a good sandy beach surrounded miles of rugged coastline and golden cliffs. Its streets are hilly and full of character.
The coastline here is particularly spectacular, with famous beaches like Praia da Marinha and the Algar Seco rock formations. Carvoeiro is good for hikers too, with the Seven Hanging Valleys Trail along the coast.
Boat trips to Benagil Cave are popular.
Transfer time: 45 minutes from Faro airport.
Armação de Pêra
Nestled between Carvoeiro and Albufeira is the popular resort Armação de Pêra. It was one of the first fishing villages to embrace mass tourism. Despite its numerous high-rise buildings it's relatively small and low-key resort.
It does have fantastic beaches – including one of the largest in the Algarve – and isn't as rowdy as nearby Albufeira.
You'll find plenty of restaurants and a small selection of amenities in town, but if you like a variety of bars and entertainment then it's probably on the small side for you.
Salgados Golf Course is a short drive from town. Watersports and boat trips are also plentiful.
The area to the west of town – known as Alporchinhos – has become a hub for luxury resorts. There are several high-end restaurants here as well as series of smaller cliff beaches including the beautiful Senhora da Rocha with its clifftop chapel.
Nearby villages Porches is famous for its traditional pottery.
Transfer time: 35 minutes from Faro airport.
São Rafael

São Rafael is a particularly beautiful beach surrounded by amazing rock formations and small coves just to the west of Albufeira.
The cliffs are wild and rugged but behind them is a sprawling resort village that blends into its neighbouring areas Gale, Evaristo, and Sesmarias. It's low-slung development with lots of vacation rentals and a few big hotels.
There are a few bars and restaurants on the main road.
Despite its proximity to Albufeira, public transport and even taxis can be scare so best to rent a car if you intend on exploring.
Transfer time: 35 minutes from Faro airport.
Albufeira

Albufeira is the busiest resort in the Algarve and is known for its nightlife, although it also has plenty to offer families who enjoy a range of entertainment and activities.
It is divided roughly into three areas – the Old Town, The Strip, and the beach areas to the east.
The old town is to the west and is typical of the region, with whitewashed clifftop buildings and a fabulous golden beach, Praia de Albufeira. Its streets are cobbled and hilly and packed with tourist shops and bars.
To the west of the old town is a modern marina quarter painted in colourful pastels and a rugged coastline with many small cove beaches.
To the north of the old town is a neighbourhood called Montechora which is a good bet for budget studios.
In the centre of Albufeira is the new town, known by the nickname of its central street – The Strip (its proper name is Areias de São Jorge).
This area is the focal point of Albufeira's nightlife and is chock full of concrete and neon, and every amenity and entertainment you could wish for including international restaurants and bars, supermarkets, tour agencies, and rental shops. The clostest beach area is Praia da Oura.
Further on, there's another beach at the eastern end of town called Praia da Balaia. It's quieter here, with a few big resort hotels. It's walking distance to The Strip but a long way to the Old Town, and best suits those looking to mostly stay in their hotel with the occasional trip to town.
Beyond Balaia is a quiet resort called Praia Olhos de Agua which has a small expat community, and then the start of the long Falesia beach where you'll find the extensive Pine Cliffs complex.
Transfer time: 35 minutes from Faro airport.
Quarteira and Vilamoura

The twin cities of Quartiera and Vilamoura merge into one another and together become one of the biggest tourist resorts on the Algarve. And yet the two are very different.
Vilamoura begins at the end of the extensive Falesia beach and is the region's glitzy marina resort, complete with luxury hotels, casinos, high-end dining, designer shopping, golf courses, and megayachts.
Quartiera is a modern city where tall high-rise buildings sit right on its sandy seafront. It's a popular budget destination for Portuguese families. The beach is wide, the seas are calm, and the landscape is flat. There are no cliff beaches in the immediate area. A pleasant palm-lined promenade runs alongside the beach.
Kids will enjoy the Aquashow waterpark.
Transfer time: 25 minutes from Faro airport.
Vale do Lobo

Located on the coast between Quartiera and Faro is another luxury enclave, Vale do Lobo. It has a vast beach backed by red cliffs and sand dunes. There are many exclusive luxury hotels tucked away behind the beach, set in landscaped gardens.
The renowned San Lorenzo Golf course is to the south, between Vale do Lobo and the airport.
Transfer time: 20 minutes from Faro airport
Faro

Faro is the capital of the Algarve and also the gateway to the coastline thanks to its international airport (which is a short drive or bus away).
However most visitors bypass Faro in a rush to the beach resorts, leaving its beautiful cobbled old town relatively crowd-free.
It's less tourist and nightlife-focused than the other cities in the Algarve. The old town is small and walkable with a few churches and museums to visit.
Faro has a laid-back and local feel but the student population and vibrant marina bring a cosmopolitan buzz.
The old town is surrounded by a sprawl of concrete suburbs and apartment blocks, but beyond that is the Rio Formosa Natural Park – a protected coastline made up of many beaches and sandbar islets (ilhas). There are plenty of boat trips and activities on offer.
The main city beach is the 5km Praia de Faro which faces south-east and is a continuation of the beach at Vale do Lobo. Connected by bridge, it's an easy bus trip from the centre and has beach bars and restaurants, as well as a few low-key places to stay.

Transfer time: 10 minutes from Faro airport.
Olhão and Fuseta

East of Faro the coastline is much quieter and more authentic, and the beaches become increasingly wide and wind-blown.
Olhão is a working fishing town 8km to the east of Faro worth visiting for its atmospheric old town.
There are no major attractions here and you'll have to take a boat to the beach, but glimpses of its Moorish remain in the pedestrianised old town with its tile-covered buildings and sun-bleached walls.
Don't miss a morning at the historic fish market followed by lunch at Chá Chá Chá.
Olhão is surrounded by ilhas so a good base for boat explorations. Just up the coast is Fuseta, a laid-back fishing town which is closer to the area's swirling lagoon-like beaches (which do change with the weather). Both Olhão and Fuseta are on the train line.
Transfer time: 15 minutes from Faro airport.
Tavira

Tavira is a contender for the most charming place in the Algarve and is an excellent base for exploring the eastern side.
Situated just upriver from the coast, it's known for its Roman bridge and elegant buildings with tiled facades and ornate ironwork. It has an ideal blend of culture and relaxation.
Boats will whisk you to the beach at Ilha de Tavira or take you on birdwatching trip. Cycling, horse-riding, and kayaking are also popular pursuits. There are 3 golf courses in the wider area.
A short distance along the coast is Cabanas de Tavira, a small fishing village that has morphed into a popular resort yet is still somewhat off the beaten track . There are several big resort hotels here. It's a short boat ride to the beach and there are lots of watersports on offer.
All along the coast you'll find tiny villages tucked away along inlets, with broad beaches and sizzling seafood restaurants that cater mainly to visiting locals.
Transfer time: 30 minutes from Faro airport.
Monte Gordo and Vila Real

At the eastern end of the Algarve is Monte Gordo, the last coastal resort before the border with Spain. It has a generous sandy beach and flat scenery.
Monte Gordo is a traditional family-friendly resort and the whole area is popular with visiting Spaniards as well as with domestic tourists. It's a modern purpose-built resort laid out in a grid with boardwalks along the beach. There are lots of large and good-value resort hotels here.
There are several nature reserves in the area including pine forests and marshlands which are easily explored on foot or bike.
A short distance upriver is the larger town of Vila Real de San Antonio which sits on the river border with Spain.
Vila Real was rebuilt after the earthquake of 1755 and is also laid out in a grid. There's a marina here and you can also hop over to the Spanish side. It's an elegant town with some upmarket places to stay.
Don't miss the pretty neighbouring village of Castro Marim – it was once on an island and has a hilltop fortress.
Transfer time: 40 minutes from Faro airport.
Read more:
10 Most Beautiful Beaches in Portugal
Wild View Retreat – Juicing & Yoga Retreat in the Algarve
Where to Stay in Spain: Ultimate Beach Resort Guide
Where to Stay in Italy: Ultimate Beach Resort Guide
Where to Stay in Greece: Ultimate Beach Resort Guide
Enjoyed this post? Follow us on Facebook or Twitter.
Click to save to Pinterest:

Image credits:
Praia do Carvalho: © Simon Dannhauer / Adobe Stock
Map of Algarve resorts: © The Mediterranean Traveller
Rio de Formosa: © Marso / Shutterstock
Praia do Camilo: © Smileus / Adobe Stock
Sagres: © Skorodum / Shutterstock
Burgau: © VEOy.com / Adobe Stock
Praia da Luz: © tagstiles.com / Adobe Stock
Lagos: © Steve Photography / Shutterstock
Alvor: © malajscy / Adobe Stock
Portimao: © Mara Zemgaliete
Ferragudo: © Rulan / Adobe Stock
Carvoeiro: © sergojpg / Adobe Stock
Sao Rafael: © saiko3p / Adobe Stock
Albufeira: © Sopotnicki / Shutterstock
Vilamoura: © Sopotnicki / Shutterstock
Vale do Lobo: © sergojpg / Adobe Stock
Faro: © Paolo Querci / Shutterstock
Faro beach: © Carlos Neto / Shutterstock
Olhao: © eunikas / Shutterstock
Tavira: © Lux Blue / Shutterstock
Monte Gordo: © sergojpg / Adobe Stock